We recommend
Plan to arrive early in order to easily find parking! It would also be a beautiful sunrise hike.
There are three overlooks and we recommend making it to at least the second one!
The NC mountains are home to some of the most stunning trails in the state, with the Rough Ridge hike being one of my favorites. It is a moderately easy 2.5 mile hike that winds through the Pisgah National Forest, bringing visitors to multiple overlooks that each provide breathtaking views of the mountains, including Grandfather Mountain and the Linn Cove Viaduct along the Blue Ridge Parkway.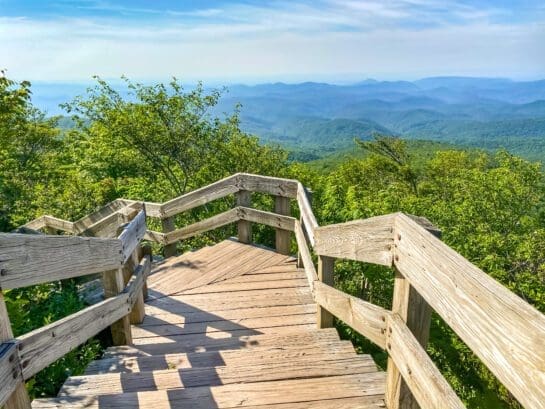 We have a few tips to help you prepare for the Rough Ridge hike.
Arrive early!
As is the case with any popular trail along the Blue Ridge Parkway, the parking area tends to fill up by the afternoon. We arrived at 9:30am on a Saturday and were able to easily find a parking spot but when we returned to the car, the lot was overflowing. If you want to avoid waiting for people to leave so that you can snag a spot, arriving early is the safest best. If you'd like to avoid crowds altogether and see glorious views, it would also be a glorious sunrise/sunset hike!
Wear trail-appropriate shoes.
While this trail is not strenuous, it does have a lot of rocks and dirt that become slippery when it rains. As it rains often in the mountains, no matter when you hike, you'll likely encounter some mud. Even in new sneakers with decent tread, we had a few close calls. We saw a few people attempting the hike in sandals and it did not appear to be going well!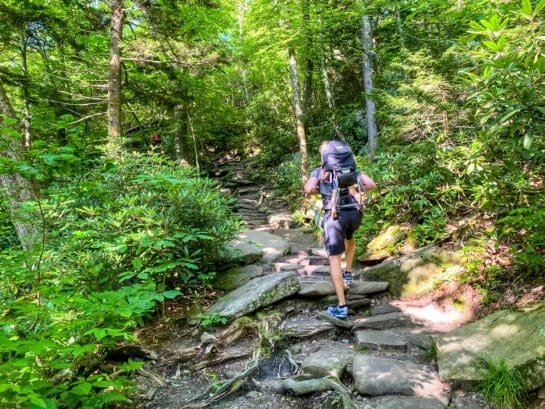 If you have little hikers, prepare to carry them or to move at a slow pace.
As I mentioned, this hike has a lot of rocks, roots, and dirt that inexperienced hikers could fall on. We brought our two year old along and decided to wear him in our hiking carrier and were very glad that we did. He would have been capable of completing the hike with a lot of help and a few tumbles, but we preferred a smoother and faster experience.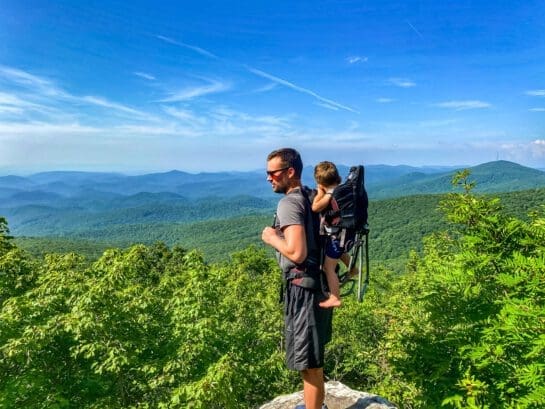 What is the Rough Ridge hike like?
Rough Ridge is the perfect hike for people that love a trail with a pay-off at the end. The length and difficulty are mild, but just strenuous enough to give you a workout and a feeling of accomplishment when you complete it. Although the views at the overlooks are the biggest draw, I'd argue that the rest of the hike is absolutely beautiful and peaceful as well. You'll find trickling creeks, lovely bridges, rock staircases, mature trees, and animals that all make the hike entertaining and visually appealing at every corner.
There are three overlooks along the trail, making this hike perfect for people of any ability level. Hikers can choose to turn around after one of the three viewpoints if they're feeling tired. The first overlook turns into a boardwalk along the side of the mountain, giving stunning views and an easy walk.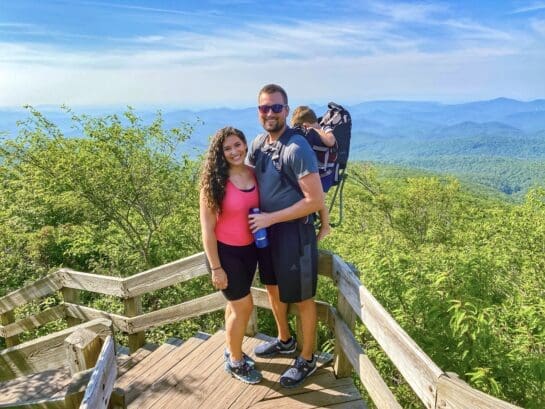 If you're up for it, I highly recommend making it to the second overlook. It had my favorite view and is iconic for photos thanks to the large rocks jutting out from the side of the mountain.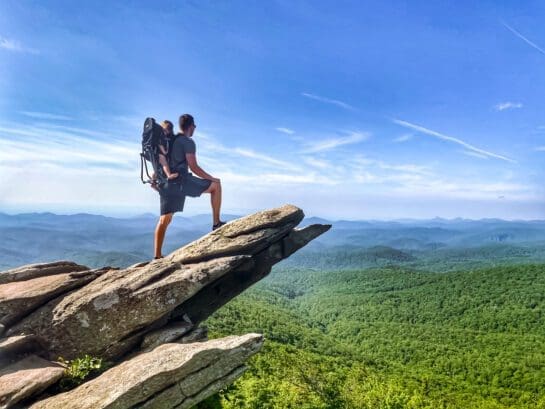 The third overlook takes you to the top of the mountain where you'll find 360 degree views. Although the scene is gorgeous, I didn't feel like it offered much more than the second overlook and required a more rigorous climb. I completed this hike in my first trimester of pregnancy and felt exhausted by the time I got to the top. While I don't regret completing the entire hike, I do feel that if you're short on time or energy, stopping at the second overlook will still give you a perfect hike.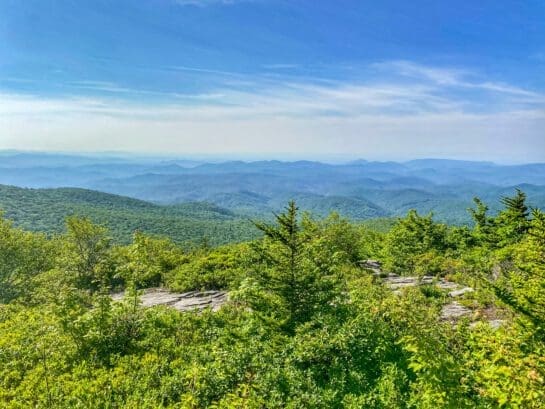 Easy to see why this is one of my favorite North Carolina hikes, right? It's location makes it a perfect quick destination when visiting Boone, Blowing Rock, Banner Elk, or surrounding towns.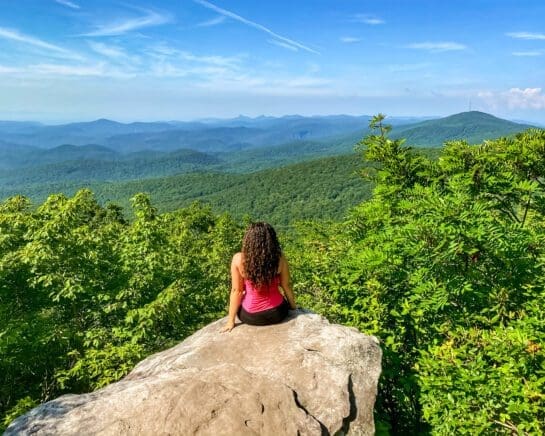 If you love learning about mountain destinations, you'll enjoy our blog about Bear Lake Reserve, an incredible resort in western NC.