NASCAR has its history rooted deep in the state of North Carolina, making it one of the most iconic sports in the state. I personally didn't know much about the sport but wanted to more fully educate myself because of that connection. After doing some research, I'm amazed at the technicality required as well as the role North Carolina played in shaping what NASCAR is today.
History of NASCAR
NASCAR, an acronym for the National Association of Stock Car Auto Racing, saw its humble beginnings in Wilkes County, NC. A small county in the mountain region of the state, it became known for its production of illegal homemade liquor during the prohibition era. This gave it the nickname "Moonshine Capital of the World", supplying many locals with a career moving and delivering the bootleg liquor across the country.
Drivers would often modify their cars for increased speed and maneuverability to evade police, as well as the interior of the vehicle to store more product. This eventually evolved into using the same bootleg cars for recreational and competitive races, which inspired the creation of stock-car racing in the US.
Megan's great-grandfather was actually one of these moonshiners back in the 1930's, believe it or not. He made his living for a time distilling and running shine in eastern North Carolina. There's an old family story of a time he was driving on a bridge and gave a cop on a motorcycle a friendly nudge sending him sliding down a muddy hill. Nobody was hurt, but it gave him the head start he needed to make his quick getaway.
NASCAR's first Race Track
North Wilkesboro, the largest city in Wilkes County, is home to the first NASCAR track ever constructed, although it is no longer in use.
The North Wilkesboro Speedway held its first race on May 18, 1947 with many races to follow until it closed in 1996. We've driven by it many times on our way to and from the mountains as it is right off of US Route 421. It's sad to see it looking abandoned and rundown, a shadow of what it once was, but there are plans in motion to get it up and running again.
Being an important historical site for the sport, Governor Roy Cooper approved a large grant last year for renovations and repairs to the speedway. Hopefully in the near future we can hear the revving of engines and the squealing of tires in North Wilkesboro once more.
North Carolina's Speedways and Tracks
The state has a number of speedways, short tracks, and dirt oval tracks that are also no longer in use, demolished, or used for other events.
You can do a quick internet search to learn the interesting history behind these tracks. For example, North Wilkesboro Speedway and Occoneechee Speedway were the inspiration for a track used in the animated Pixar movie Cars 3.
We visited Occoneechee Speedway, one of the first two NASCAR tracks which is now a dirt oval track you can walk on, and you can read all about it here.
Charlotte Motor Speedway
One NASCAR track still in use is the Charlotte Motor Speedway located in Concord. This 1.5 mile quad-oval track is home to the Coca-Cola 600 and Alsco 300 races. The speedway has a capacity of 86,000, one of the largest in the sport, and I would love to be in the stands for a race one day! We had the opportunity to take one of their tours and it was really fun and educational!
Located nearby in Uptown Charlotte you can find the NASCAR Hall of Fame, which honors the sport and the famed racers who changed it forever.  Another location we haven't been to yet, but have driven by on our many trips to Charlotte and would love to go in one day.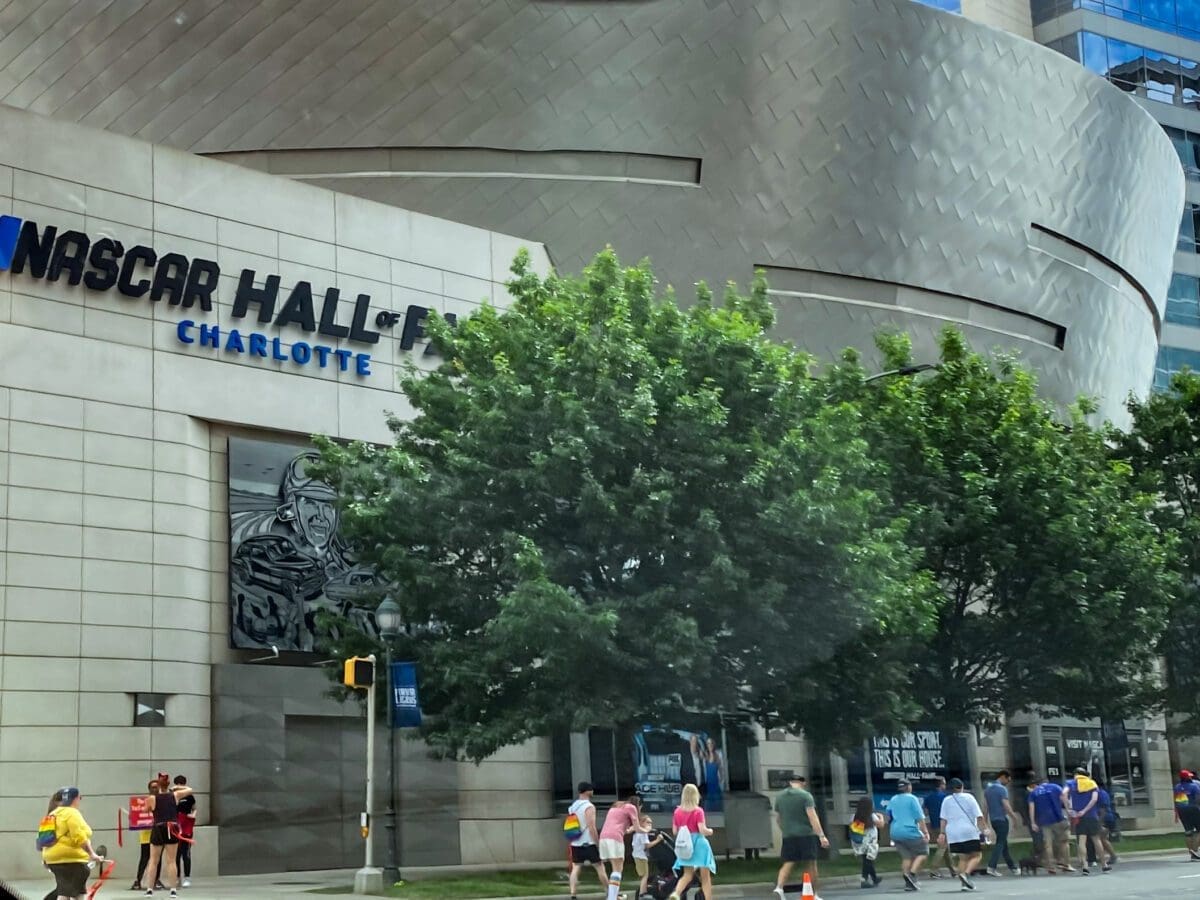 Famous NASCAR Racers from NC
North Carolina is not only known for its racetracks but also its racers, being the birthplace of some of the most famous figures in the sport.
Junior Johnson was one of the first superstars of NASCAR, born in Wilkes County and started out racing the police as a moonshiner.
There also are a few well known families in NASCAR that all are NC locals. Ned Jarrett is the father of Dale and Glenn Jarret, all native to Conover and all successful behind the wheel.
Lee Petty and his son Richard Petty are from Randleman and both champion racers who evolved the sport.
Dale Earnhardt Sr. and Dale Earnhardt Jr. out of Kannapolis are some of the biggest names in racing and hold records to this day. Earnhardt Sr., nicknamed "The Intimdator" for his aggressive driving style, even has a rollercoaster named after him at Carowinds theme park in Charlotte.
So it's plain to see that North Carolina and NASCAR go hand in hand. The state plays an enormous part in the sport's history and conception. Even if you aren't the biggest NASCAR fan, you have to admit it has a fascinating history that is worth delving into.
From the mountains running moonshine to the speedways hugging hairpin turns and burning rubber, NASCAR and NC will always be connected.