The Carolina Hurricanes are Raleigh's professional ice hockey team whose games are electric, exciting, and surprisingly affordable.
I feel like the Carolina Hurricanes are one of the most slept-on professional sports teams in the state! We went to our first game at PNC Arena recently and honestly, I don't know why it took us so long!
We had so much fun together and it made for the perfect date night. It's an affordable, family friendly activity and we would love to bring our kids to a game soon.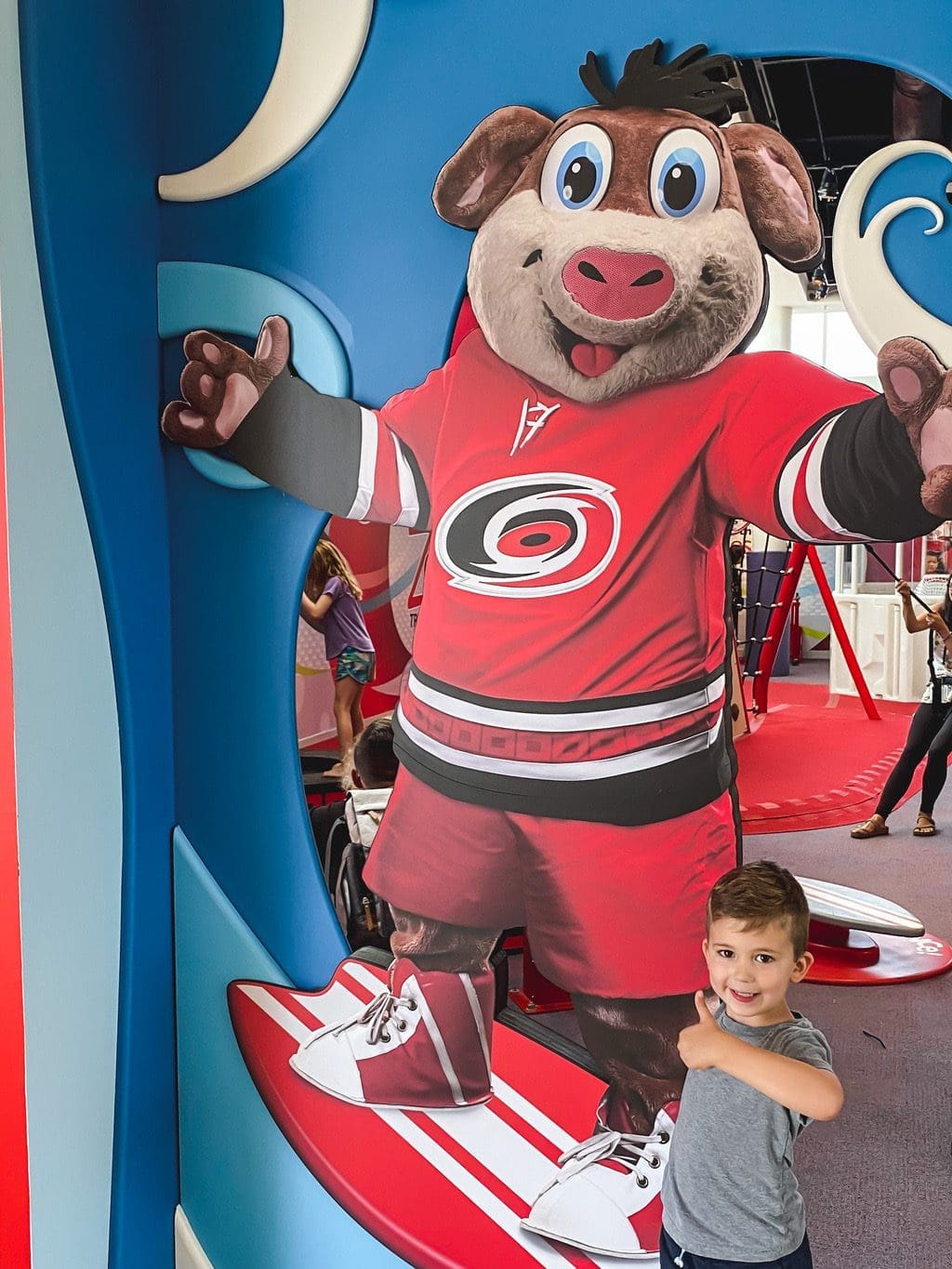 The Carolina Hurricanes have their devoted fans, but there are a lot of people who have never made it out to a game. We've put together this newbie guide to help those soon-to-be-fans know what to expect at their first game.
What to wear
Be sure to dress warm! Since ice hockey is played on ice (shocker, I know!) it can get pretty chilly during the games. That's easy to forget when you're outside in the sweltering NC heat, but it's a good idea to wear layers to put on or remove depending on how you're feeling.
We wore jeans, long sleeve shirts, and brought light jackets which we ended up putting on going into the second period. If you want to look cool, make sure to come with Hurricanes gear like everyone else. We missed that memo. You can also buy shirts, hats and jerseys at the arena.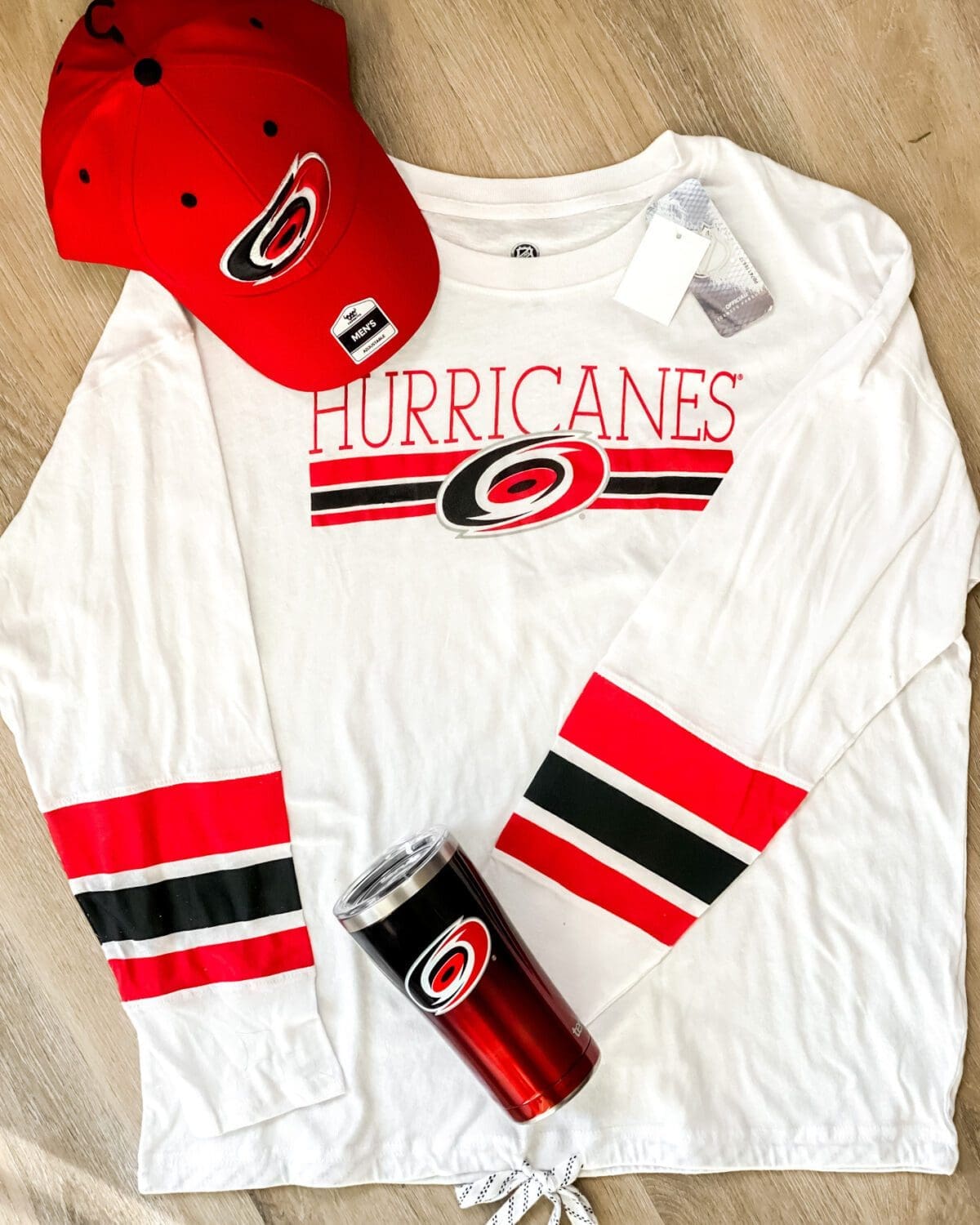 Parking at PNC Arena
Parking at PNC Arena is pretty self-explanatory. They have attendants there who point you in the right direction and allow you to pay with a card. General parking is $25 but if you want free and don't mind walking, you can park at the fairgrounds and make the approximately 15-minute trek.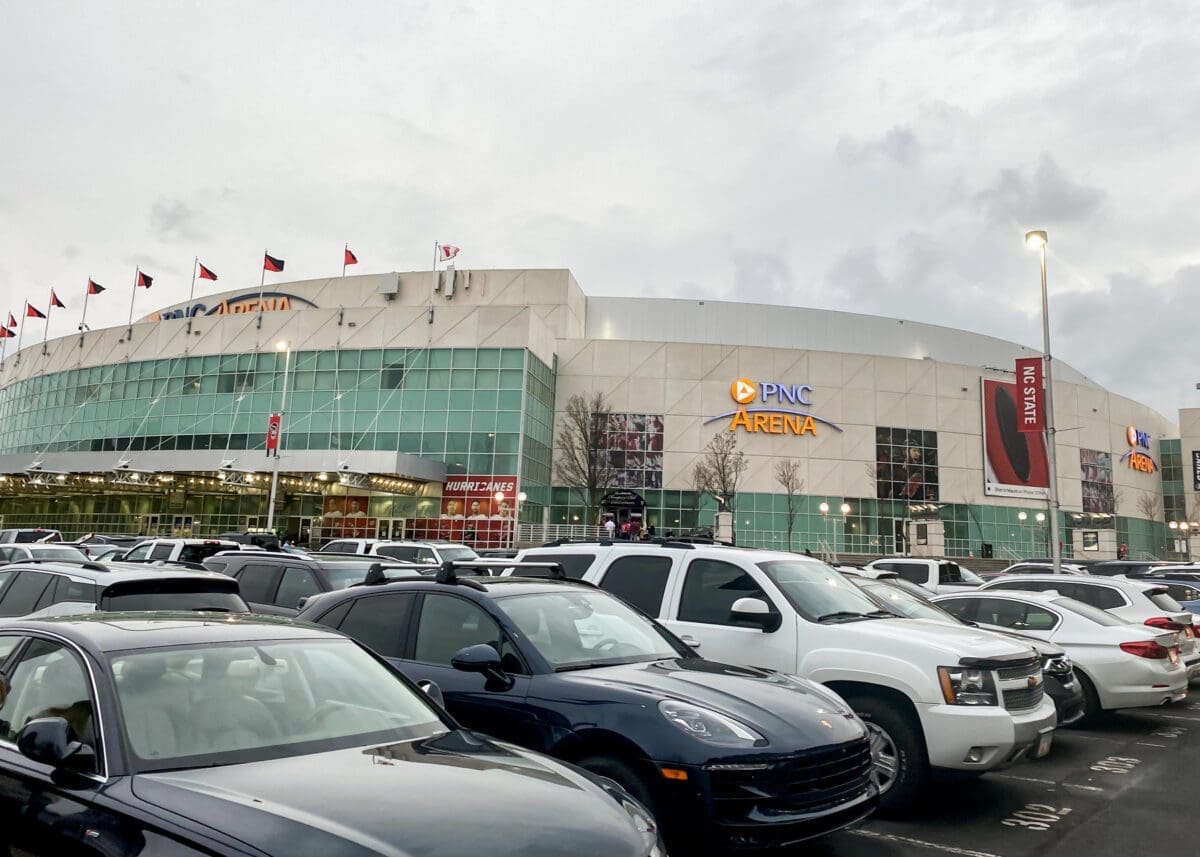 Security at Carolina Hurricanes games
When going through security, remember that your bags or purses have to be smaller than a half sheet of paper. If it isn't, and you make it to the front of the line, the security person will magically produce a half sheet of paper out of thin air, hold it up to your bag, and tell you it's too big. You will then be embarrassed, have to maneuver backwards through the security line and then walk back to your car to leave your purse. Not that we are speaking from experience or anything…
All of the security people were very nice, and we appreciate the good job they do keeping everyone safe, but save everyone the headache and just leave your bags at home!
Tickets and Seating
Tickets range in price but you don't have to fork out a fortune to enjoy a Canes game. Our seats were pretty far up but that didn't bother us, besides Megan's fear of heights and feeling like she was going to fall to her death of course.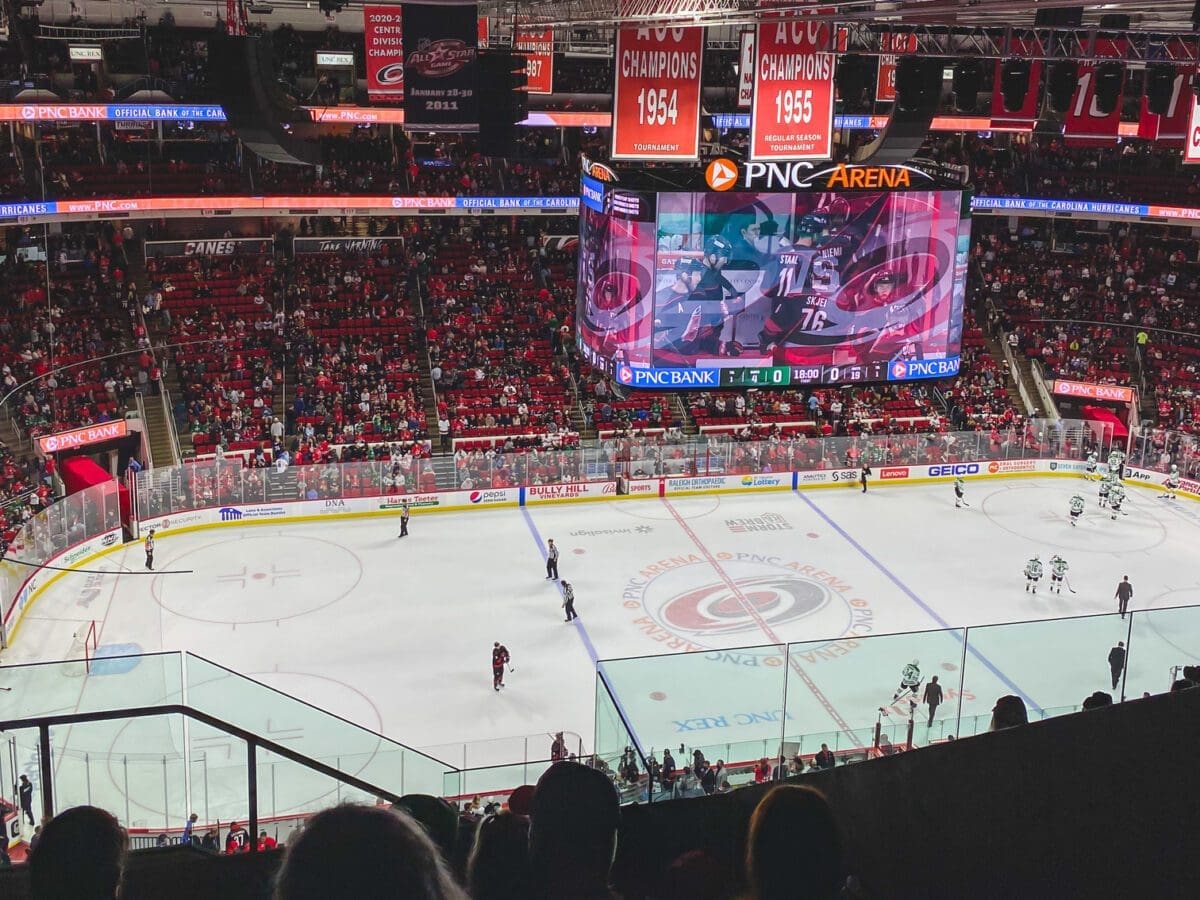 We could follow the action from high up with no problems, and the fans and atmosphere are just as spirited in the nosebleeds as they are close to the ice. We joined in on cheers and chants, sang and danced to the music, and even high fived our neighbors after every Hurricanes goal scored.
Also, our seats were right next to the pretzel stand which was the real victory here.
Food, Food, Food
And that brings us to the food! We wanted something quick before the game, so we fell back on one of our usuals, Guasaca, which is an excellent fast casual spot serving up customizable arepas and bowls. It was only 10 minutes from PNC, so it was the perfect place to grab a bite before the game.
Once inside the arena, there were a lot of good snack options. We settled on the pretzels and a Cheerwine, but there were a few places we had our eyes on for next time.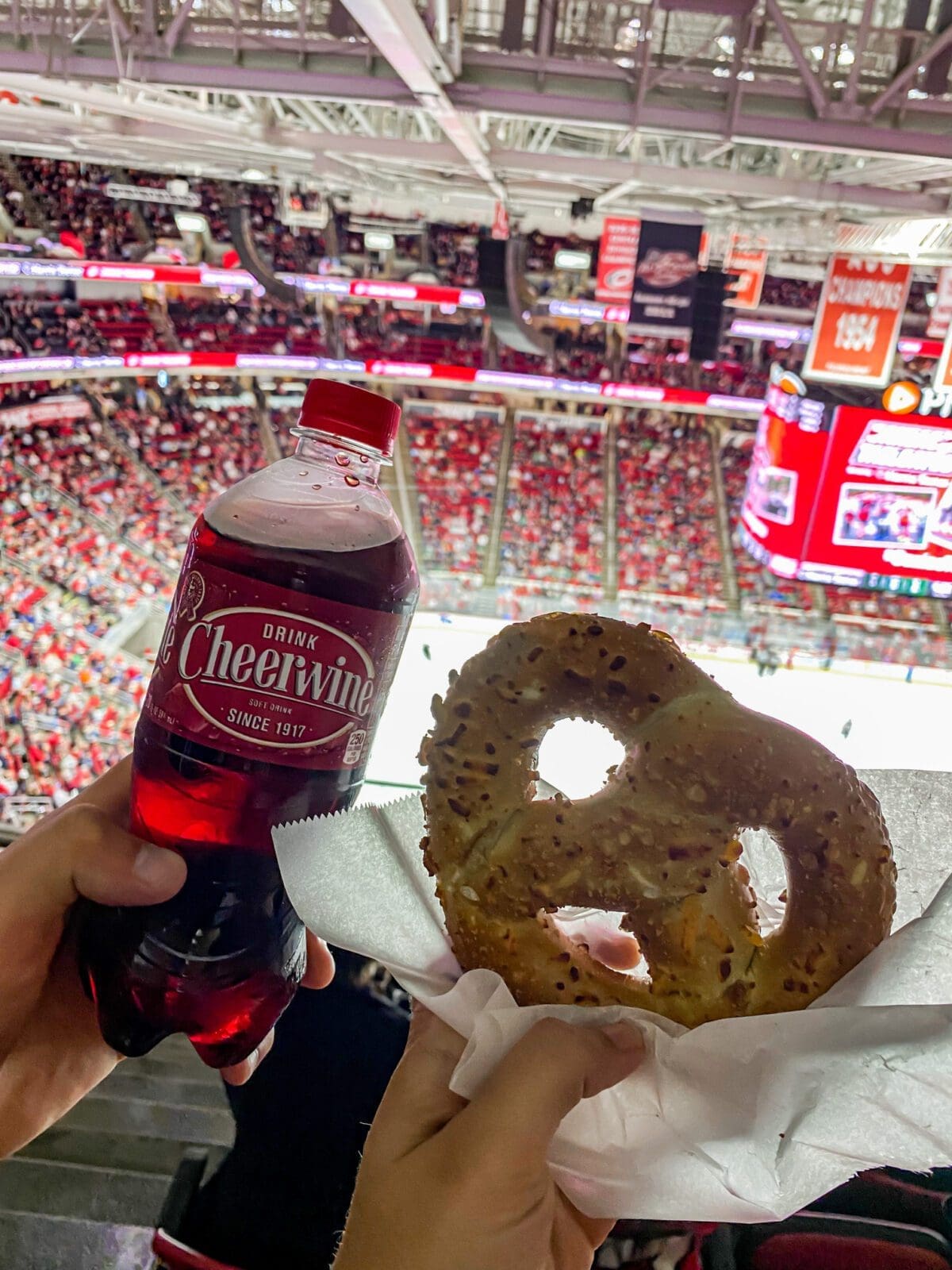 The pretzel was surprisingly delicious! Soft, warm, and salty with a few different flavor choices. We went with cheddar filled, but they also had cream cheese, salted, and plain. We are taking suggestions if anyone has favorite food items when they go to Canes games.
Rules and Regulations
It's a good idea to have an idea on how hockey works. You by no means need to memorize the rule book, but if you have a general idea of what is going on, you're going to have much more fun.
Basically, hockey games are played in three, 20-minute periods with intermissions between each. The intermissions are fun because you can get up and get a drink or snack, go to the bathroom, and watch the Zambonis sweep the ice. They also have games and competitions they put on the jumbotron to keep everyone entertained while you're waiting for the action to resume.
If you leave your seat during the game instead of an intermission, be prepared to wait a few minutes to return to your seat. Guides stand at the entrance and won't let you walk in front of spectators while a play is in action; you will have to wait until there's a break.
If the score is tied after the three periods, the game goes into a five-minute overtime and if it's still tied, it goes into a shootout.
Fighting in hockey is expected and even encouraged. While players will get a penalty for fighting, officials usually allow it if it's a fair fight and doesn't get too out of hand. When players on the opposing team get thrown in the penalty box, the Law and Order music is played and the crowd shouts "CHEATERS. NEVER. WIN." I thought it was a nice touch.
When a team has someone in the penalty box, they have to play for a time with one less player, which is called a power play. There are a lot more rules and things to know about hockey, but that's about all I know, and it got me by.
We hope this guide helped you feel prepped and ready for your first Canes game. And if you're a veteran Caniac, feel free to add whatever we were sure to miss. We're newbies ourselves after all. One thing is for certain though, this won't be the last game you'll see us at.