Cashiers is a breathtaking mountain town in Western NC that everyone should visit at least once to experience its welcoming charm. Located in Jackson County, Cashiers boasts excellent local dining options and stunning scenery.
We visited for a weekend and crammed so much fantastic food and play into a few days. We had a wonderful time and want you to feel encouraged and confident in your own visit! If you haven't had the pleasure yet, we recommend planning your trip now.
We visited in mid-March, what Jackson County refers to as its "secret season." With fewer crowds on the trails, lower waits in restaurants, and cooler weather, the winter season proved to be a lovely time of year in Cashiers. It's truly a destination worthy of a visit during any season!
Where We Stayed In Cashiers
We were hosted at The Wells Hotel, a gorgeous boutique mountain hotel in the heart of Cashiers. The modern, clean accommodations can be booked in traditional studio hotel rooms, or in cabins surrounding the property.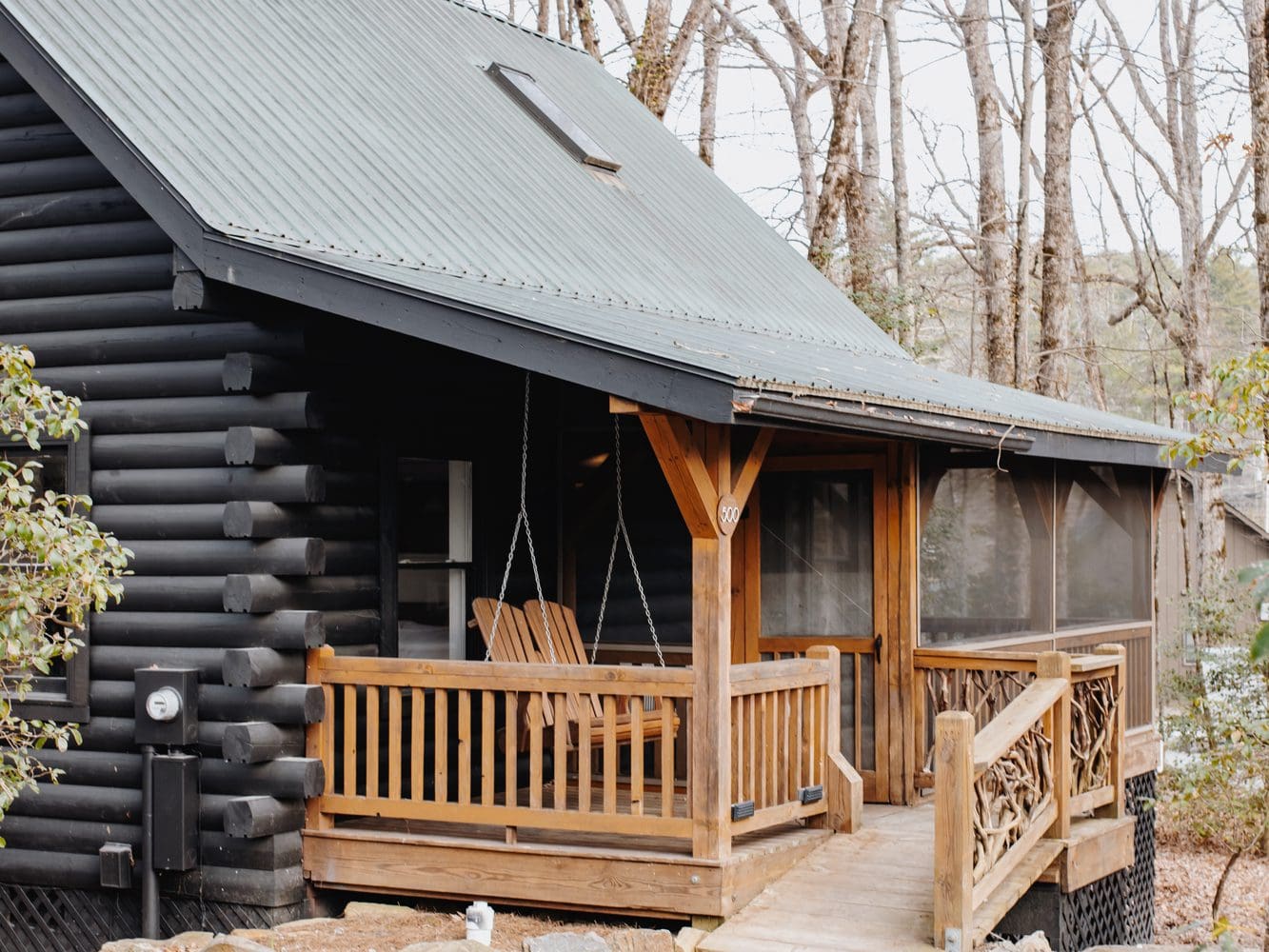 We stayed in one of the cabins with two king beds, small kitchen, bathroom, and living space. It was beautifully cozy and fit our family of four perfectly. We greatly enjoyed our time lounging on the screen porch, watching movies on the smart tvs, and eating meals together on the dining table. It felt like a true home away from home!
Must-Try Restaurants
Whiteside Brewing Company
Located on The Wells Hotel property, Whiteside Brewing was meer steps away from our lodging. We couldn't resist the smell of fresh food drifting into our cabin so we made our way over there for dinner one evening. It was superb and the smash burger was unforgettable! This restaurant is clearly a community gathering place with music, fun games, and drinks.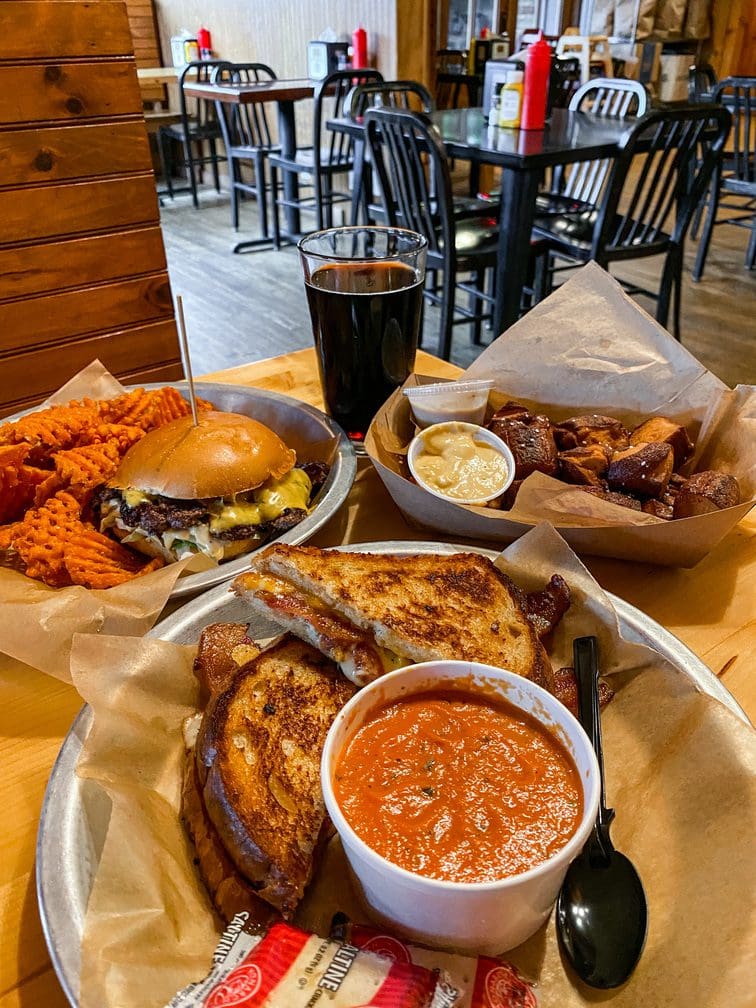 Slab Town Pizza
With two pizza-loving kids along for the ride, we always plan for pizza for at least one meal while we travel. Slab Town Pizza was one of the best pizza restaurants we've tried while gallivanting across the state! We ordered carry-out and feasted in our cabin. This is a must-try while in town!
Crossroads Custard & Cold Brew
Crossroads Custard & Cold Brew was the biggest surprise of our trip. We stopped by for a quick bite of ice cream but were pleasantly surprised to find an entire menu of indulgent custard creations, smoothies, homemade cookies, breakfast sandwiches, and more. We returned the next morning to say hi to the kind owners and order breakfast which was great too!
Cashiers Valley Smokehouse
Every town needs a solid bbq spot and Cashiers Valley Smokehouse has stepped up to fill that role. With an emphasis on smoked meats and home-cooked sides, they succeed in being a casual eatery with food that comforts the soul.
Sugar Cloud Baking Company
Sugar Cloud Baking Company is a small bakery that specializes in tasty desserts. On the weekends, they serve fresh yeast donuts which we enjoyed in the morning together. We of course had to try one of their big, scrumptious cupcakes too!
Buck's Coffee Shop
Buck's Coffee Shop is a quaint small town cafe that serves coffee and pastries. The shop itself is cozy and eclectic and is a favorite morning stop for locals and tourists alike.
What to do in Cashiers
The Village Green of Cashiers
The Village Green is a beautiful 13 acre park in Cashiers with walking trails, art structures, picnic areas, and a castle-themed playground.
Silver Run Falls
Only a 5-10 minute drive from Cashiers will take you to a phenomenal waterfall and swimming hole. It's a very easy, short hike, with the trail being about 200 yards. As it's a flat walk with little to no incline, it's perfect for inexperienced hikers.
The 25 foot waterfall is impressive in size and power. The water rushes into a peaceful pool that is perfect for wading in. It's a remarkable view!
Whitewater Falls
One of the coolest sights close to Cashiers is Whitewater Falls. Straddling the NC/SC border, Whitewater Falls is the tallest waterfall east of the Mississippi! The drive there is only about 20-30 minutes away and offers some unmatched views of the surrounding scenery.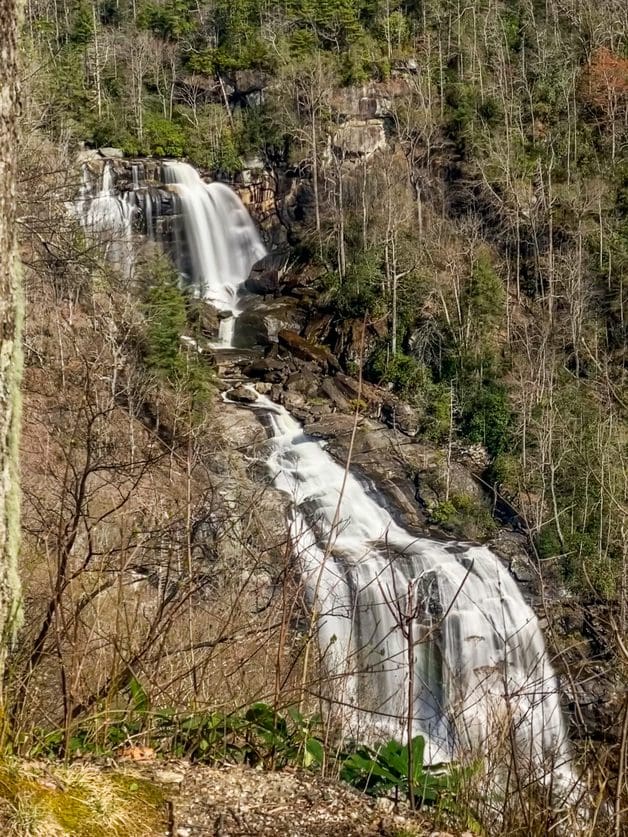 The path is entirely paved and only half a mile round trip with magnificent views along the way. Once you reach the end of the path, you'll be met with an astonishingly beautiful waterfall that's certainly taller than any other in NC. There's a group of stairs you can walk to get a closer look, if desired!
Until next time…
As you can see, we did a LOT of eating and playing in Jackson County. We fell in love with Cashiers and we only scratched the surface. We know we will be back so please let us know if you have any favorite stops in the area that we missed!