Sims Country BBQ has been giving guests an authentic country barbecue experience for over 40 years. Tucked away on farmland reached by dirt roads, Sims is a true hidden gem that is loved by locals and a fun surprise for visitors lucky enough to hear of it through word of mouth.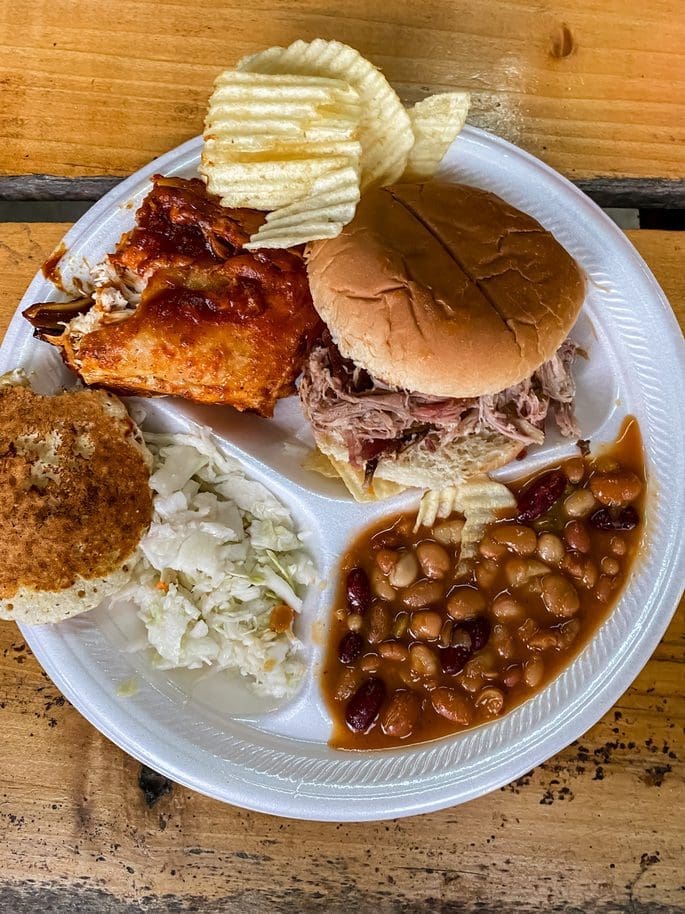 Have you ever wanted to hear the sweet sounds of bluegrass playing while chowing down on pit-cooked meat and delicious fixins? Head to the Dudley Shoals community in Granite Falls, Caldwell County for all of the above!
After a hunting trip to Texas in the 70s, owner Keith Sims was determined to bring their style of 'cue back to his hometown. With the help of his family, he opened Sims Country BBQ in 1979 and started serving his take, buffet style.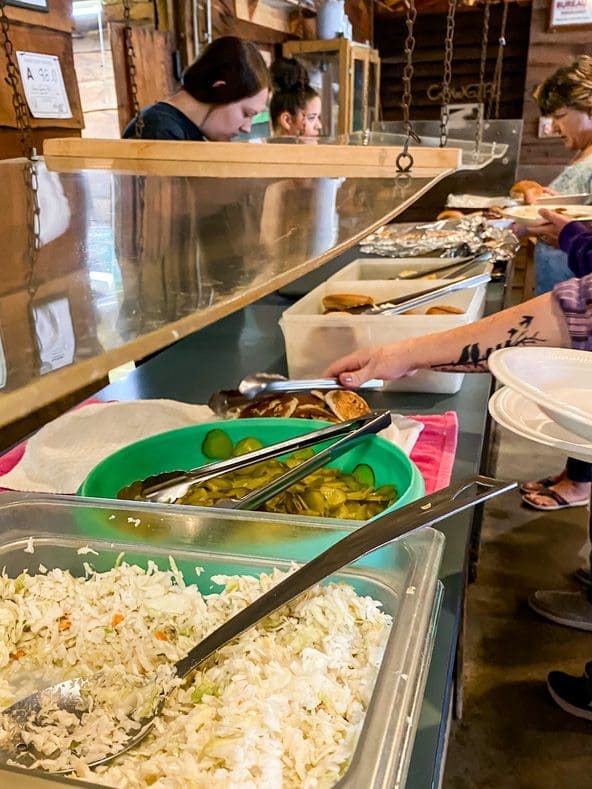 Make no mistake, while the food is terrific, this is not a fancy dining experience, nor is it meant to be. Dishes are served from plastic serving platters that you've likely seen in your grandmother's kitchen. Your grandmother would approve of the taste as well!
At Sims Country BBQ you can find Texas style pit-cooked quarter chickens, beef, and pork. Fixins include fresh made corn fritters, coleslaw, homemade pickles, chips and their famous baked beans.
As you are leaving, be sure to request scraps of fritters to feed the fish in the nearby pond!
You won't find any signs, an extravagant building, or paved parking at Sims Country BBQ, but the wooden shack and mouth-watering aroma will let you know you're in the right place.
Get there around 7 PM and you will hear the banjo and guitar picking of the in-house bluegrass band accompanied by square dancing. It's a great time!
Although Sims Country BBQ is only open Friday and Saturday nights from 5-9 PM, cars started filling the field in front around 4:30 PM. It continues to fill up between then and 7 PM, so be sure to get there early to secure a seat close to the band.
Adults can pay $16 to visit the buffet as many times as they would like. Kids ages 4-11 are $8 and 3 and under are free. The buffet includes sweet tea to drink or you can pay extra for soft drinks and desserts. Bring sure to bring cash because Sims Country BBQ is cash only.
You need to experience this one of a kind meal and entertainment hidden in Caldwell County, NC. Sims has made it their goal that "nobody leaves hungry and nobody leaves a stranger!"