There's no shortage of charm or southern hospitality in the quick-growing, quaint Town of Leland. This hidden gem's popularity is on the rise as people discover its prime location, welcoming community, ideal weather, and convenient accessibility to North Carolina's beautiful coast. What more could you ask for, right?
Located in southeastern NC, Leland is considered an inland town located in Brunswick County and borders some fantastic beaches, waterways, and popular destinations. This is especially great for Leland's beach-loving visitors; imagine a coastal hotspot, with a ton of options ranging from a secluded retreat for more privacy or maybe you prefer a more happening beach scene. Whatever you prefer, there's no shortage of options. You'll find Carolina Beach less than 20 miles southeast.
And that's just the beginning! But if the beach life isn't your style, don't worry Leland can certainly hold its own without the coast. Leland is brimming with parks, golf courses, fishing, outdoor activities, restaurants, and more. And Wilmington, a major NC city is located less than 10 miles away too. The Town of Leland is growing considerably, while still managing to maintain its small-town atmosphere.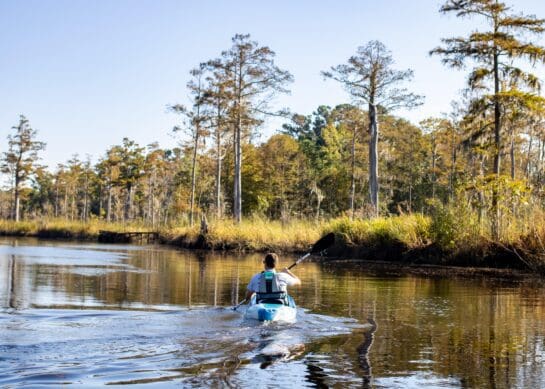 While Leland may be a small town, it's certainly rich in history
Leland began as a small settlement in the mid-1890s and formally adopted its current name in 1897 after area citizens petitioned the government for its first local post office. During the time, suggestions for names were also submitted along with the request. One of the citizens, Joseph W. Gay offered his nephew's name, Leland Adams as a suggestion and there you have it! From there, the post office opened in 1898, with Joseph Gay as Postmaster and Leland having its official name.
Leland's closeness to the Brunswick River naturally made the town a prime transportation center early on with ferries hauling travelers north and south. A bridge was built across the river in 1890 and roads were eventually built throughout the years. The construction of roads, schools, and more bridges soon followed.
This young town was just incorporated in 1989 and has continued to grow and establish its own character. Leland continues to celebrate its incorporation during the annual Founders' Day celebration on the second Saturday of September. This small town has continued to thrive throughout the years and has more than doubled its population in the last 10 years alone. Leland is considered one of North Carolina's fasted growing towns to date.
Looking for small-town holiday charm? Make sure to join NC Eat & Play on Dec. 4, 2021, for a special holiday Christmas lighting event.