The Outer Banks of North Carolina may be known for lighthouses, wild horses, and stretching beaches, but the food-scene also deserves its share of the spotlight. If you find yourself frequenting familiar chains while on vacation, I'm here to rescue you. Wondering where to eat in the Outer Banks? I've researched, tasted, and compiled a list of my favorite Outer Banks restaurants so that you don't have to. Add any one of these (or all) to your itinerary and enjoy!
Breakfast
Barrier Island Bagels
Located in Southern Shores, Barrier Island Bagels is a convenient and delicious stop when you're starting your day. These aren't just the best bagels I've had in the Outer Banks, but some of the best I've had EVER.
We stopped by to grab a quick brunch to eat in the car on our way to visit the lighthouses. I ordered the hangover which is double toasted with double cheese, double egg, and double bacon—double the deliciousness, obviously. Harrison opted for the BLT which was not only beautifully colorful and fresh but so tasty. We were both extremely satisfied and found ourselves wishing we had more time to stop there again!
Stack'em High Pancakes and So Forth
With two locations, one in Kill Devil Hills and the other in Kitty Hawk, Stack'em High Pancakes and So Forth may be the most popular breakfast destination in Dare County. Served in a relaxed, country-style diner, these breakfast platters are no frills—just tried and true classics that warm the soul.
I have to admit, I didn't have high hopes for this one. The idea of a classic breakfast felt a little boring that morning. Surely, I can just cook this food at home, right? Wrong. It was absolutely delicious. Comforting, buttery, and reminiscent of grandma's house.
The line to order may look daunting upon entering, but it moves quickly! Hang tight and you'll be happy and stuffed in no time.
Lunch and Dinner
Tortugas Lie
If I could send you to only one of these Outer Banks restaurants, this would be it. Tortugas Lie came heavily recommended to us and it certainly lived up to the hype. The food, vibe, and service were unmatched.
We ordered the "coco loco chicken" which's consists of coconut fried chicken with a lime curry dipping sauce. It was incredible! We also ordered a quesadilla which was the day's special and we both agreed it's one of the best we've ever had. You must finish your meal with a fresh-baked slice of pie! Our slice of chocolate chip pecan pie was outstanding.
This restaurant has fun decorations that are very fitting for a beachy shack. There are beach volleyball courts in the back that are free to use, or to watch the regular tournaments that take place there! We had a great time dining on the patio and watching a game
Miller's Waterfront Restaurant
If we're giving awards for most beautiful Outer Banks restaurants, Miller's takes the win. This casual dining spot boasts incredible views of the Roanoke Sound and we were lucky enough to catch the sunset as we were eating.
In addition to its glorious location, Miller's has great food that left us very satisfied. From the coconut shrimp with loaded potatoes to the fresh salad—we ate every last bite.
Kill Devil Grill
For a solid, casual spot serving American fare that has something on the menu for everyone, Kill Devil Grill is the place to go. This is another one of the Outer Banks restaurants that came highly recommended and did not disappoint. We opted for a burger and the soft shell crab dish—both delicious. Where this meal really shined was the appetizers. We heard that both the wings and the cheesesteak egg rolls were incredible so we asked our waitress which we should try. She looked like we asked her to pick her favorite child and insisted that we go for both. That was some solid advice, miss. These are must orders, with the egg rolls being our top choice.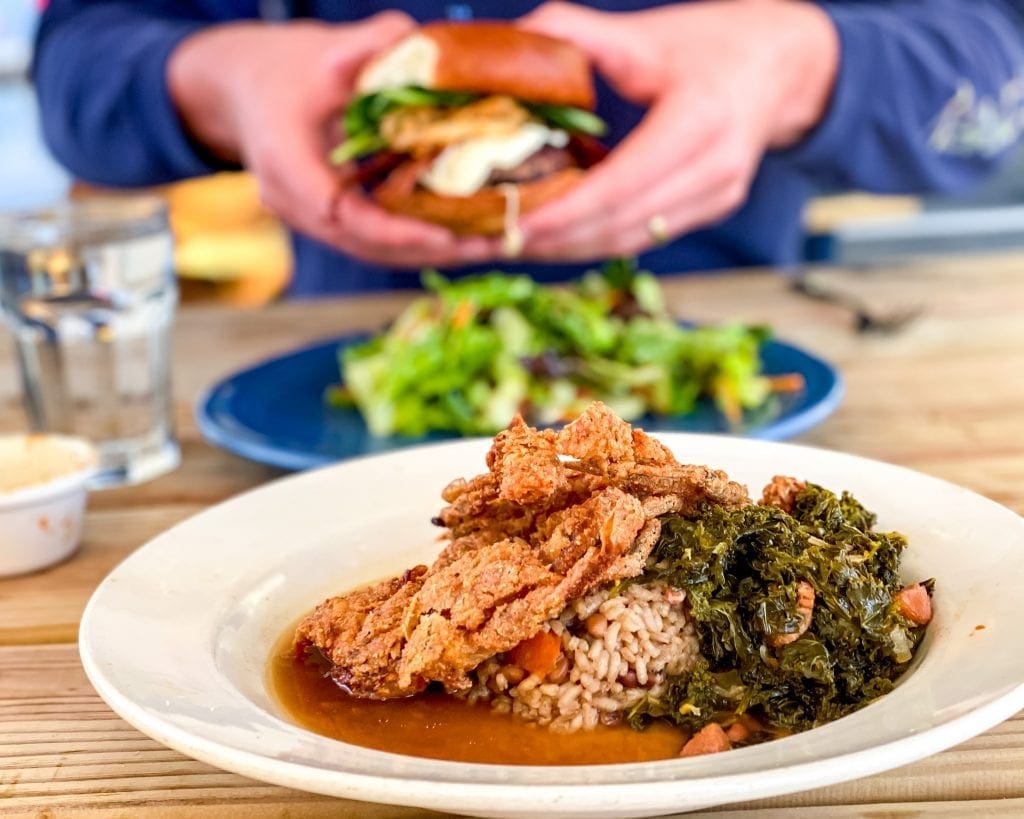 Kill Devil Grill soft shell crab and burger
The Lifesaving Station
For a more upscale dining experience, The Lifesaving Station of the Sanderling Resort is worth checking out. Located inside of an 1870's rescue station, this restaurant features both excellent foods as well as nautical artifacts.
The blue crab and corn chowder is the perfect start to your meal— creamy, flavorful, and full of hearty chunks of fresh crab meat.
As for an entree, I highly recommend the pan-seared scallops. They were beautifully cooked and were paired with rice pilaf, broccolini, and blood orange-rosemary butter. Yes, as delicious as it sounds. It was one of my favorite dishes on this trip.
I have a hunch that you can't go wrong with any of the desserts but we greatly enjoyed our toasted brownie s'mores stack and deconstructed key lime pie!
It's also worth mentioning that while this restaurant is a bit more modern and pricy, it's very family-friendly and resort casual. They were extremely accommodating to our toddler and he enjoyed his kid's meal and coloring page!
Dessert
Donutz on a Stick and Ice Cream
I know what you're thinking— who goes to Duck, North Carolina, and gets donuts from somewhere that ISN'T the famous Duck Donuts?! Me, that's who! Listen, I love Duck Donuts as much as the next girl, but we have a few locations in the Triangle.
When I travel, I want to eat something I can't get back home. Enter: Donutz on a Stick.
I found this cute shop on Google and was immediately sold by the great reviews and scrumptious photos. It did not disappoint and dare I say….just as good (maybe better?) as its bigger competitor. I'm hereby naming this place as the best-hidden gem in the OBX.
These little donuts are served hot, fresh, and dipped in your toppings of choice. They seriously melt in your mouth!
A tip for you: take your donuts behind the shop to find the Duck boardwalk overlooking the sound. It makes for a lovely walk while you eat your treats. Stop by some other stores along the boardwalk while you're at it!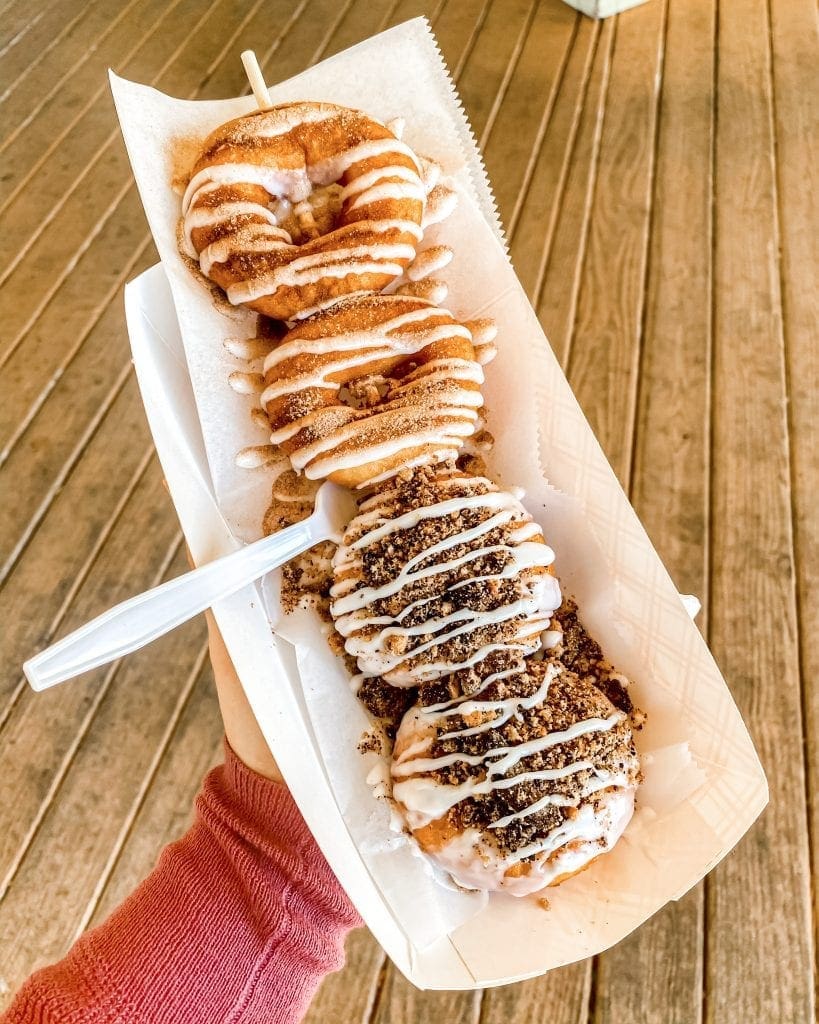 Island Snowball Company
I have a thing for icy treats, especially when I'm at the beach. The shaved ice at Island Snowball Company is a refreshing treat any time of the year. One of my very favorite food combinations is shaved/Italian ice and ice cream. I LOVE the mixture of thick creamy vanilla ice cream with fruity ice. It's actually a really hard concept to come by, and this was the first small business I've found in NC that does it. This will be a definite on my itinerary for every trip to the OBX.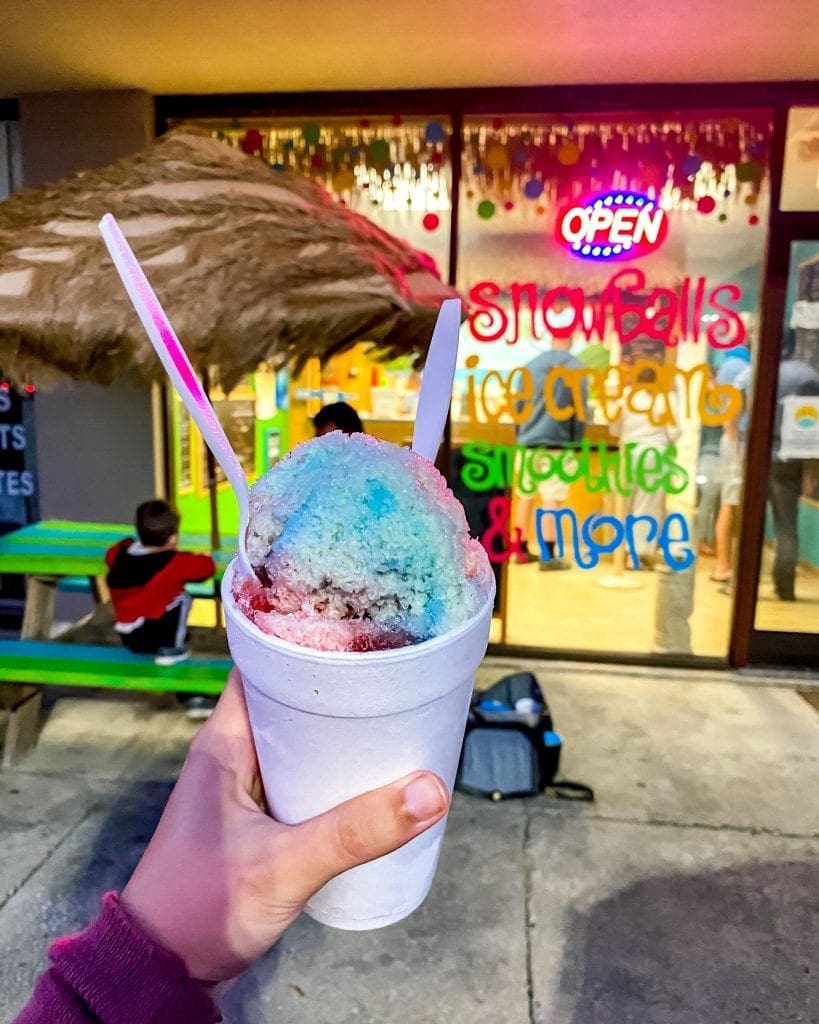 If you're new to our state, OBX is a popular destination for North Carolinians and east beach trippers. We hope these picks help make it tastier and sweet!