Iyla's Southern Kitchen is comfort food at its best.
We recommend
The cinnamon sugar hushpuppies: I'd argue that these are one of the best sweet treats in the Triangle. They are sticky, sugary, and covered in a drizzle of honey. These are dangerous is the best way.
The chicken and waffle sandwich: the fried chicken is crunchy and juicy and putting it between two liege waffles is genius.
The barbecue sundae: a fun creation that gives you a chance to eat multiple southern foods in one bowl.
Hot chicken sandwich: Good hot chicken is tough to find and Iyla's provides some of the best in the state.
The heart of downtown Raleigh may not be where you'd expect to come across some of the best southern comfort food in North Carolina, but that's exactly where you'll find it thanks to Iyla's Southern Kitchen.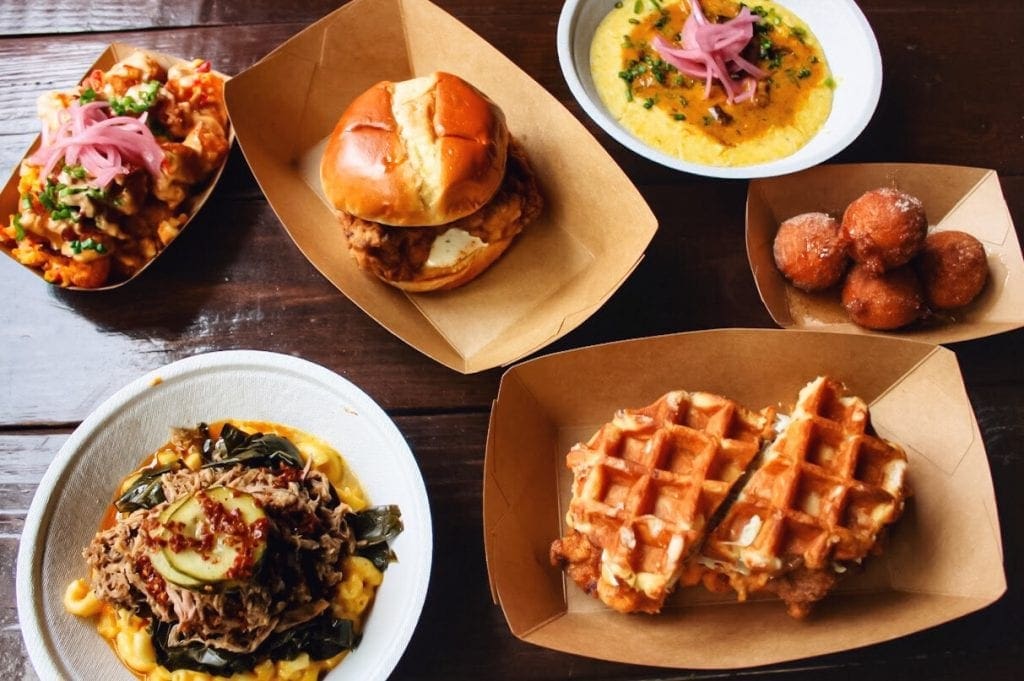 Located inside of Morgan Street Food Hall, Iyla's Southern Kitchen is a popular vendor among visitors to the warehouse-style eatery. Chef Greg is known for his kindness as well as his outstanding recipes and consistently provides customers with a smile and a superb meal.
What you will love at Iyla's Southern Kitchen
The food at this eatery includes classics like a fried chicken sandwich, as well as a unique spin like the chicken and waffle sandwich.
This luscious Chicken &Waffle Sandwich featured a generous fried piece of chicken laid purposefully between two golden crisp-to-perfection waffles, North Carolina's own Cackalaky infused aioli, house-made pimento cheese, and a cooling heap of coleslaw.
Why not try a comforting barbecue sundae?
How's this sound? Mac & cheese, pulled pork, collard greens, and barbecue sauce drizzled on top for the ultimate in combo-comfort. You get to indulge in layers of flavors mixing proteins with starches with Iyla; Southern Kitchen BBQ Sundae. A real treat if you're not afraid of your food touching.
Between the generous portion sizes and the creative menu, two things are for certain: you won't be bored and you won't be hungry.
After filling up on Chef Greg's comforting carbs, check out our post about more fun in downtown Raleigh.
411 W Morgan St, Raleigh, NC 27603