Wondering where to take out-of-town guests in Raleigh to introduce them to the personality of Raleigh? I can help!
Whether you're just looking to show your guests a good time or want to convince them to fall in love with the city and move there, Raleigh has plenty of fantastic activities that encapsulate the vibe of the City of Oaks.
This is one of the most common requests from my social media followers and my favorite to answer because there is no shortage of spots!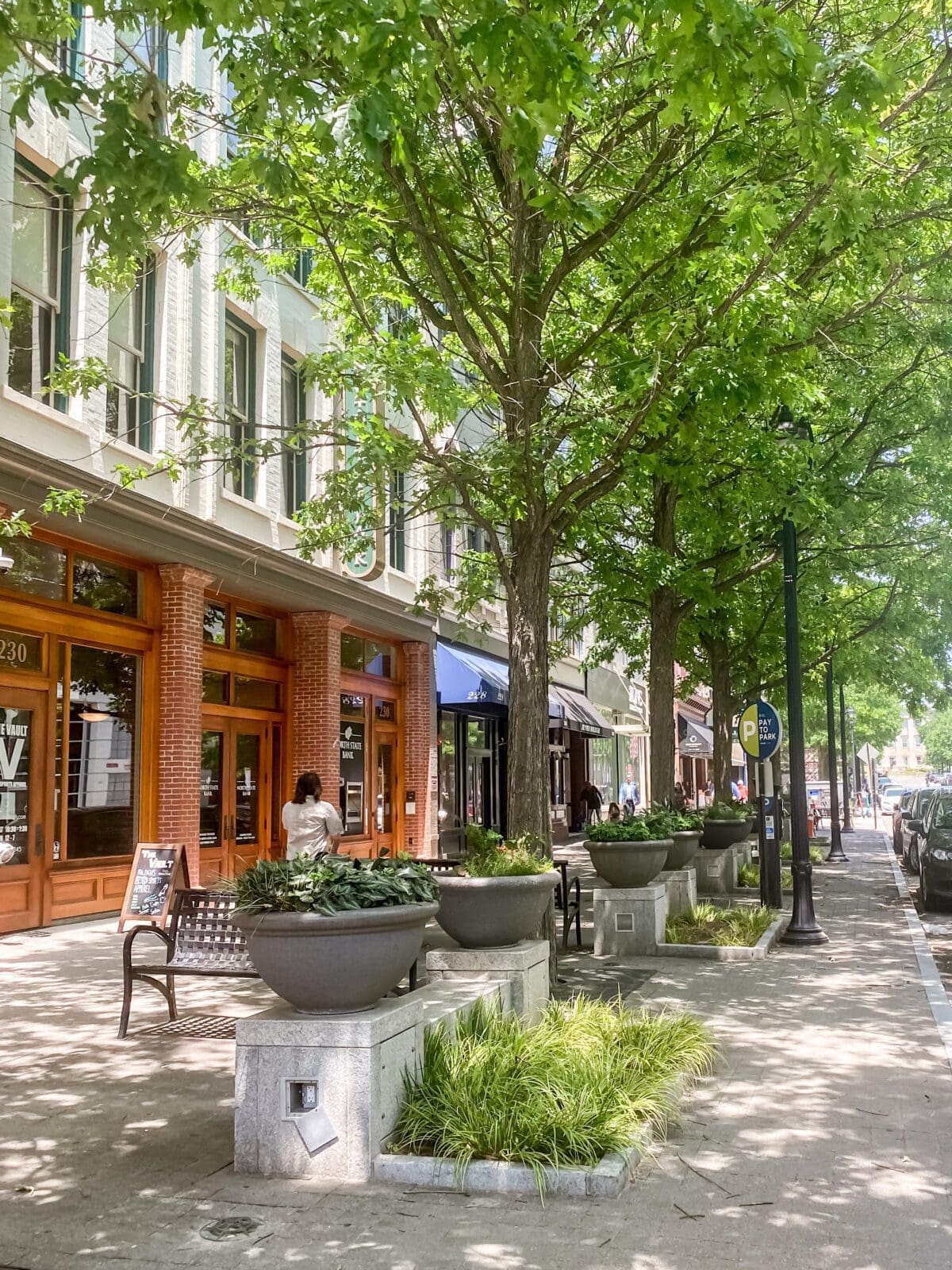 Activities you must do with your out-of-town guests in Raleigh
Pullen Park
Pullen Park is a particularly special Raleigh icon as it's the fifth oldest operating amusement park in the nation and has been bringing affordable fun to the area since the 1800s.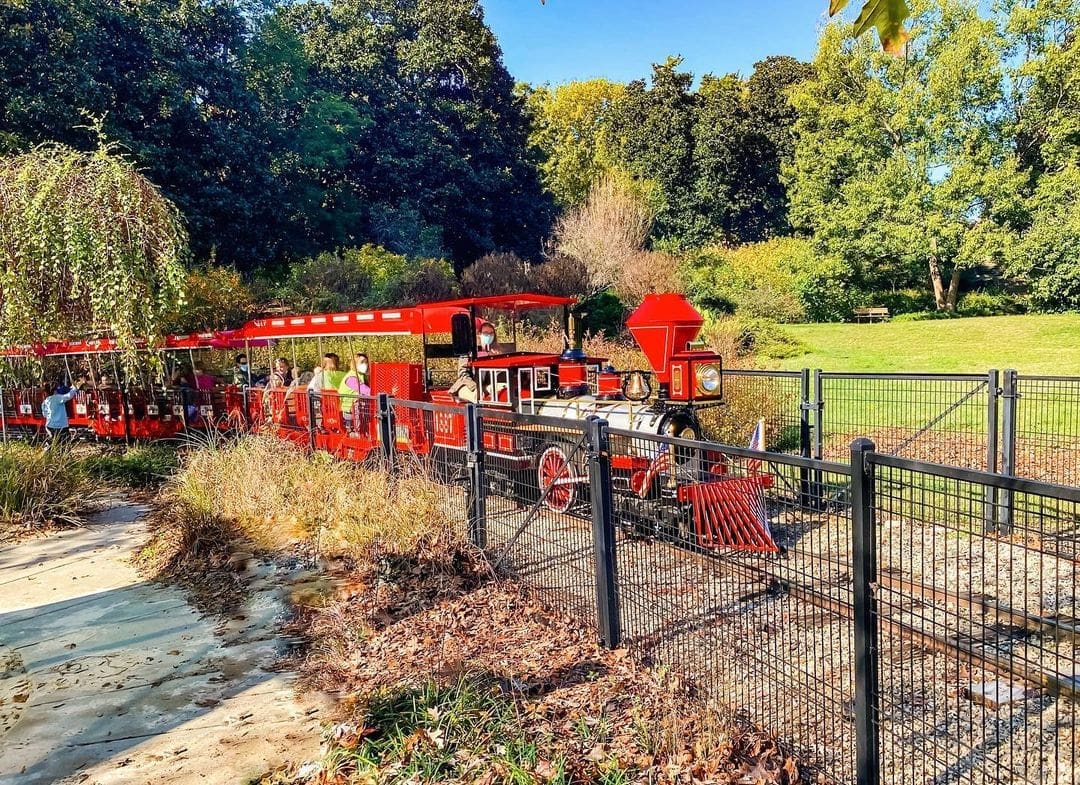 If your guests have children, Pullen Park is a can't-miss. Between the train rides, carousel, kiddie boats, playground, and beautiful scenery, kids and adults will enjoy visiting this nostalgia in Raleigh.
Free Museums
The free museums are some of the most incredible things about living in Raleigh. Multiple museums are incredibly expansive, engaging, and well done despite being completely free to visit.
NC Museum of Natural Sciences
The NC Museum of Natural Sciences is a large museum of exhibits highlighting animals, geology, nature, and dinosaurs throughout the state's history. Find authentic fossils, bones, life-size dinosaur replicas, aquariums, and more!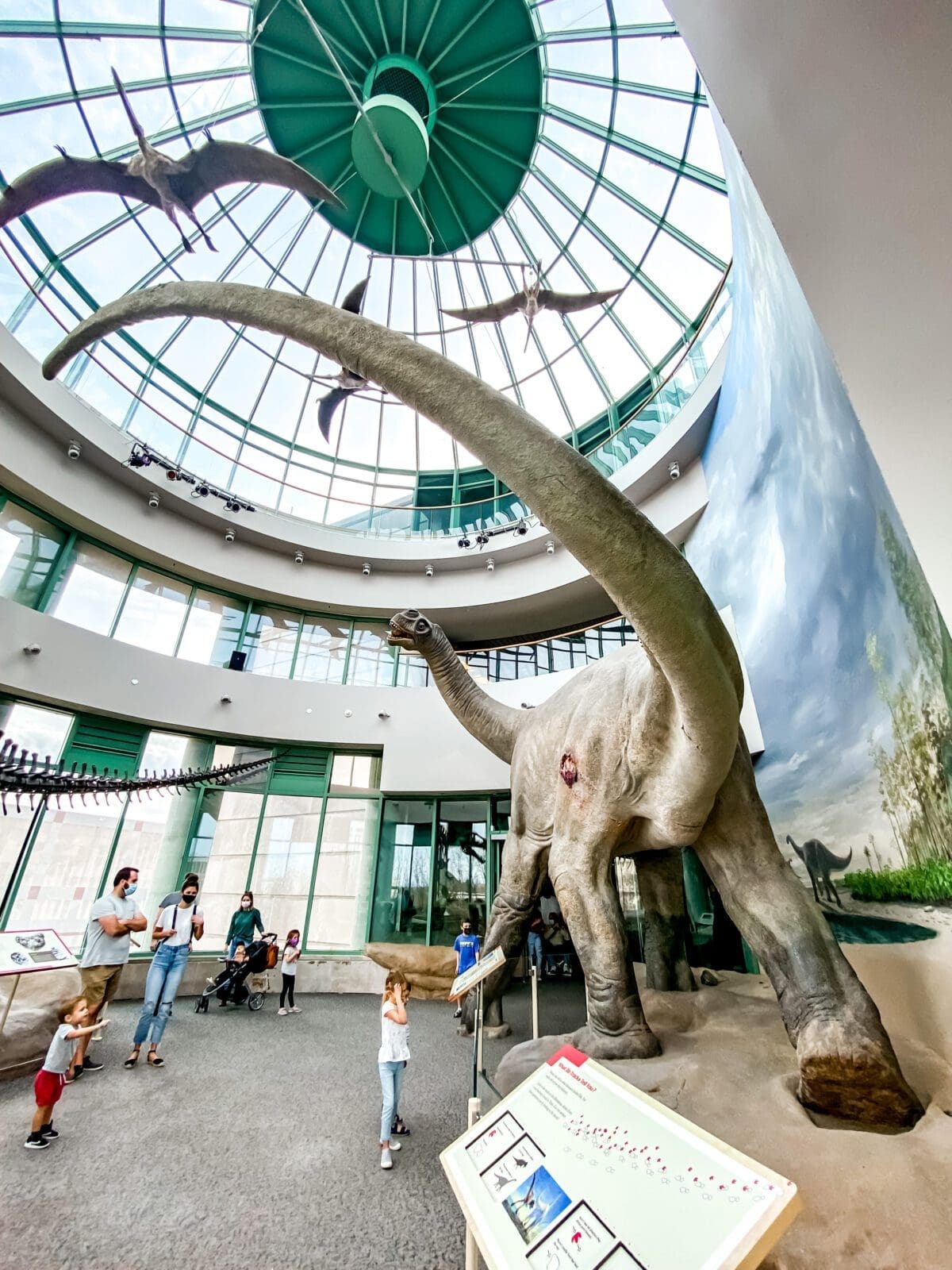 NC Museum of History
Just across from the Natural Sciences Museum, you'll find the NC Museum of History equally fascinating.
This museum is full of exhibits and artifacts that tell the story of North Carolina, from indigenous people to the present day. Explore and learn about pirates, sports, essential historical moments, and more.
NC Museum of Art
The NC Museum of Art is worthy of a visit for both art and nature lovers. Inside, find exhibits showcasing beautiful art; outside, find a 164-acre park with walking trails, lovely scenery, and large sculptures. This is a popular park for walks and picnics!
Show off our parks
Raleigh is known for its delightful outdoor spaces, parks, and trails that are lush with greenery and large oak trees. The greenway system comprises over 100 miles of connected, paved trails in the area that are perfect for walking, running, and biking.
If you'd like to take a relaxing stroll around a beautifully landscaped park, Fred Fletcher is always a great choice. If you want to take your guests somewhere a little more "wild," with unpaved trails, locals widely love Umstead Park.
One of the first places I think of when wondering where to take out-of-town guests in Raleigh: Dorothea Dix Park! This stunning park boasts unmatched views of the downtown Raleigh skyline. It's the perfect place to picnic, fly a kite, or grab some photos with the skyline.
Where to take out-of-town guests in Raleigh to dine and shop
NC State Farmers Market
I'm convinced Raleigh's farmers market is one of the greatest EVER. It occurs seven days a week all year long and includes an expansive outdoor area as well as climate-controlled buildings.
Farmers and vendors from all over the state set up shop for you to browse their products. My favorite food finds are La Farm Bakery's white chocolate baguettes and Annelore's German Bakery's chocolate whoopie pies!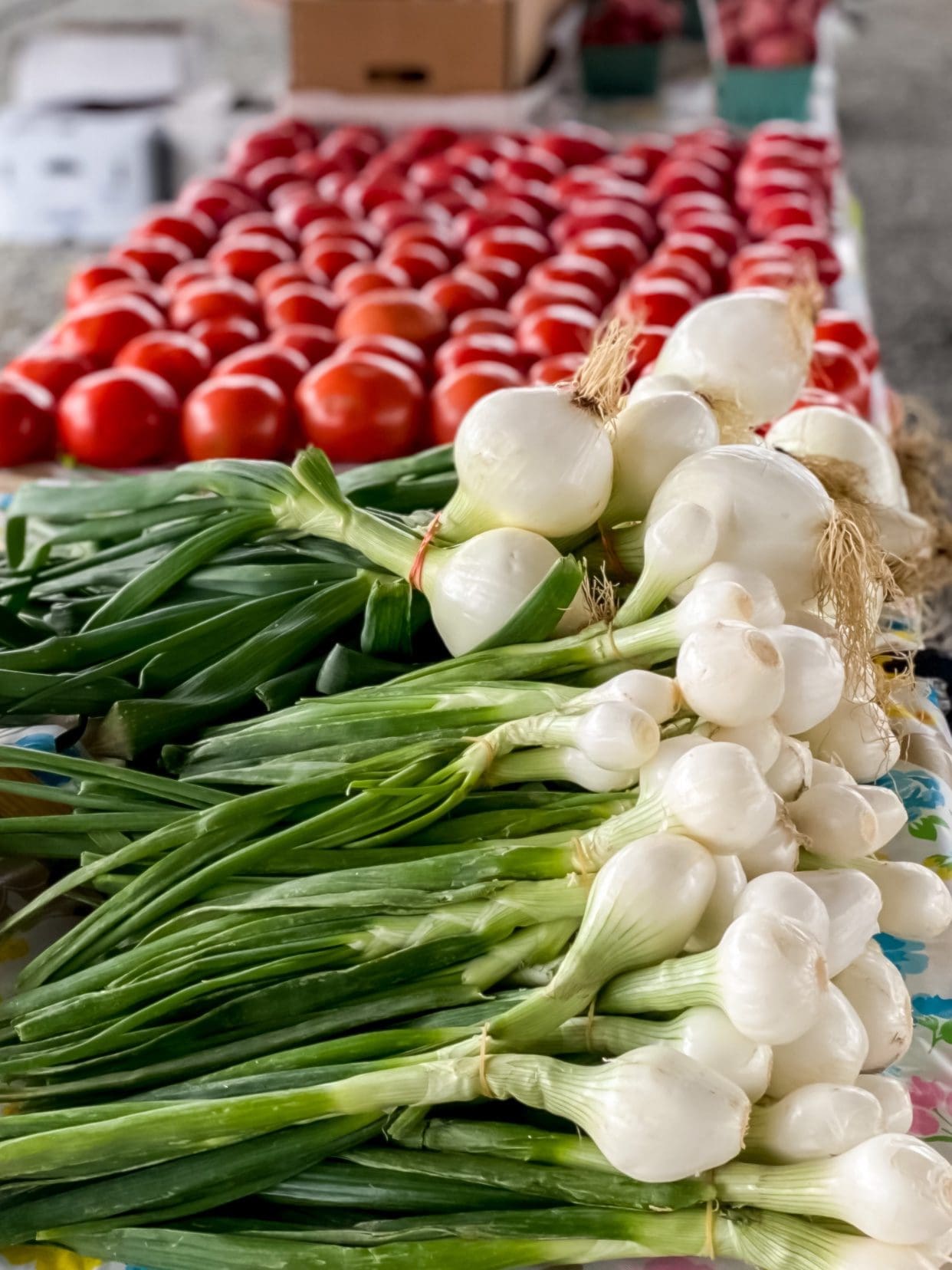 While there, you can't miss the NC State Farmers Market Restaurant! It is the perfect place to introduce your guests to the southern hometown vibes of Raleigh.
Open for breakfast and lunch, this restaurant is known for two things: made-from-scratch biscuits and employees wearing overalls. It's a deliciously southern good time.
Lafayette Village
Lafayette Village is a European-themed shopping center in North Raleigh. The walkways are lined with Parisian-style buildings, home to fantastic restaurants and shops!
It's truly a unique shopping and dining experience in Raleigh. To learn more about what you can find here, check out our guide to Lafayette Village (including where to eat!).
Food Halls
Raleigh has a couple of great food halls downtown that are perfect for taking guests to! These multi-vendor upscale food courts have modern designs and local restaurants with a common dining area.
It's a great chance to try a few varieties of food while still enjoying each other's company.
I highly recommend checking out Morgan Street Food Hall to feast at Iyla's Southern Kitchen! We also love Transfer Co. You can't go wrong with either one!
Howling Cow Dairy Education Center and Creamery
NC State's iconic homemade ice cream, Howling Cow, is famous in the area for its creamy texture, impressive flavors, and state fair legacy.
You can actually head to their dairy farm to order their fresh ice cream, sit on the porch rockers, and watch their cows in the pasture. It's a fun and delicious escape to the countryside right in the heart of Raleigh!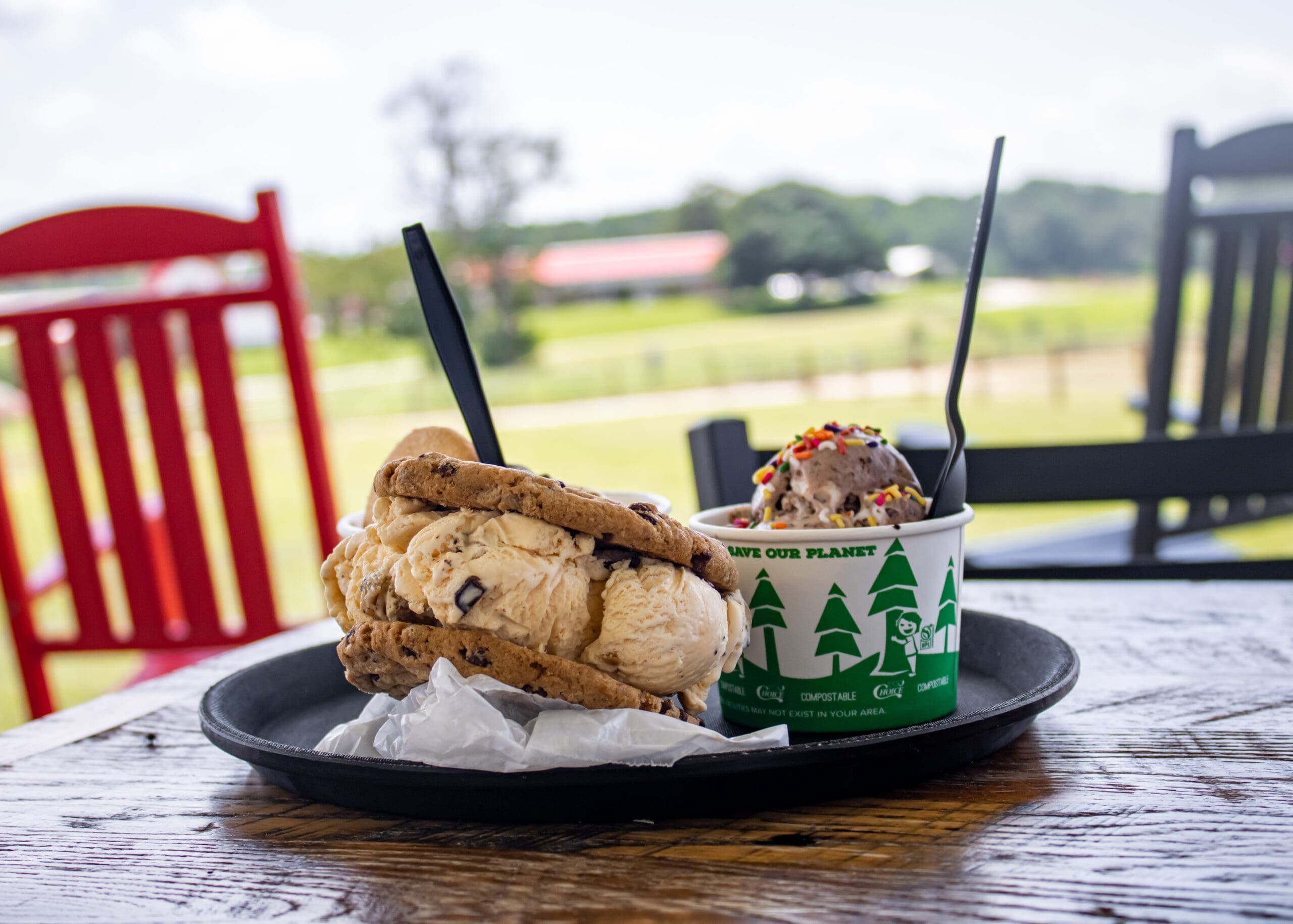 Drinks
Raleigh is home to quite a few nationally recognized breweries and cocktail bars.
Check out Raleigh Beer Garden, a restaurant with the world's largest selection of draft beers, an impressive garden patio, and even a large tree in the middle of the restaurant!
In Brier Creek, Flask Cocktail Bar is one of the area's newest craft cocktail bars. Their sister restaurant V Pizza is next door, so you can also order some fantastic Neapolitan pizza.
Flask is very close to RDU and is a perfect spot for drinks and eats after picking up your out-of-town guests from the airport.
Where do you like to take your out-of-town guests in Raleigh? Leave us a comment so we can all take away some new ideas!