We're pleased to announce our Hootenanny & Foodie Festival will be hosted at Haven Farm, starting with the fall one on Thursday, October 5, 2023. Tickets will be on sale soon. Sign up to be the first to know!
Our 2022 Spring Hootenanny & Foodie Festival presented by Cheerwine is complete and I couldn't feel more grateful.
View this post on Instagram
My team and I spent months preparing for a community event that would celebrate the best parts of the south, local brands, and tasty food.
As I reflect on the endless hours of work that culminated in a magical evening that was over far too quickly, I want to share everything. Let's talk about memorable moments, lessons learned, and highlights of the key players, vendors, and brands that brought this dream to life.
The majority of the photography shared in this blog was done by Rachel Herbst with Isobel Media, a great friend that we are excited to have connected with. Her coverage of the event was more than I could ask for!
I couldn't have done it without my team.
With the support of my family and the hard work of my team, this crazy idea of a hootenanny took off. They were helping me every step of the way from the planning, to blowing up balloons, to scanning tickets. This event is just as much theirs as it is mine.
We're already discussing ways we can improve future events.
One of my favorite things about my team is our collective desire to grow, adapt, and refine.
As much as I would love to say this event was 100% perfect, that's just unrealistic.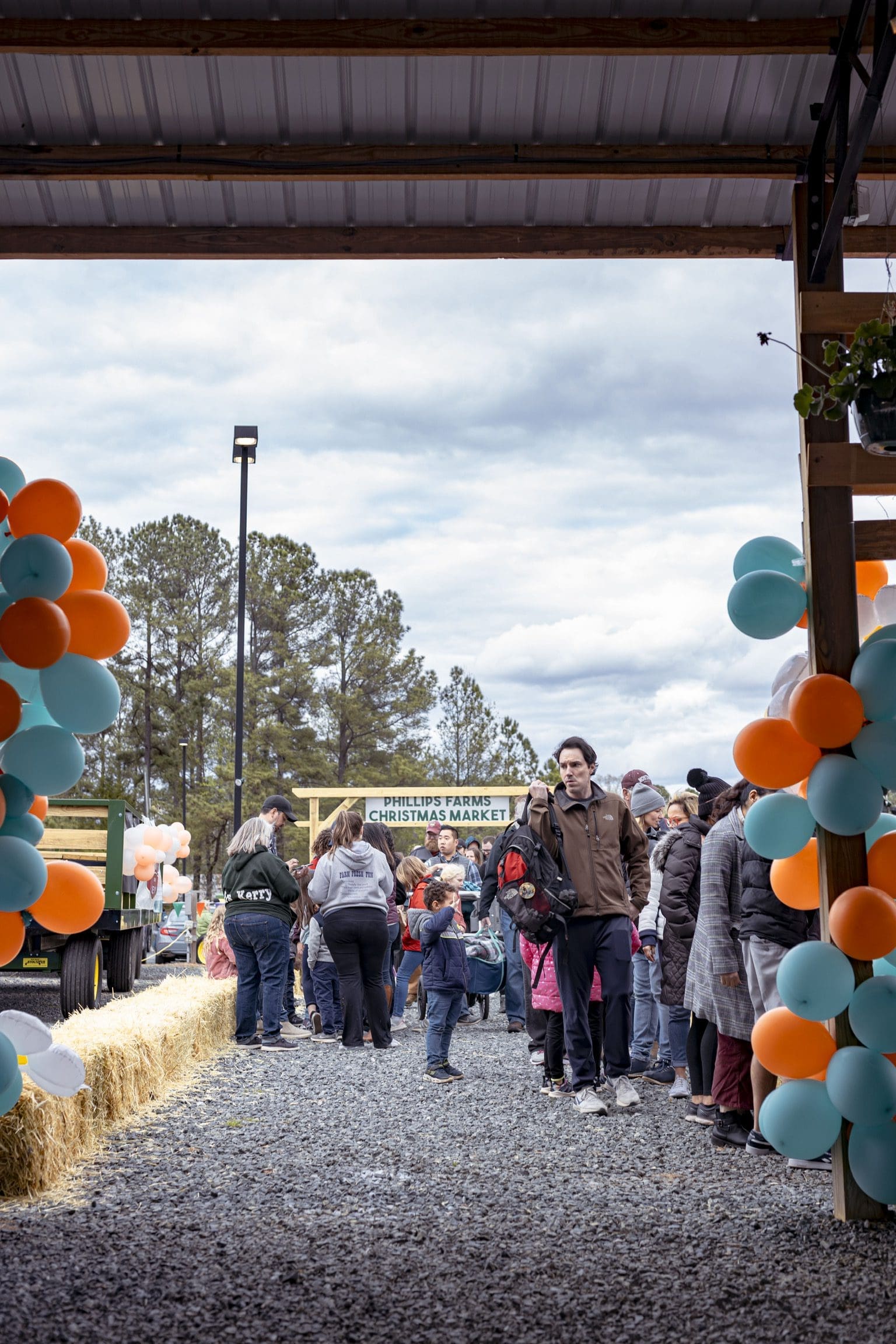 We had such high demand and tried to accommodate as many people as we could. We had many systems in place to streamline the crowd but some of them weren't as effective as we hoped and there were longer waits than we wanted. Although our rockstar vendors handled it like champs and we received countless comments from attendees on how great it was, we know we can and will do even better.
Every time I received a comment, message, and email telling me how great the Spring Hootenanny & Foodie Festival was, my heart swelled. It made all of the hard work, stress, and mishaps worth it. Of course, we also received and appreciated kind feedback and suggestions from attendees that wanted improvements. My team and I are working on our post-event review and making sure we adhere to many of the suggestions received from attendees, partners, vendors, volunteers, and even family members. Suggestions range from a better and faster check-in process to expanding both the time of the event and the space for vendors.
With both positive and supportive feedback, I'm even more excited for the future of these hootenannies with my amazing team!
Phillips Farms of Cary was the perfect host.
Michael and Melissa of Phillips Farms are always angels to work with. They and their team built everything at the Spring Hootenanny & Foodie Festival, from the pavilions to the giant lawn games.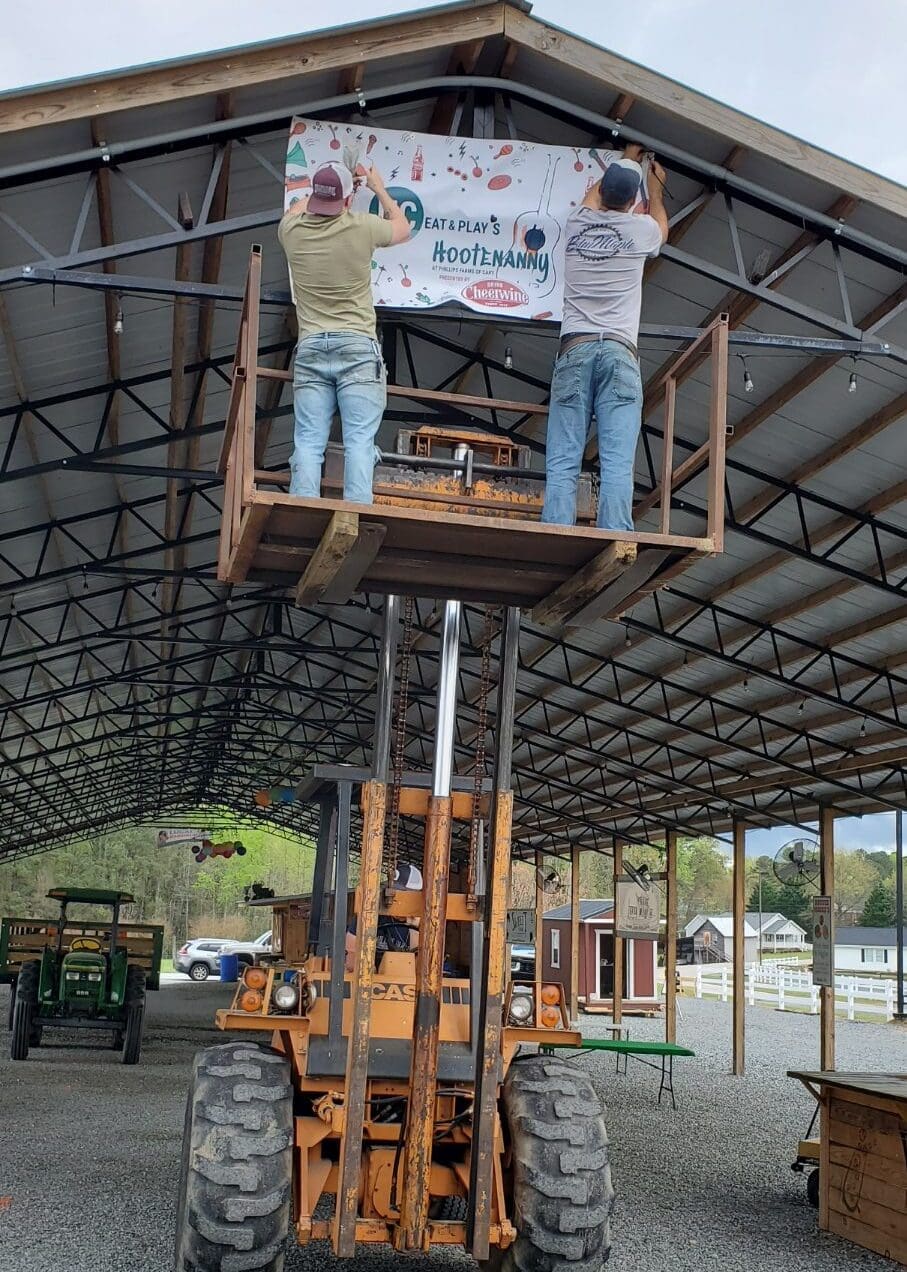 Their staff worked tirelessly to make kettle corn, work the lines, and keep things functioning.
Their stunning farm has events throughout the year, including their Spring Farmers Market every Saturday from 10-3.
"Saturdays at Phillips Farms are made to shop and play." Michael Phillips, owner of Phillips Farms explains.
"It's not your typical farmers market. We proudly feature wonderful local vendors offering fresh produce and products, but we also make it a free and fun family event with kid's games, field activities like the cow train, and live music."
It's a great time every weekend! You can shop and support deserving local businesses, play games with your kids, listen to local music, and indulge in Phillips Farms' rotation of delicious food trucks each Saturday. You may even see me out there with my mom doing cooking demos with My Mama's NC Kitchen. Details and schedules coming soon."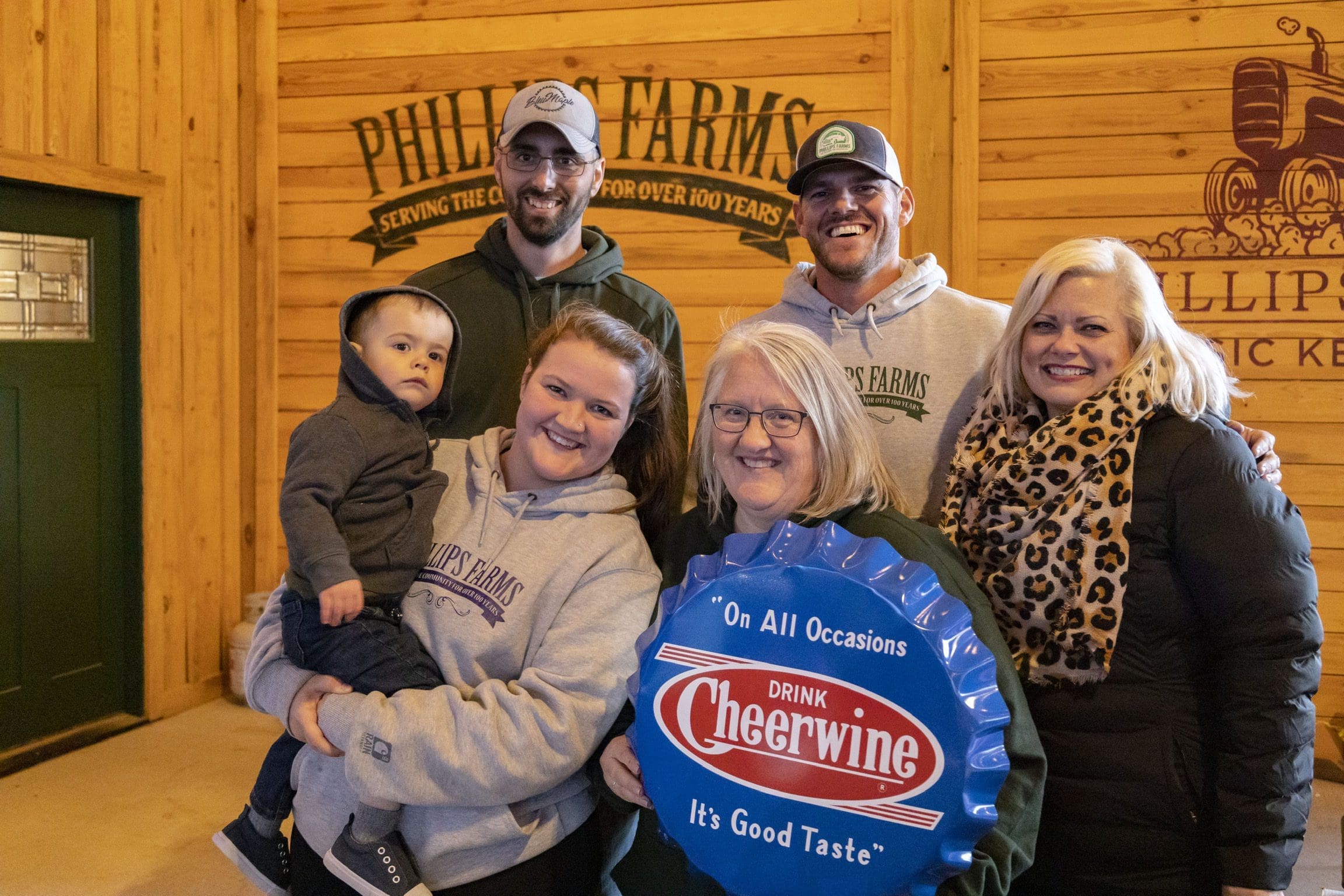 It was an honor to welcome Cheerwine as our title sponsor!
I'm still pinching myself that I get to create fun experiences with such an iconic NC brand that is Cheerwine.
I loved seeing so many people taste (and love) it for the first time, as well as the die-hard fans that were thrilled to find the famous cherry soft drink there.
Cheerwine was the perfect fit for our Spring Hootenanny & Foodie Festival and we look forward to many more projects in our future!
Live bluegrass on the farm
We were thrilled to welcome all-female "sweet-grass" band, Sweet Potato Pie back to our Spring Hootenanny & Foodie Festival. They played at our inaugural Fall Hootenanny and due to popular demand, we invited them to return which was the right decision!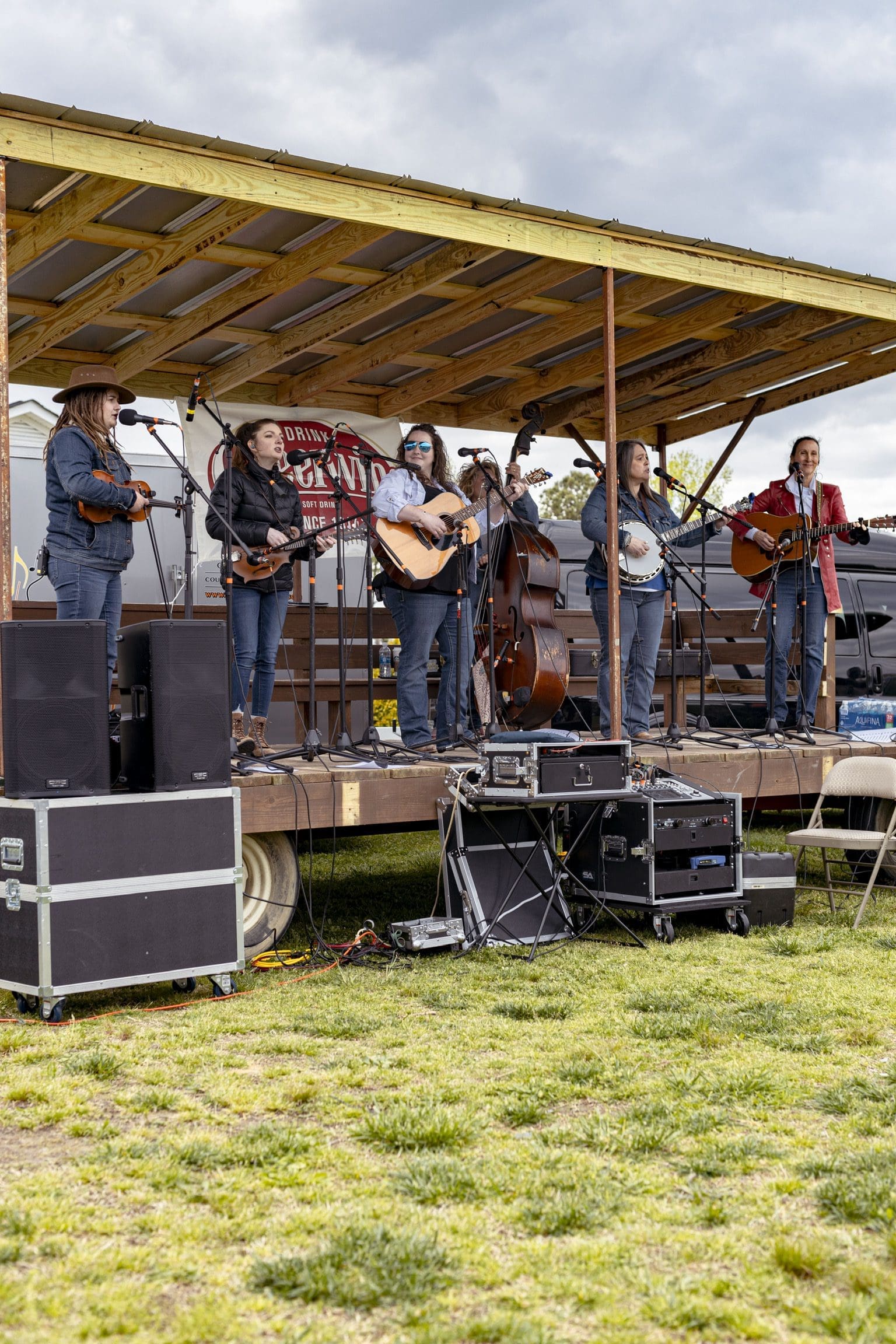 On the other side of the farm, we had more bluegrass entertainment on an antique wagon-turned-stage. Colin Cutler, a talented local musician, was on the banjo alongside fiddler Christen Jaynes.
They were located near the entrance so attendees were greeted with live bluegrass tunes immediately upon arrival!
V Pizza returned and served up slices and mac & cheese.
V Pizza's mobile wood-fired pizza oven is a head-turner from its impressive appearance to the cheesy aroma it emits. Ingredients imported from Italy, a 1,000 degree oven, and a hard working team come together to serve some of the best slices of Neapolitan pizza anyone has had.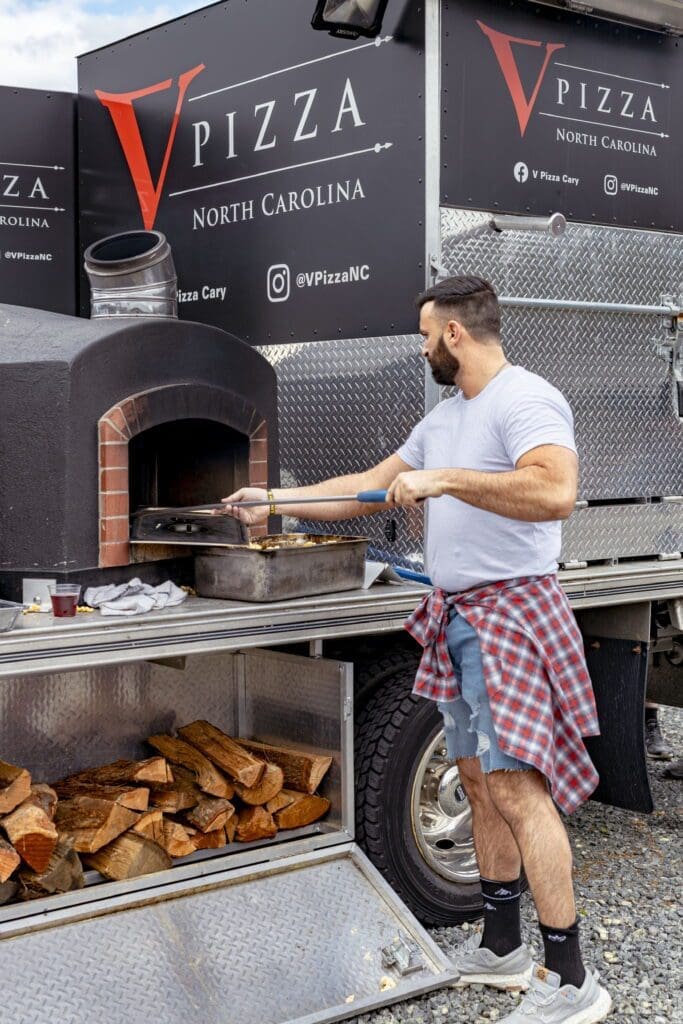 The Foodie Festival showcased tasty bites from local businesses.
Attendees were given a tasting card upon arrival that allowed them to travel from booth to booth, interacting with each business and grabbing a sample of their product. People couldn't stop raving about what they tried and it warmed my heart to see connections being made and food being enjoyed.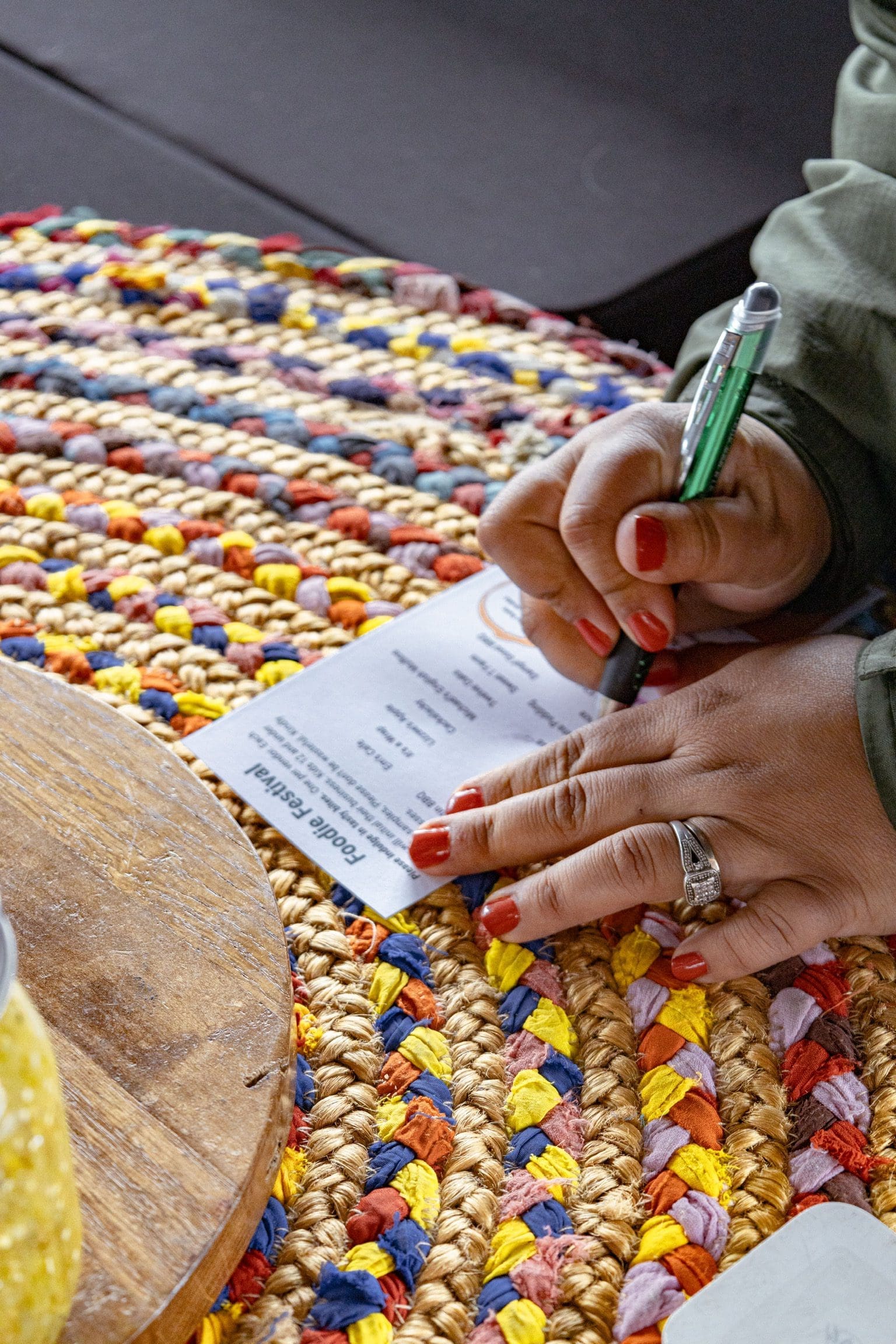 These business owners, chefs, and farmers provided more than 600 samples, working on their feet for hours on end to raise awareness of their brands and reach as many people as possible!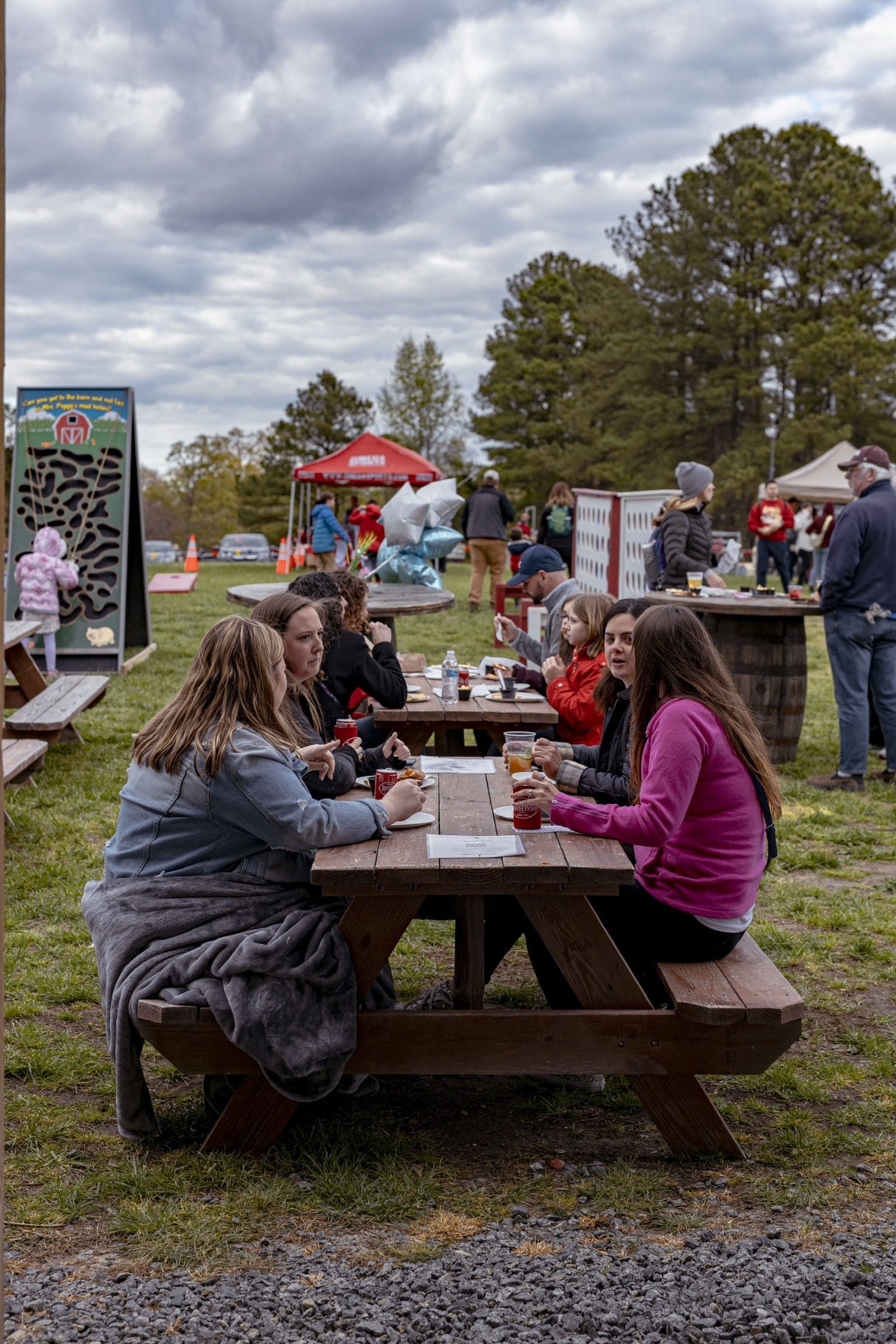 Andia's Homemade Ice Cream
Andia's brought their charming ice cream cart and despite the chilly weather, guests lined up for the deliciously creamy ice cream!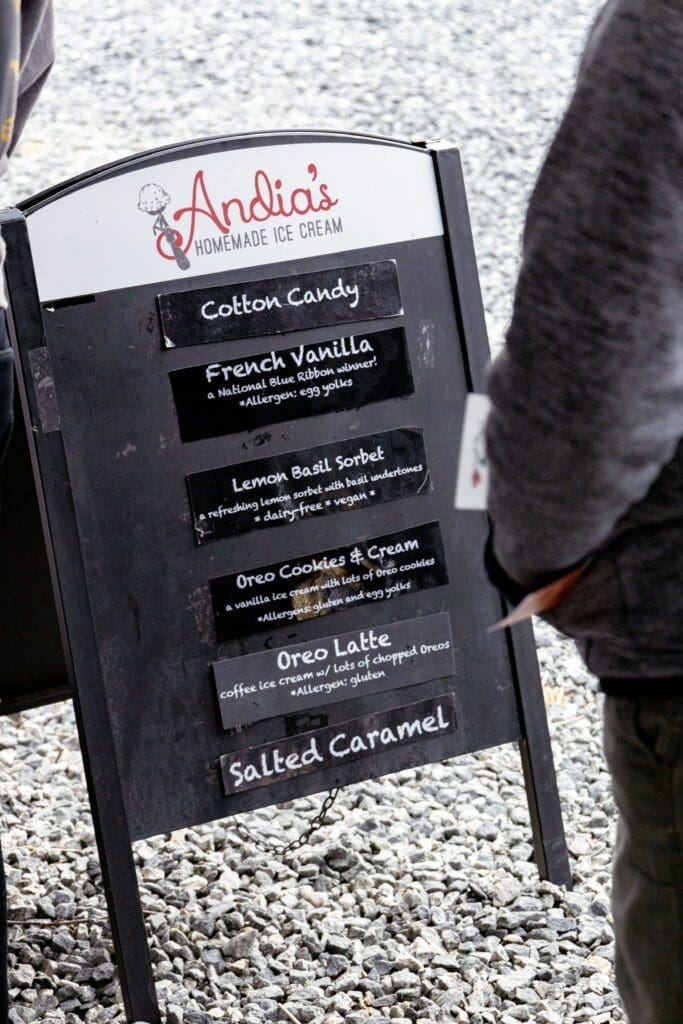 The Arepa Bar
The Arepa Bar served mini meat & cheese arepas that delivered in flavor! Folks couldn't get enough!
Cackalacky
Cackalacky is an iconic NC sauce brand that sampled their delicious Cheerwine BBQ sauce on pork rinds. It was the perfect southern snack and they were so gracious and thrilled to be involved! They made me smile every time I walked by.
Casa Cubana
Casa Cubana impressed with their plantain cups stuffed with ropa vieja de pollo, sweet plantains, pickled red onion, and avocado sauce. The samples were beautifully eye-catching and equally as delicious!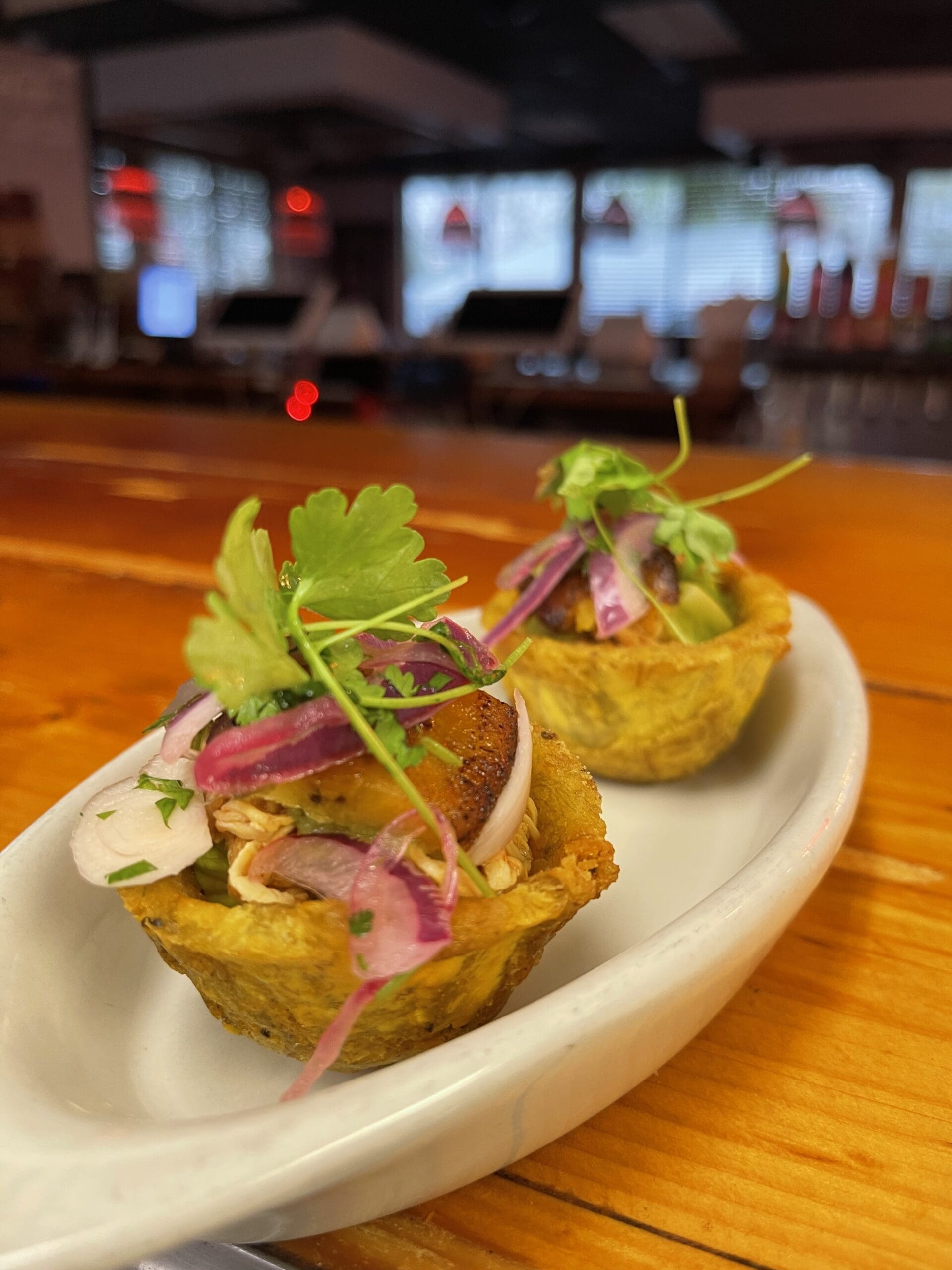 Dampf Good BBQ
Dampf Good BBQ couldn't be missed with their giant 20 ft smoker! They sampled their tender brisket and coleslaw and people couldn't stop talking about it even after the event was over!
Em's Cafe & Catering
Em's Cafe sampled their homemade pop tarts and did a wonderful job showcasing their amazing baked goods for the crowd! They certainly gained more than a few new regular customers!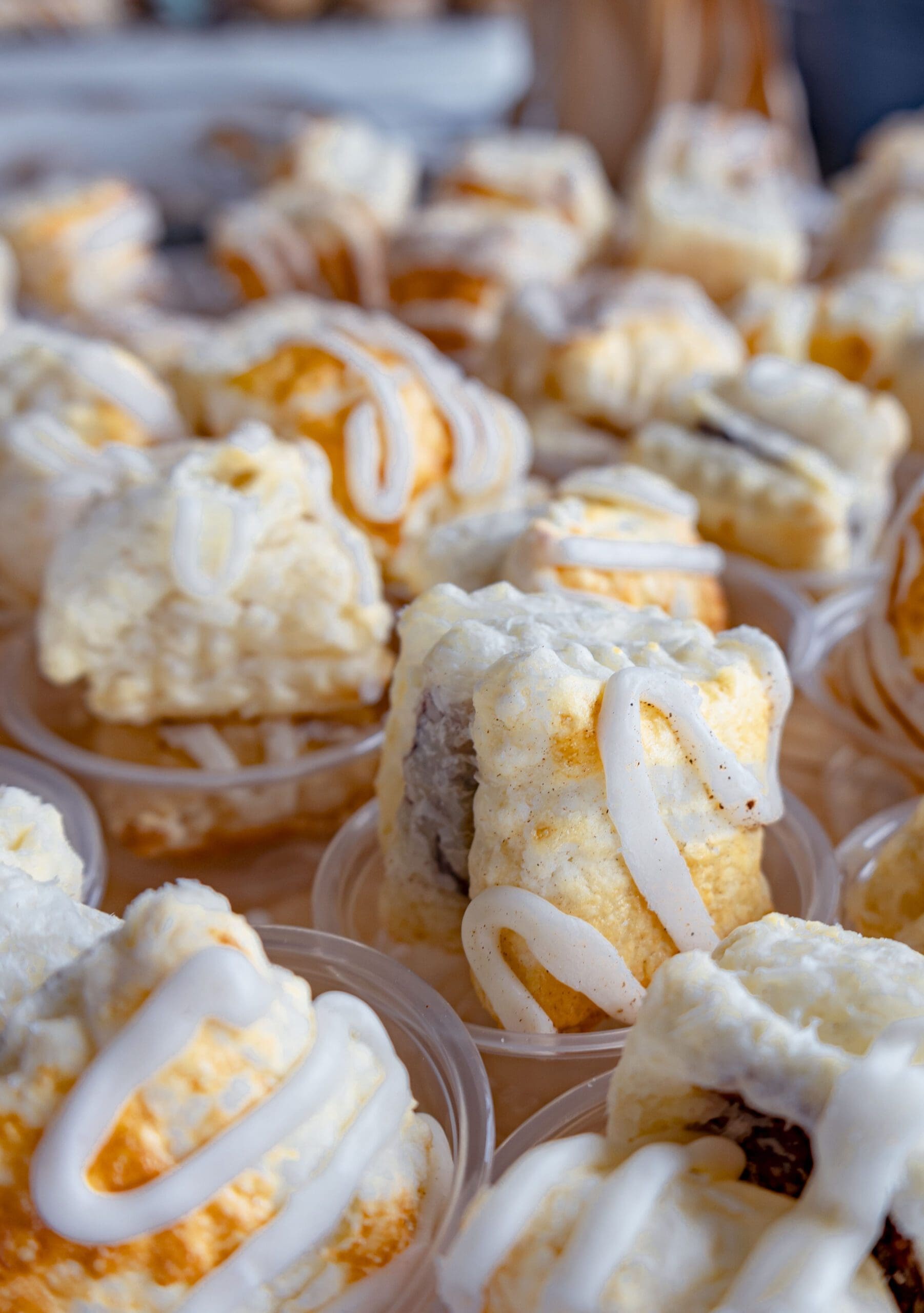 It's a Wrap
It's a Wrap was nervous when setting up because it was their first-ever event, but they rocked it all night long. Their egg rolls were one of the top enjoyed samples of the night and the line at their booth was consistent. I'm so proud of them!
Iyla's Southern Kitchen
Iyla's sampled their famous shrimp & grits, wowing everyone who tried them. It was Chef Greg's birthday and he happily spent it making people happy with his tasty creation!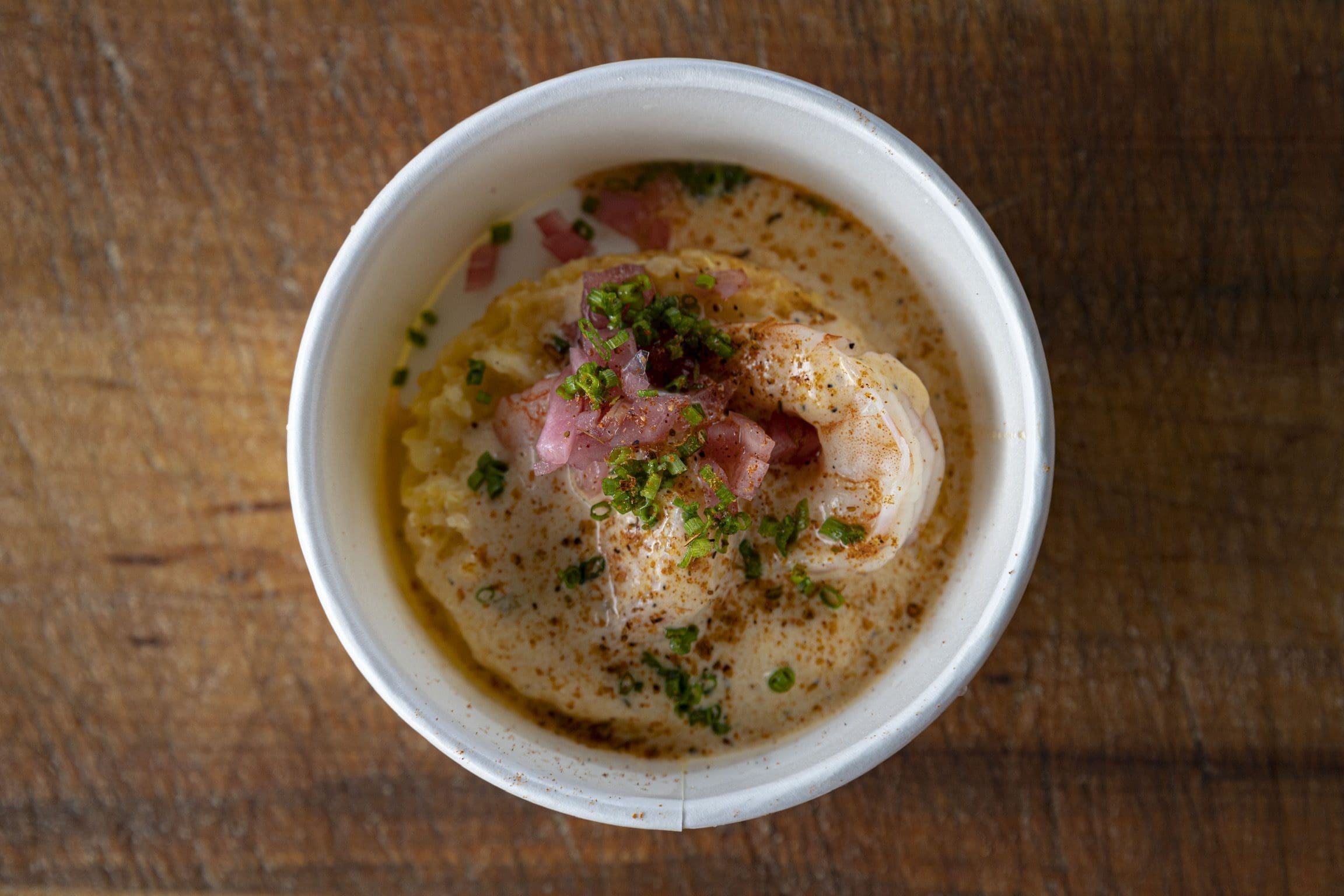 Lechón Latin BBQ
Lechón Latin BBQ is one of Raleigh's newest restaurants that serves up Latin bbq creations. Their hefty-sized samples of rice, pork, onions, sweet plantains, and cilantro were a top contender for crowd favorite at the Spring Hootenanny & Foodie Festival!
Lizzee's Apple
I overheard an attendee walking away from Lizzee's Apple's booth saying "THAT surprised me!" Her strawberry shortcake apple slices and candy grapes were just the sweet treat people were looking for!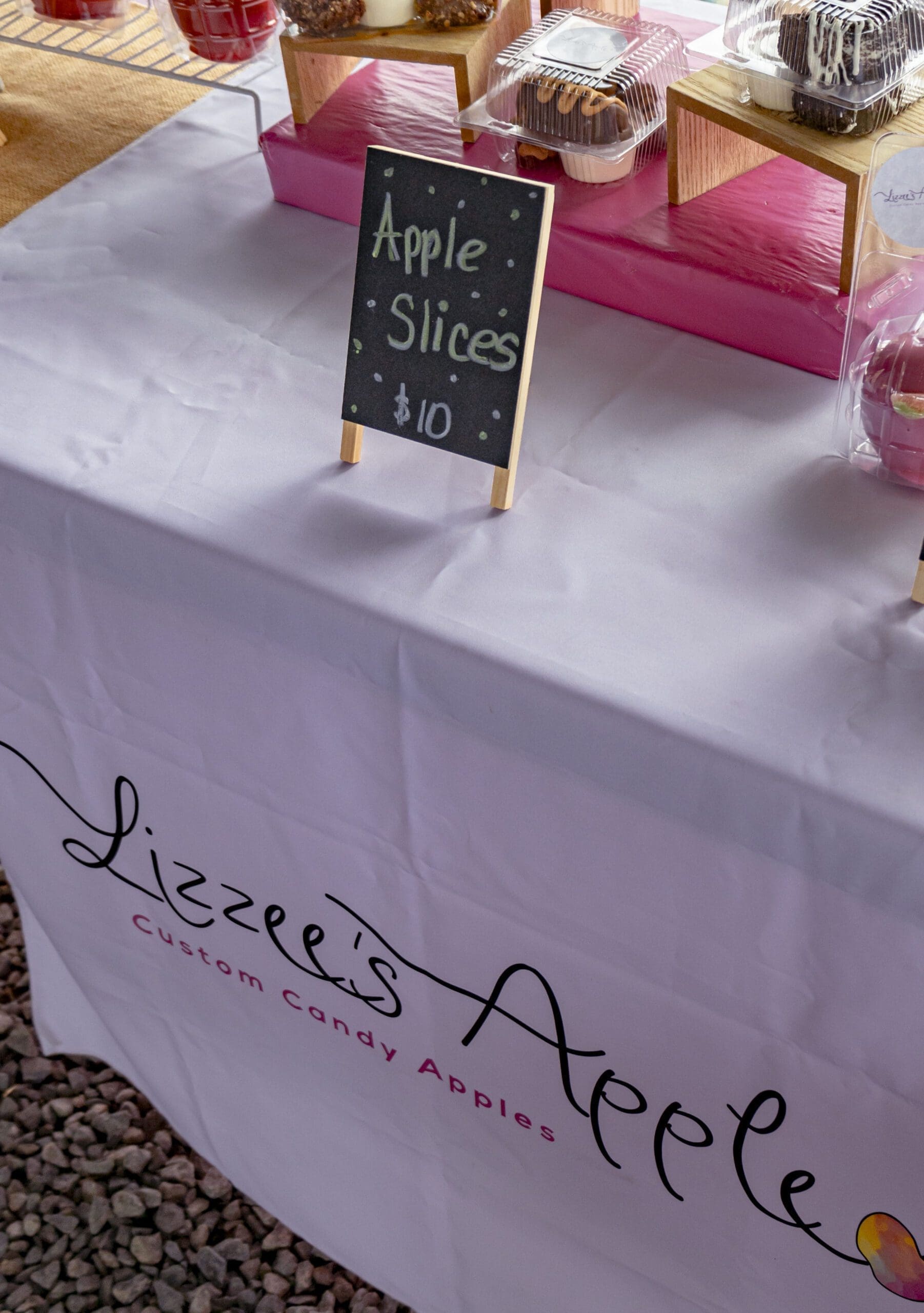 Mama's Salsa
Mama's Salsa is a local, woman-owned business that sells homemade fresh salsa as well as homemade tortilla chips. She sampled all our flavors of her salsa and our attendees loved them. Her chips & salsa are famous in the Triangle for a reason!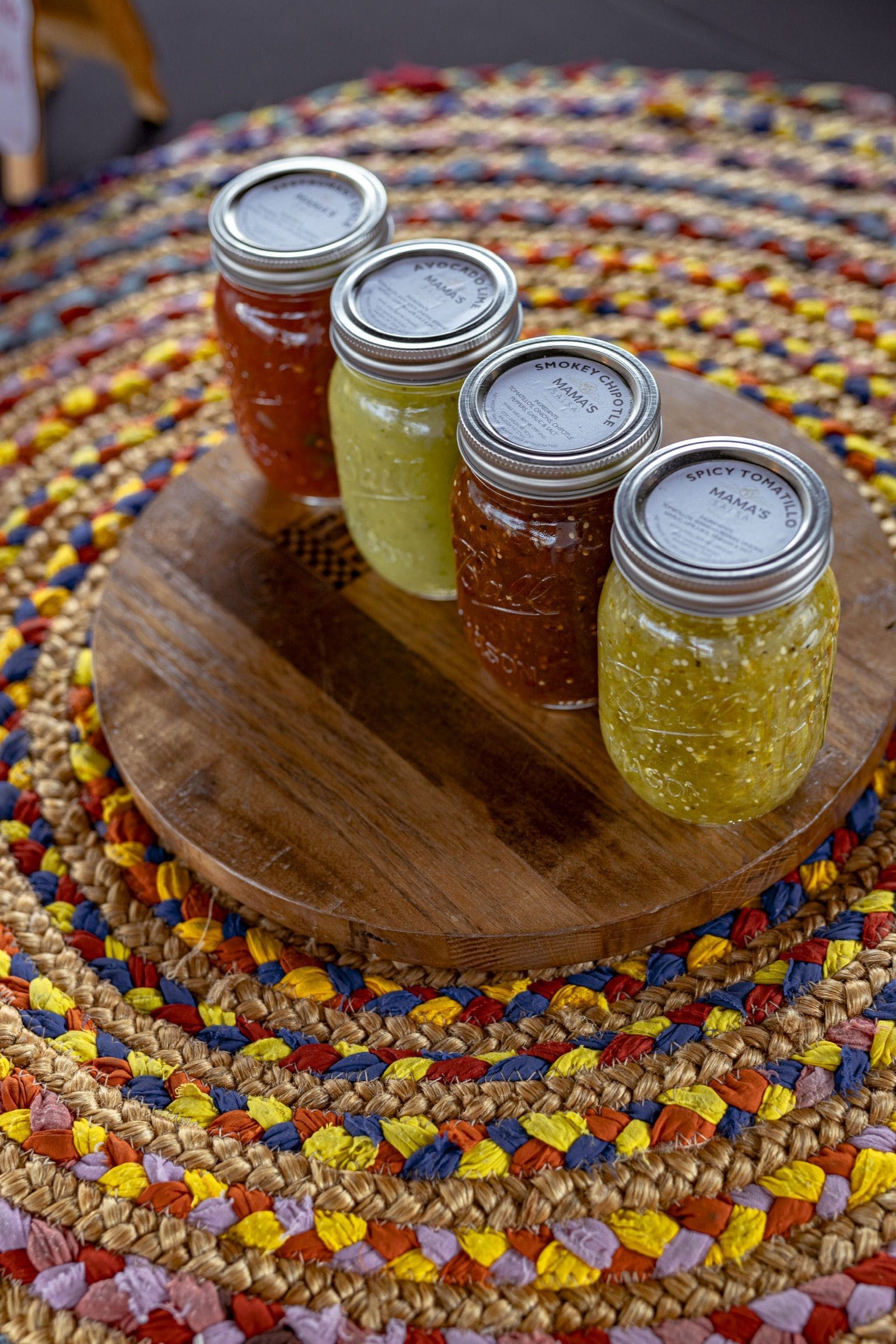 Meat & Graze
Meat & Graze is a local Durham business that specializes in charcuterie and cheese boards. They brought a beautiful display of various cheese skewers and bruschetta, showcasing their talent in delectable cheese pairings.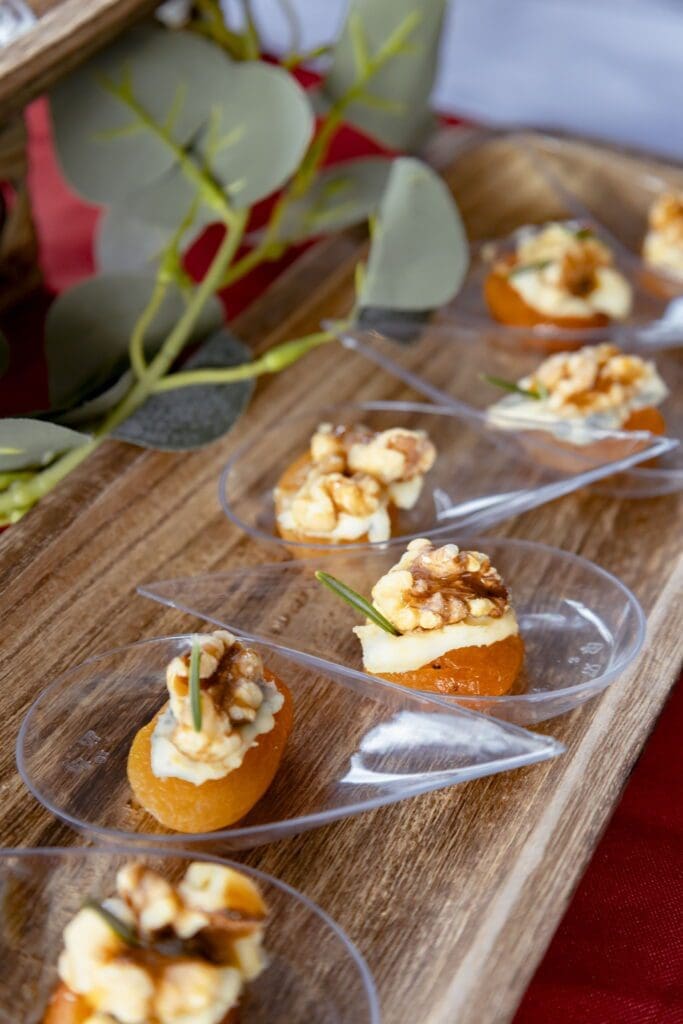 Michael's English Muffins
Michael's English Muffins sampled their fresh, house-made English muffins with jam, Nutella, and peanut butter. Anyone who hadn't already tasted their product became a huge fan at our Spring Hootenanny & Foodie Festival!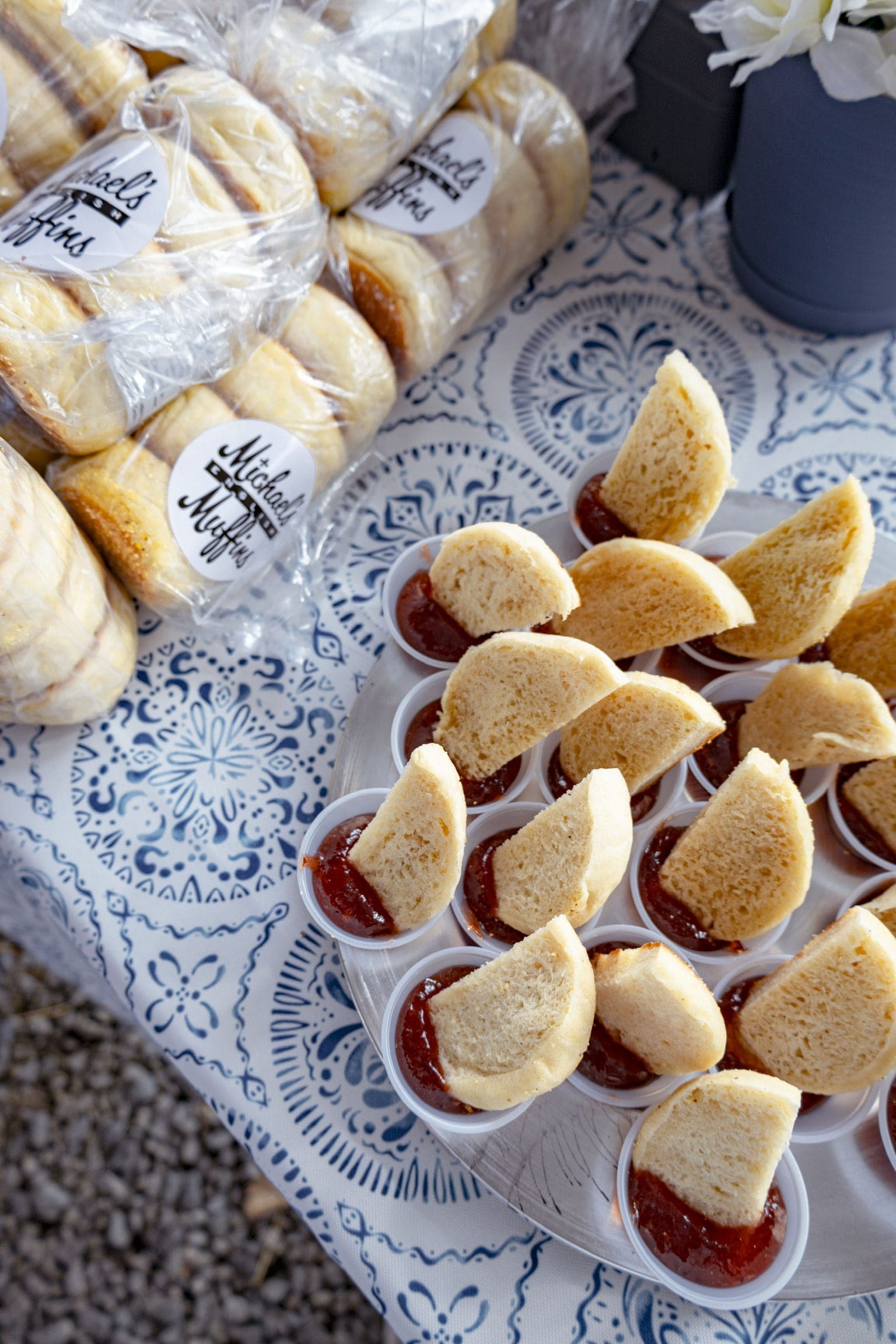 OMG! Banana Pudding
OMG! Banana Pudding is a show-stopper at the NC State Fair and it was only fitting to include them in our Spring Hootenanny & Foodie Festival! Banana Pudding is a southern delicacy and theirs is some of the best around!
Satori Meals
Satori Meals, a local gluten and dairy-free meal delivery service, brought their roasted beet hummus and carrot cake energy balls. Attendees were excited to learn about their business and ability to create such tasty, nutritious dishes.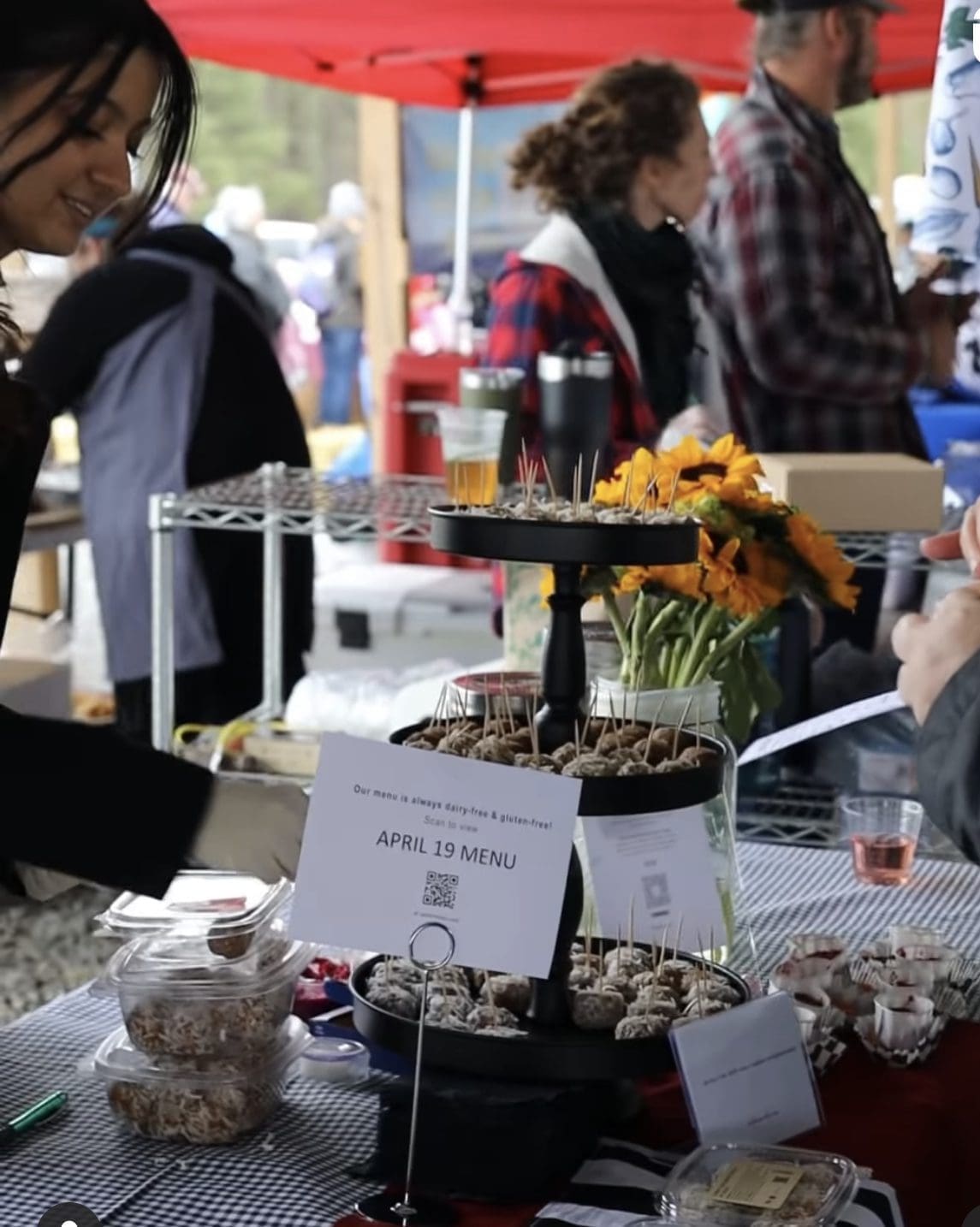 Sweet T Farm
Sweet T Farm is a local farm that provides grass-fed pork, beef, Turkey, and eggs to the area. They spotlighted their bratwurst with their tasty "Boar in a Blanket" creation with zesty honey-mustard sauce! People loved this business and the endearing couple who owns it.
tuf Local
Triangle Urban Farm is a family-owned business that brings local goods straight to your doorstep. They brought along their partner and personal chef to create bites that blew away the crowd. They served vegetarian lettuce wraps and pork mojo nachos that attendees said were absolutely delicious.
Twelve Oaks Farms
Twelve Oaks is a local cannery and farm that brought tastes of their fresh pickles and strawberry jam. Their product blew people away, including my grandfather who couldn't stop talking about their pickles!
Fun on the Field
Phillips Farms' beautiful field was filled with family-friendly fun thanks to our Field Sponsor: Field Day, the area's go-to app for discovering kid-friendly activities! If you have kids, make sure to sign up for their app.
Field Day had fun activities set up and even handed out cowboy hats to attendees which was such a fun touch!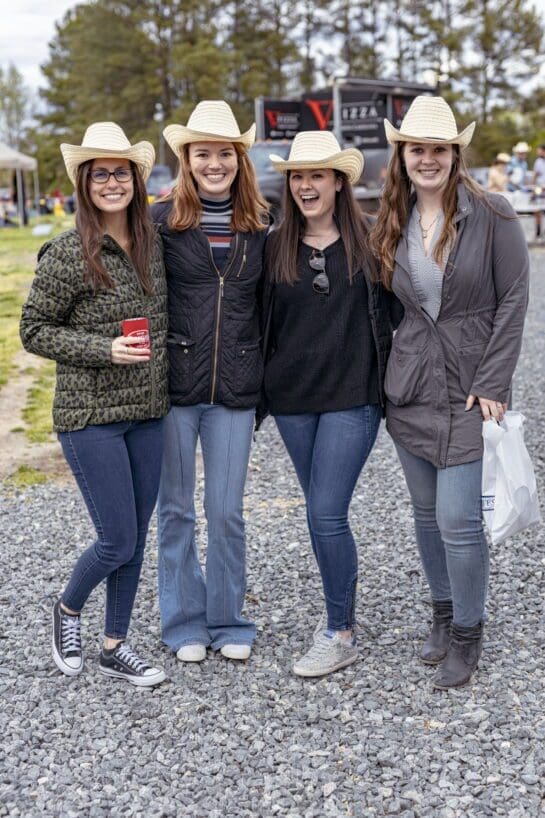 Lawn games and cow trains
Phillips Farms provided life-size lawn games and a cow train which operated all night long pulling children and parents around the farm on an exciting, bumpy ride.
They also let me shoot off their candy cannon! Yes, I said candy cannon. We launched hundreds of pieces of candy into a crowd of squealing children!
Petting zoo
The Pint Sized Pasture is a mobile petting zoo that brings their cuddly animals to events and parties in the area. They brought various animals that attendees were thrilled to meet, pet, and take photos with!
Nature activities
NC Farm & Forage is a local business that aims to reconnect children with nature through foraging, wilderness survival, and more. They brought fun nature activities including a sensory bin and gem mining which the children were thrilled about!
Arts and crafts
Paint Paper Paste is an art studio offering children's art classes, workshops, and events. Craft Habit is a local business selling craft supplies and offering classes. They both brought colorful crafts and sensory activities to the field! It was so fun to see all the children enjoying being creative.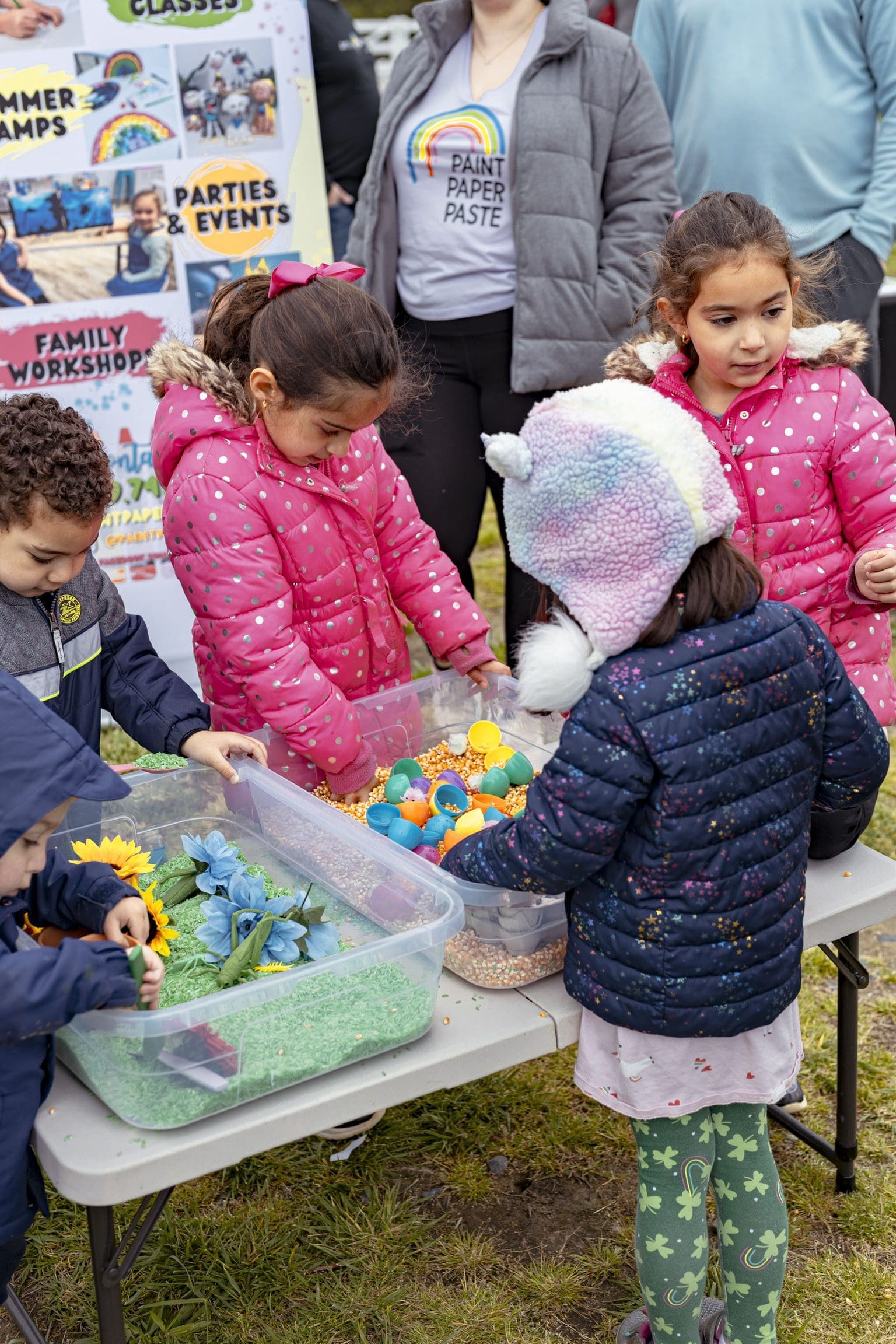 Omega Sports went on the trails and held sports challenges
View this post on Instagram
Known as North Carolina's Neighborhood Sports Store, Omega Sports was back with fun sports challenges on the field. Kids loved testing their active-play skills in creative obstacles designed by Raleigh Market Leader, Daisy Wilson.
Omega Sports also hosted their 1st ever Run the Farm pre-hootenanny trail and demo run with Saucony. Local runners enjoyed running around Phillips Farms' beautiful trail just behind where all the Hootenanny action was about to begin.
Runners joined Saucony's and Omega Sports' experts to demo the new Saucony Peregrine 12. This is one of Saucony's more popular trail running shoes. Daisy shares,
"You need to have trail running shoes if you're running off the road. The Peregrine 12 is one of my favorites to offer our growing trail running community."
Attendees enjoyed a few adult beverages too!
We had various 21+ drinking activations throughout the farm for adults to enjoy.
Rosé in the Hay was a beautiful station brought to the Spring Hootenanny by Flask, Raleigh's newest craft cocktail bar. Guests of age could sip on rosé in the flowers and hay seating.
We had a Craft Beer Corral sponsored by Jim Allen Group. The enthusiastic real estate professionals are known for supporting great community events. We were honored to have them as a sponsor. Kids got cute teddy bears and cool Jim Allen Group swag.
Jim Allen Group greeted and engaged with attendees while our partners at Raleigh Brewing Company poured craft beer for adult attendees. The Craft Beer Corral was a big hit – even in less than warm spring temps!
Social House Vodka joined us with a Social House Saloon! Attendees 21+ were treated to cocktail tastes and could then enter the saloon to find a cash bar. As the most popular North Carolina vodka, Social House crafted tasty cocktails befitting a true southern gathering. Plus, their team was simply amazing and fun to hang with all night.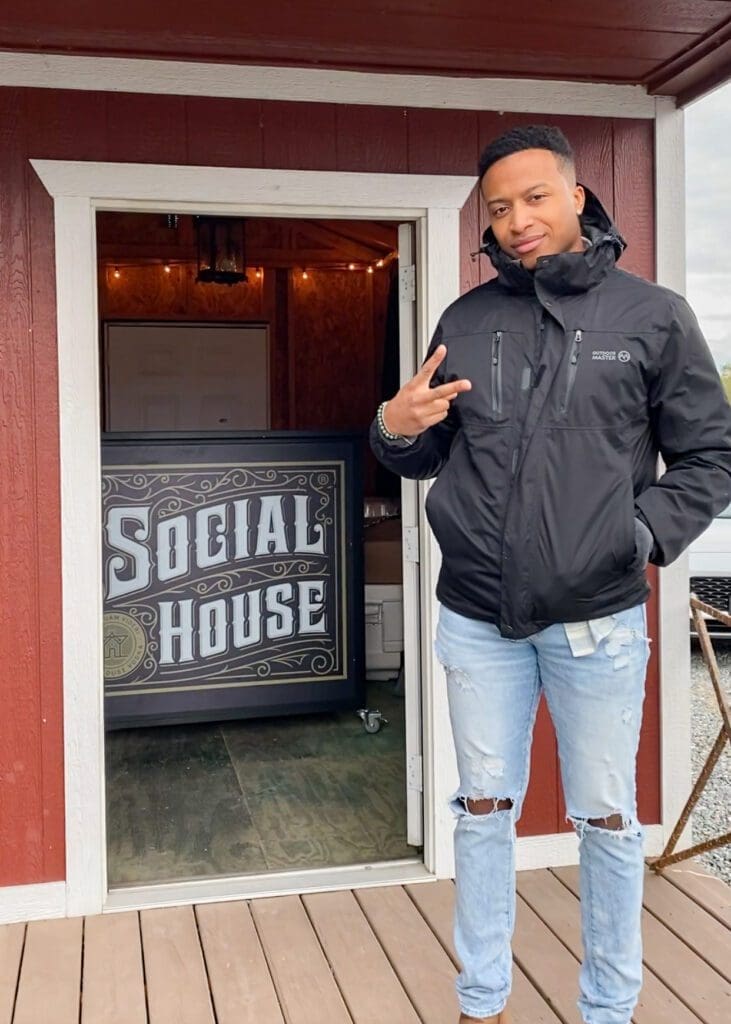 Debut of My Mama's NC Kitchen
In celebration of the newest channel of NC Eat & Play, My Mama's NC Kitchen, my mom and I performed a cooking demo with Cheerwine.
We walked the crowd through how to make Cheerwine candied pecans, played some trivia with Angie from the Cheerwine team, gave away prizes, and sampled the food. Make sure to check out all of Cheerwine's special recipes.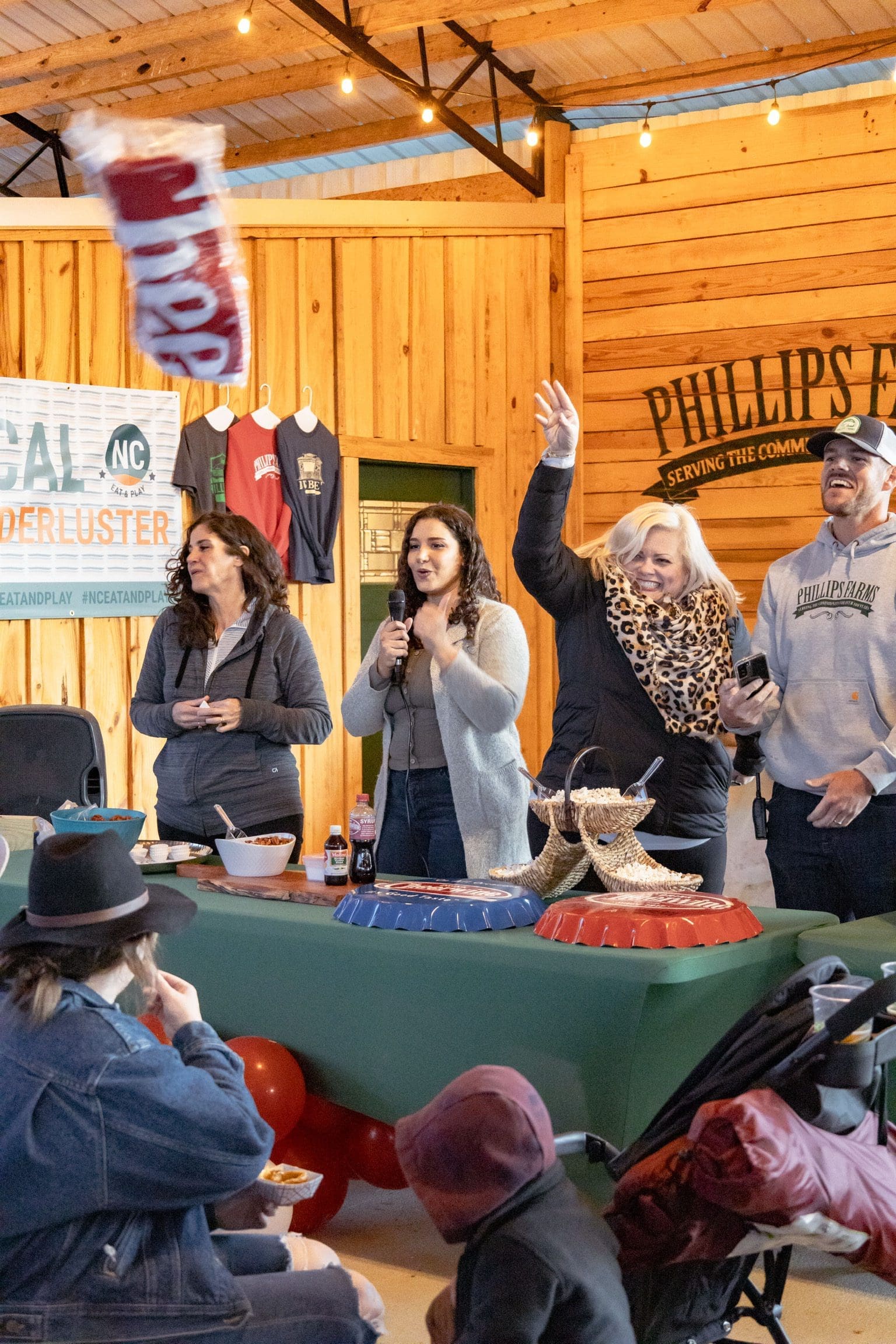 More local businesses and sponsors
Phillips Farms Spring Market is sponsored by Lane & Associates Family Dentistry so they also set up a booth for our Spring Hootenanny. They had fun "spin it to win it" games and kids loved walking away with footballs, sensory toys, pencils, and more!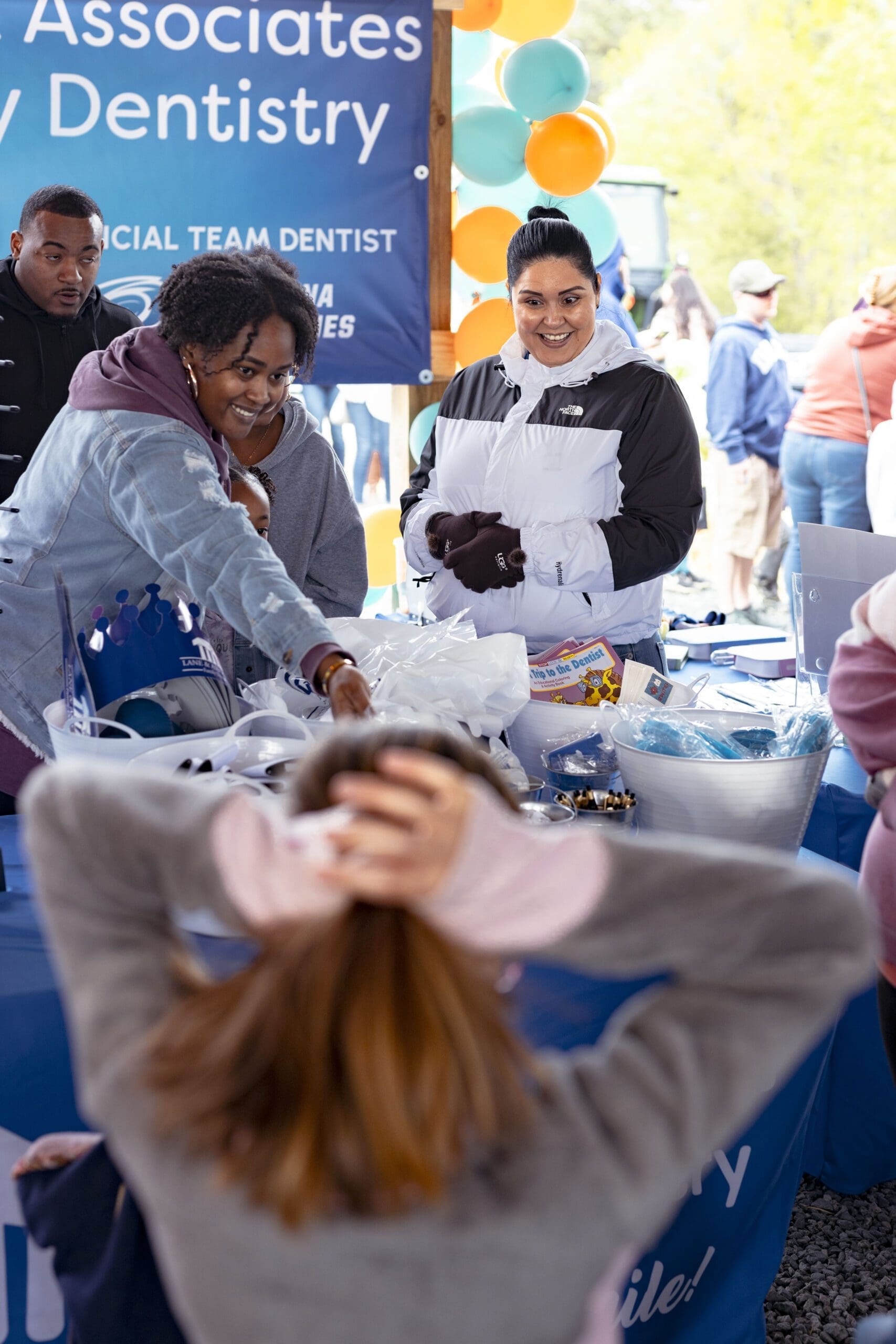 The Green District at Phillips Farms had a variety of beautiful flowers and other plants for sale and it sure made for a beautiful backdrop for a Spring Hootenanny! These herbs, annuals, and perennials are available for purchase every Saturday at the Phillips Farms Spring Market.
Unscripted Durham partnered with us to host the Cheerwine team at their stunning hotel after the Spring Hootenanny. They also set up a booth where attendees could enter to win a night stay with them! We loved having them there for the second year in a row and are grateful for their hospitality!
Who's ready to do it again!?
We are! As I mentioned, we are already planning the next hootenanny and we know it will be even better. Our Spring Hootenanny & Foodie Festival presented by Cheerwine was a great success in which we connected so many consumers, brands, and businesses to one another while having a fun, southern party. We can't stop now!