Carowinds is an amusement park on the North Carolina and South Carolina border ( literally–some rides are in NC and some are in SC!). It has many coasters for thrill-seekers, along with kid-friendly attractions.
Carowinds recently invited us to spend two days at their Charlotte amusement park, and we had a blast!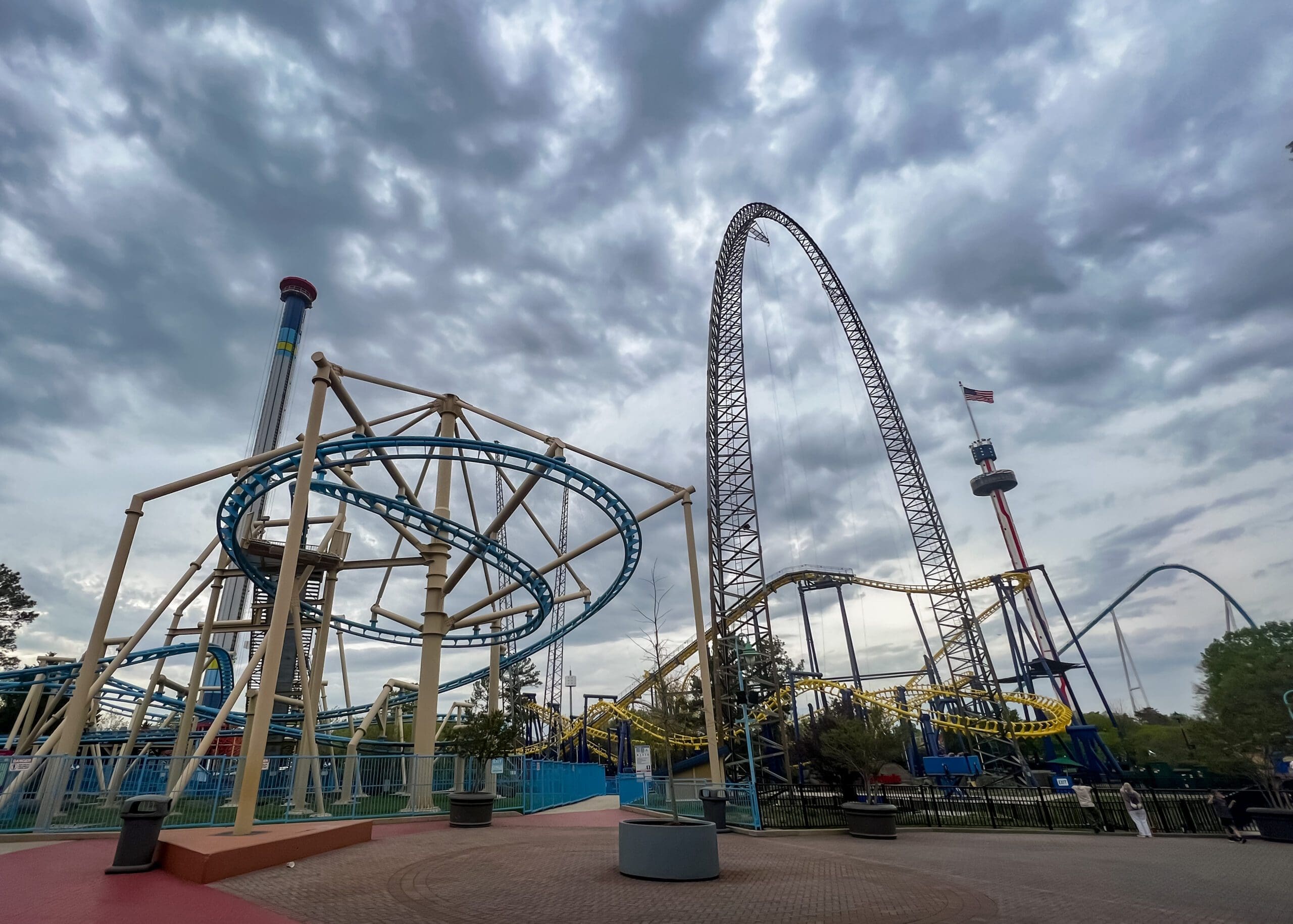 We spent two days in the park, and I had the chance to ride many of their coasters in the front row thanks to Carowinds gifting us Quick Q passes and minimum weekday crowds!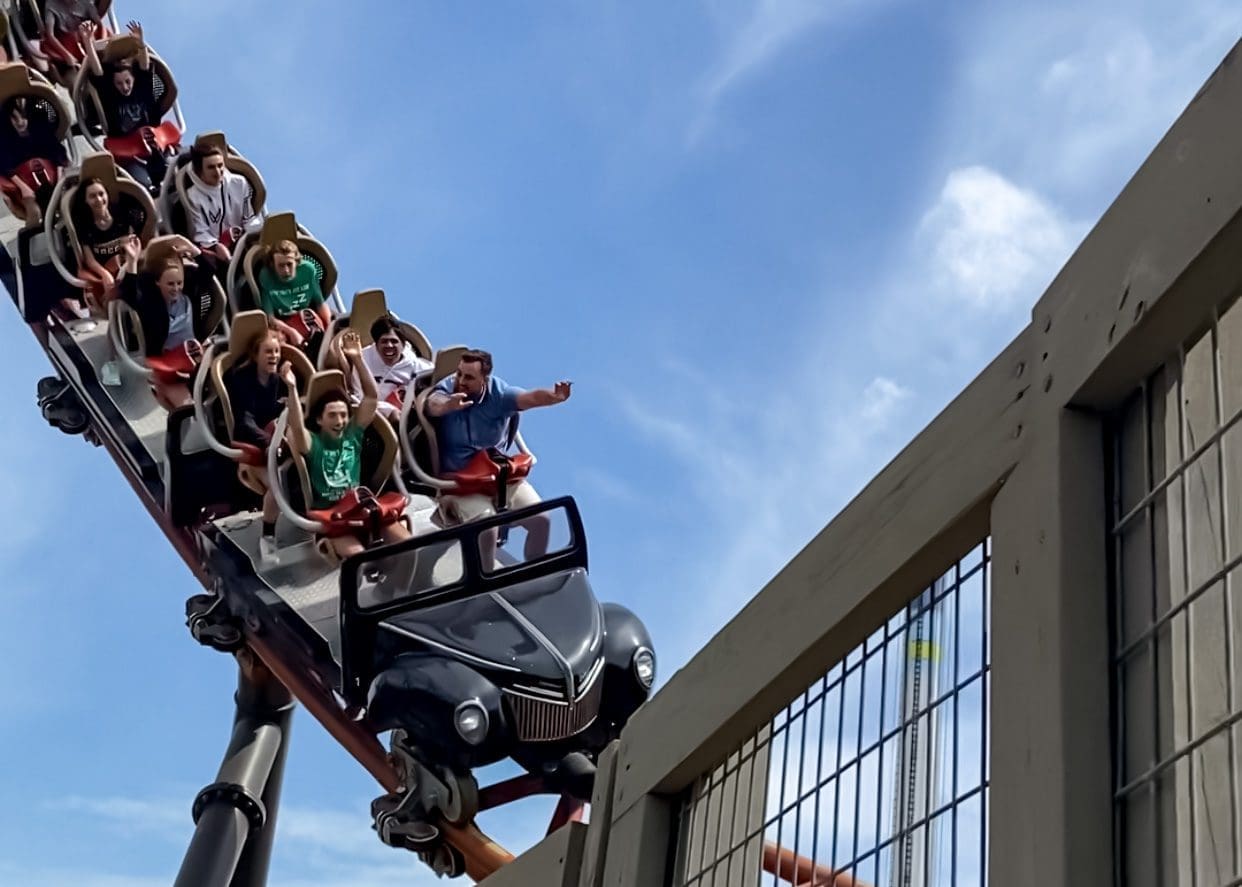 Megan isn't much of a roller coaster fan, but I can't get enough of them. There's nothing quite like the exhilarating rush of flying through the air, feeling like you could die at any minute but knowing that you'll be just fine.
I grew up going to other parks but never made it to Carowinds until now. I can't believe all the great coasters I was missing out on! I definitely made up for some lost time during our visit to the park, riding as many as I could squeeze in while still taking time to enjoy the kid-friendly attractions with my family.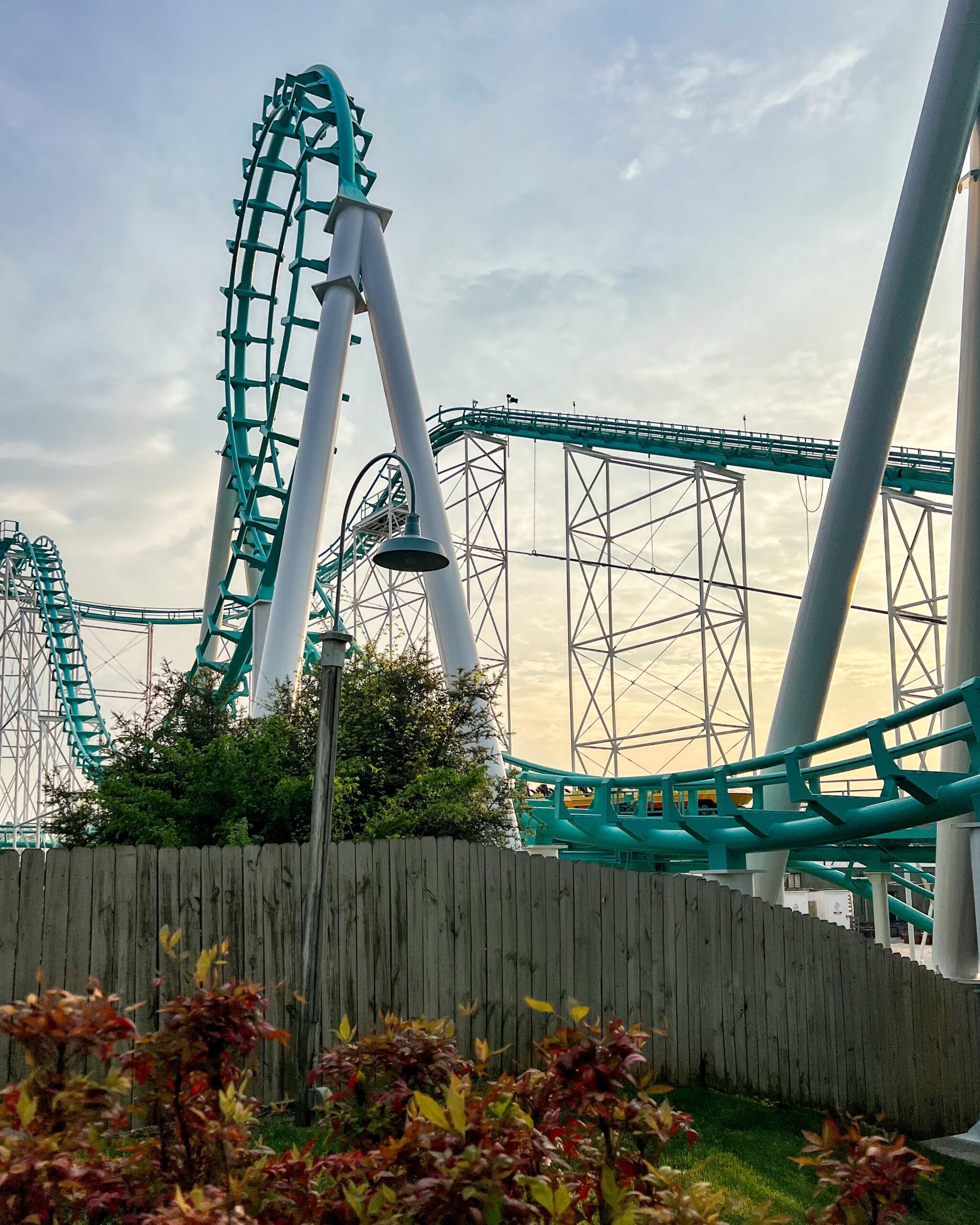 Rollercoasters at Carowinds are some of the best in the nation! Here is a ranking of my favorite rollercoasters at Carowinds, the score I gave them, and why.
5. Carolina Cyclone (8)
Carolina Cyclone is one of the older rollercoasters at Carowinds, being introduced back in 1980, but there's a reason it's still popular at the park today.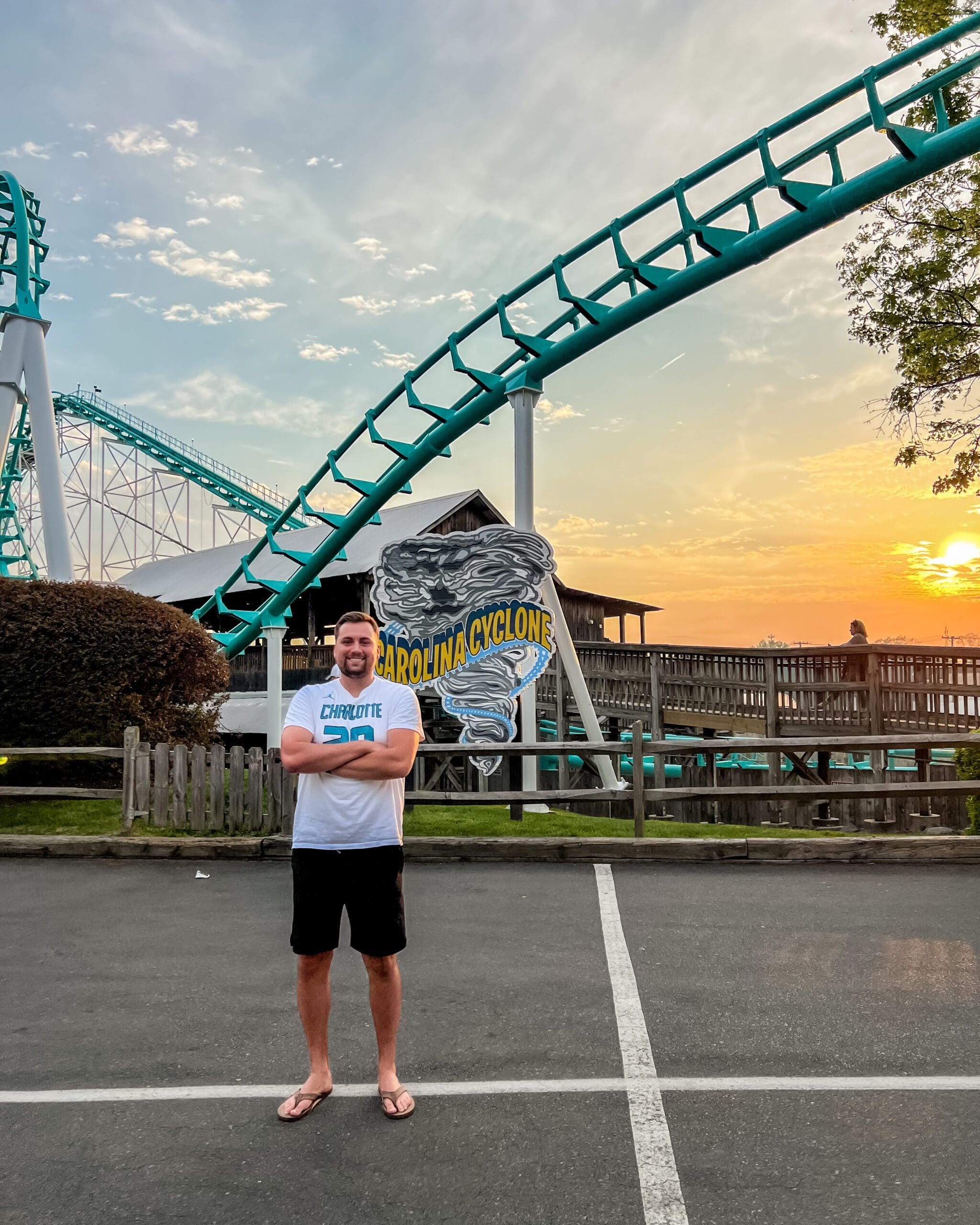 This coaster is all about speedily twisting through the Carolina skyline like a cyclone. It starts with two back-to-back 360-degree loops and then goes straight into two 360-degree barrel rolls. The Cyclone ends with a 450-degree uphill helix, similar to a tornado, which propels riders back to the starting station.
My favorite part of this ride was the velocity and spins that flings you around with gale force wind speeds.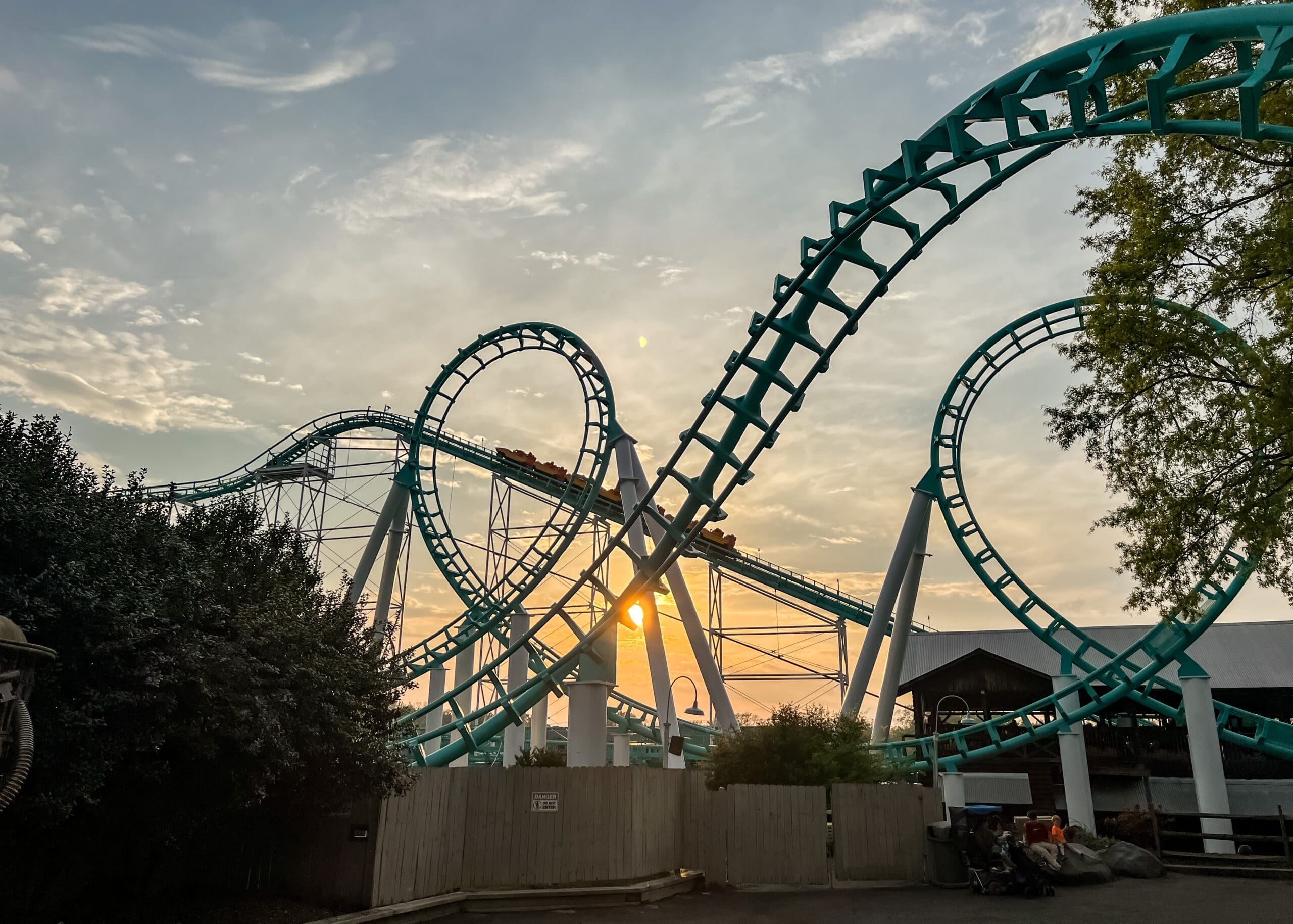 4. The Flying Cobras (8.5)
Designed to replicate old-time county fair air shows, The Flying Cobras has riders in a car with one of the seven stunt pilots.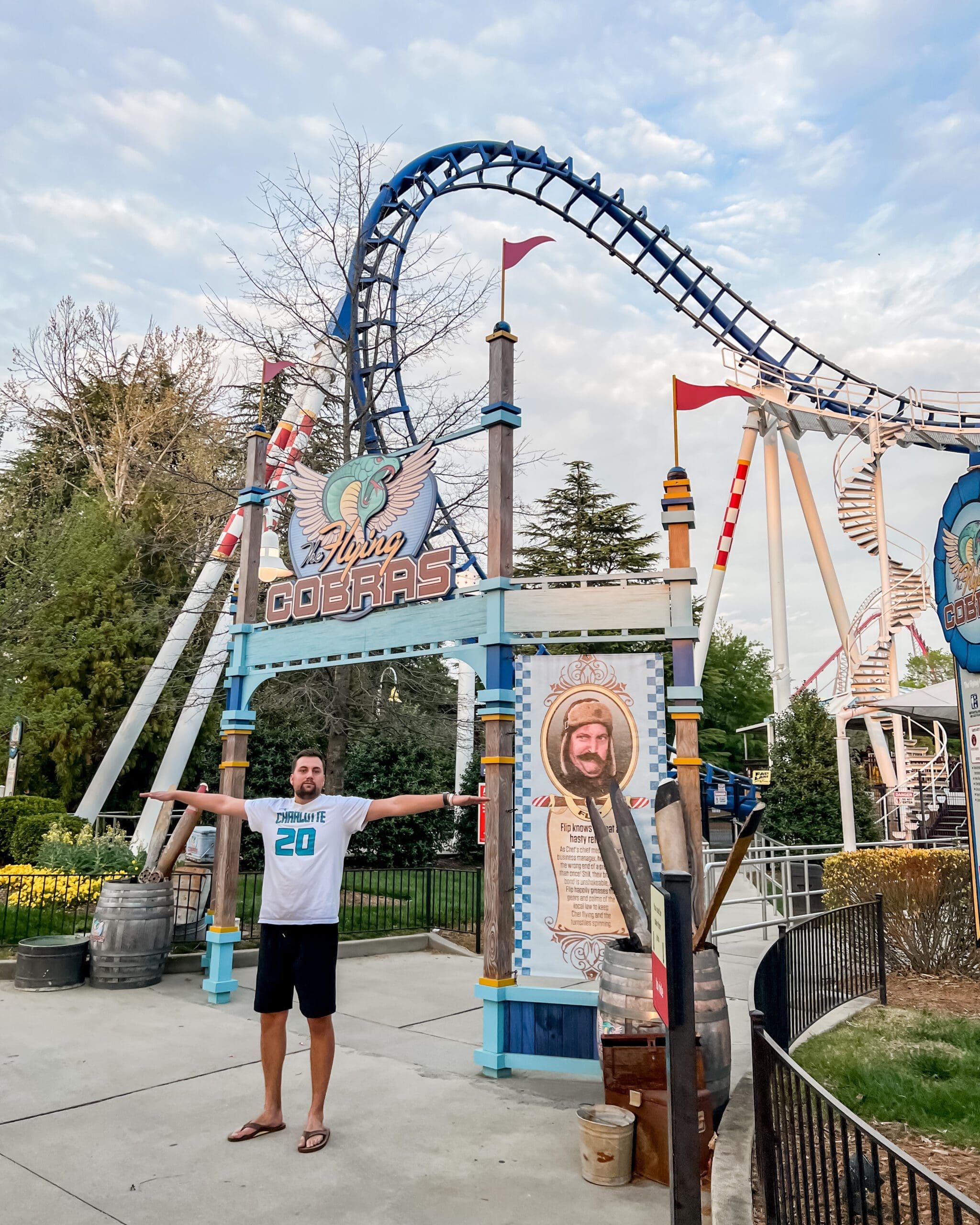 The main attraction starts with the cars being slowly pulled backwards 125 feet high on the track. Suddenly, you drop to retrace your path, zoom through a 360-degree loop and cobra roll while traveling 50 mph. This carries you up a hill, where you are suspended for a few seconds. Suddenly the train cars are released to drop and do the whole thing again, but backwards.
I loved the unpredictability of this ride and wild maneuvers that match the aerobatics of soaring through the clouds.
3. Copperhead Strike (9)
Copperhead Strike is a themed coaster set in the backcountry of the Blue Ridge Mountains.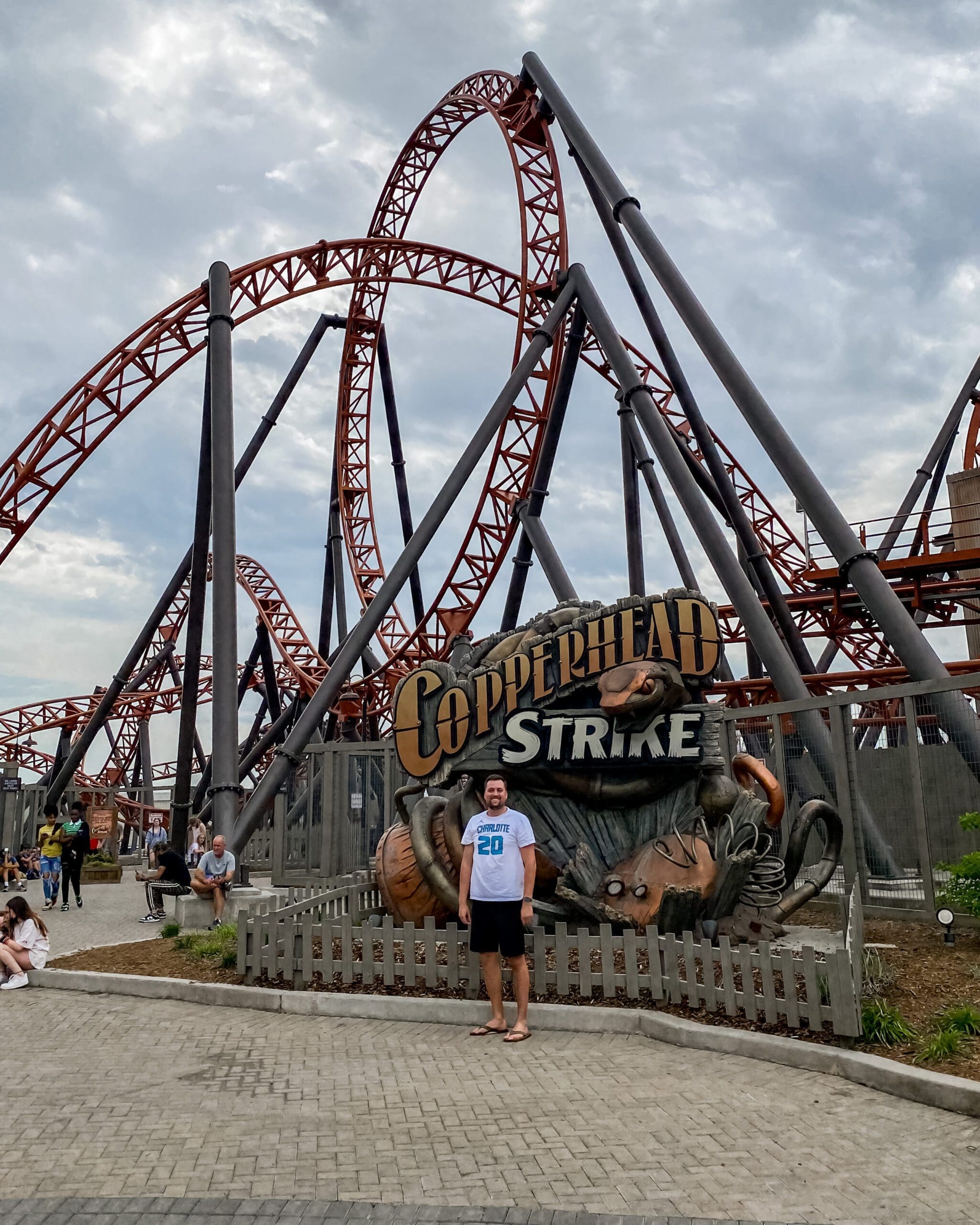 As the Carolina's first double launch coaster, it "strikes" with two takeoffs from 0 to 42 mph in 2.5 seconds and then 35 to 50 mph in 2 seconds (not all too different from a mean copperhead snake). The whole experience takes riders speeding through fast and tight curves and flipping upside down five times, which is a record for launch coasters in North America.
I loved the rapid take-off and maintained speed throughout the ride, leaving riders struggling to catch their breath in the best way.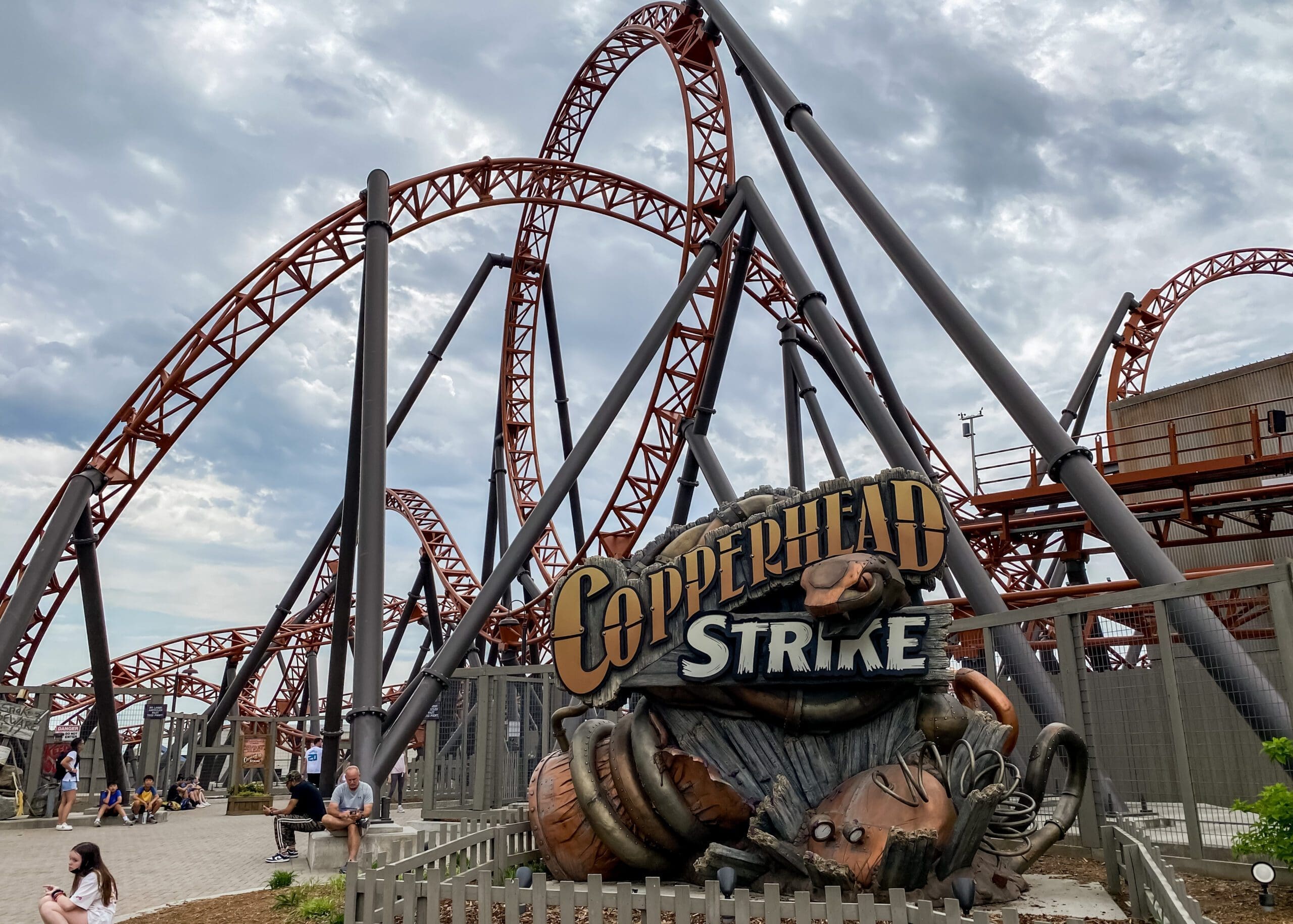 2. Intimidator (9.5)
Another themed ride, Intimidator has you in the driver's seat of NASCAR racer and North Carolina native, Dale Earnhardt.
After hearing "Gentlemen, start your engines!" echoing from the speakers, the car begins to ascend the 232 foot hill. Once at the crest, you race down a 74 degree drop while speeding up to 80 mph. The track continues to twist, turn and climb hills at high speeds until ultimately reaching the finish line.
This rollercoaster is a fast, wild ride that had me feeling like I was behind the wheel of Earnhardt's infamous No. 3 Monte Carlo. It also had one of my favorite drops in the park.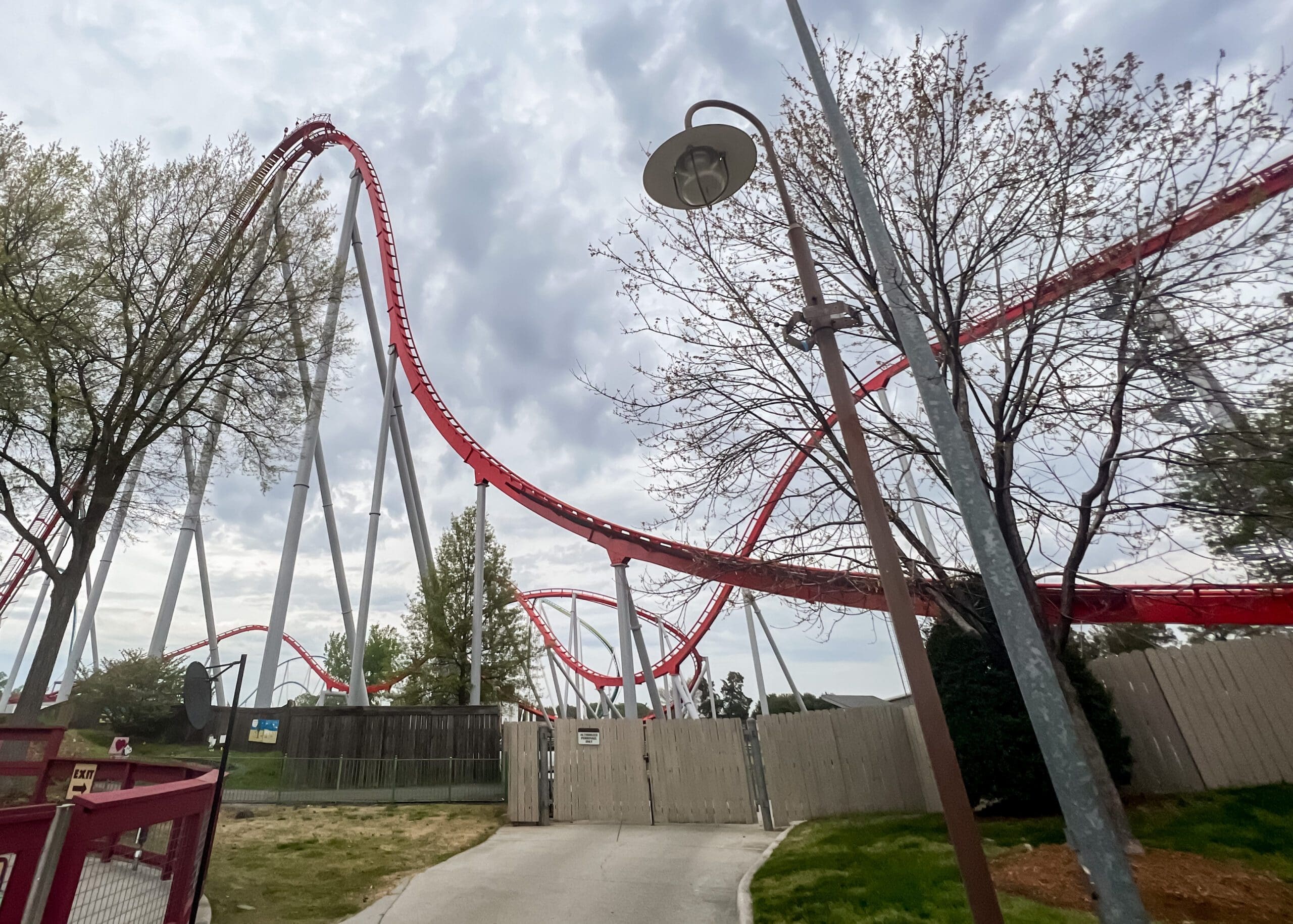 Honorable Mention: Afterburn (7)
Afterburn gets my honorable mention because while I did have fun with it, it didn't stack up to the other coasters on my list. This ride mimics the speed and agility of a fighter jet soaring through the clouds. Riders will experience a space drop, a vertical loop, a special pilot maneuver called an Immelmann, a zero "G" roll, a batwing, a flat spin and a spiral.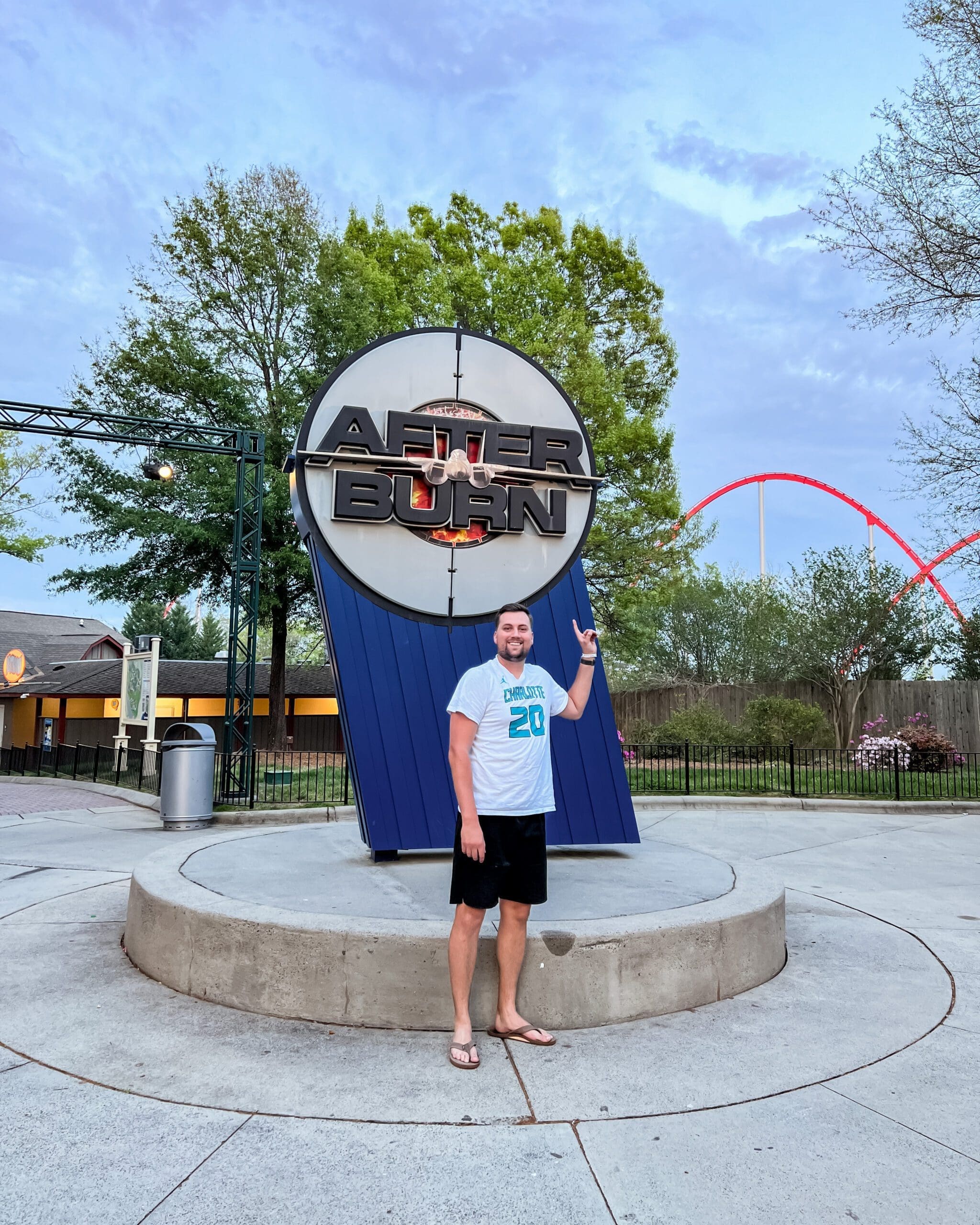 This is one of those rides where you are suspended in a train below the track and your feet hang, which I experienced at a few other parks. I tend to prefer sitting in a traditional coaster and enjoy drops more than quick turns and spins. Although the first drop was 113 ft tall and I appreciated that, the loops and rolls had me feeling a little nauseous. That could be because I didn't sit on the front row where I could see in front of me, or because it was the end of the day and my Dramamine was wearing off. Either way I think it's safe to say I couldn't make it as a fighter pilot, but its still a great ride I would recommend checking out.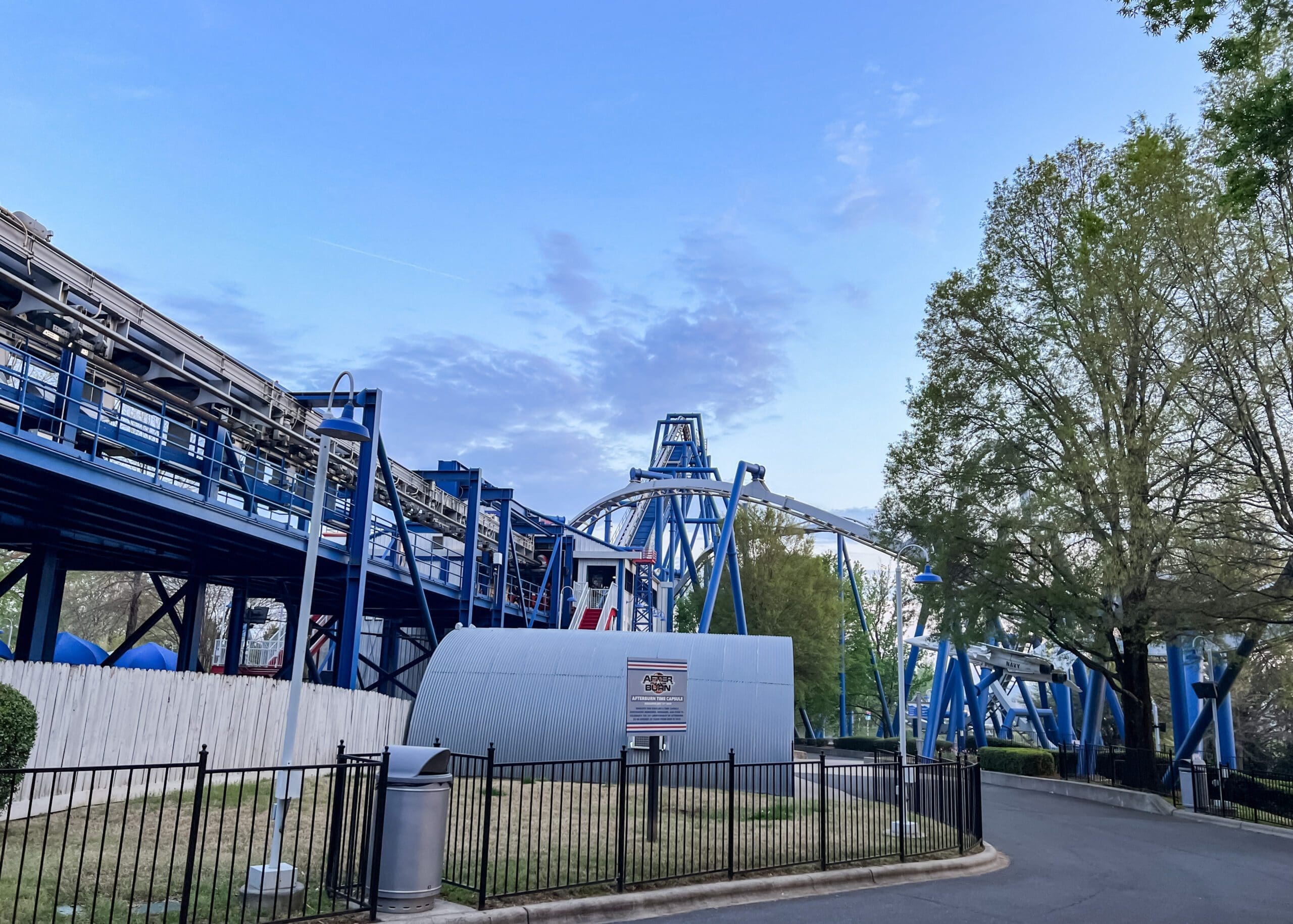 1. Fury 325 (10/10)
Wow. What a ride! Fury 325 is everything I could want in a rollercoaster and more. The tag line Carowinds uses is "Feel the Sting on the tallest, fastest and longest giga coaster in North America."
It gets its name from the 325 ft drop at 81 degrees. Speeds top out at 95 mph, having you feel like an angry hornet honing in on its prey. The whole ride spans 1.25 miles across Carowinds, zipping back and forth, through tunnels, under bridges and around curves.
The stomach churning drops are my favorite part of rides, and Fury 325 did not disappoint. The speed had my eyes watering, and my adrenaline pumping, wanting more.
There were a few rides that were closed, that we would love to try when we undoubtedly return to the park. I personally have Nighthawk in my sights, and will update the list if it cracks the top 5. If you've been to Carowinds, let us know your thoughts or if you would add anything to our list!