Delicious restaurants on wheels: is there anything better? Raleigh food trucks are some of the best in the game and I've had the immense pleasure of tasting quite a few of them.
The passion, art, and skill behind these mobile eateries astounds me and I'm more than happy to share my favorites with you. This list will be ever-growing as I taste more local trucks so if you see that I've missed your favorite, please let me know so that I can try it too! Let's dig in.
Arepa Culture
Arepa Culture is one truck that has made a name for itself in Raleigh. In fact, their success led them to open their first brick and mortar location last year.
Arepa Culture specializes in…you guessed it: arepas. The delicious pockets of white cornmeal (gluten-free eaters say hurray!) are grilled and stuffed with a variety of fresh ingredients and bring a piece of Venezuela straight to your hands!
Bomb A$$ Sandwich Co
Bomb A$$ Sandwich Co has a menu full of big, tasty sandwiches and burgers. They're always creating new sandwiches to debut and so far, my favorite has been the cheesesteak. I practically inhaled it because it was so delicious!
Bo's Kitchen
Looking for Korean food on wheels? Bo's Kitchen travels around the Triangle serving up amazing Korean dishes that are quickly prepared but taste like hours of work. The bulgogi is really flavorful and the mandu can't be missed! Their sister truck, NC Bulkogi is also delicious!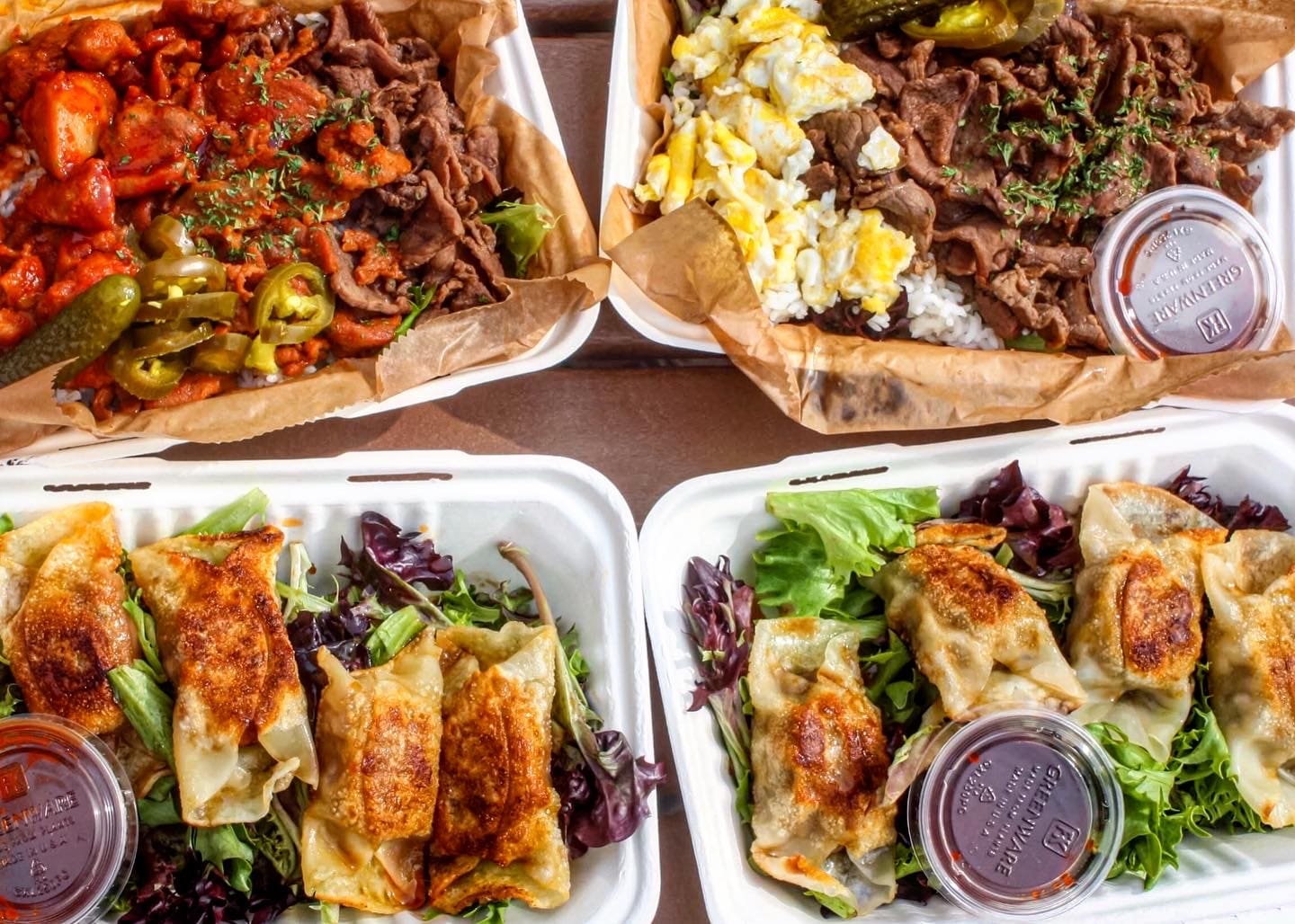 Buoy Bowls
I've received messages weekly since the beginning of NC Eat & Play begging me to try Buoy Bowls, a truck that whips up açaí bowls using fresh, often locally sourced ingredients. To say they have a cult following is an understatement.
Once I finally tried it there was no going back—consider me obsessed. I've tried other açaí bowls and so far they all pale in comparison. They make these bowls with straight magic, people.
Curry in a Hurry
Alaksha Surti, a chef who grew up in southern India, is providing NC with a taste of her home and I'm so grateful for it! Curry in a Hurry is both a food truck and a vendor in Morgan Street Food Hall. We love her butter chicken and garlic naan, but something tells me everything on the menu would be delicious!
Dampf Good BBQ
Dampf Good BBQ has a permanent location at Phillips Farms of Cary with their trailer and huge smoker. You'd be hard-pressed to find better brisket in the area. These guys know what they're doing and I've yet to meet anyone that hasn't fallen in love with their food on first bite.
Golden K Dog
Korean corn dogs have grown exponentially in popularity in America over the last few years thanks to social media. Golden K Dog is Raleigh's first truck that specializes in them and they are absolutely incredible.
Unlike American corn dogs, Korean corn dogs are sweet and salty as they are typically rolled in sugar after frying the batter. They can be filled with a hot dog, stretchy cheese, or both. You can even have them made with potatoes on the outside. Golden K Dog excels in their craft and their creations are taken to the next level with their delicious sauces.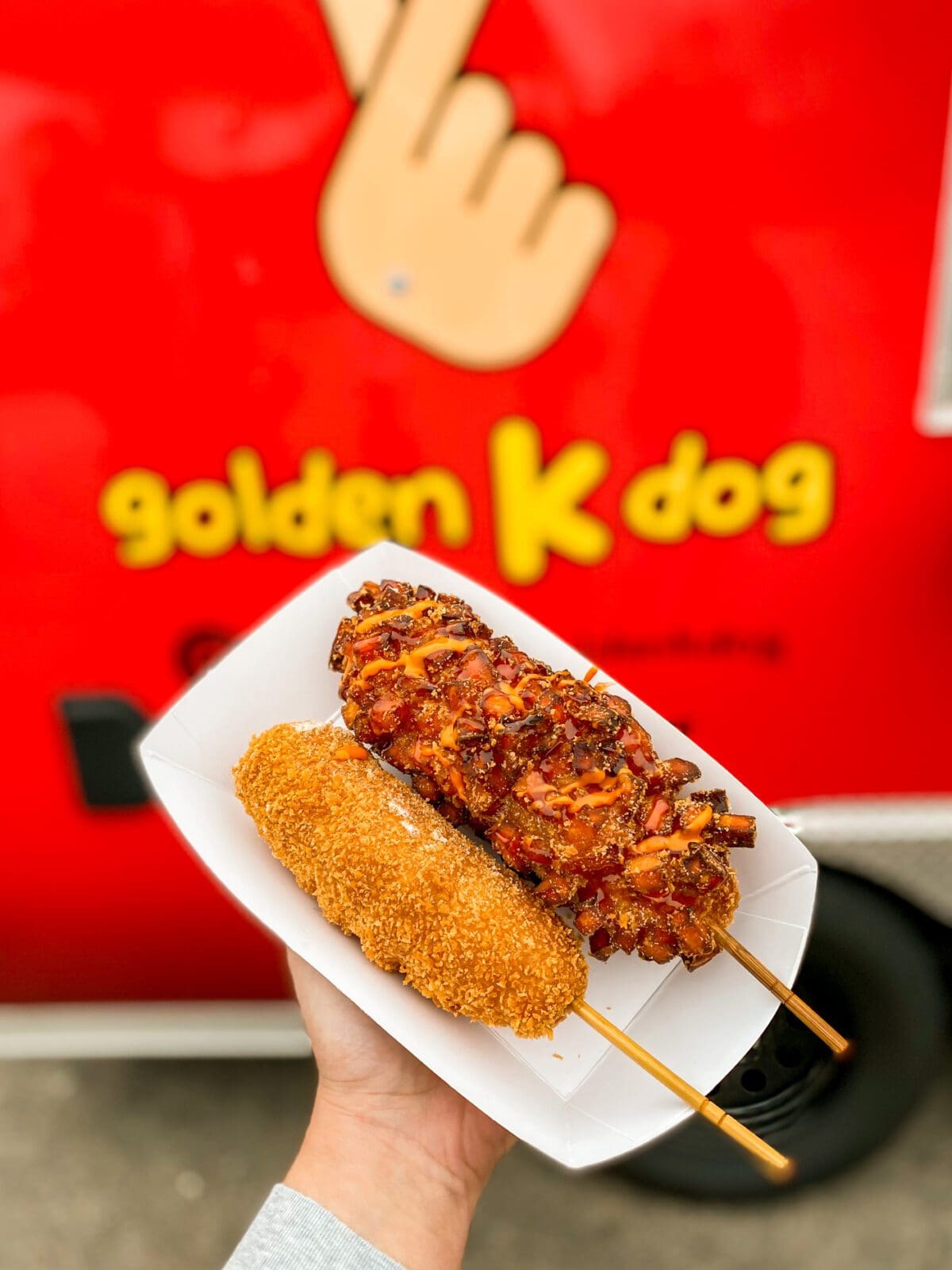 Gym Tacos
Gym Tacos is Raleigh's top go-to for street tacos. You cannot bring up tacos in the Triangle without people mentioning how delicious Gym Tacos is. The food is authentic, flavorful, and fast–everything you want in a food truck. We've tried the tacos and absolutely loved them, and friends tell me that their quesadillas are just as good. Guess we need to make a return trip. See you there?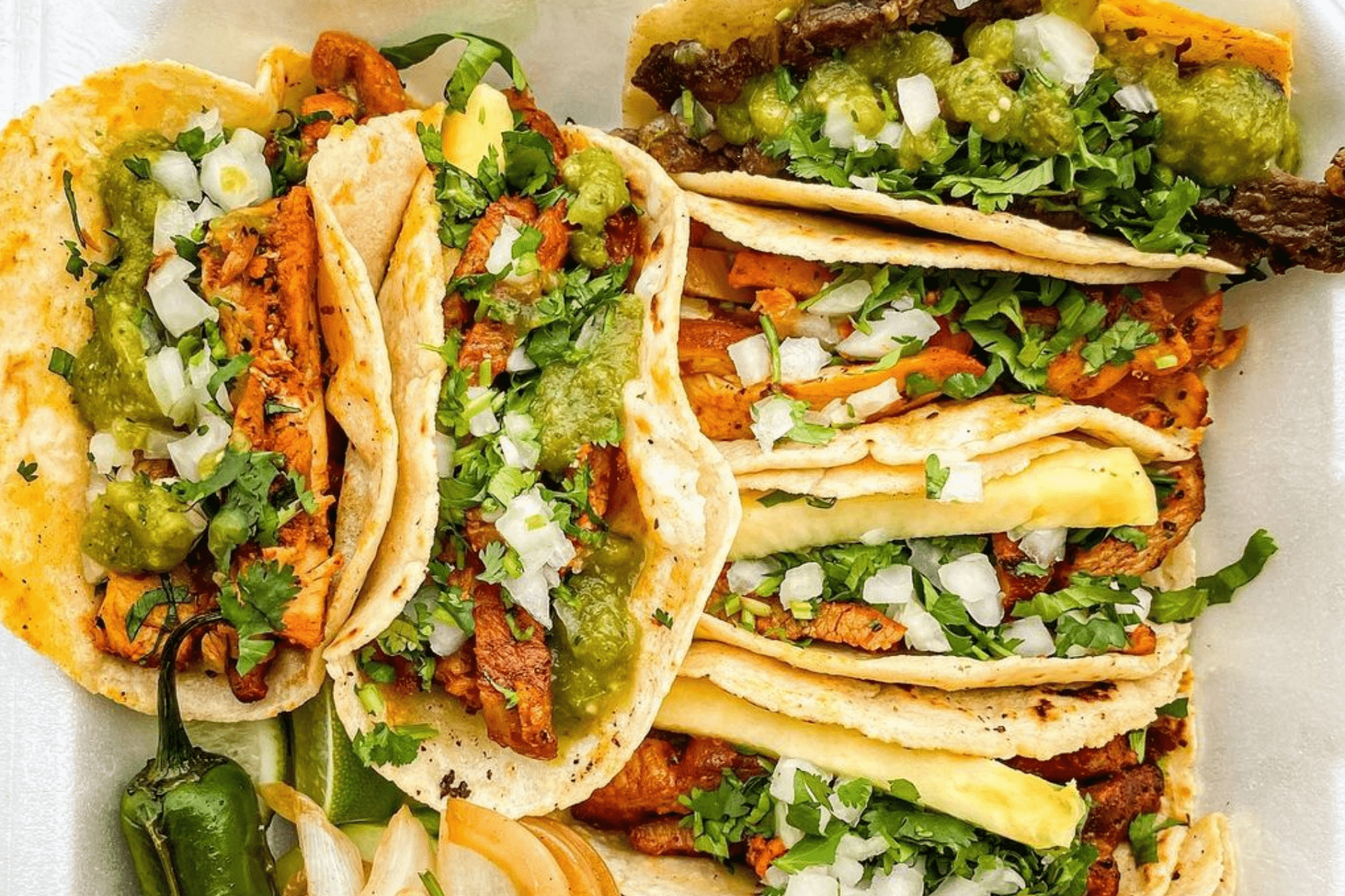 Also worthy of noting: our partners at V Pizza NC have a new
mobile pizza oven
that is available for event bookings. Reach out to them for wood-fired Neapolitan pizzas on wheels!
Hot Chix Hotcakes and Chicken
Hot Chix is brunch dreams on wheels. They serve tasty creations like their signature fried chicken wrapped in a hotcake taco with various sauces to choose from. Delicious and such a great idea!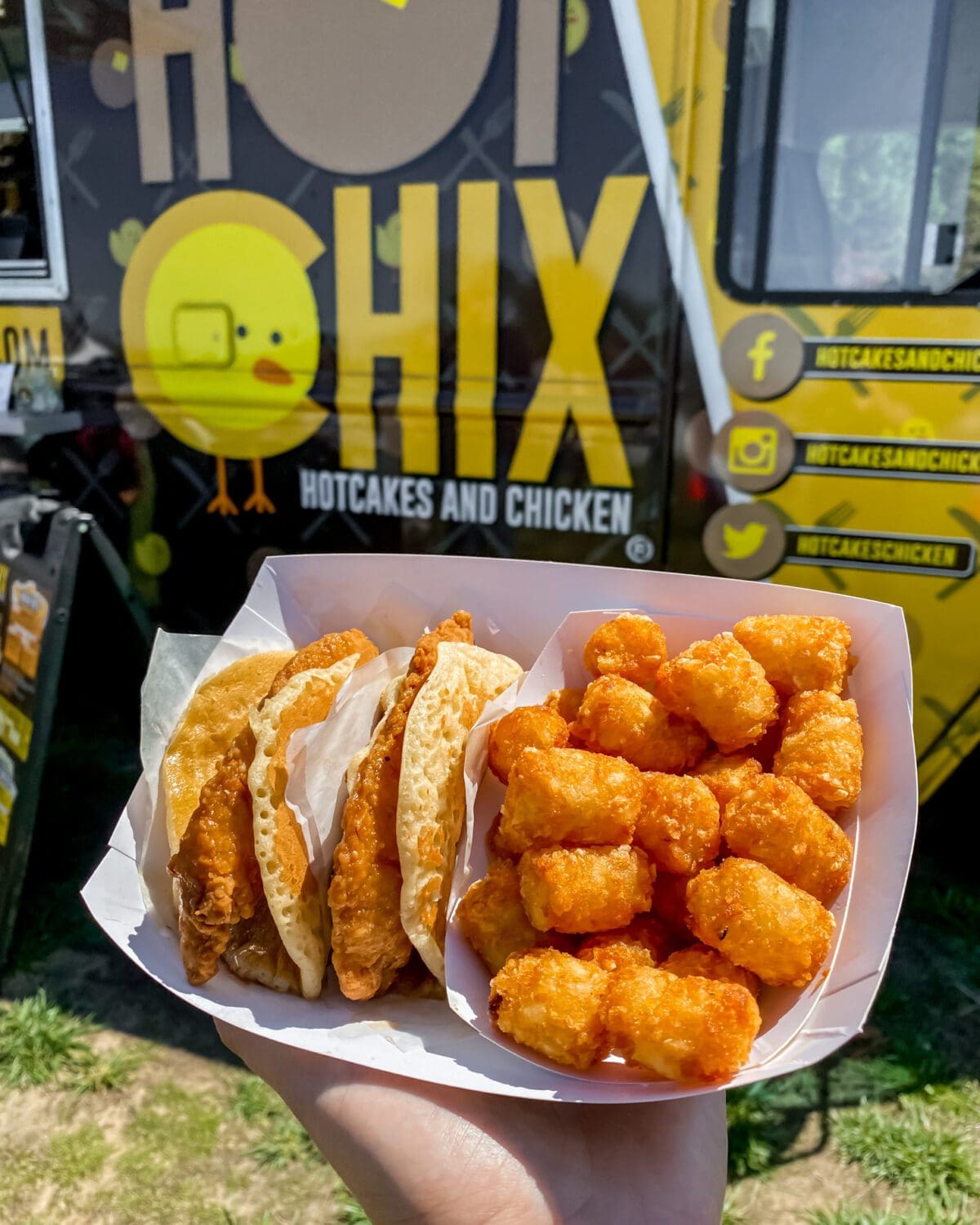 Las Gringas
You can never have too many street tacos. Thankfully, Las Gringas is serving up incredible tacos that you can't miss. The al pastor is cooked on a trompo —a spinning top with pork meat topped with a pineapple. The meat gets beautifully charred on the edges and the pineapple juices run down to marinate it. Trompo al pastor is hard to come by and this is the only truck I've seen do it. You can taste the difference! Hot tip: order the Mexican egg rolls!
Mr. A's Beignets
Mr. A was born and raised in New Orleans where he was introduced to beignets (pronounced Ben-yay). He is now retired and living out his dream of serving these delicious fried dough squares topped with powdered sugar from his truck Mr. A's Beignets. A little piece of New Orleans right here in the triangle and I'm sure thankful for it! We love these!
Queso Monster
As an avid melty cheese enthusiast, a food truck based on queso is a dream come true. Queso Monster dishes out Mexican favorites in a fun new way. Ever had elote rolled in hot Cheetos? Their creations have made them go viral a few times and they deserve it! We especially love their quesadillas and fresh lemonade.
Tacos el Gordo
Parked outside of El Superica in Wake Forest, Tacos el Gordo serves authentic street tacos, quesadillas, and more. What makes this spot so special in my opinion? The tortillas! These tortillas are clearly made by hand and with true skill. Add the flavorful meats and toppings and you get dishes that are irresistible and special.
Tombachi
Tombachi is one of my new favorite Raleigh food trucks and I need everyone to try it! They make some of the best hibachi I've ever had and its astounding they do it from a truck. The rice, meats, and veggies are superb quality and the sauces are drinkable they're so good. Like their slogan says: It's hibachi…but better.
Waves Shave Ice
Waves Shave Ice is bringing a fun, colorful Hawaiian concept to the Triangle. These aren't your average "snow cones." Every flavor is created using real fruit; no artificial syrups or dyes. You can taste the quality with every bite. Fill your ice with a scoop of their ice cream flavors like coconut, lemon, or strawberry. These are the perfect refreshing treat and a truck that I will be chasing all summer.