North Carolina historic homes are typically beautifully designed with endless character and fascinating stories. Some people choose to make a home in them, others love to gasp while looking out their car window at them (i.e. ME), while a select few open up the restaurant of their dreams inside those wallpapered walls.
Some of my very favorite dining experiences have been at these charming historic-homes-turned-restaurants. The ones I'm sharing with you here are both enchanting in atmosphere and impressive in cuisine and service.
As these memorable restaurants are some of my favorites to find, this list will be constantly growing while I continue to explore NC. If you know of a similar establishment, please leave us a comment so that I can add it to my foodie bucket list!
MC Restaurant
Harrison and I went on a date to MC Restaurant earlier this year and both agreed it was one of the most impressive dining experiences we've ever had. Located in downtown Cary, MC Restaurant is in a Queen Anne-style cottage dating back to 1896. They serve upscale Asian cuisine that is beautifully plated.
You can choose to dine on the lawn, wrap-around porch, or inside. In the springtime, the gardens are breathtaking but the atmosphere is lovely all year.
The menu changes weekly to keep ingredients fresh and the options exciting. Offerings include small plates, sushi rolls, entrees, desserts, cocktails, and mocktails. We were blown away by the quality and flavor and highly recommend this establishment for a special occasion.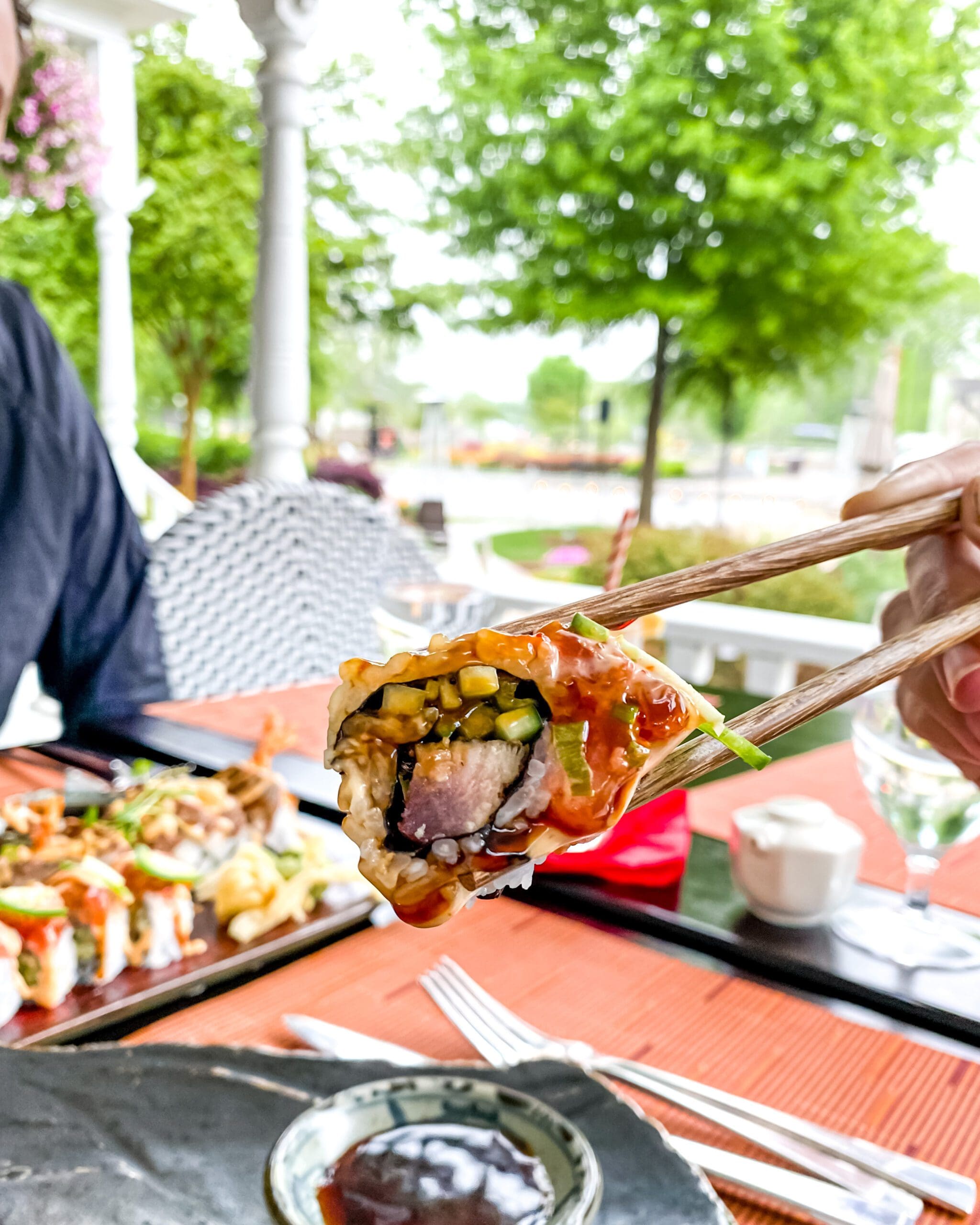 The Goodyear House
A mill home built in Charlotte during the early 1900s is now home to The Goodyear House, a fantastic restaurant serving elevated comfort food. One of my favorite aspects of this establishment is that they worked really hard to honor the original charm of the home by keeping much of the décor including the owner's family photos.
In addition to the captivating interior dining spaces, the patio boasts a massive old holly tree surrounded by picnic tables and romantic string lights.
The menu is filled with refined classics and we loved brunch when we visited. The marinated shrimp appetizer cannot be missed and the macaroni & cheese is deliciously creamy (and vegan but you'd never know!)
Amalia's Authentic Italian Restaurant
I'm not sure how a chef who graduated top of his class from a world renowned culinary school in Italy wound up in little Wake Forest, NC but I'm sure happy he did.
Amalia's is in a beautiful 1800's era home with a Victorian cottage design complete with its original flooring and doors.
The seasonal menu offers authentic Italian cuisine and complimentary focaccia made fresh each morning. As I am part Italian myself, it's difficult to find Italian food I love outside of my mom's kitchen. The dishes I tried at Amalia's, however, blew me away. The pesto gnocchi in particular was exceptional!
If you love visiting historical sites, make sure you check out our article about Pullen Park, one of the oldest amusement parks in the country!