NC Eat & Play's 2023 Spring Hootenanny & Foodie Festival presented by Cheerwine is going to be an evening you don't want to miss!
Taking place on April 15 from 5:30-8:30 at Phillips Farms of Cary, this community event is a celebration of the best parts of the south and is inclusive to everyone. From the live bluegrass tunes to the expansive foodie festival, guests will love making memories on the farm with us.
This is our team's fourth Hootenanny. We host it biannually, once in the fall, and once in the spring. Whether the farm is decked out in pumpkins or spring blooms, it's a gorgeous evening under the string lights. We hope you will join us this year! We've created this guide to give you a little glimpse of what's in store–all included with admission!
Presenting Spring Hootenanny Sponsor: Cheerwine
Cheerwine is our presenting sponsor and we are lucky to have such an iconic brand to partner with on this event. Cheerwine is a cherry-flavored soft drink that was created in NC in 1917 and has been run by the same family ever since. Cheerwine is Uniquely Southern and has a cult-like following in the south.
Guests will be able to indulge in ice-cold Cheerwine during our Spring Hootenanny & Foodie Festival, as well as enter fun giveaways for swag!
Hosted by Phillips Farms of Cary NC
We truly cannot imagine a more perfect venue for our Spring Hootenanny & Foodie Festival than Phillips Farms of Cary NC.
Phillips Farms is a stunning destination with perfect views of the sunset, acres of lovely fields, covered pavilions with string lights, and ample parking.
In addition to how beautiful it is, the Phillips Farms team is an absolute pleasure to work with. They work day and night to help us bring our vision to reality and we couldn't be more grateful for such collaborative hosts.
Live Bluegrass and Dancing in the Grass
It's not a proper hootenanny without a banjo, right? We are thrilled to have Colin Cutler back with an accompanying band to provide live bluegrass, blues, and rock. Colin is extremely talented and we have no doubt that guests will enjoy kicking their shoes off to dance to his southern soulful sounds.
Foodie Festival: Small Bites from Local Businesses
Perhaps the most anticipated portion of our Spring Hootenanny is the foodie festival. All adult ticket-holders will have the ability to sample from thirty local vendors.
Talented chefs, restaurants, and farms set up to debut small bites that showcase their businesses. Both savory and sweet dishes are featured and no one will leave hungry!
Signature Bite: The Butcher's Market
The Butcher's Market is our Signature Bite sponsor and they have an incredible dish to share with guests. They'll be serving pork carnitas sliders with honey lime slaw and smoked tomato red sauce on brioche buns. Wow!
Adult Beverages
Guests 21+ have quite a few beverages to enjoy in addition to Cheerwine. Wye Hill will be onsite pouring in our Craft Beer Corral thanks to our sponsors at The Jim Allen Group. Red White Bubbly & Brew will be serving wine in our Rose in the Hay section. Take a visit to the Southern Cocktail Cantina to sample tequila from Codigo 1530. Finally, William & Company will be serving a dragon fruit raspberry margarita or mocktail.
Fun on the Farm for All Ages
Two things our Spring Hootenanny guests will never complain of: hunger and boredom. We have plenty of fun activities that will delight anyone!
Phillips Farms will be sharing their giant lawn games, miniature golf, wagon rides, and cow train rides. They'll also be debuting their new gem mining station for a small additional fee!
The Pint Sized Pasture will be on-site with their mobile petting zoo including adorable mini farm animals.
Mark of Righteousness LLC is bringing their popular 360 photo booth for guests to take a spin and create fun videos.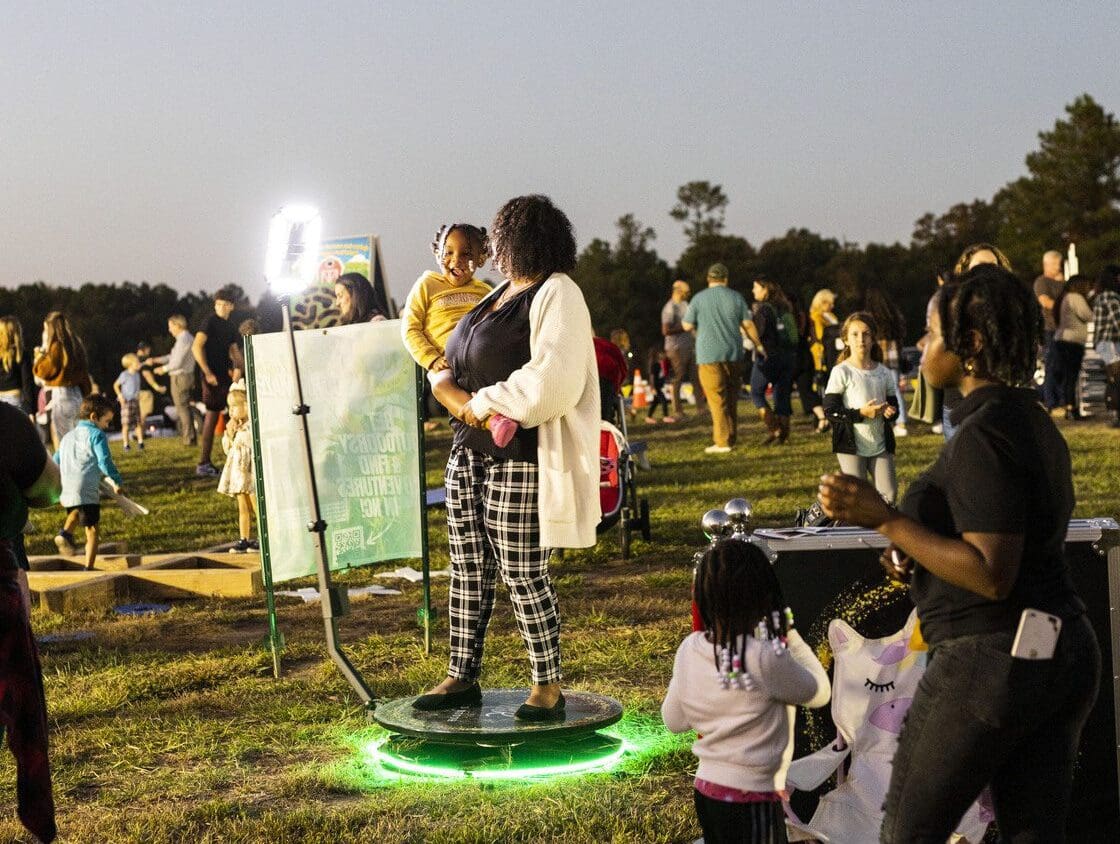 Party Like a Princess LLC will have character meet and greets and Beautiful Together Sanctuary will be there with some cute puppies and kittens for cuddling and adopting!
Get Your Tickets to the Spring Hootenanny & Foodie Festival!
Tickets are $45 and kids 12 and under are FREE. Kid's tickets come with one main entree provided by Flying Biscuit Cafe Raleigh and a dessert provided by Waves Shave Ice.