Get ready for Christmas-charm overload! NC Eat & Play has partnered with the Town of Leland to celebrate the annual Leland in Lights festivities at Founder's Park. NC Eat & Play is thrilled to capture the magic and tradition of Christmas with a grand illumination and tree-lighting ceremony. Kick off your holiday season in high spirits.
You're going to want to head to Leland in Lights for the holidays
Located in southeastern North Carolina just a short distance inland from Wilmington and nearby beaches, Leland is a small town that welcomes thousands of families every holiday season to enjoy the sights and sounds of Christmas with six weeks of a fun holiday play.
The light display program in Founders Park kicks off on Dec. 4, 2021, with a free, family-friendly celebration featuring warm drinks, sweet treats, train rides through the lights, and Santa. This event is a community benefit and is considered a best-kept secret for thousands of families that make their way through Leland for the Christmas season. The event runs through Jan. 10, 2022, and is filled with several planned activities throughout the season.
Leland in Lights is already a popular Christmas destination with more than 4,000 people attending in 2019. It's a popular trip for visiting family members, out-of-towners from major areas like Charlotte and Raleigh looking for a less urban city setting for the holidays, as well as families looking for affordable holiday adventures that are safe and kid-friendly. If you are a newcomer to North Carolina, you're going to want to follow NC Eat & Play closely throughout the holidays.
NC Eat & Play will taste, explore, and share all about Leland
Megan of NC Eat & Play shares, "I'm a huge fan of all things Christmas. As a Santa fangirl, I can't wait to welcome families from all over the state to enjoy the holidays at Leland in Lights and all the town's Christmas activities. Along the way, I'm even more excited to taste, explore, and share all that Leland has to offer."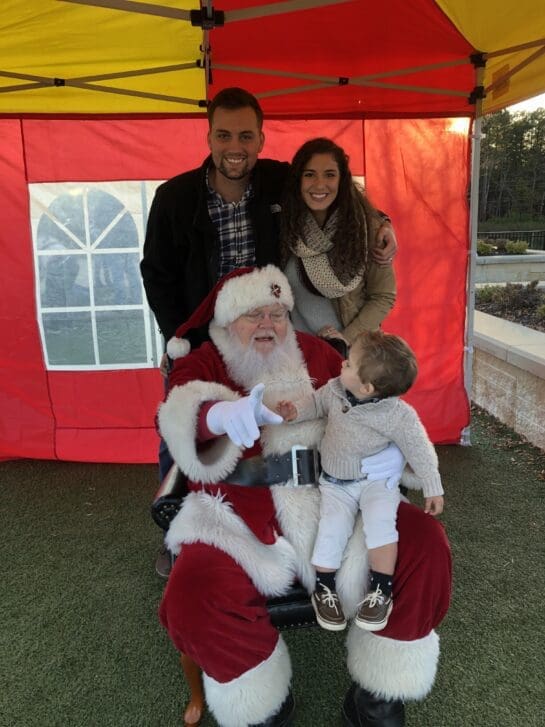 NC Eat & Play's Days of Holiday Play
On Nov. 4, NC Eat & Play will launch a new channel called, Days of Holiday Play | Destination Town of Leland. The channel will be on NCeantandplay.com and regularly shared in weekly newsletters and social media channels. NC Eat & Play fans can expect several highlights along the way to build awareness of the town's offerings beyond the Christmas programming. We're talking about which local restaurants you're going to want to eat at, what great businesses you need to know about, and other destination-worthy adventures to go explore.
The town's team has been so awesome to work with and I'm grateful for their partnership. They're already loading me up with great suggestions.
And that's just the beginning of what looks to be several tasty trips to Leland.
NC Eat & Play invites you to get ready for an exciting and cheerful season. Hope to see you at Leland in Lights this December!