Wrightsville Beach is a walkable beach town in North Carolina that breathes life into all those who visit it. Wrightsville is the beach with the shortest travel time from many areas of the state, including Raleigh. That and its proximity to UNCW make it a popular coastal destination for both day trips and overnighters.
I have many fond memories of enjoying day trips to Wrightsville with my friends as a teenager. As an adult now with my own family, I still love visiting and seeing the town through a different perspective as a mom.
I think that's partially what makes Wrightsville such a great place–it's welcoming to all. Carefree children, groups of teenagers, families on vacation, lovers on a romantic getaway, and senior couples all travel here throughout the year to enjoy the views and amenities of the island.
If you haven't had a chance to properly experience Wrightsville Beach yet, I'm going to share a few of my tips and favorites on the island. I'm always looking to explore more on my return trips, so if I've missed something you think is a must, please leave a comment!
Where to stay in Wrightsville Beach
Wrightsville is a long, thin island which means there are many great places to stay that are all close to the beach and the sound. Some hotels and homes boast beautiful views of both! Further, Wrightsville is a mostly walkable town so visitors don't have trouble finding great shopping and dining close by.
All this is to say that you can't go too wrong picking a place to stay on the island. There are various hotels, motels, and rental properties that have great ratings. However, if you want my top recommendation, it's without a doubt the Blockade Runner.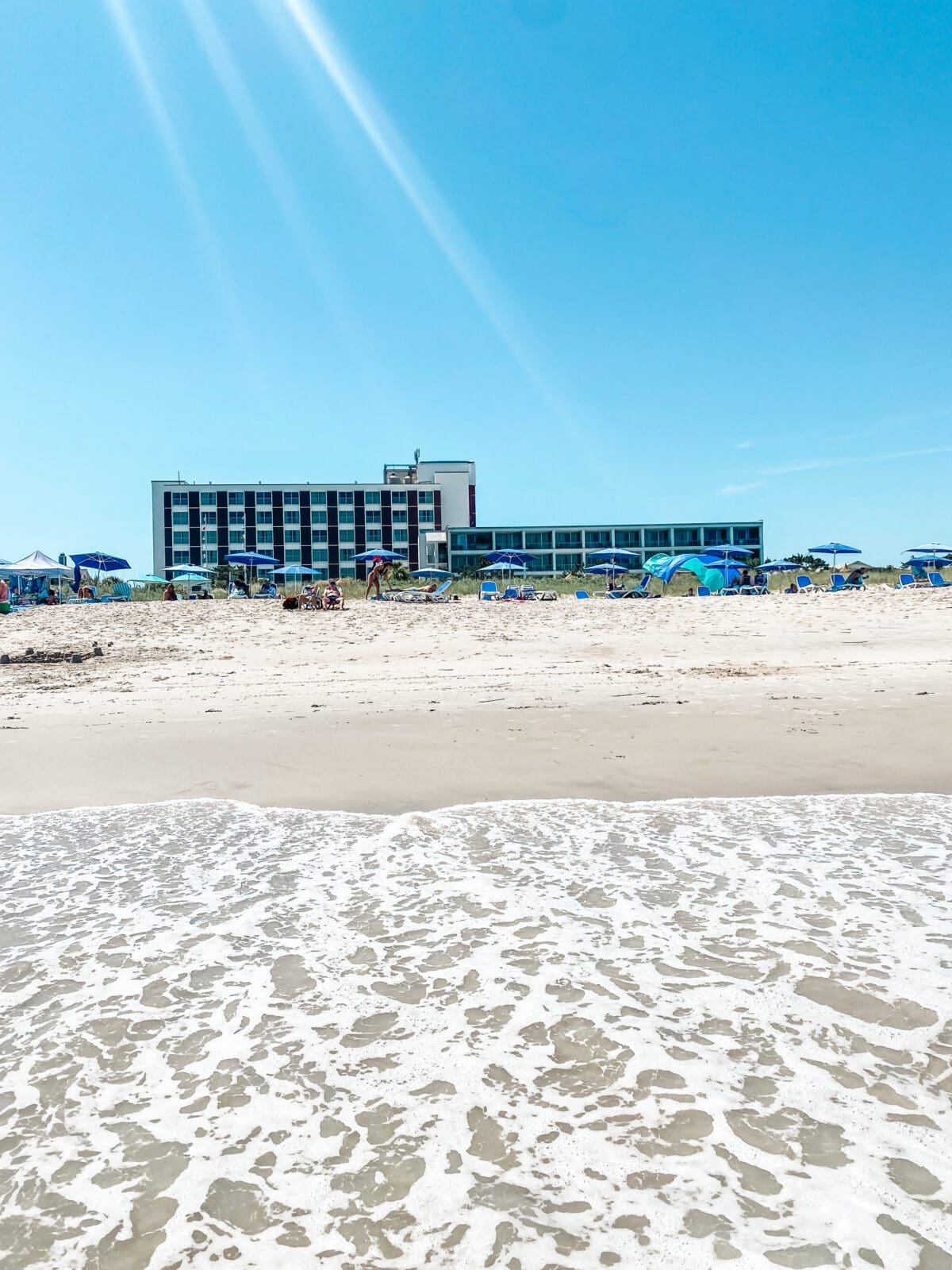 Why we love Blockade Runner Beach Resort
Blockade Runner is an outstanding oceanfront resort in the heart of Wrightsville Beach that has no shortage of gorgeous views, fun amenities, great dining, and lovely design.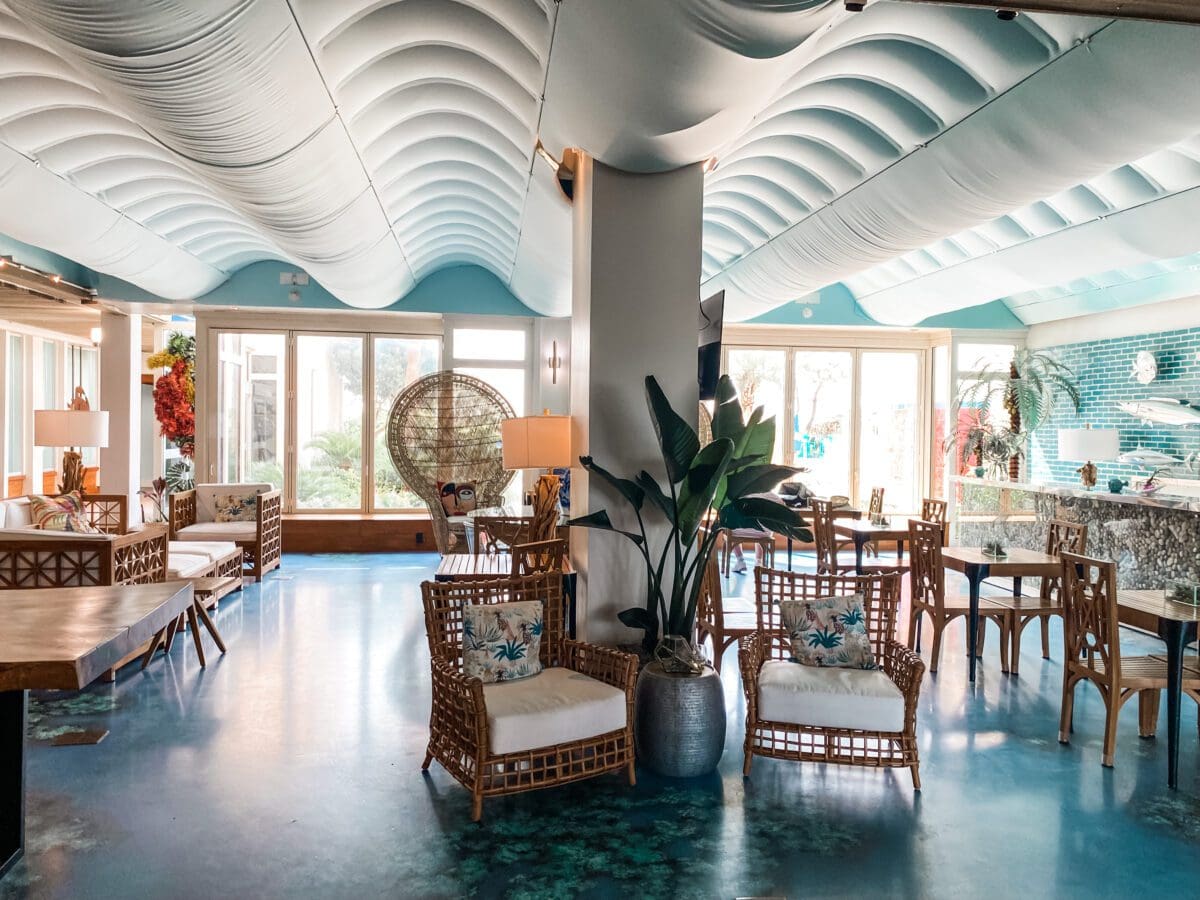 I've visited twice–once with my mom and sister for a girl's trip and once with my husband and kids for a family getaway. It was absolutely perfect for both trips!
The rooms have glorious views and the grounds are breathtaking with extravagant landscaping and a refreshing pool. I love everything about Blockade Runner and recommend it to my followers often–many of whom have visited and reported back that they loved it too!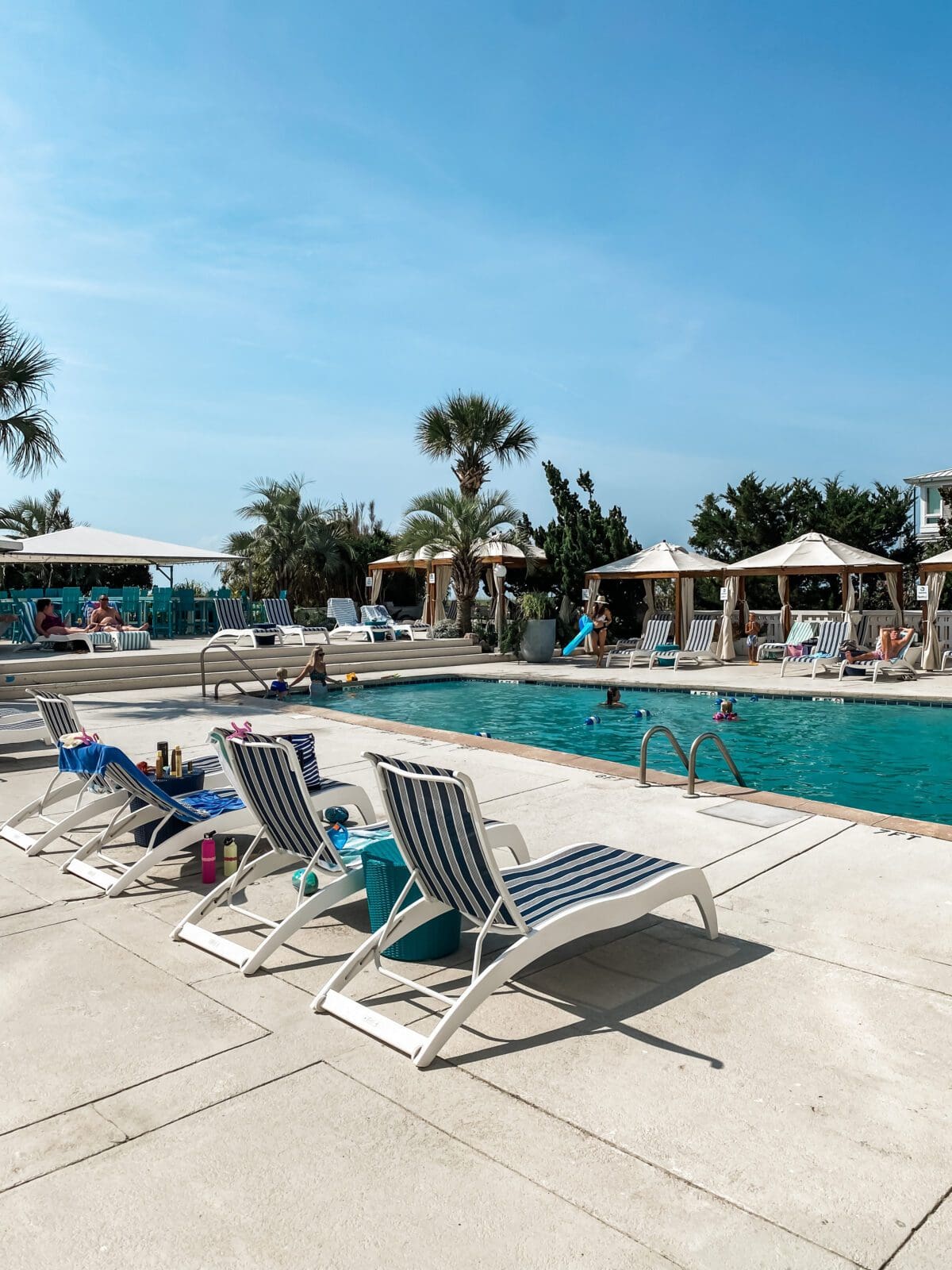 Blockade Runner makes visitors feel like they are visiting a tropical country even thought they're right on the coast of North Carolina!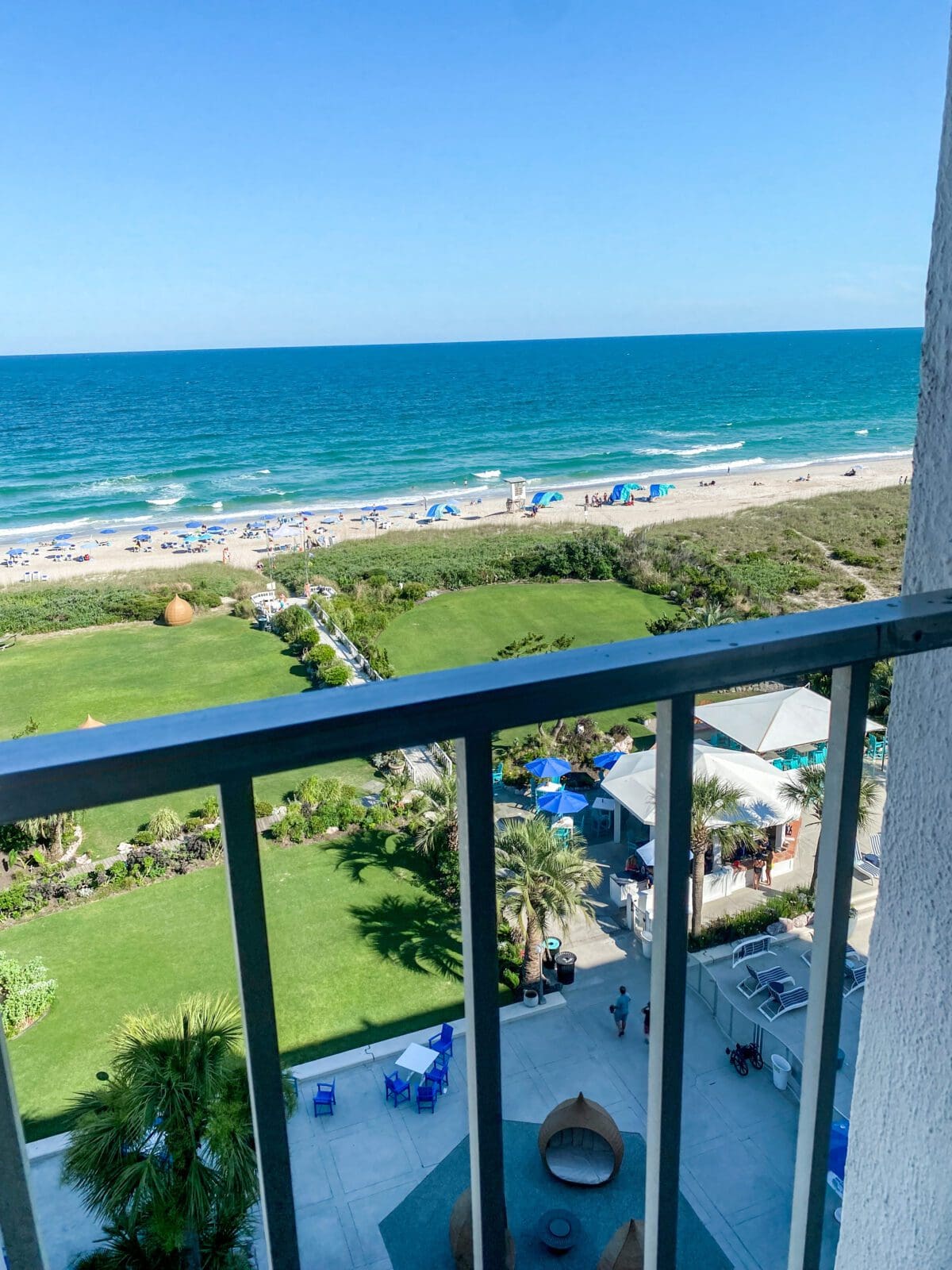 What to do in Wrightsville Beach
As Wrightsville Beach is a small surfer town, you're not going to find wild boardwalks and aquariums (check out Carolina Beach if that's more your speed). However, you will find plenty to fill your days with coastal fun and relaxation.
Head to the beach!
First, I have to start by recommending the BEACH! Wrightsville is known for their blue water and on particularly sunny days, it can appear almost tropical. On my most recent visit, I could see clear down to my feet in the ocean and the hues were so vibrant from our hotel room I couldn't stop taking pictures.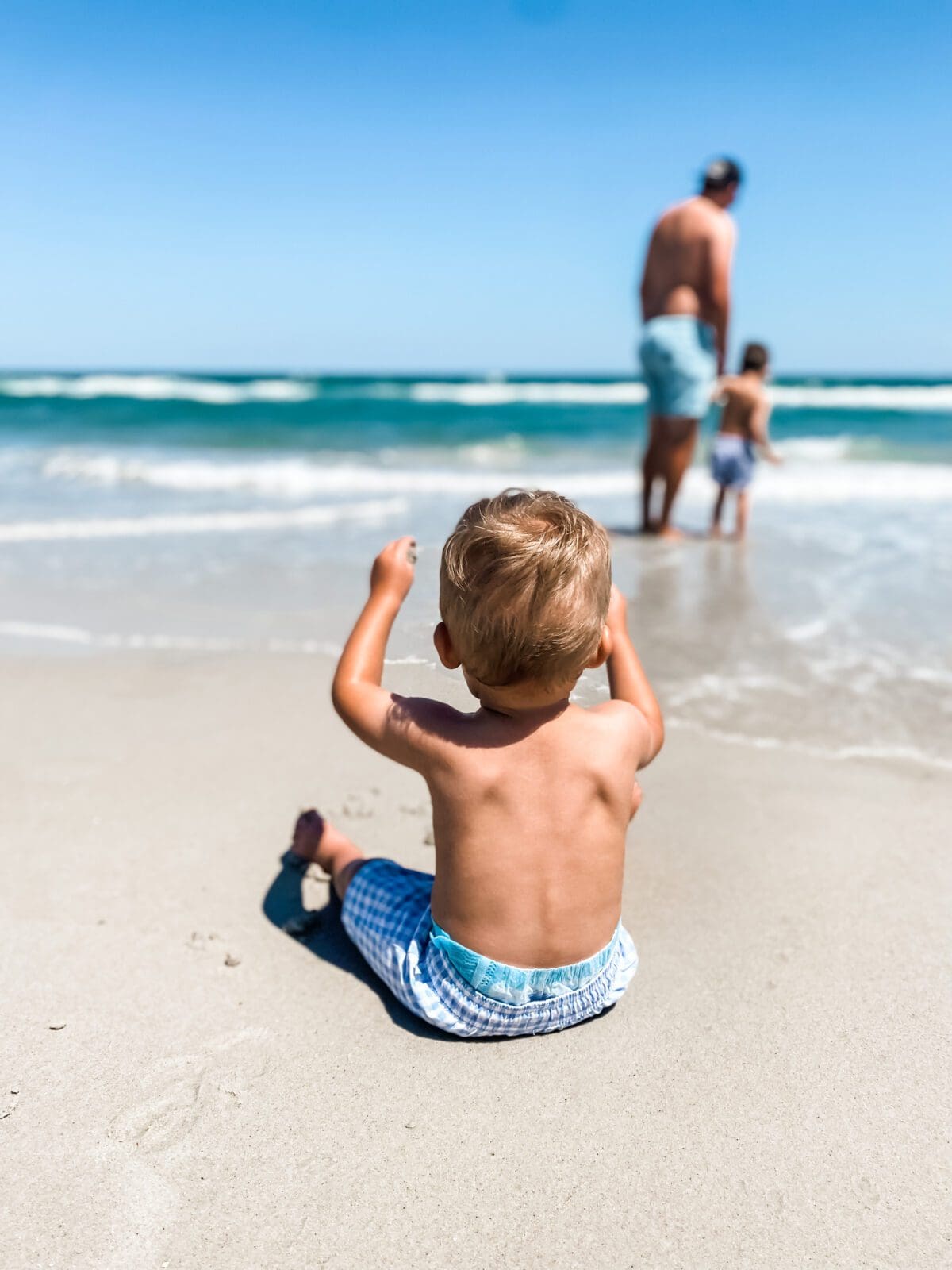 Additionally, the sand is soft and white while still being a great spot to look for seashells and shark teeth.
Hop on a cruise
There are numerous cruise companies on the island that will take you for sunset, shelling, and island-hopping cruises. We booked one through Soundside at Blockade Runner but you don't have to be a guest of the hotel to sign up. The captain was really kind and took us over to the neighboring uninhabited island of Masonboro to look for seashells!
Walk the loop
The Loop is a 2.5-mile sidewalk path through the island that is popular among locals and tourists. As you drive around Wrightsville, you'll likely see many runners, walkers, dogs, and strollers on the loop. It's a great way to experience the island as The Loop will take you through shopping, parks, and bridges overlooking the harbor.
Go shopping
Wrightsville Beach has plenty of great local shopping from surf shops to antique stores. Make sure you take some time to walk into a few of them to take a look around and maybe even bring home a souvenir!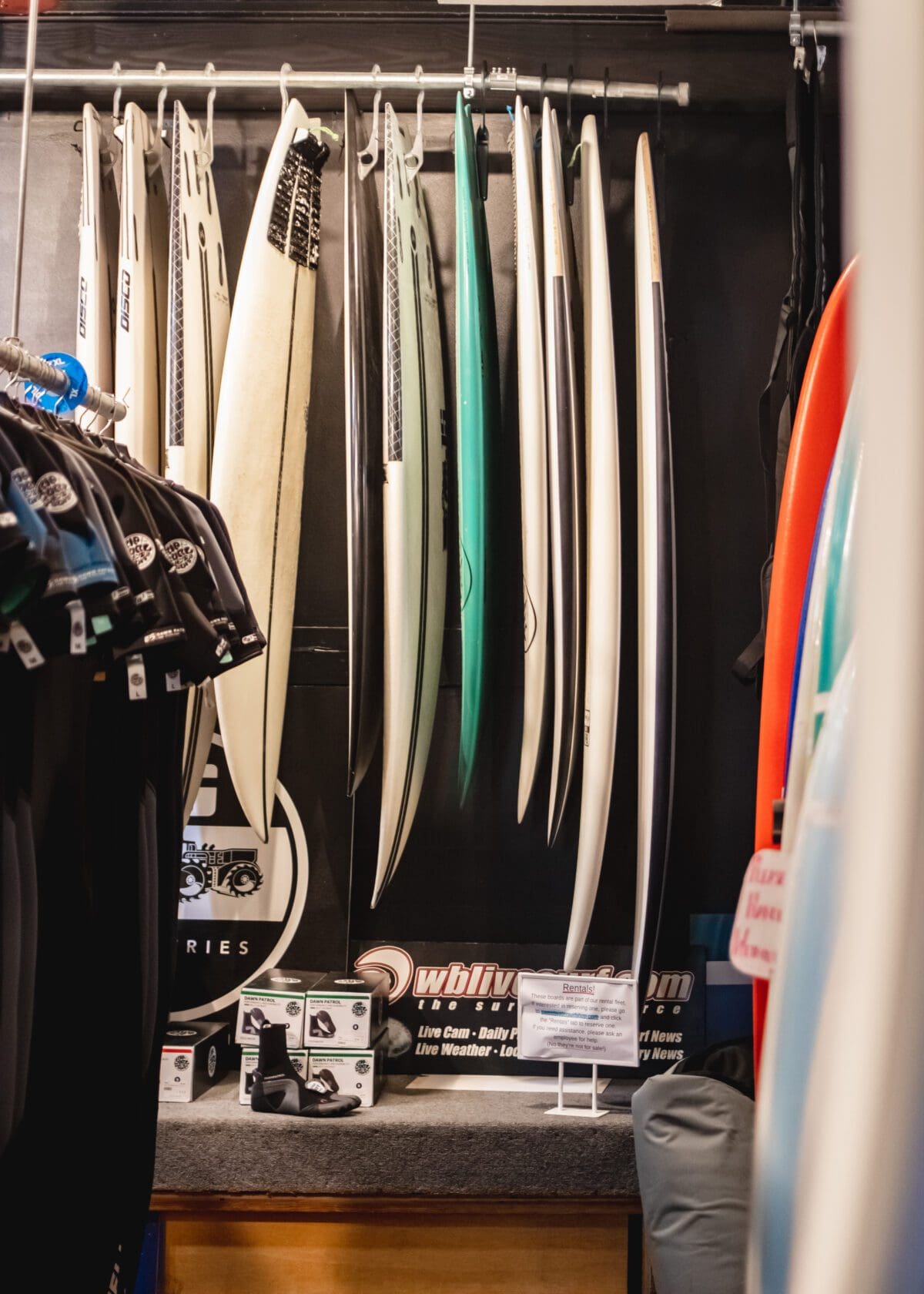 Wrightsville Beach Park
Wrightsville Beach Park was such a pleasant surprise for our family during our last visit to town. We wanted to stop by a playground to allow our kids to get their energy out after dinner and we happened upon this amazing park!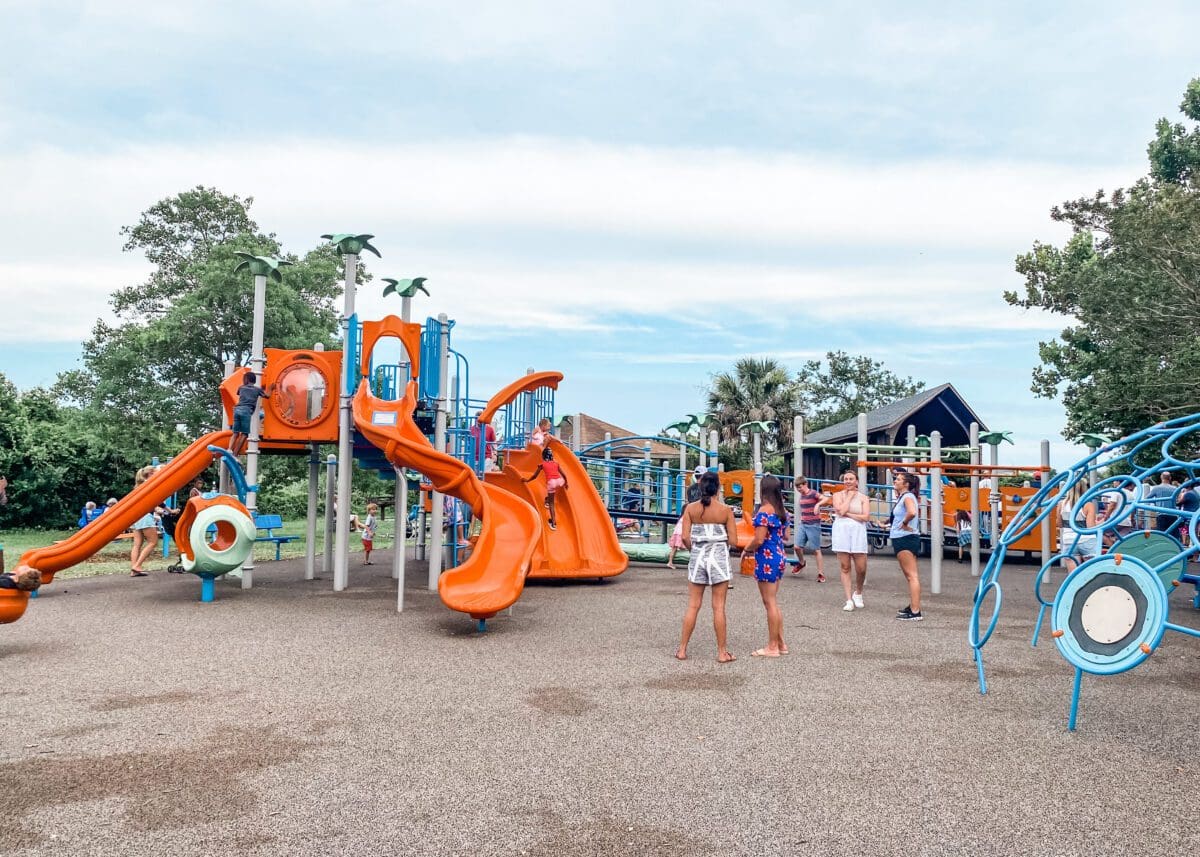 The playground is modern, clean, and full of excitement for kids of all ages and abilities. There's also a basketball court, volleyball courts, and more. We also happened to visit during their summer concert series which appears to happen every Thursday. It sure brought out a crowd and everyone enjoyed dancing and singing along to the music.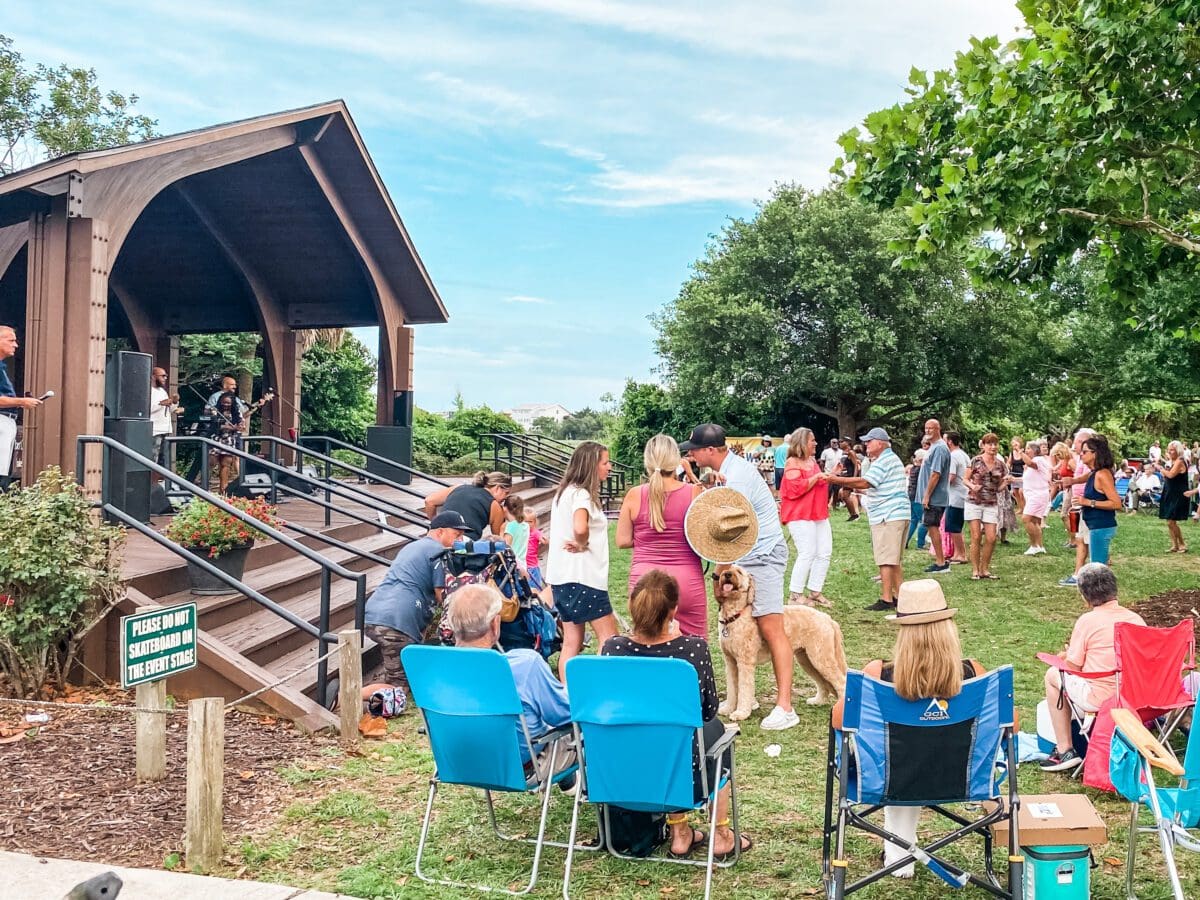 Where to eat in Wrightsville Beach
EAST Oceanfront Dining
EAST is an onsite restaurant at Blockade Runner that is open to the public. We dined there for both breakfast and dinner during our stay at the resort and it was fantastic, especially the breakfast!
It's a beautiful restaurant with a vibrant, coastal vibe inside, and a glorious patio outside. There is even a little field that was perfect for our boys to run around on while we waited for our food.
Zeke's Beans and Bowls
The only thing I love more than a refreshing acai bowl is having one on vacation. I am a firm believer that fruit, smoothies, and acai taste better at the beach. Zeke's is my favorite place to grab my fruity fix!
Kohl's Frozen Custard
One of my very favorite things to do in Wrightsville is to grab a delicious frozen custard "hurricane" from Kohl's and walk across the street to watch the sunset over the harbor!
Tower 7
Tower 7 is one of the most popular eateries on the island for good reason. For twenty years, Tower 7 has been serving baja-style Mexican cuisine that is reminiscent of southern California fare. It's located in the heart of Wrightsville and a close walk to the shore, making it a great place to take a break for some fish tacos during your beach day!
Find more food and fun nearby in Wilmington!
Wilmington is the most charming port city and is certainly worth the short 20-minute drive from Wrightsville. Check out our list of favorite Wilmington restaurants and eat your heart out!