Fall in North Carolina is a truly special time of year when the state comes alive with vibrant colors, festive food, and the ushering in of long-awaited events.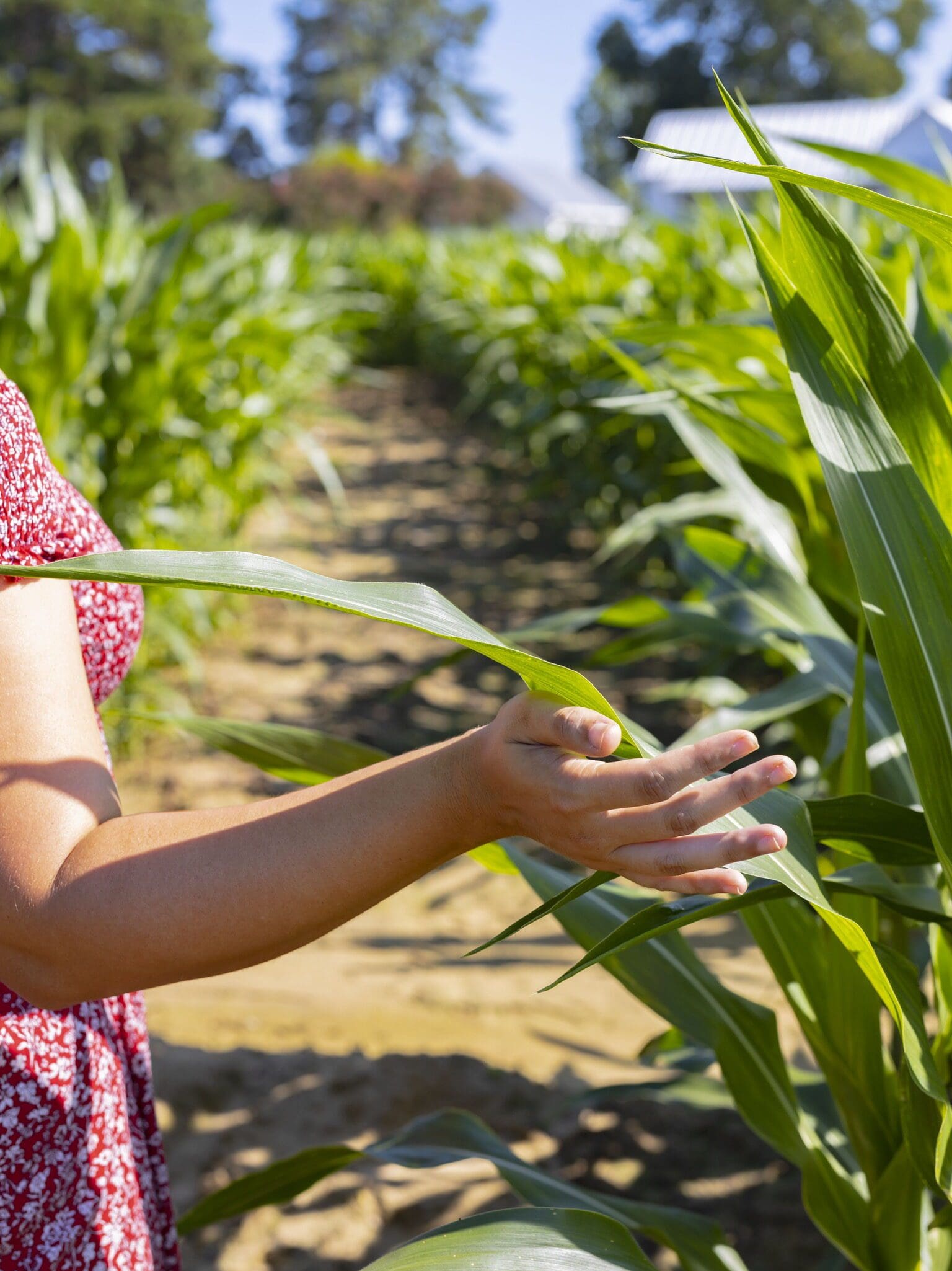 There's a multitude of activities spanning the state from the coast to the mountains that shouldn't be overlooked as you plan your fall season. As lifelong NC residents, we are using both experience and hours of research to curate our top picks for your Fall in North Carolina Bucket List.
Strap on your boots and pour yourself a cup of apple cider– this will be your best autumn yet!
Chasing leaves? Here are some great spots to experience the fall foliage in North Carolina.
When planning for fall in North Carolina, I'd be willing to bet that most people's first thought is the Blue Ridge Parkway and for good reason. The Blue Ridge Parkway is famous all year for its glorious views of the NC mountains, but nothing can beat a drive down it in the fall as the leaves are changing.
The mountains of North Carolina are simply magical this time of year and I highly recommend taking a trip to experience it. A google search will show you updated leaf forecasts so you can appropriately time your trip. As our mountains vary in height and how far west they are, the leaves change in tides giving you a long range to work with.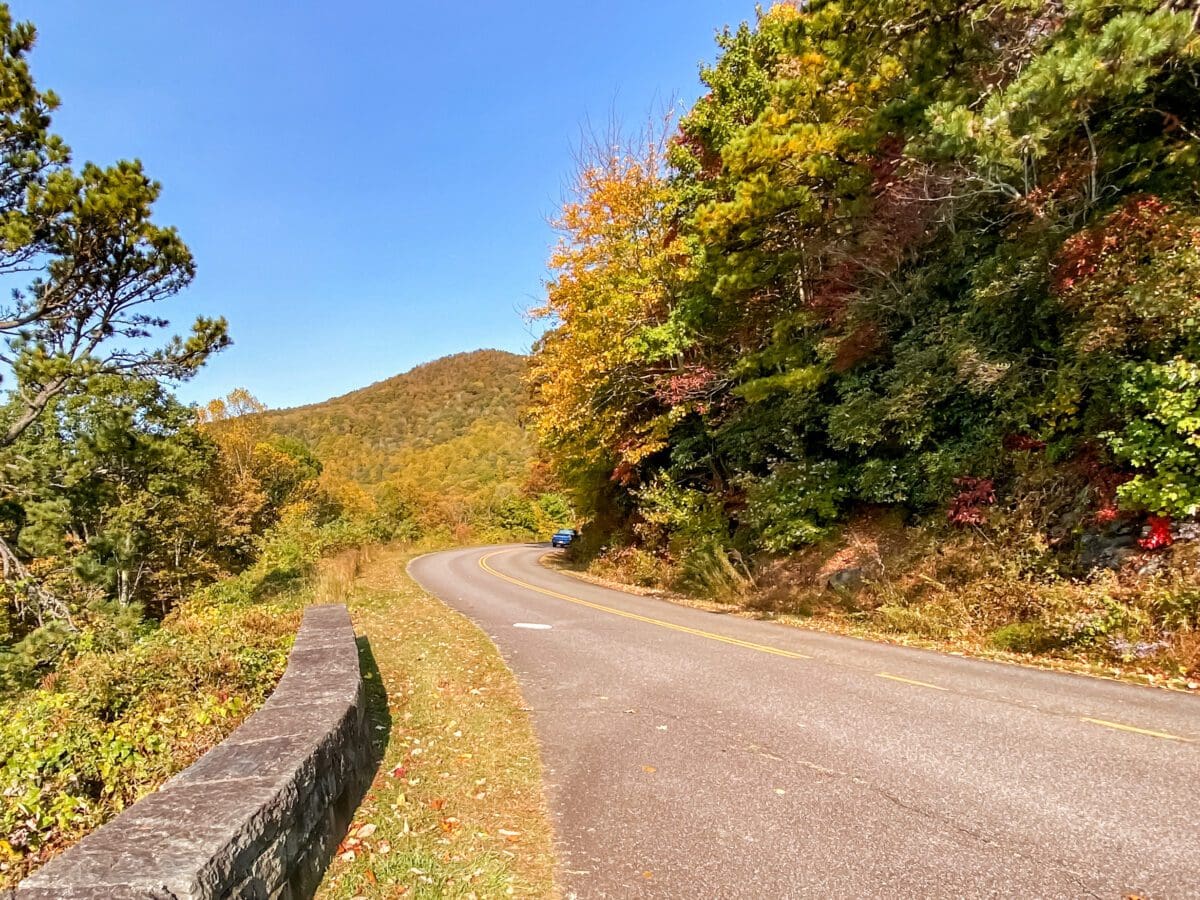 I know not all of us can drop everything to chase leaves in the mountains. If you're looking for some great spots a little further east, Crowder's Mountain, Pilot Mountain, and Hanging Rock offer great views and are all a reasonable distance from Charlotte, Raleigh, and Winston-Salem.
My favorite place in Raleigh for views of the trees is Green Hills County Park, an old landfill that is now a park and giant hill. Atop the hill, you'll find picnic tables and 360 degree views of Raleigh. I love having picnics there in the fall.
Our favorite fall destinations in North Carolina that aren't the mountains
While the mountains are astounding this season, I have a few other towns and regions in the state that are perfect for a quick trip during the fall.
The Coast
The coast is wildly underrated in the off-season and any of our beaches would be a spectacular getaway with less crowds and beautiful weather. We wrote about our weekend in Carolina Beach in the fall of 2021 and it was such a nice trip for our family.
We also love the Outer Banks during the fall season. As the weather isn't quite warm enough to spend all day on the beach, we love traveling around seeing the lighthouses, taking tours to see the wild horses, and hang-gliding lessons in Jockey's Ridge State Park, the largest sand dune on the east coast. Of course, we love checking out the restaurant scene too!
My family growing up always loved visiting the Crystal Coast during the fall season. Exploring the charming coastal town, Beaufort, was a wonderful way to relax. The most important reason we loved heading there in the fall, however, was for the surf fishing. Fall is an excellent time to cast a lure in the ocean to see what you catch. Nothing beats shore fishing during sunset in the Crystal Coast.
Winston-Salem
Winston-Salem is a perfect fall getaway in North Carolina for a few reasons. Old Salem is a historic village dedicated to telling the history of people, specifically the Moravians, in the area dating back to the 1700s. Walk the cobblestone paths admiring the colonial architecture, enjoy the reenactments, and indulge in fresh-baked goods using century-old recipes.
North Carolina Zoo
Fall is without a doubt the supreme time to visit the North Carolina Zoo. As the world's largest natural habitat zoo, there is a lot of walking required! The cool, autumn air is a welcome visitor when exploring 2600 acres of exhibits and animals.
The natural habitat of our zoo means there are trees everywhere which are beautiful as the leaves change. Moreover, we think the drive to Asheboro is particularly beautiful in the fall. Nothing beats winding backroads with hills covered in red, yellow, and orange!
Fall events and festivals in North Carolina we think you'll love
NC State Fair
You KNOW we have to start with perhaps the most iconic event in NC history: The NC State Fair. Every year in October, the state fair sets up in Raleigh and is truly a spectacle that locals travel from all over the state to experience. We wrote a guide about why it's such a big deal. If you haven't experienced our state fair yet, make this the year!
NC Eat & Play's Fall Hootenanny & Foodie Festival
Didn't think I'd forget my own festival, did ya? Each fall, our team takes over Phillips Farms of Cary to create an immersive, southern experience like no other. Local food, live bluegrass music, kid's activities, and more can be found at our Fall Hootenanny & Foodie Festival.
Autumn at Oz
Once a fully functioning theme park in the 1970's, Land of Oz is tucked away in the mountains and comes alive each year in the fall. For a few weekends only, guests are invited to experience Oz through festivals, theatrical performances, character meet & greets, and more.
View this post on Instagram
Carolina BalloonFest
If Statesville, NC is known for one thing, it's the Carolina BalloonFest, where the sky is painted with vibrant hot air balloons for a few days each October. This festival includes hot air balloon contests and tether rides, photo opportunities, live music, kids zones, and more.
View this post on Instagram
More Great Festivals We Think You'll Love
There are so many festivals that take place during the fall, we can't possibly include them all and had the hardest time narrowing them down! A few more that we think should definitely be on your radar: Mayberry Days( a celebration of The Andy Griffith Show), Brushy Mountain Apple Festival, and Carolina Renaissance Festival.
Halloween activities in North carolina
Scarowinds
SCarowinds is a highly-anticipated spooky attraction in North Carolina. The amusement park is turned into a haunted destination filled with live entertainment, scary decorations, and plenty of screams. If you plan to visit, check out our rankings of Carowinds rollercoasters!
Tweetsie's Ghost Train
Tweetsie Railroad is an icon of the North Carolina mountains and is a family-friendly amusement park complete with a train and other classic rides.
Beginning mid September and going through October, the park transforms every Friday and Saturday Night. Decorations, themed characters, rides on the haunted Ghost Train, trick-or-treat stations and more await guests in this family-friendly, spine-chilling attraction.
Other Haunted Attractions
Visit Phillips Farms of Cary for a frighteningly good time (not recommended for children under 12) from the end of September through October on Friday and Saturday nights. Actors, animatronics, and jump scares are found around every corner of the farm and if you're feeling brave, check out the Gore House.
Another fantastic haunted attraction in the Triangle can be found at Panic Point located in Youngsville, north of Raleigh. This Haunted Forest is complete with five terrifying attractions like Killers in the Corn, Dark Trail, and more.
To experience a one-of-a-kind petrifying attraction, Lake Hickory Haunts aims to give guests a night like no other. You won't find the typical haunts at this joint. Instead, explore terrifying caves, treetop mazes, circus, shipwreck and more.
Woods of Terror in Greensboro is one of the biggest haunted attractions in the state with more than fifteen chilling experiences that play on your worst fears from creepy-crawlers to graveyards.
Are You Looking for the Real Deal?
Maybe paid actors and elaborate decorations aren't your thing and you'd rather hunt down a real paranormal experience? Check out our blog where we narrowed down a list of 6 most haunted locations in North Carolina.
More About Phillips Farms of Cary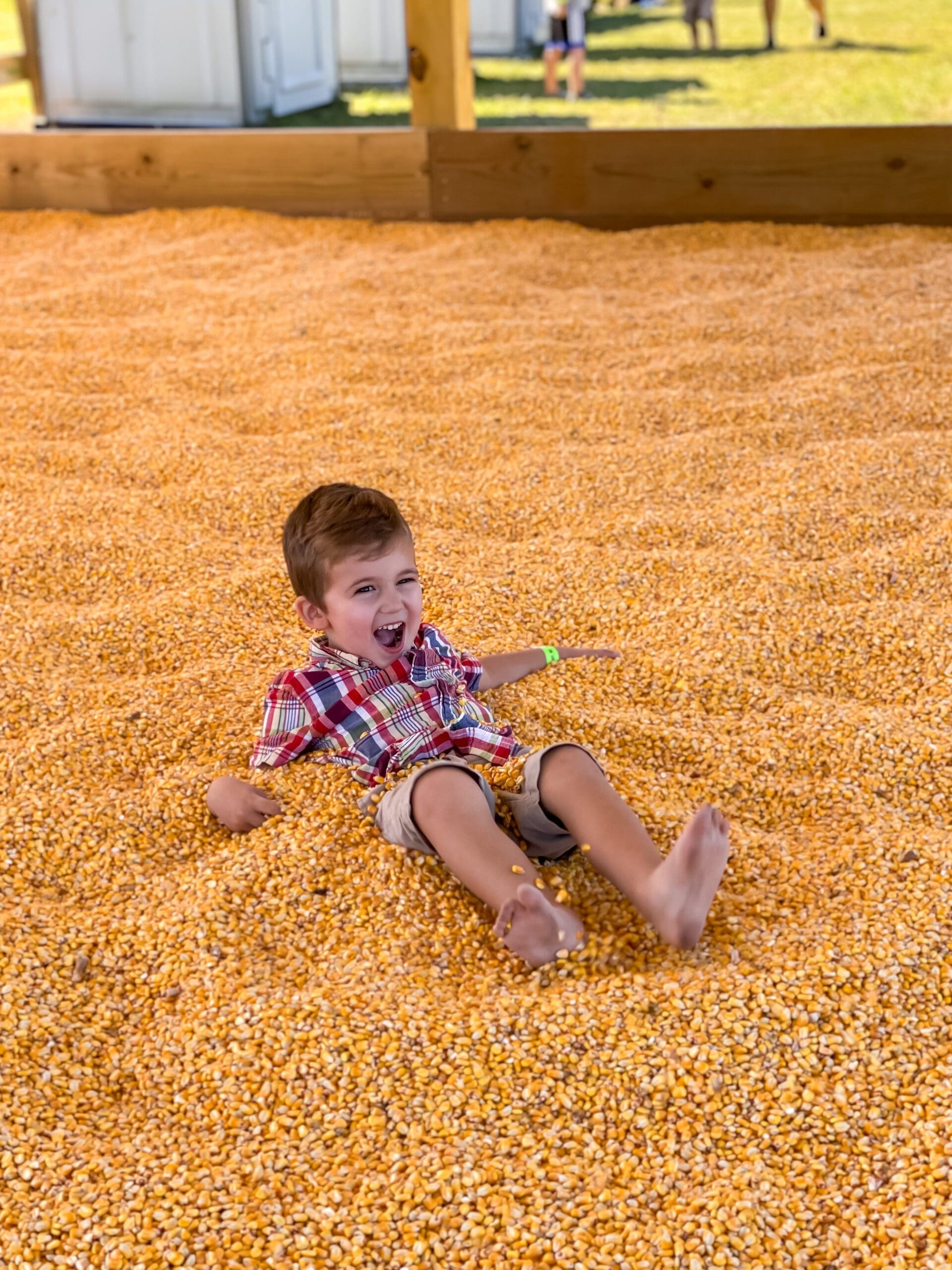 In addition to their haunted nighttime attraction, they host a family fun park, farmer's market, and corn maze brought to you by none other than yours truly…NC Eat & Play!
Apple Picking
There are quite a few apple orchards throughout the state. The closest one to Raleigh is Millstone Creek Orchards. In addition to apple picking, you'll find fresh cider and scrumptious baked goods!
No matter where you pick your apples, you'll want to use them for the best apple crisp recipe, right?
Pumpkin Patches
There are pumpkin patches sprinkled all over North Carolina that are worthy of a fall visit! One of the most famous is Carrigan Farms, just outside of Charlotte in Mooresville. There, you can enjoy a hayride to the pumpkin patch along with a petting zoo.
Although Phillips Farms of Cary does not have a patch, they always have an amazing selection of pumpkins and mums to choose from at their market.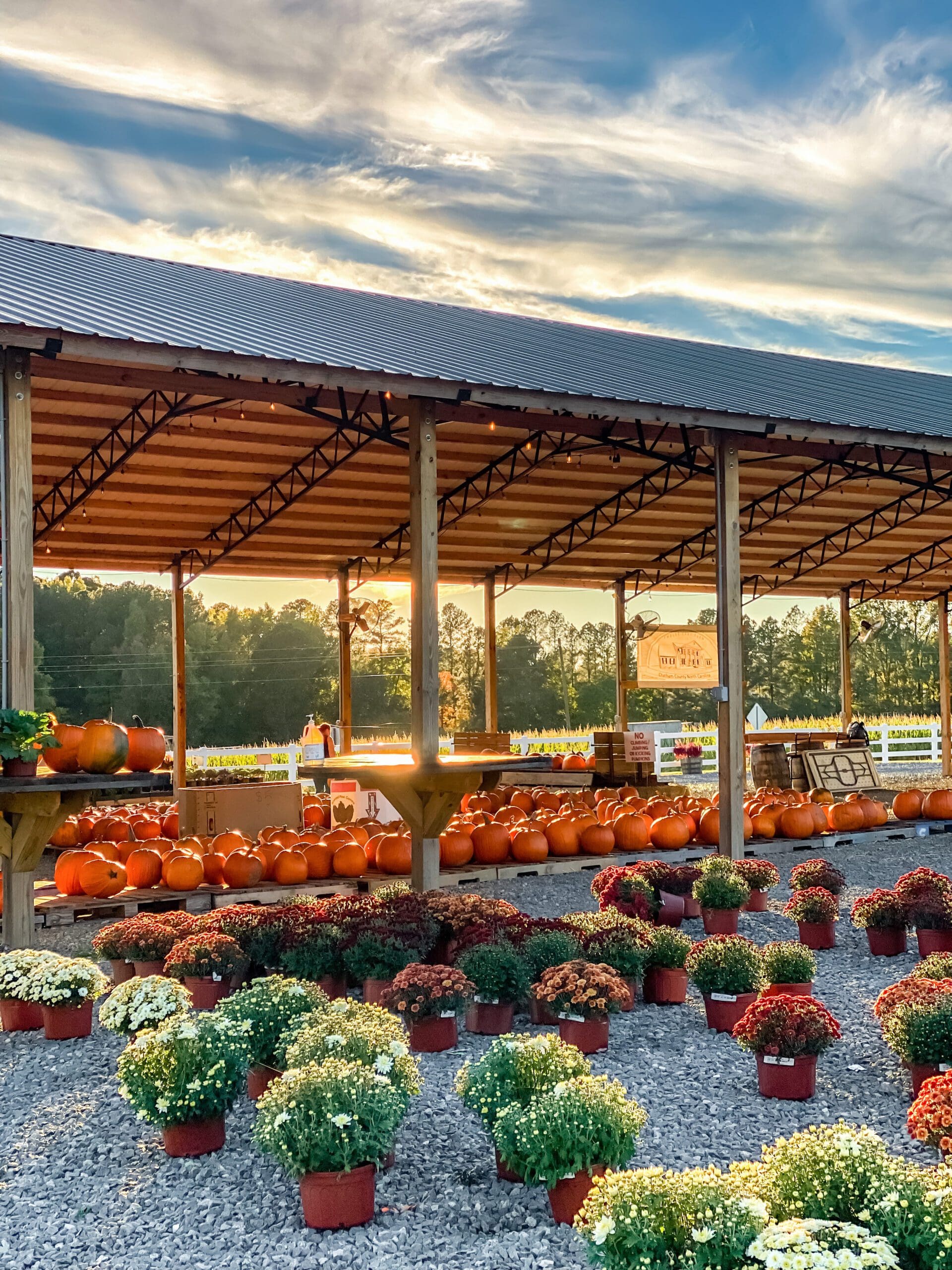 College Football
Fall rings in college football and North Carolinians are serious about their college sports! If you don't have a team, pick one and attend a home game. You'll be an official fan before the game even starts! The energy is contagious and there's no shortage of rivalries to raise the stakes a bit.
In addition to college ball, NC has a professional team, the Carolina Panthers, who are also a blast to watch play and their season lasts into winter.
What is your favorite thing about fall in NC?
Did we hit some of your go-to activities and destinations in North Carolina's autumn season? If you have any ideas you'd like to add, drop us a comment!