One of the first things someone will ask you if you are from North Carolina is who your college basketball team is. There are a handful of loyal Wake Forest or NC State fans that proudly represent their school, but the majority of us will either answer Duke or Carolina.
I, for one, side with the Duke Blue Devils, a Cameron Crazy through and through, but will attempt to make this write-up as fair as possible. However, if you're looking for a completely objective article with no opinions or experiences, this is not the one for you.
While I love to watch UNC lose, I'm not so close-minded as to say they are a terrible team. They have a great program that has been one of the best for decades and have their fair share of jerseys and banners hanging in the rafters of Dean Dome to back that up. Duke also has also had their own success, but we can get into that later.
Between the two teams, they hold 11 National Championships and have seen dozens of Hall of Famers grace their campuses. This is to set the stage for one of the best rivalries in college basketball, and some say in all of sports.
If you weren't raised in North Carolina or aren't familiar with college basketball, you may be wondering what the big deal is. I'm going to attempt to help clear that up for you. My credentials are as follows: born and raised in NC, basketball player, Duke fan, and I have two sons by the names of Dean and Cameron (if you don't understand that significance yet, you will by the end of this blog).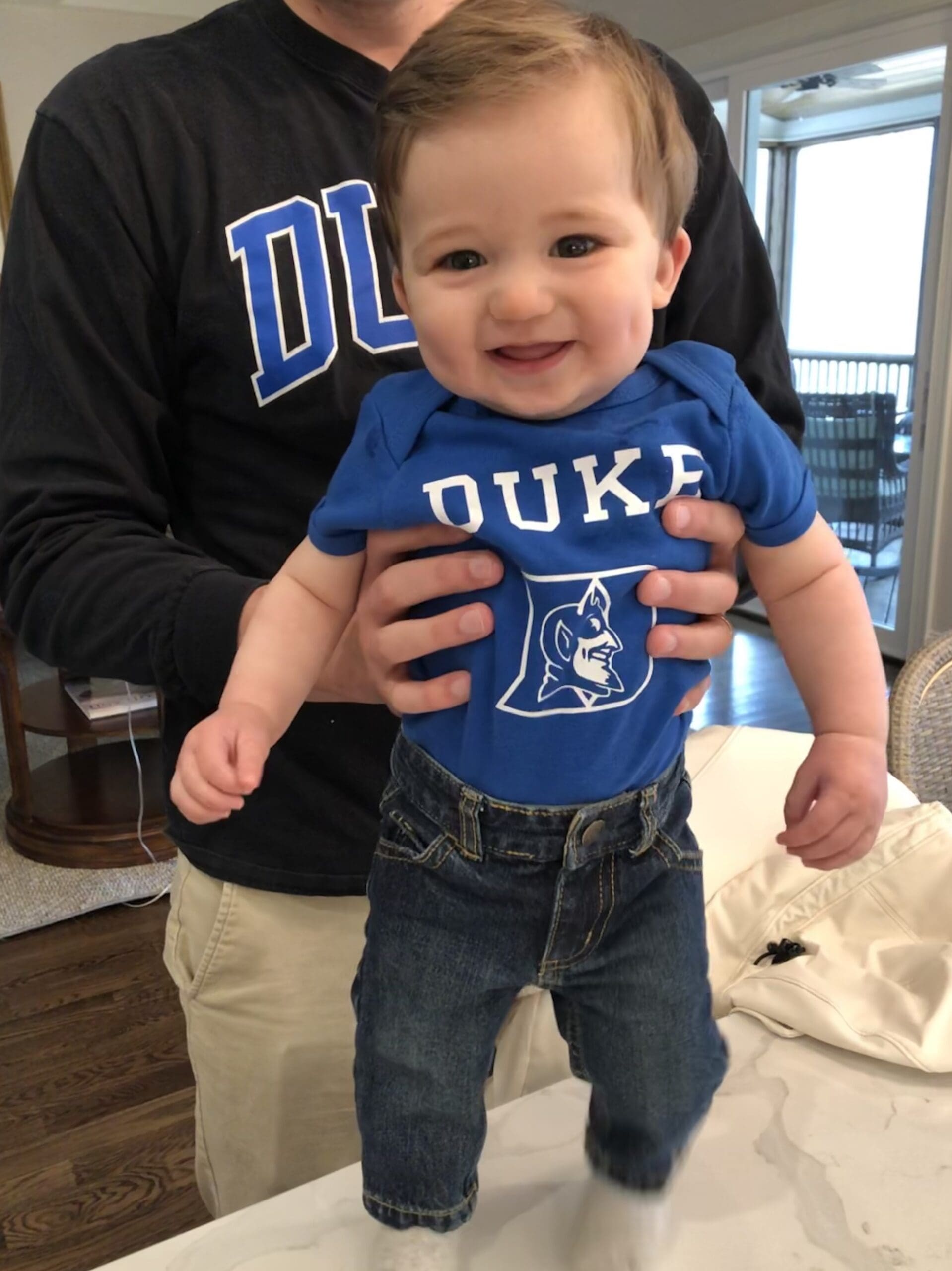 Duke Vs. Carolina: How it all began
UNC's Beginnings
So how did it all start? The University of North Carolina at Chapel-Hill was chartered in 1789 and started enrolling students in 1795, making it one of the oldest public universities in the country. They are not only known for their athletic prowess but also for their excellence in academics.
With a number of prestigious undergraduate and graduate degrees, it is sometimes referred to as a "Public Ivy" school. The Tarheels, as their athletic teams are known, have had storied success throughout the years on the field and court.
In just basketball alone, which saw its first season in 1910-1911, the Men's Basketball Team has had 18 ACC tournament titles, 32 ACC regular-season championships, 20 Final Fours and six NCAA Tournament Championships.
View this post on Instagram
The Tarheels have had historic coaches who have revolutionized the game, namely Dean Smith and Roy Williams. I've actually had the pleasure of meeting Roy Williams when I attended a UNC basketball camp with my friends in the summer of 2008. Although I was a Duke fan, I respected his talent and influence and thought it was cool to meet him. If only I could meet Coach K now!
UNC also had a number of stars who went on to dominate in the NBA including James Worthy, Vince Carter, Bob McAdoo and of course, Michael Jordan. Carolina, as of 1982, plays their games in the "Dean Dome" which was named after their decorated Head Coach Dean Smith. UNC's iconic uniforms are white, and a color that could only be described as "Carolina Blue".
Duke's Beginnings
About 8 miles to the Northeast we find Duke University in Durham, North Carolina. As opposed to UNC, Duke is a private university that was founded by Methodists and Quakers in 1838. The school originated in Trinity, NC but later moved to Durham in 1892.
A successful businessman and tobacco industrialist, James Buchanan Duke, created the Duke endowment in 1924 and the university changed the name to Duke University to honor him and his family.
Duke has had great success over its history in academics and research, being ranked among the top universities in the United States and the world. The Duke Blue Devils athletic teams compete in a variety of sports but are definitely known for their Men's basketball team.
The Blue Devils hold 21 ACC championships, 19 ACC regular-season titles, 16 Final Fours as well as 5 National Championships. Duke has seen Eleven players receive National Player of the Year awards and 71 players have been selected in the NBA Draft. Currently, there are 25 Blue Devils playing in the league, one of the highest numbers from any program.
Much of Duke's success has come under head coach Mike Krzyzewski, who is recognized throughout the basketball world as Coach K. Coach K has been at the university since 1980, and really built the program up to what it is today. Not only is he the winningest coach in College Basketball with 1,196 wins and only 366 losses. He also won 3 gold medals as head coach of the United States national team at the Olympics.
View this post on Instagram
His name is constantly brought up as one of the best that college basketball has ever seen, and he announced last year that the 2021-2022 season would be his last. The team plays in Cameron Indoor Stadium, which only holds 9,314 but is one of basketball's most electrifying venues.
The fans are called the Cameron Crazies, and many of these student Crazies camp out in tents before games to secure a spot in the crowded arena. They have dubbed the area where they camp Krzyzewskiville, after the beloved Coach K.
This rivalry runs deep.
I've honestly tried my hardest to keep this informative and not one-sided and I hope I'm doing an okay job there. This fandom and rivalry runs deep and is a big part of who I am.
I've been a fan since I was a young kid who watched a Duke team led by Shane Battier and Jay Williams beat Arizona in 2001 for their third national championship.
I remember North Carolina winning their first National Championship under Coach Roy Williams in 2005 and having to face the taunts and jeers from my Tarheel friends at school the next day.
Ask anyone that was raised in the NC Triangle, and they'll surely tell you that they remember TVs being wheeled into their classrooms at school to tune into the ACC tournament. Duke vs. Carolina games was the talk of the town and still are.
Duke Vs. Carolina: Stereotypes, Rumors, and Competition
There are a lot of stereotypes and reasons for this passionate rivalry so I figured I would lay it all out on the table here. Yes, UNC has seen a bit more storied success as a program. They have more national championships and had arguably the greatest player who ever lived, Michael Jordan.
Duke has not been in the spotlight for quite as long but has seen a lot of success after winning their first two, back-to-back championships in 1991 and 1992. They have consistently been one of the best teams in the country (with average seasons here and there) while Carolina struggled for a while to regain their footing between the Dean and Roy eras. Duke wins a lot, and people get sick of someone who is always winning.
I think it also rubs a lot of people the wrong way how we practically worship Coach K, and they would be right in saying that. In my personal experience, I have found Tarheel fans to be the loudest and most spirited when they win which can get annoying being on the opposite side, but I'm sure they would say the same thing about "Dookies", as they like to call us.
Duke has had a good number of players over the years that have been personified as "villains" due to some instances on the court. Some of the hate I feel is justified and some I feel are assumptions and characterizations.
Some of the most notable villains are Grayson Allen, JJ Reddick, Bobby Hurley and Christian Laettner. There's a great documentary that ESPN released called "I Hate Christian Laettner" that you should check out that goes into more detail. Essentially it boils down to the appearance of privilege, winning culture, competitive personalities, and then some on-court instances that we will just call "non-basketball plays". You can look up Grayson Allen and Christian Laettner specifically if you want to see those.
UNC has come under fire recently from allegations of fraud and academic dishonesty at the school, specifically with some of their athletic teams. Rumors circulated that numbers of fake classes were created so that the athletes could enroll in them. A member of the Tarheels 2005 National Championship Team, Rashad McCants, claims to have taken phony classes and had tutors complete his schoolwork for him. McCants' teammates do not support his claims and the NCAA found no supporting evidence in investigations but allegations like that from your own players are a red flag to many people.
Duke has dominated the recruiting scene as of late, landing many of high schools' top five-star recruits. Coach K has embraced the "one and done" era of college basketball which became popular in the 2010s. This is where top high school stars go to college for the required one year and then after their season declares for the NBA draft.
While Carolina gets highly ranked recruits, they have tended to build their teams around four-year guys and do a lot of their recruiting locally in the state.
Both different methods and ideologies have led to success for their respective teams, but not everyone is a fan.
View this post on Instagram
Duke vs. Carolina: Pick a side!
So if you were born here like I was, you most likely already have a side. If you are new here, you better pick one quick!
In years that Carolina has made it to the Championship, and Duke hasn't, people who aren't from here assume I am cheering for UNC. They know I'm from North Carolina and are confused when I tell them that I just can't root for the Tarheels. I've tried and it just doesn't work. I know the Carolina fans would say the same about Duke. It's in our blood. You've got to pick one shade of blue and stick with it.
Both programs are extremely successful but have come by that success in different ways. When you think about it, it's incredible that so many successes and differences could coexist in a little part of North Carolina between schools just 8 miles apart. Those differences, however, are what makes this rivalry so great.