NC Eat & Play's 2023 Spring Hootenanny & Foodie Festival presented by Cheerwine was an absolute blast and our team is endlessly grateful. Grateful for the 1,000+ guests who showed up, for our generous sponsors, and for our hardworking local businesses who served up delicious food and drinks all night long.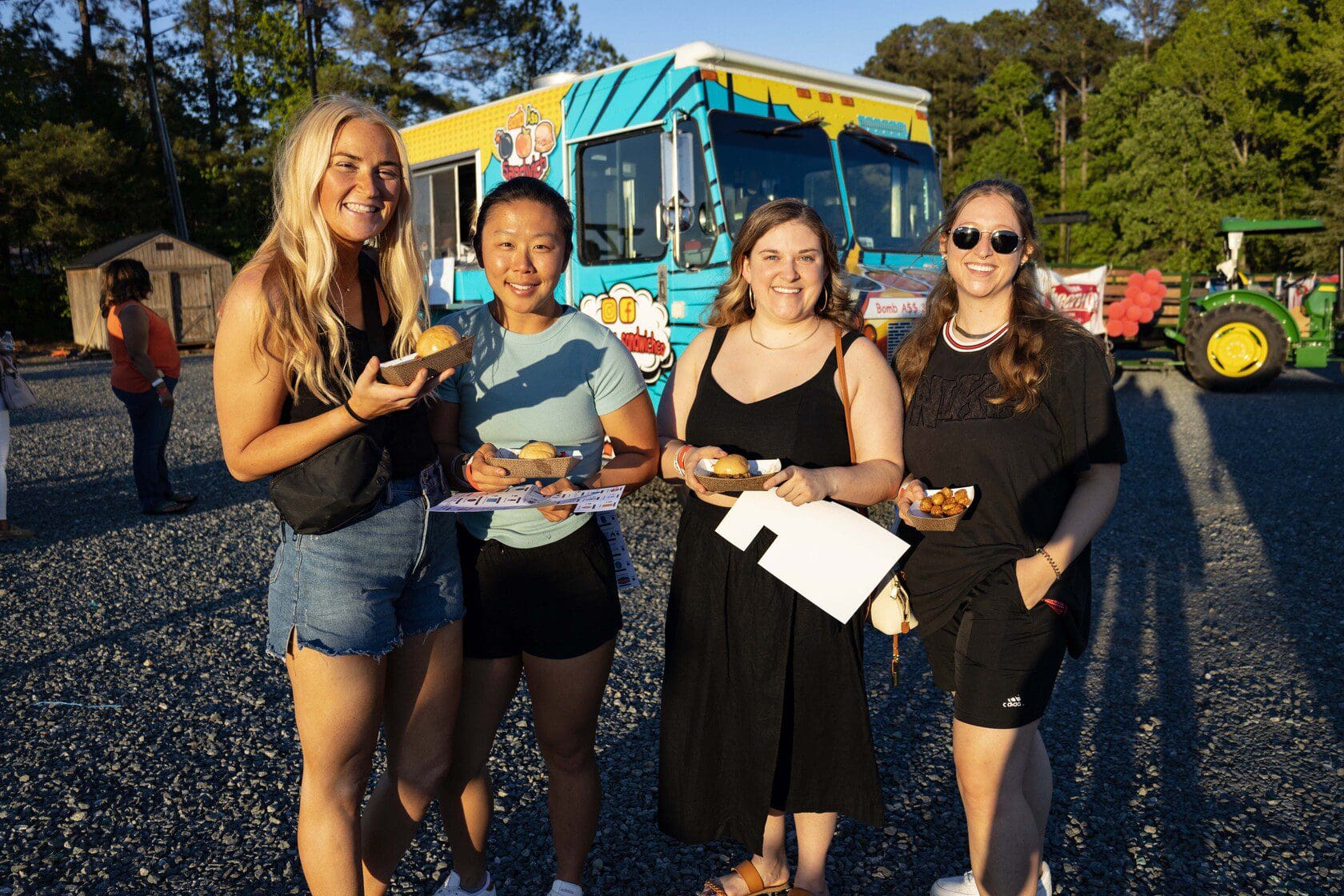 We received countless comments, messages, and emails from participants that this was our best Hootenanny yet and we'd have to agree!
Cheerwine showed up!
As presenting sponsor, Cheerwine sure showed up with an endless supply of their eponymous cherry-flavored soft drink, decorations, and prizes to hand out. There wasn't a corner of the farm where you couldn't see the vibrant, recognizable red logo floating around, and we loved treating fans new and old to the iconic beverage.
Phillips Farms made the 2023 Spring Hootenanny possible.
Without a doubt, our 2023 Spring Hootenanny & Foodie Festival could not have happened without Phillips Farms. I am constantly in awe of the beauty of their farm and their tight knit, incredibly dedicated team.
Since the Fall Hootenanny of 2022, Michael Phillips and his team have expanded the market area and parking, giving us room for more vendors and vehicles. Thanks to them, we are able to put on this brilliant event and continue to grow it year after year.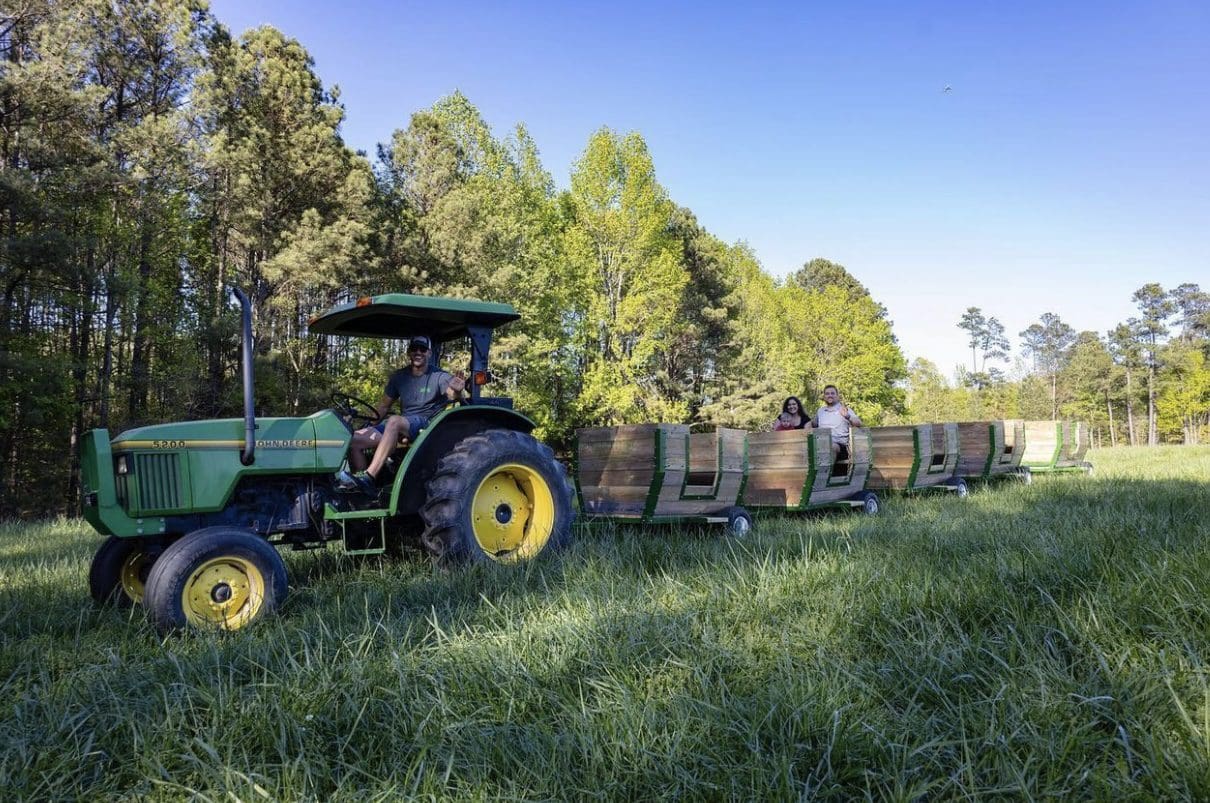 Phillips Farms also provided many activities that they will also offer during their Spring Market every Saturday beginning April 22. Gem mining, miniature golf, cow train rides, and more!
Foodie Festival
One of the reasons this season's Hootenanny was such a blast was the foodie festival. This year's lineup of local restaurants and food brands was probably our best yet! We're so grateful that each year so many of our favorite local gems are able to join us to meet and greet all of our guests and help them get to know the food scene here in the Triangle a bit better.
In case you missed it, here's a full list of the food festival vendors who joined us!

The Butcher's Market, Dos Taquitos, Codigo1530, The Flying Biscuit, William & Company, Mr. A's Beignets, Sweet T Farms, Curry in A Hurry, Five Star Restaurant, Chapel Hill Toffee, Michael's English Muffins, Mama's Salsa, Waves Shaved Ice, Red, White, Bubbly, & Brew, Little Blue Bakehouse, Lizzee's Apples, Iyla's Southern Kitchen, Lili's Kitchen, Wye Hill Brewing, Locals Seafood, Plates Kitchen, Bombass Sandwich Co., Milk Lab, Biggby Coffee, & Alpaca Chicken
The Butcher's Market : Signature Bite
The Butcher's Market returned as our Signature Bite sponsor this year and knocked it out of the park with their carnitas sliders! Don't just take my word for it… see for yourself…
And in case they didn't look droolworthy enough, each guest was served up TWO of those amazing sliders!
Kid's Bites
This year, we introduced Kids' Bites for the first time. Parents were able to reserve tickets for their children to receive a complimentary main dish and dessert. The Flying Biscuit Cafe-Raleigh provided macaroni and cheese strips (think baked ziti but cheesy, delicious Mac!), while Waves Shave Ice provided multiple flavors of their addictive Hawaiian style shaved ice to choose from.
We also had an NC Eat & Play booth where a few of our volunteers handed out cotton candy. We heard nothing but great things from the kids about their food!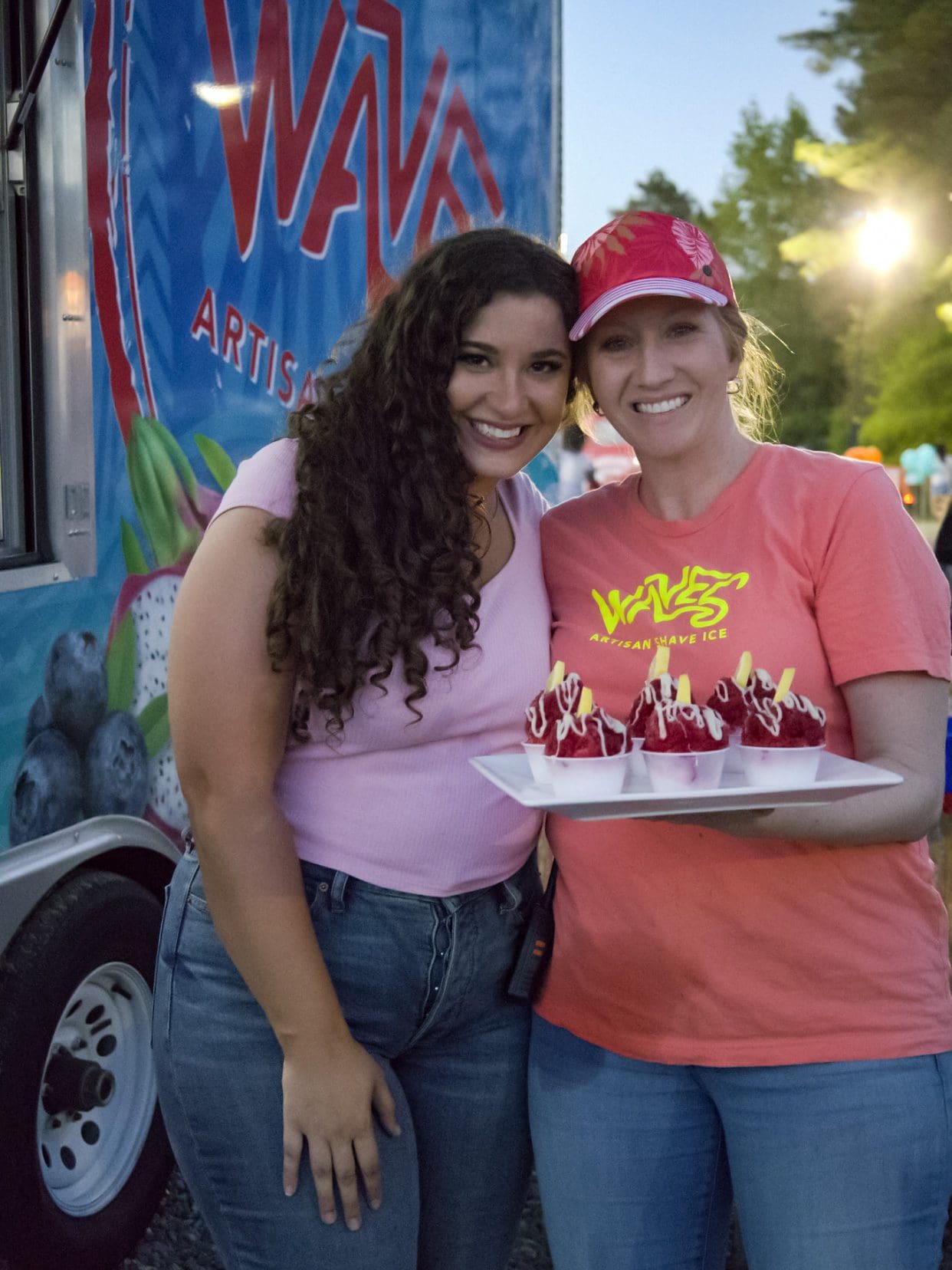 Adult Beverages
In addition to ice-cold Cheerwine throughout the farm, we also had a few phenomenal beverage vendors to keep our guests hydrated and happy.
In our Southern Cocktail Cantina, we had George Strait's own Codigo 1530 and Raleigh hidden gem, William & Company, serving up tequila, margaritas, and mocktails.
Also in the Cantina, we had Dos Taquitos, Raleigh's oldest Mexican restaurant handing out taquitos! Feeling the food FOMO yet?
Wye Hill Brewing poured locally brewed craft beers thanks to our Craft Beer Corral sponsors, The Jim Allen Group.
One of the most popular parts of the festival we have in our Hootenanny is Rosé in the Hay. Red White Bubbly and Brew set up a beautiful cart to pour rosé for guests to sip, relax, and take in that golden hour of sunset sunshine.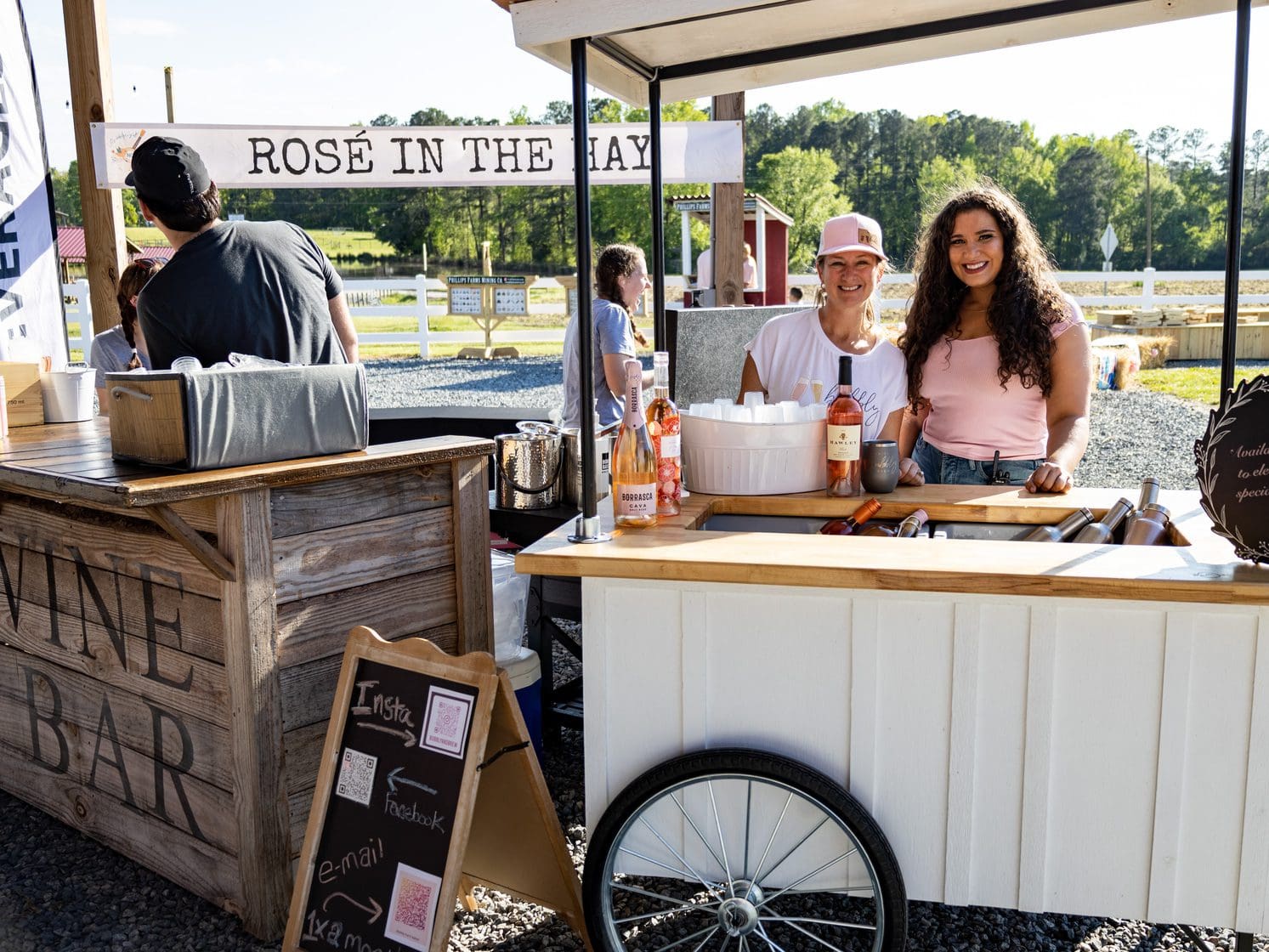 Live Southern Tunes
We welcomed back Colin Cutler and band again this year as our main entertainment and they did an outstanding job of getting the crowd moving. Their bluegrass/blues/rock blend has become the signature sound of our Hootenanny event season after season. AND check out that Cheerwine wagon stage!
More Hootenanny Fun
Back by (VERY) popular demand, Mark of Righteousness LLC returned with her 360 photobooth. Guests took spins on it all night long and enjoyed posting the results on social media. Did you get to take a turn? Don't forget to tag when you share it!
Another returning business was The Pint Sized Pasture, a mobile petting zoo who brought their cuddly miniature farm animals for guests to enjoy!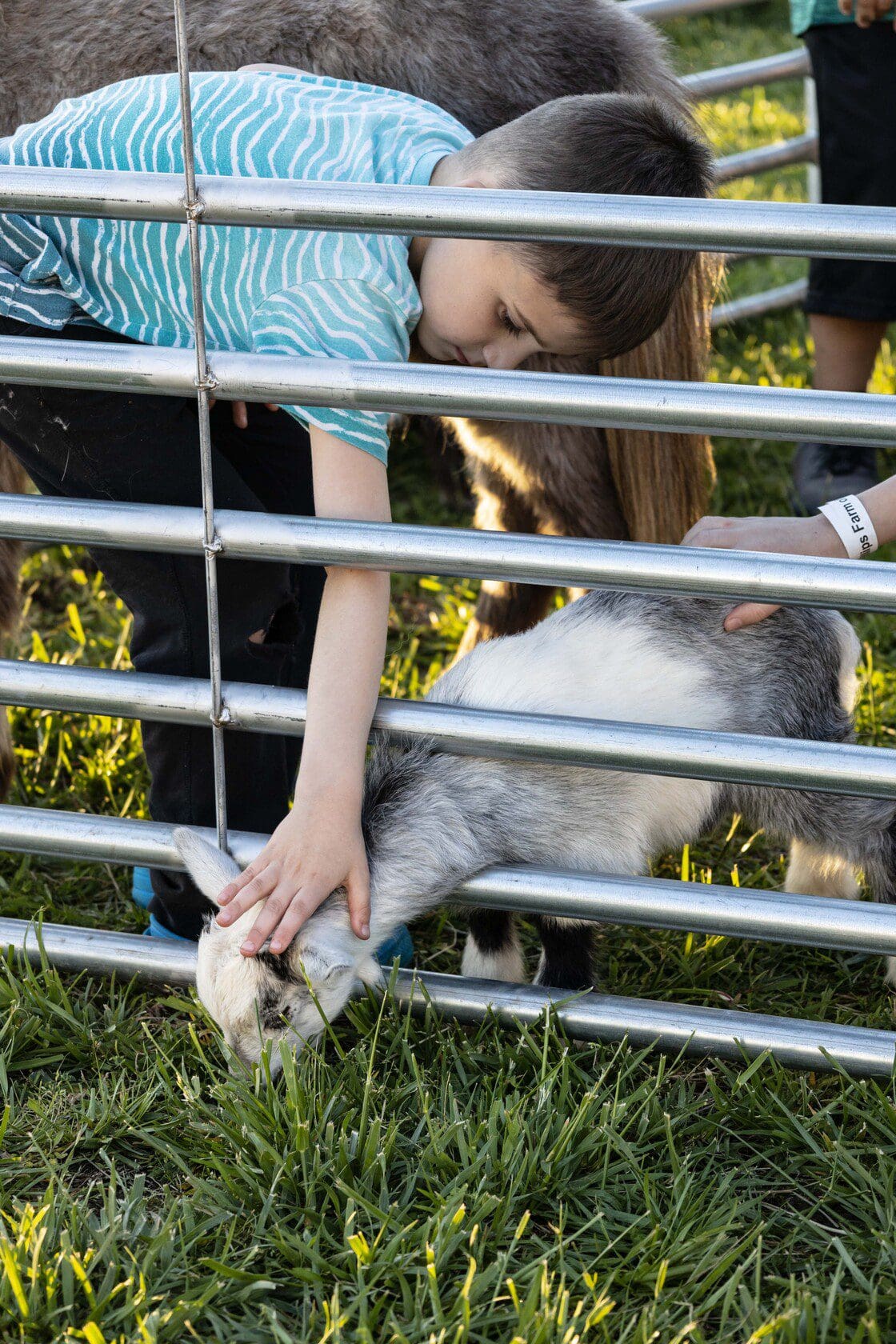 We were thrilled to have Party Like a Princess LLC on the farm again with a few of all of our favorite characters. They made some of our littlest guests' dreams come true!
For the first time, we welcomed Beautiful Together Animal Sanctuary who brought some loveable pups in need of adoption. A wonderful dog found his furever home at our 2023 Spring Hootenanny and we are so thrilled!
Thank you to our volunteers!
We had an outstanding team of volunteers this year. I truly could not be more thankful for their help and support in making this event a great one!
We are already planning how to make the 2023 FALL Hootenanny an even bigger success. See you there!?