35+ food trucks and beer and wine vendors, cuisine from all over the world, family fun, the ultimate Sunday Funday in Durham Central Park!
Come downtown four Sundays a year to enjoy our Food Truck Rodeo, one of the longest standing events at DCP! Our rodeos feature trucks and drink vendors of all types for you to enjoy in the park or as you're passing through. Durham Central Park Food Truck Rodeos aren't just a great place to relax and eat great local street food, they also support Durham Central Park. These events raise much needed funds that help to operate, beautify, program and improve the park's five acres.
Sign up for our newsletter to get our Rodeo map, updates on non-profit part times and family activities, and be the first to get the truck lineup!
Volunteer at our rodeos! We rely on volunteers to help make Rodeos happen. Because we appreciate all our volunteers, they can earn credit hours and Truck Bucks to spend with any vendor. We have jobs for all ages and abilities- set up, staffing the table, breakdown and keeping our event waste-free. Click here to sign up to volunteer!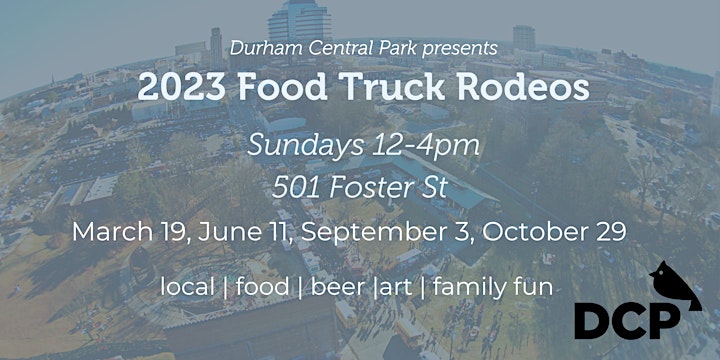 Rodeo FAQs
No matter what, Food Truck Rodeos are rain or shine.
Although most trucks accept credit cards, an ATM machine is on site if needed.
If you need to park nearby, the lots to our South and West are open
Though dogs are welcome, please keep them on regular (not retractable) leashes
So that you get maximum enjoyment, bring a blanket or a lawn chair so that you can experience a quintessential Durham afternoon with friends and family.
Looking for or trucks that participate? Have other questions? Check the Food Truck Rodeo FAQ