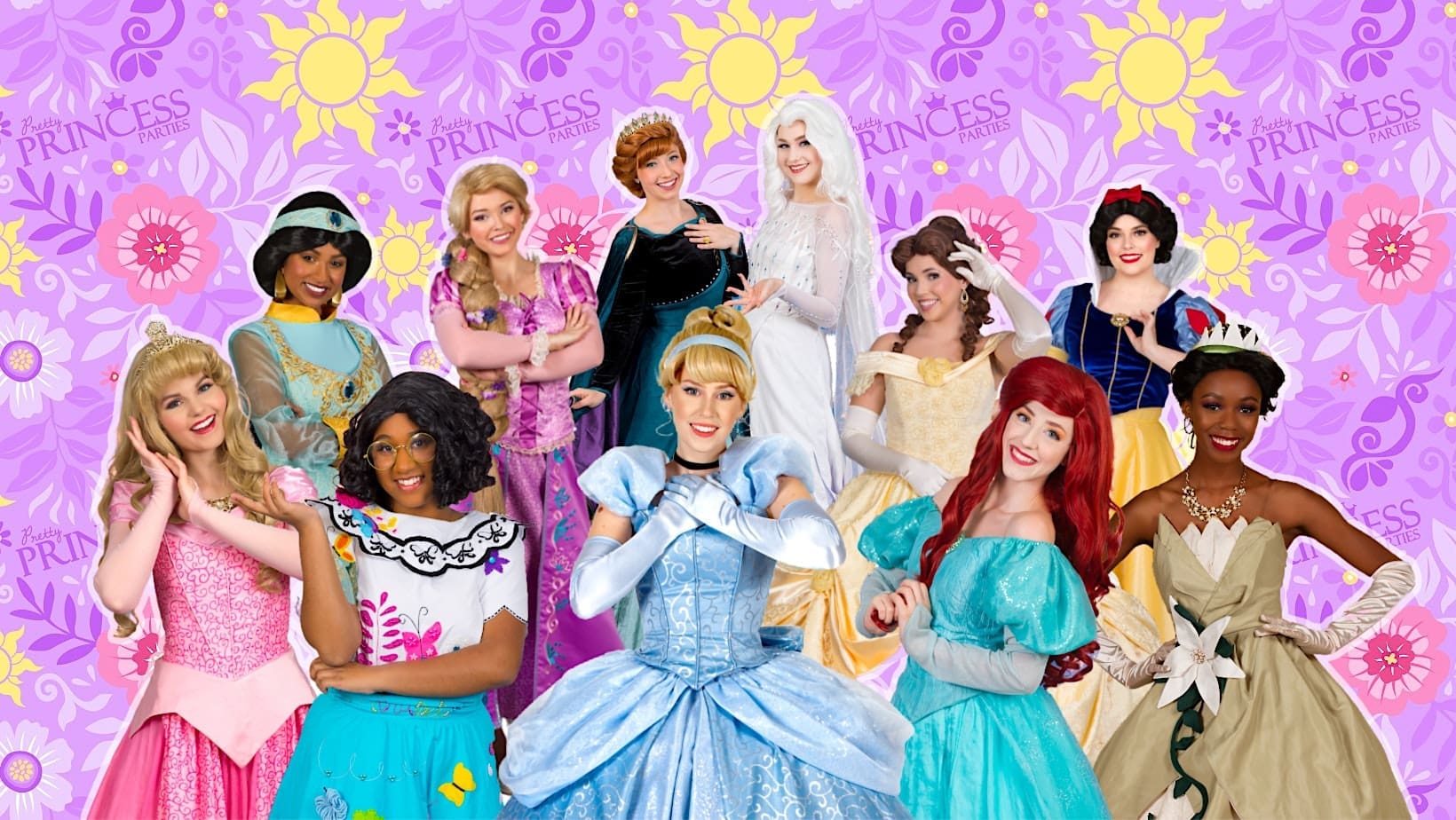 The princesses are coming to Charlotte for a BRAND NEW event!
Featuring 10+ Princesses!
Once Upon a Time… the princesses planned the ultimate magical event for the families in Charlotte! This will be our 5th year returning to your city and we are thrilled to share new activities, more princesses, priceless moments and more with YOU!
Time Slots|
10:00AM, Noon, & 2:30PM
Event Details: Royal Entrance, Princess Vocal Performance, Princess Dance Performance, Meet&Greet, Crafts, Games, Portraits, Princess Parade, Pixie Wishes, Sing-A-Long, Autographs, and Coronation
How to Prepare?
Bring your camera and a smile! Charge your phone beforehand. We recommend your little one gets a good night's sleep/nap the day of the event. We also suggest eating something filling before arriving, this way you will be set for all the fun ahead!
What to Wear?
Little ones are encouraged to wear their favorite princess dress or costume. Please let them wear something they feel comfortable and happy in! Adults should think "Sunday's Best" when getting dressed! We see everything from dresses to nice jeans.
Check In:
Please have your ticket or order number ready for check-ins. Everyone MUST have purchased tickets ahead of time to attend. We will not allow those without tickets to enter. Our only exception is children under 12 months. Children under 12 months may attend for FREE when accompanied by a paid adult/child pair. We suggest coming 10 minutes early to make sure you are able to enjoy this full event- please check venue parking before arriving. Each venue is different, so you are welcome to call ahead.
What to Expect?
This Pretty Princess Parties event begins with the Royal Entrance of our Fairytale Friends. After our princesses have been introduced, we play some large group games to relax and get to know everyone! Once our warm-up time is complete, the ball goes into full swing! The Fairytale Ball is FULL of princess interactions- We Princess Promise your little one will have the opportunity to meet each and every Pretty Princess in attendance. To ensure everyone gets all the photos and hugs they need, the final 20 minutes of the ball are dedicated to "Love&Goodbyes" so no one feels like they need to rush out the door! Our event is created to please each and every guest, and we know you'll go home with a smile on your face and love in your heart!
Tips for Success:
Once in a while, in all of the excitement, we need a parental figure to step in and help with a child. If you see that one of the guests is interfering with a game or preventing things from running smoothly, we ask that the parent or any other adult figure take care of the matter. Our princesses are not to be considered babysitters, or caretakers, in any way. You must stay for the duration of this event, and ensure your child is having a safe and comfortable experience. Our princesses want to give each and every child their "magical moment." Please do not rush our performers to take photos faster, or speed up interactions. If you are disruptive of the Fairytale Ball event in any way, you may be asked to leave. No refunds will be given.
Pretty Princess Parties does not and will not offer any characters under copyright. Our fairytale characters have been based on stories that have been told throughout the centuries and, therefore, have been out of copyright and in the public domain. While our characters have been modeled after some of the most popular tellings and renditions of these fairytales, they are not affiliated with any theme park or company. Our characters are unique to us. Any resemblance you may see is simply incidental. We will only serve clients who respect this notice.
By participating in this event, you agree to give consent to Pretty Princess Parties and its authorized representatives, granting them permission to photograph and/or video record your participation in this event. You further agree that all photographs and materials recorded may be used in any form, as part of any future publication.
Tickets are always non-refundable.
If the event is canceled – full refunds will be sent.​
Email us with any additional questions : prettyprincesspartiesmn@Gmail.com