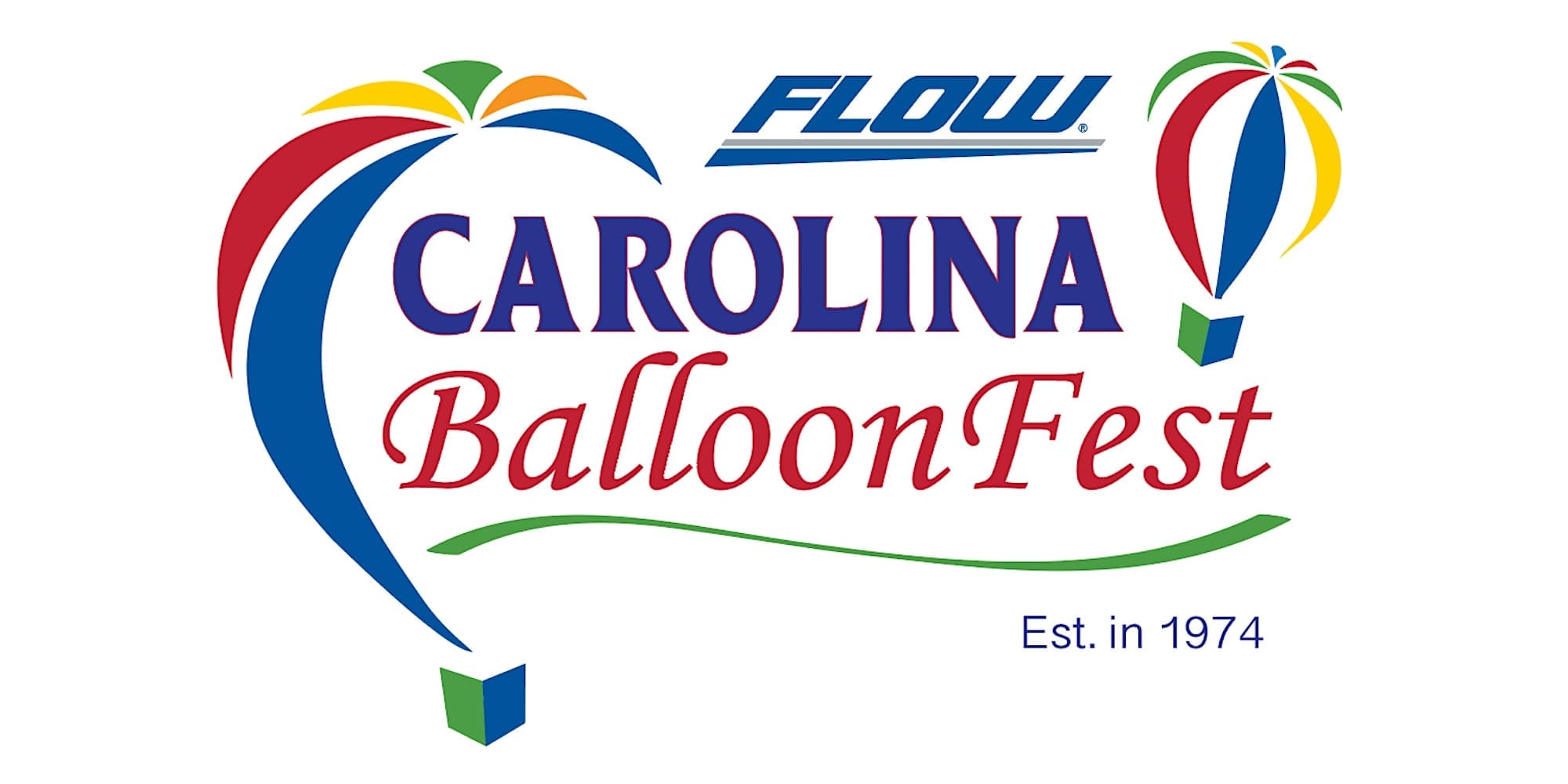 Carolina BalloonFest is a 501(c)(3) nonprofit that hosts an annual hot air balloon festival. The festival title sponsor is Flow Automotive.
Important Things to Know for Patrons of the Flow Automotive Carolina BalloonFest!
The Flow Automotive Carolina BalloonFest is a weather-dependent event, and therefore, although the general weather forecast for the weekend looks good, wind and weather conditions can change rapidly. Flow Automotive Carolina BalloonFest will do everything within our means to have as many scheduled launches as possible.  However, our patrons must understand that we have no control over the weather and that the safety of our pilots, their passengers and our patrons is our primary concern.
> CHILDREN 12 AND UNDER FREE ADMISSION 
> FREE PARKING for patrons is located at the Troutman Park & Ride, at the Iredell County Fairgrounds, located at 630 N. Main St, Troutman, NC 28166 with free charter bus shuttle rides to and from the festival on Friday, Saturday and Sunday. These buses also have plenty of undercarriage storage for patrons to transport their their chairs, bags, strollers, wheelchairs, etc. to the festival site. This is an approximate 8 minute commute. 
> ON-SITE PARKING. General Parking Pass will be available for $10 per day; a VIP Parking Pass will be available for $20 per day (see website for map and more details). Also see Weekend General Parking ($25) and Weekend VIP ($50) parking options.
> HANDICAP-ACCESSIBLE Free on-site, first-come first-serve parking for Handicap patrons will be available at 531 Old Airport Road; Our charter buses located at the Park and Ride are also handicap accessible. Please be aware that our festival is held in a grass field. We have many handicap patrons that navigate this field every year but we ask that you be aware of the conditions.
> BRING CASH. Most vendors are cash purchases only. Limited ATM locations; wait times for guest access to cash may occur. 
> WEAR COMFORTABLE SHOES. Our festival is held in a large, grassy field. We recommend that patrons wear comfortable shoes when navigating the field. 
> HOT AIR BALLOON FLIGHTS / ACTIVITIES ARE WEATHER DEPENDENT. All ballooning activities including static displays, tethered rides and balloon flights are weather-dependent. The decision to inflate hot air balloons is made just prior to a scheduled ballooning activity.
> HOT AIR BALLOONS ONLY LAUNCH TWICE DAILY ~ EARLY MORNING & LATE AFTERNOON. Many attractions and family-friendly activities are scheduled throughout the day for your enjoyment between early morning and late afternoon launch times!
> PERMITTED ITEMS. Blankets, chairs, cameras, tote bags with sealed water bottles and snacks. **bags will be subjected to a search before entry into the festival.**
> ITEMS NOT ALLOWED. Pets, coolers, weapons, drones, large pop-up canopies. **Search activities will be in progress.**
> REFUND POLICY. Carolina BalloonFest is a RAIN OR SHINE EVENT. Flow Automotive Carolina BalloonFest Tickets are NON-Refundable. 
A portion of proceeds raised through our annual hot air balloon festival is distributed to local nonprofit organizations and community agencies. 
> National Balloon Rally Charities, Inc. DBA CAROLINA BALLOONFEST is an incorporated 501(c)(3) charitable organization and all contributions are tax deductible.
Our mission is to continue the heritage of hot air ballooning in Iredell County, spotlight the community of Statesville and donate a percentage of Carolina BalloonFest proceeds to local nonprofit organizations.
OFFICIAL Flow Automotive Carolina BalloonFest Information at CarolinaBalloonFest.com