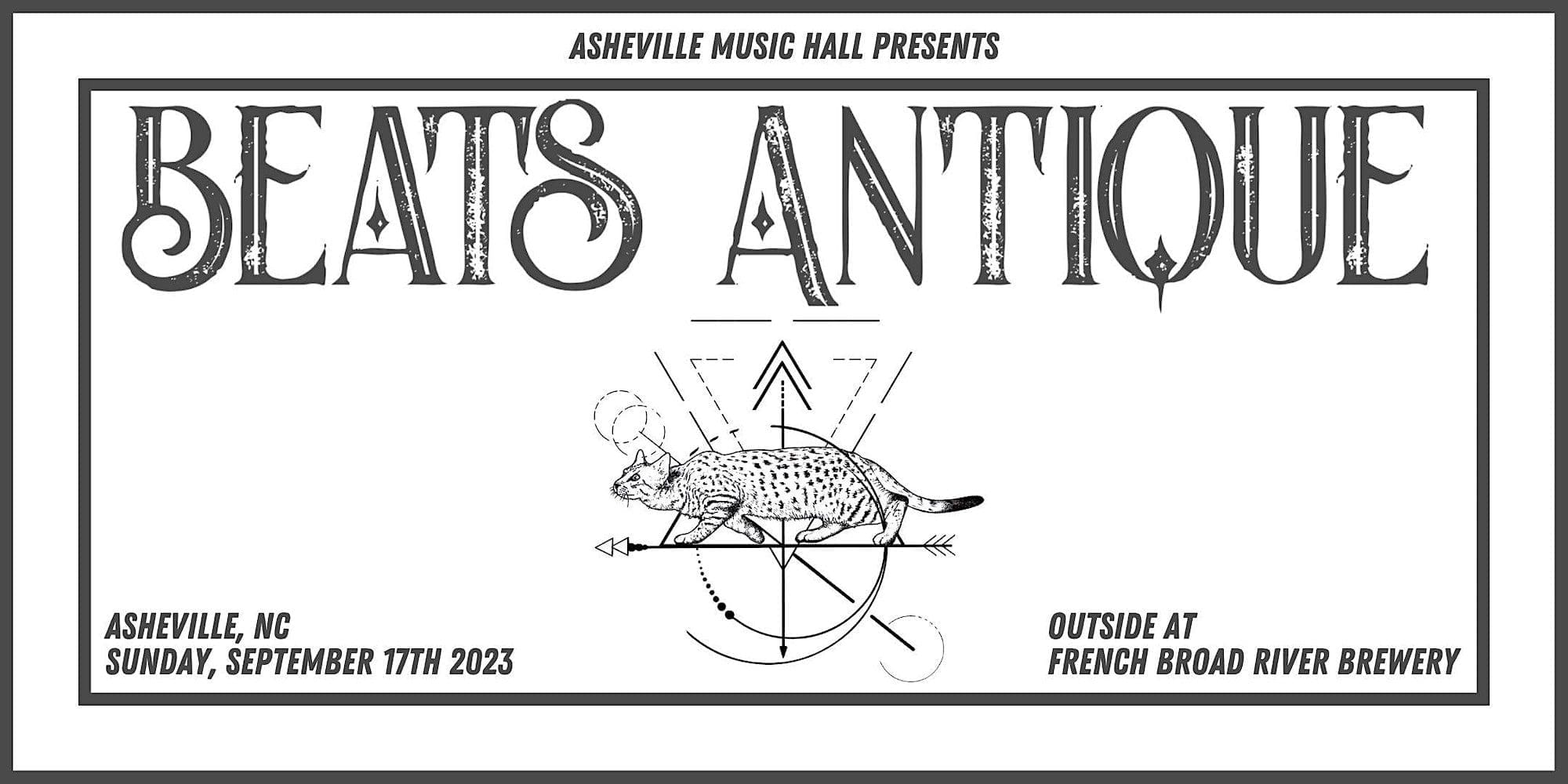 Asheville Music Hall and French Broad River Brewery are excited to bring Beats Antique back to Asheville for a very special outside concert!
When: Sunday, September 17th 2023 (Show 6:30PM // GA Doors: 5:30PM // VIP Doors: 5PM)
Where: French Broad River Brewery (OUTSIDE)
Tickets: General Admission $32/$37 // VIP: $85
Parking Add-On: $10 limited on-site parking available
ALL AGES (12 years old and under, free admission per purchased ticket)
Event Landing Page: https://www.ashevillemusichall.com/beatsantique-asheville/
Asheville Music Hall presents Beats Antique at French Broad River Brewery (OUTSIDE)
BEATS ANTIQUE
You can't know Beats Antique until you've been a part of its journey, and experienced the act as an entity with a life of its own. A stage show that demands more music; music that needs costumes, ships and masks and shadow dances; an audience that comes for art, and takes away stories to feed their imagination.
When Beats Antique first drew breath, there was no pressure to become anything. The first album was just Zoe, David, and Tommy's one-off experimental project for entertainment executive Miles Copeland, when Zoe performed with his Bellydance Superstars. From that creative freedom, a family formed, and in a good family each member wears many hats. Tommy steering percussion, piano, and music production. Zoe producing music, choosing themes and commanding a circus of travelling set designs, creating costuming, and, of course, dancing like nothing you've ever seen. David as the multi-instrumentalist, captain of banjo, songwriting, and production. These diverse skills are the muscle of the monster, how the creature moves through them, making itself real.
Some music evolved organically from the decades of experience each collaborator brings to the project. Other pieces were written for the show. In deeply vulnerable interplay, every song is woven into a tapestry of danced and drummed story. Commitment to the full performance art form is how Beats Antique fuses musical worlds, pulling on global sounds for experiments on the fringes of cinematic cabaret, informed by electronic mash-ups and inspirations who have joined them on the journey such as Les Claypool, Bassnectar, Alam Khan, The Glitch Mob, and the Preservation Hall Jazz Band.
Each album and stage show has built upon the last, with highlights such as: emergence from the bellydance and bass underground in the San Francisco Bay; performing to a massive crowd at Red Rocks Amphitheater; Thievery Corporation and their management discovering Beats Antique one fateful night at Burning Man; artist friends painting set pieces, or donning masks for the finale; performing in Egypt on the day some said the world would end; and playing a hometown show at The Fox on the night Occupy Oakland was evicted and merged with their fans to light bonfires in the street and leap over the flames.
Beats Antique is lifted in each step by loyal fans who are included in their definition of chosen family. Whether they've been music producers or appreciators, acrobats, illustrators, or students of Zoe's, the multigenerational, welcoming faces in the crowd are the fire that keeps Beats Antique warm, and ready to explore new depths for the sake of these many muses. They aim for a show anyone can enjoy, a circus that feeds the spirit.
In this place, where they can teach and create and converse with their creation like it's a dragon come to life full of riddles and blustery demands, Beats Antique is weaving a unique story.
MUSIC: https://open.spotify.com/artist/30DZgkaEYdezg2QMrMgrnm