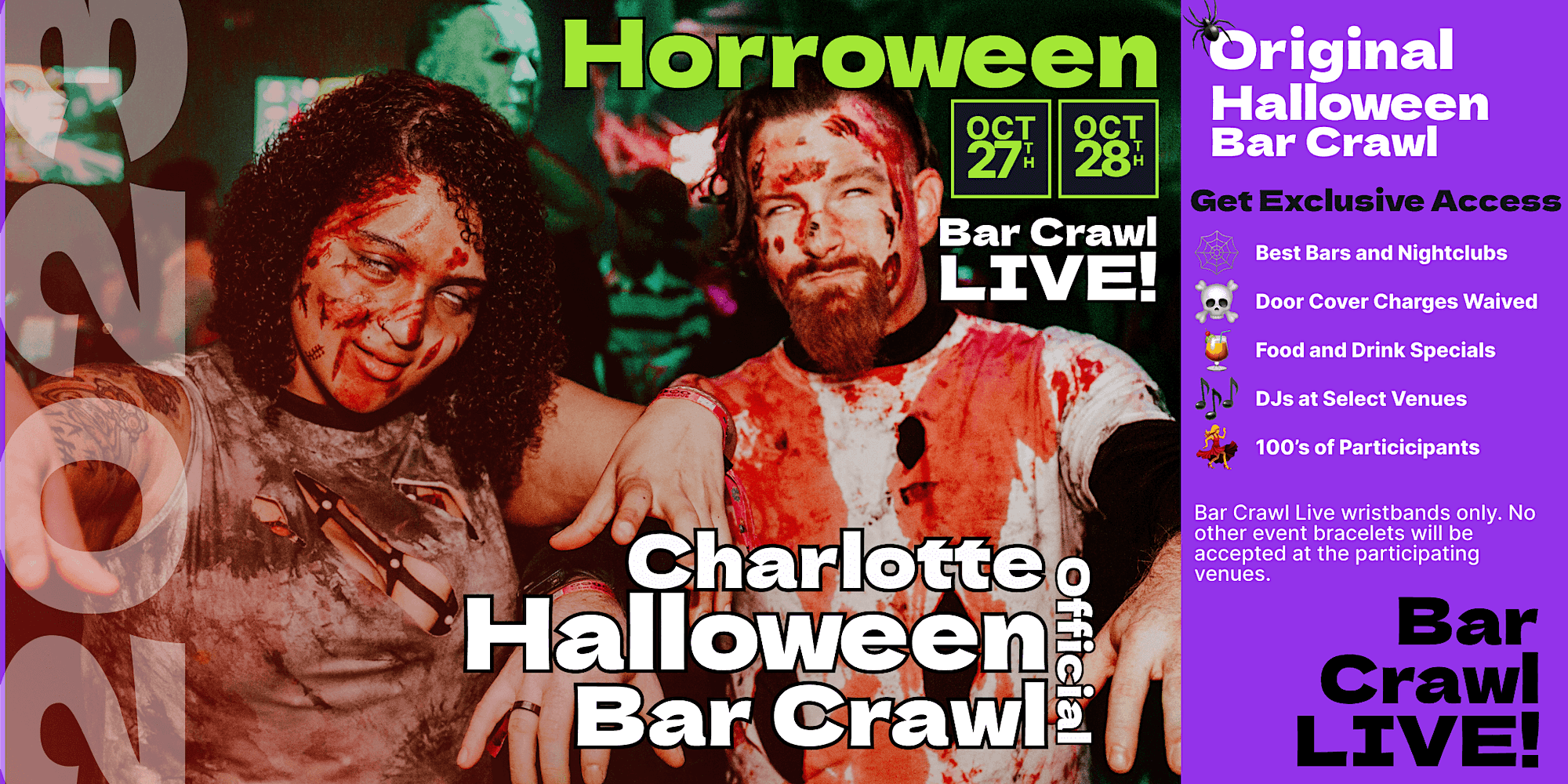 Charlotte's original Halloween bar event is the #1 pub crawl. Sip on devilish drinks, don your costume and haunt the town with us.
The Official Halloween Bar Crawl – Charlotte, NC Uptown
The original Halloween bar event is back and we're calling all creatures of the night! Join 1,000+ Crawlers at the Spooktacular Halloween Bar Crawl in Charlotte, NC!
Dress up in your funniest, sexiest, or spookiest costume and crawl with us through the best bars in town and get ready for the Halloween pub crawl of 2023. Themed drinks, costume contests, and a night of ghostly fun with friends. Buy your limited tickets now on Eventbrite or on BarCrawlLive.com and don't miss out on the creepiest crawl of the year! #HalloweenBarCrawl #CharlotteNC #PubCrawl #SpookyFun #HarroWeen
No other event bracelets will be accepted at the participating venues.
To learn more visit: https://www.barcrawllive.com/crawls/2023-charlotte-north-carolina-halloween-bar-crawl
How does the Halloween Bar Crawl work in Charlotte?
Pre-purchase a general admission ticket on Bar Crawl LIVE's Eventbrite page.
The week of the event, you will receive the digital bar list with everything you need to know.
The digital bar list will include dates and times to pick up your and your friend's wristbands early (Before the event) or the day of.
FREE October birthday ticket:
What's included in the ticket price:
Bar Crawl LIVE Wristband
FREE Entry To The Best Bars
Up To 50% OFF Well Drinks, Shots, Beers
Up To 20% OFF Select food items
Spooky Themed Drinks
Welcome Party (FREE Cup to the first 100 Crawlers)
Halftime Parties
After Parties
Photographer and Videographer
Costume Contest
DJs at select bars
Digital Bar List to guide you
What To Expect:
A fun-filled night of celebrating Halloween with friends.
Exclusive deals and discounts at participating venues.
The opportunity to make new friends and explore Charlotte's nightlife
Ticket holders will receive an email from Bar Crawl LIVE! Follow the steps to receive the digital bar list including the registration/check-in info.
When: (2 Dates)
Friday, October 27, 2023
Saturday, October 28, 2023
Hours:
Fri, 10/27 6pm until 2am
Sat, 10/28 3pm until 11pm
Hours are subject to change.
Where:
Bar list:
Tattooz N' Booz Nightclub
Encore Nightclub
Local Bar
XoXo Lounge N' Nightclub
Istanbul Lounge
Prohibition Nightclub
Hive Nightclub
Roxbury Nightclub
More bars TBA…
All participating bars are 100% exclusive to BarCrawlLive.com event wristbands only and the bar list is subject to change.
Important information:
The event is for 21+ only
Don't worry! In the event of cancellation, for any reason, all tickets will be refunded in full. No vouchers, no credits, just your money back in your bank, guaranteed.
There is a strict "no refunds" policy
If you are unable to make it to the event, you will be able to receive a credit to any upcoming crawl for unused tickets.
Please drink responsibly and plan for a safe ride home
Questions check out our FAQs page https://www.barcrawllive.com/faq
#BarCrawl #PubCrawl #Festival #Party #NightLife #Nightclub #Nightout #Charlotte #NorthCarolina #CharlotteNightlife #CharlotteBars #NorthCarolinaBars #CharlottePubCrawl #CharlotteBarCrawl #CharlotteNightlife#CharlotteEvents #TattoozNBoozCharlotte #LocalBarCharlotte #IstanbulCharlotte #ProhibitionCharlotte #HiveCharlotte #RoxburyCharlotte #EncoreCharlotte #CharlotteHalloween #CharlotteHalloweenPubCrawl #CharlotteHalloweenBarCrawl #Halloween #CostumeContest #DrinkSpecials #FriendlyPartying #HalloweenBarCrawl #HalloweenPubCrawl #Halloween2023 #HorroweenBarCrawl #Horroween