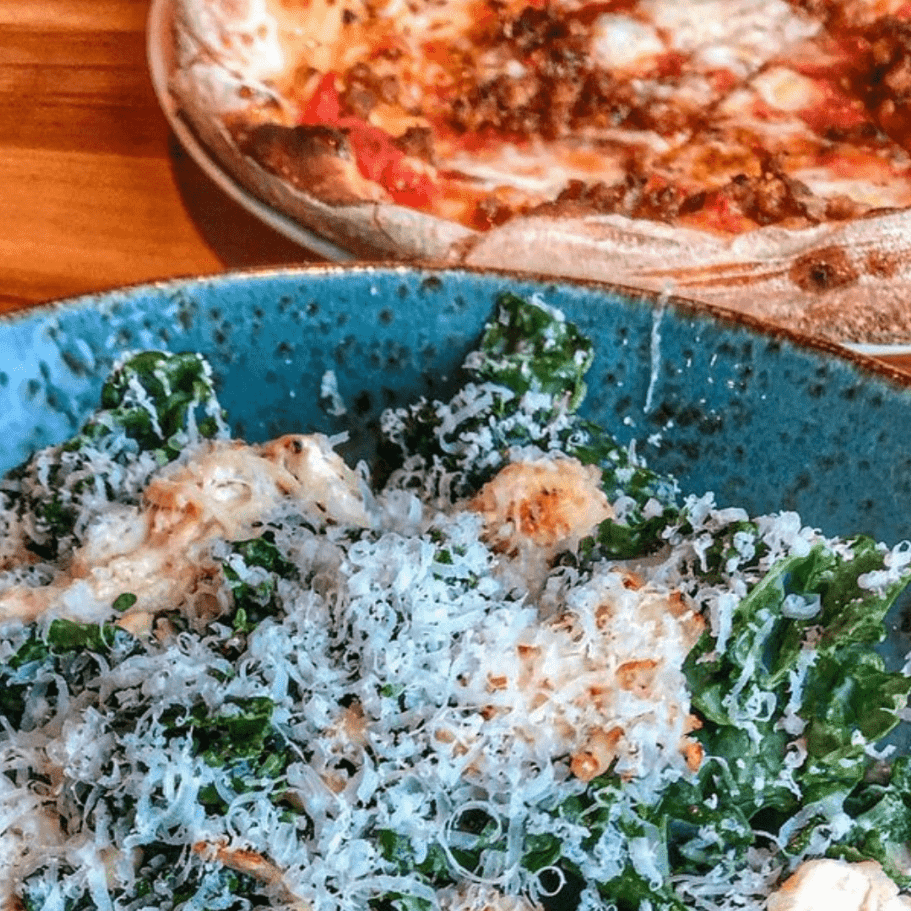 We recommend
Spicy Sausage and Black Pepper Honey Wood Fired Pizza- This is one of my favorite pizzas in the Triangle. The kick of the spicy sausage along with the sweet drizzle of honey is just perfection.
Brick Oven Crab Cakes- Fair warning that these are fairly small for the price. However, while the price may not reflect size, it certainly reflects taste and quality. These crab cakes are simply outstanding. The texture is on point and the lemon flavors are dreamy.
Kale & Chilies Salad- I'm not usually one to spend money on a salad. I typically prefer my hard earned cash to go towards cheese and bread. So, don't take my salad recommendations lightly. This one is fresh and so delicious. The kale is properly massaged and covered in grana padano, toasted pine nuts, and a lemon vinaigrette. I like to add grilled chicken to make it a complete entrée.
Tazza Kitchen is a restaurant that has been recommended to me time and time again. I finally made time to try it and it became an instant favorite. We got the spicy sausage and black pepper honey pizza and the kale salad with chicken. Both were immaculate and encouraged us to return within a month to try more. This time, we went with the crab cakes that they are famous for. While small, these are superb. I am careful to use the word "best" but these may just be the best crab cakes I've had yet. Everything has been a winner so far which means we will certainly be back to cross more dishes off our list.
432 Woodburn Rd., Raleigh, NC 27605
600 Ledgestone Way, Cary, NC 27519