If you've ever been to the North Carolina State Fair, you've probably seen (and hopefully joined) the line for homemade ice cream from Howling Cow.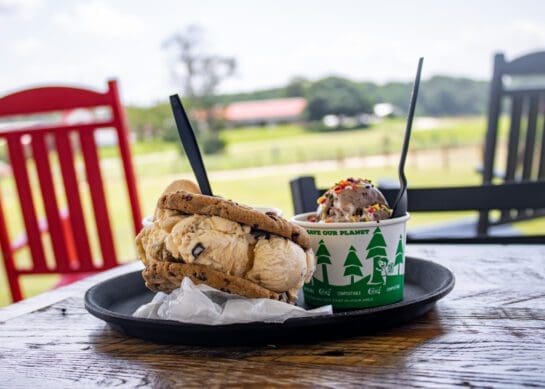 The iconic dessert made its debut back in the 1940s on NC State's campus and was made from the university's own dairy farm. After only being able to be bought in the school's cafeteria (at 30 cents a cone—what a dream), it became a regular at the state fair in the 1970s where it grew a legendary following. In fact, it didn't even receive its official name of Howling Cow until 2008. Previous to that branding project, I grew up fondly referring to it as "the State Fair ice cream."
Howling Cow can be enjoyed across the state.
In addition to gaining a real name, Howling Cow has progressed in other ways over the years. Ice cream fanatics can now find the sweet delicacy in select Harris Teeters across North Carolina, making it easy to grab a pint during a regular grocery trip. As much as I love filling up my cart with sugary treats, my new favorite way to enjoy the ice cream when the fair isn't happening is to visit NC State Dairy Education Center and Creamery.
It doesn't get fresher than eating ice cream on the farm it's created in!
NC State invites patrons to their creamery overlooking hundreds of acres of cow pastures. A modern farmhouse-style building with a wrap-around porch and rocking chairs create the perfect setting to enjoy a fresh ice cream cone. My three-year-old son loved his sweet treat and was thrilled to see the cows grazing in a nearby field, making this one of our new favorite Raleigh destinations for families!
I ordered the Fluffy Sugar Sundae which I am now completely and irreversibly obsessed with! They take their famous lemon wafer ice cream and top it with toasted marshmallow fluff, sugar cookie, and graham cracker crumbs. It is one of my favorite desserts in North Carolina and I cannot recommend it enough if you are a fan of lemon and s'mores!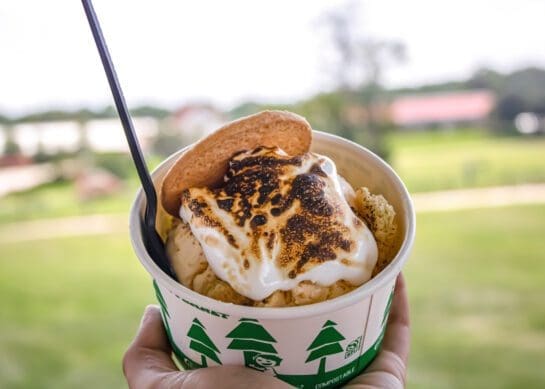 Harrison ordered their ice cream sandwich with cookie dough ice cream sandwiched between chocolate chip cookies made locally by Union Special Bread. We love ice cream sandwiches but utterly despise it when the cookies are too hard to bite into, sending all of the ice cream flying out of the back of the sandwich. I'm happy to report that these cookies were soft, chewy, and allow your teeth to sink into them with the ice cream. Well done, Howling Cow!
Dean ordered Wolf Tracks which comes with thick ripples of fudge and mini peanut butter cups.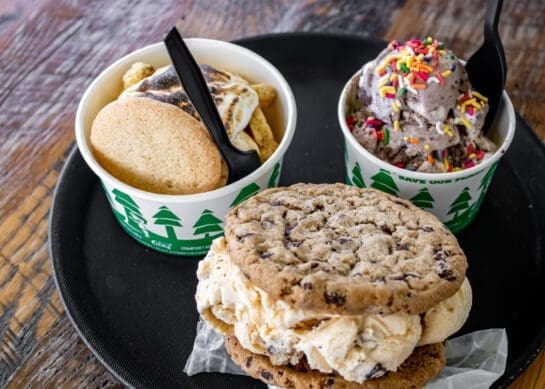 The NC State Dairy Education Center and Creamery is a must-visit for both locals and visitors! If you are interested in other iconic Raleigh family destinations, check out our blog about Pullen Park!
We recommend
Fluffy Sugar Sundae– A delicious blend of s'mores and lemon!
The ice cream sandwiches are made with cookies baked by a local bakery.
Give yourself enough time to rock in the chairs on the porch overlooking the pastures. Enjoy!