If you're looking for fabulous date night restaurants in the Triangle, we have tons of suggestions for gorgeous eateries and exquisite meals.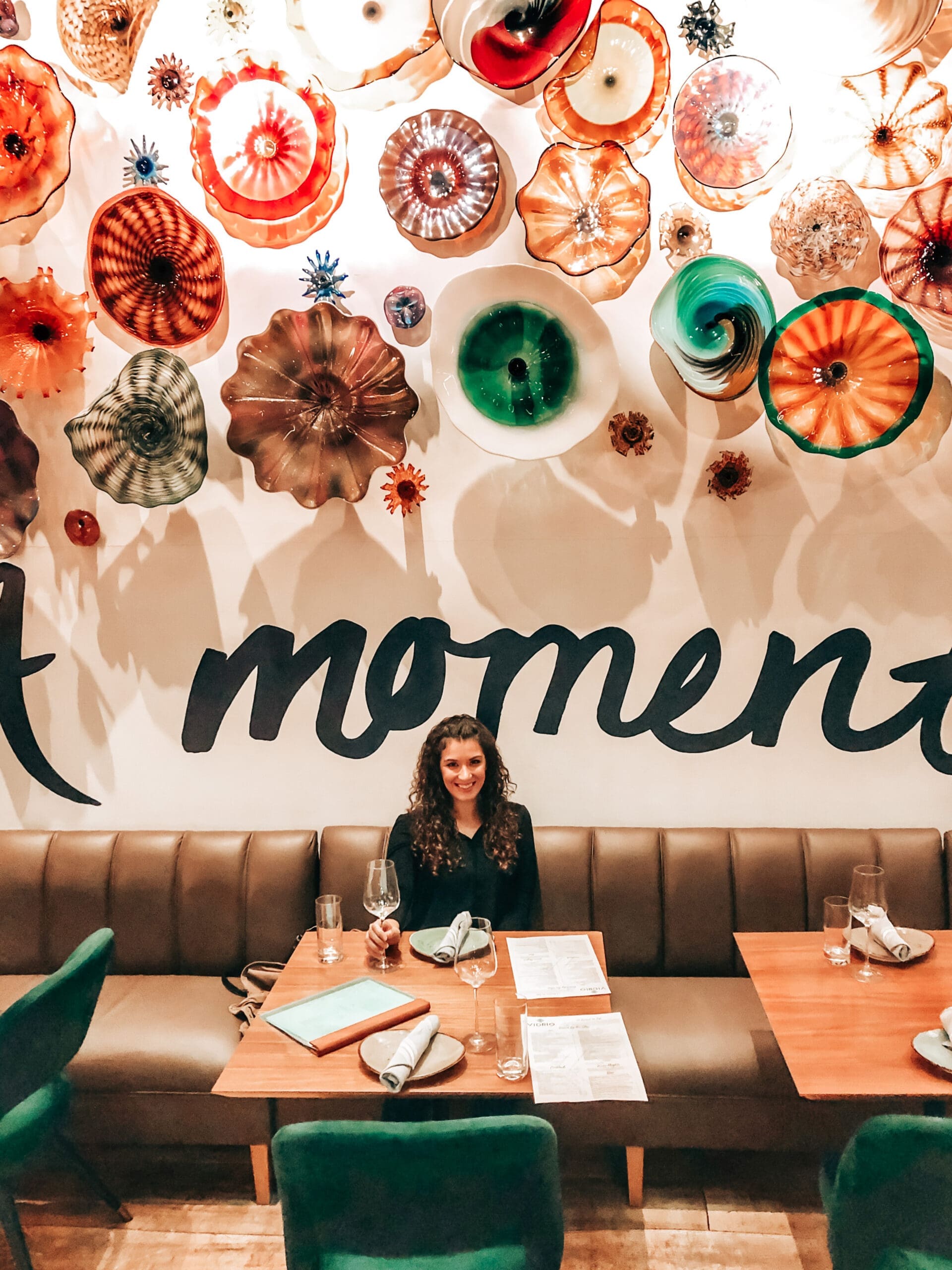 While our average date nights usually involve low-key, casual spots, we love to visit more elegant restaurants for special occasions. The greater Raleigh area is full of exceptional options for a special dinner, and I will be continually adding to this list as we try more of them.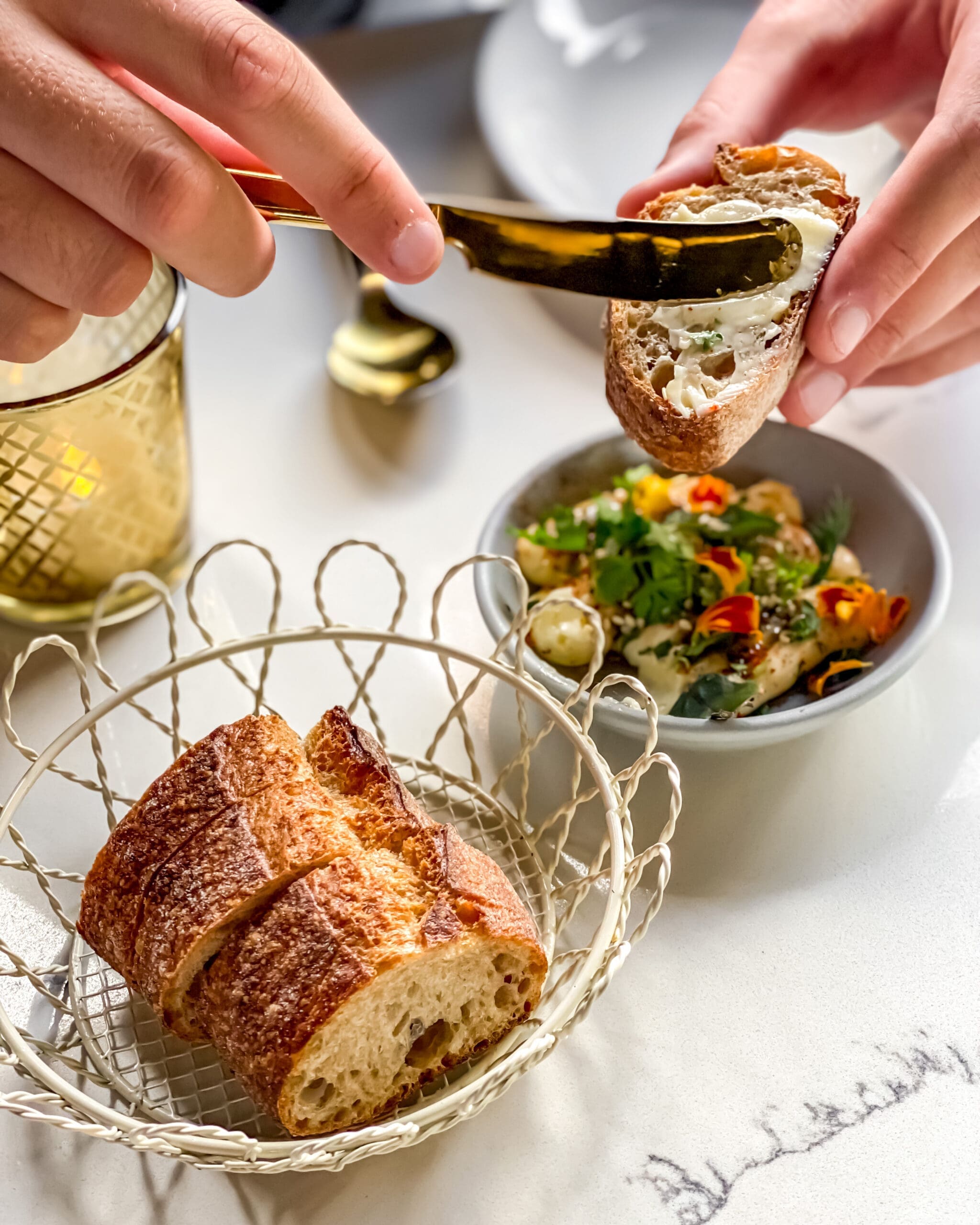 Here are our favorite date night restaurants in the Triangle, organized by the city! We hope you find a new favorite and can enjoy a special evening out somewhere new.
Date Night Restaurants in Raleigh
Jolie
Jolie is a magnificent French bistro in Downtown Raleigh that boasts a superb menu, a beautiful design, and a charming rooftop patio.
From the moment you step through the front doors to the minute you finish your last bite of dessert, you will feel impressed with every detail.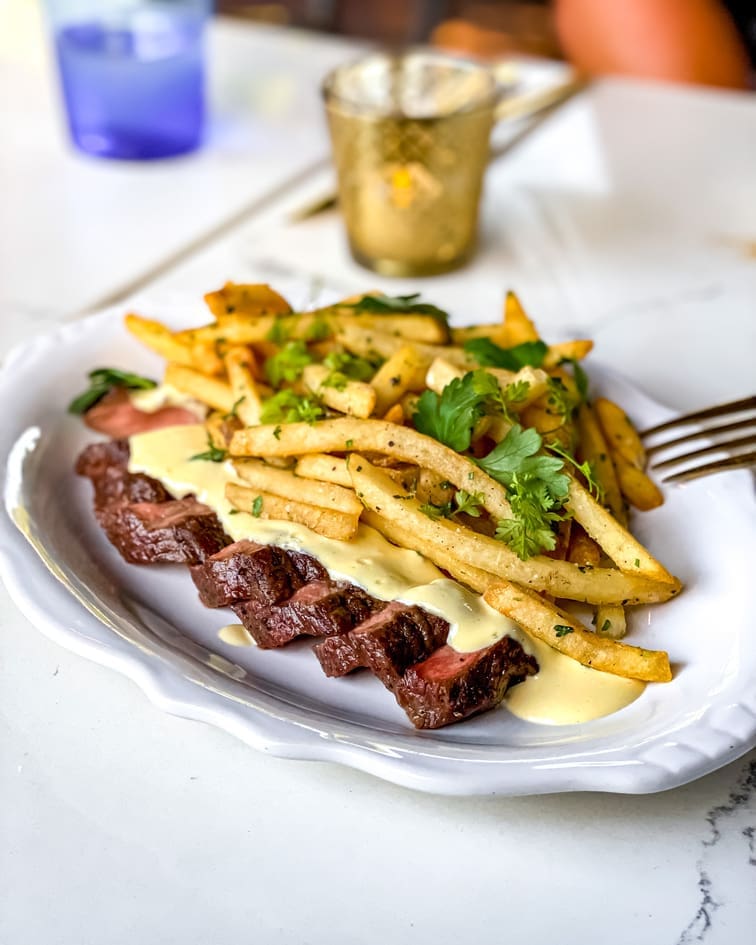 Cortez
Cortez is a VIBE. It feels like a fancy tropical getaway in the heart of Raleigh.
The menu focuses on seafood, Mexican-American small plates, and unique cocktails. Oysters and shrimp not your cup of tea? You'll enjoy their land options like smash burgers and steak.
Put on that pretty dress you haven't worn since your vacation, and enjoy some drinks with your significant other!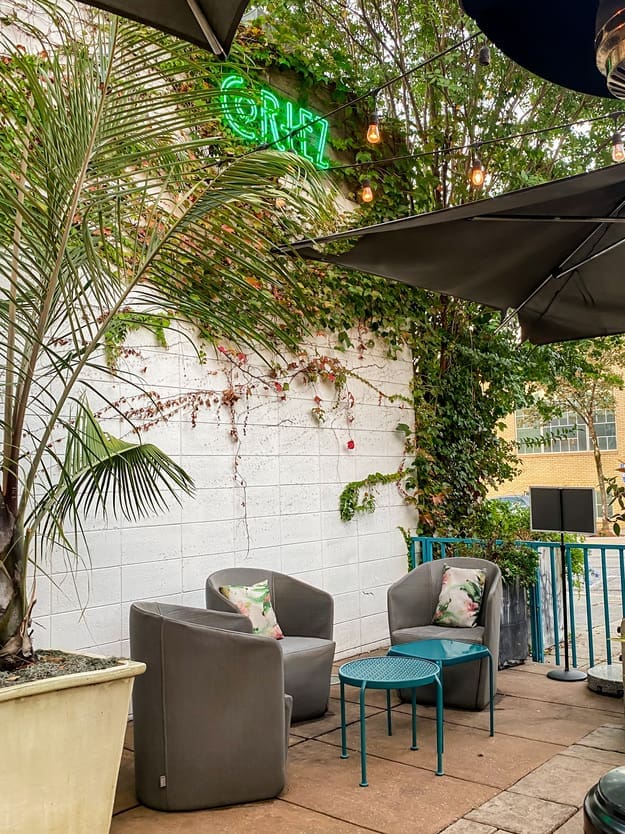 Vidrio
Vidrio is arguably the most beautiful restaurant in Raleigh, maybe even North Carolina. The design is absolutely breathtaking and offers an atmosphere unlike any other in the Triangle.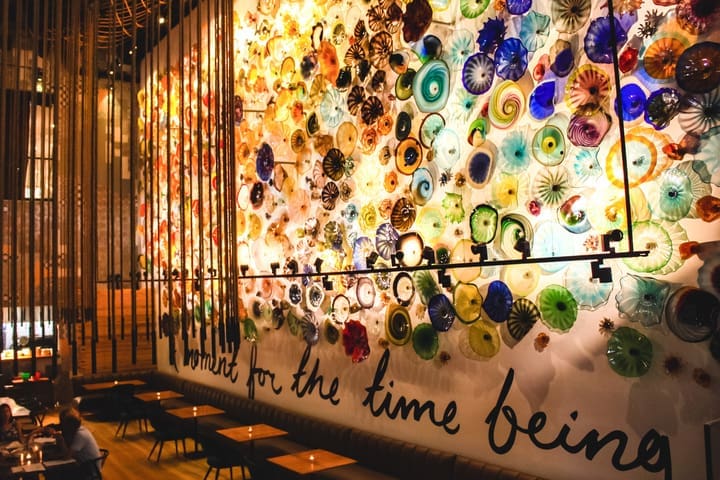 They specialize in Mediterranean-style dining and cuisine with small plates brought out as they are ready instead of all at once. They encourage patrons to take their time enjoying each dish and cocktail.
The menu changes often, so it's always worth returning to try something new.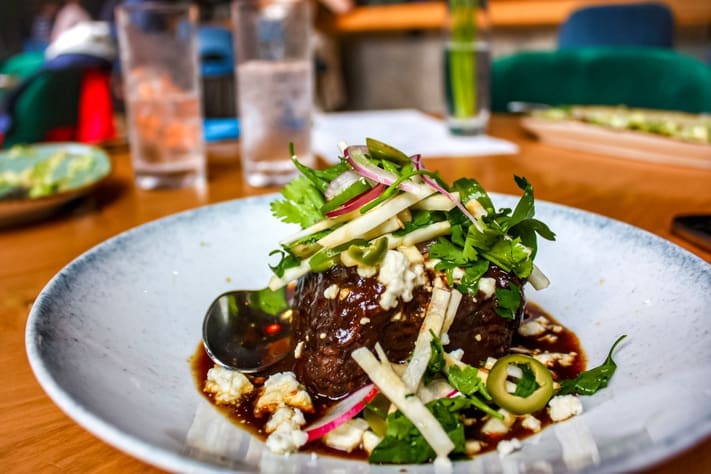 St. Roch Fine Oysters + Bar
St. Roch is one of my all-time favorite restaurants with its inviting atmosphere that transports you to the streets of New Orleans and a menu that would blow anyone away.
Crawfish hushpuppies and 'gator bolognese are just two examples of unique but refined dishes you can find here. Never skip the beignets with bourbon caramel sauce for dessert. Trust me.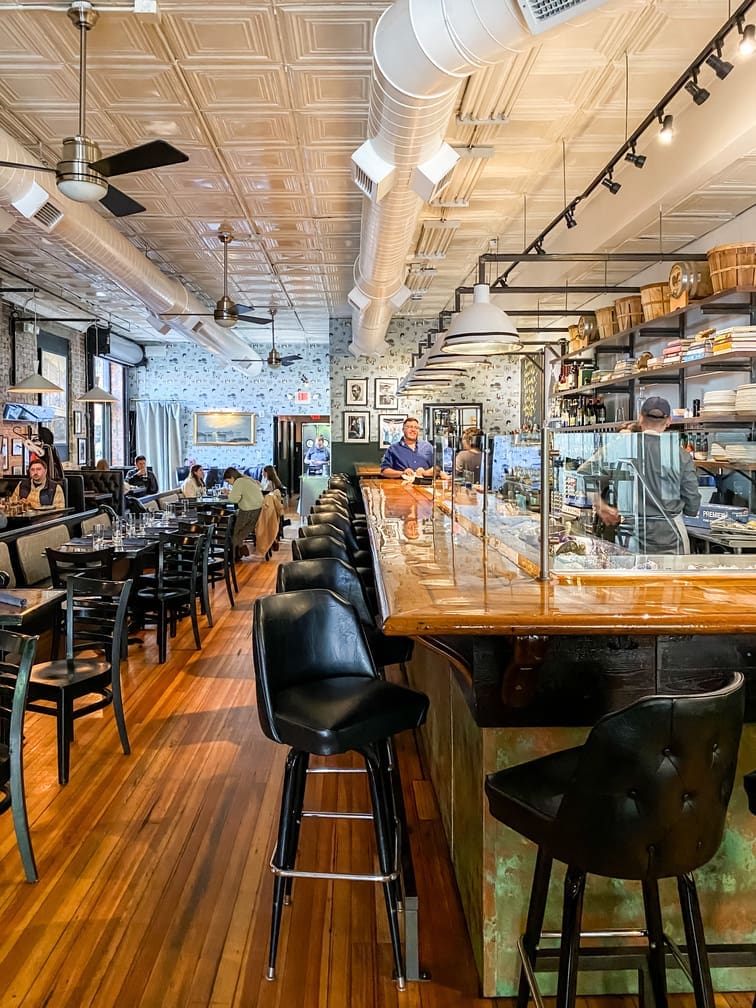 Oak Steakhouse
I LOVE a good steakhouse, and I think they are surprisingly hard to come by. A medium steak and warm dinner rolls are the way to my heart, and Oak Steakhouse has me smitten.
Their beef wellington, bread, and sides are perfection. The atmosphere is warm and cozy, and the food is unforgettable.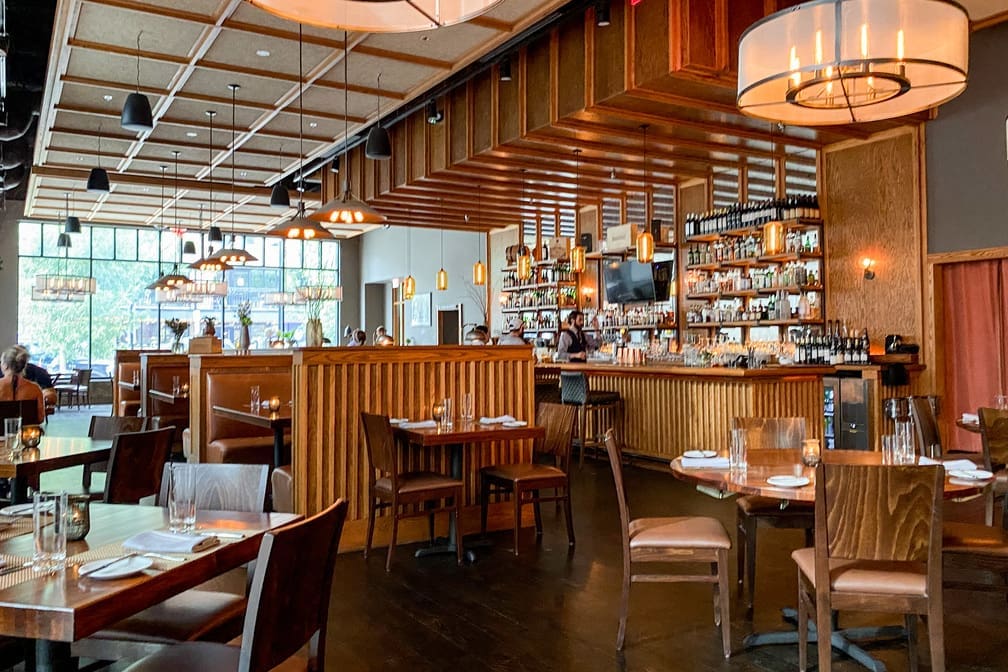 Mulino Italian Kitchen + Bar
Mulino is one of my top recommendations if the atmosphere is everything to you on a date night. Poolside dining under string lights? It doesn't get much more romantic than that! It's truly an Italian oasis right here in the Triangle.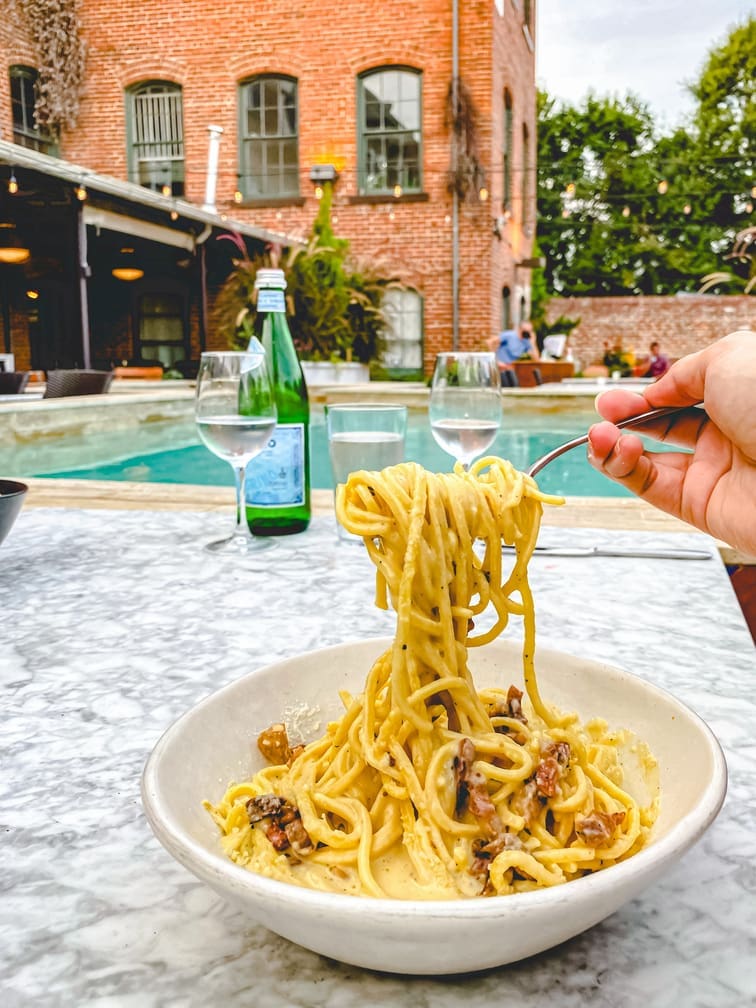 Taverna Agora Greek Kitchen & Bar
Every inch of Taverna Agora is meant to transport you to Greece, and it succeeds.
The rooftop is one of the most romantic, charming dining spaces in the Triangle, and it's covered in lush greenery. Their menu is full of Mediterranean favorites to indulge in while listening to beautiful traditional Greek music.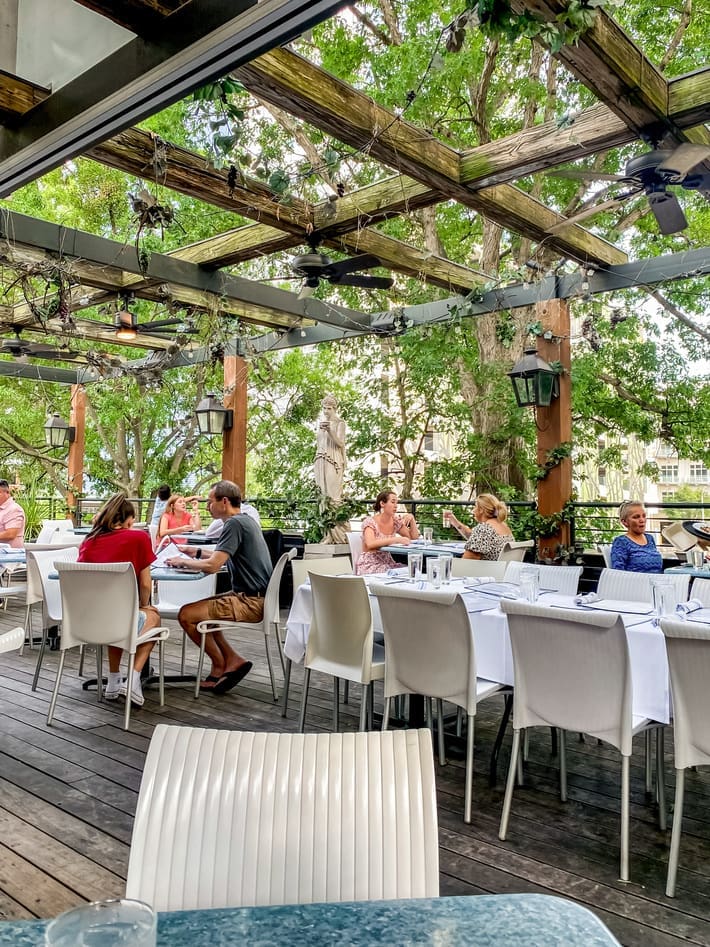 Coquette Brasserie
Coquette is another restaurant I recommend when hunting for a charming atmosphere. Coquette is gorgeous inside, designed to look like a traditional French brasserie.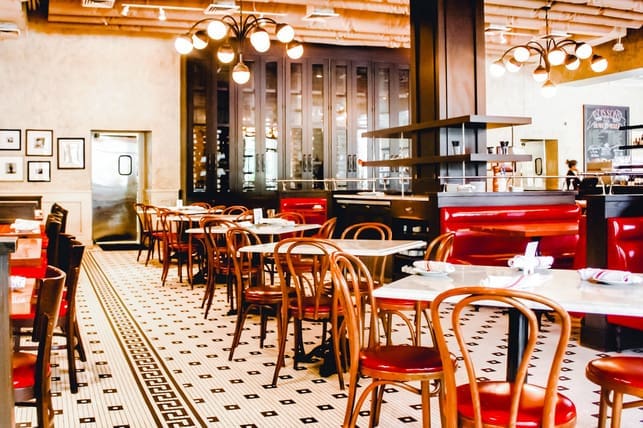 We prefer dining here for a lovely brunch, but dinner is also a great choice!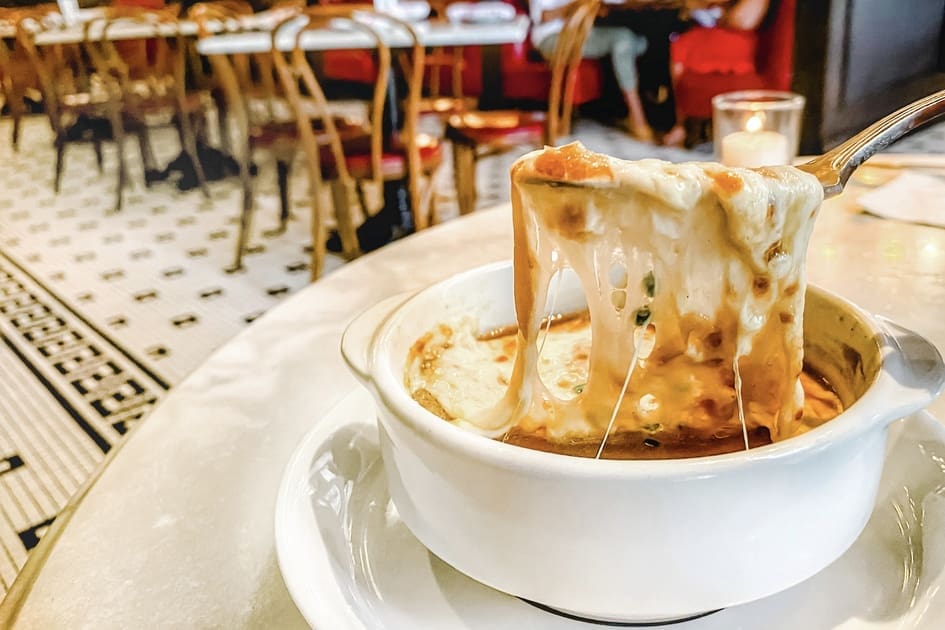 Date Night Restaurants in Cary
MC Restaurant
MC is one of the best restaurants I've enjoyed dining at! Located in a cute historic cottage in the heart of Cary, MC allows patrons to dine inside, on the porch, or in the garden.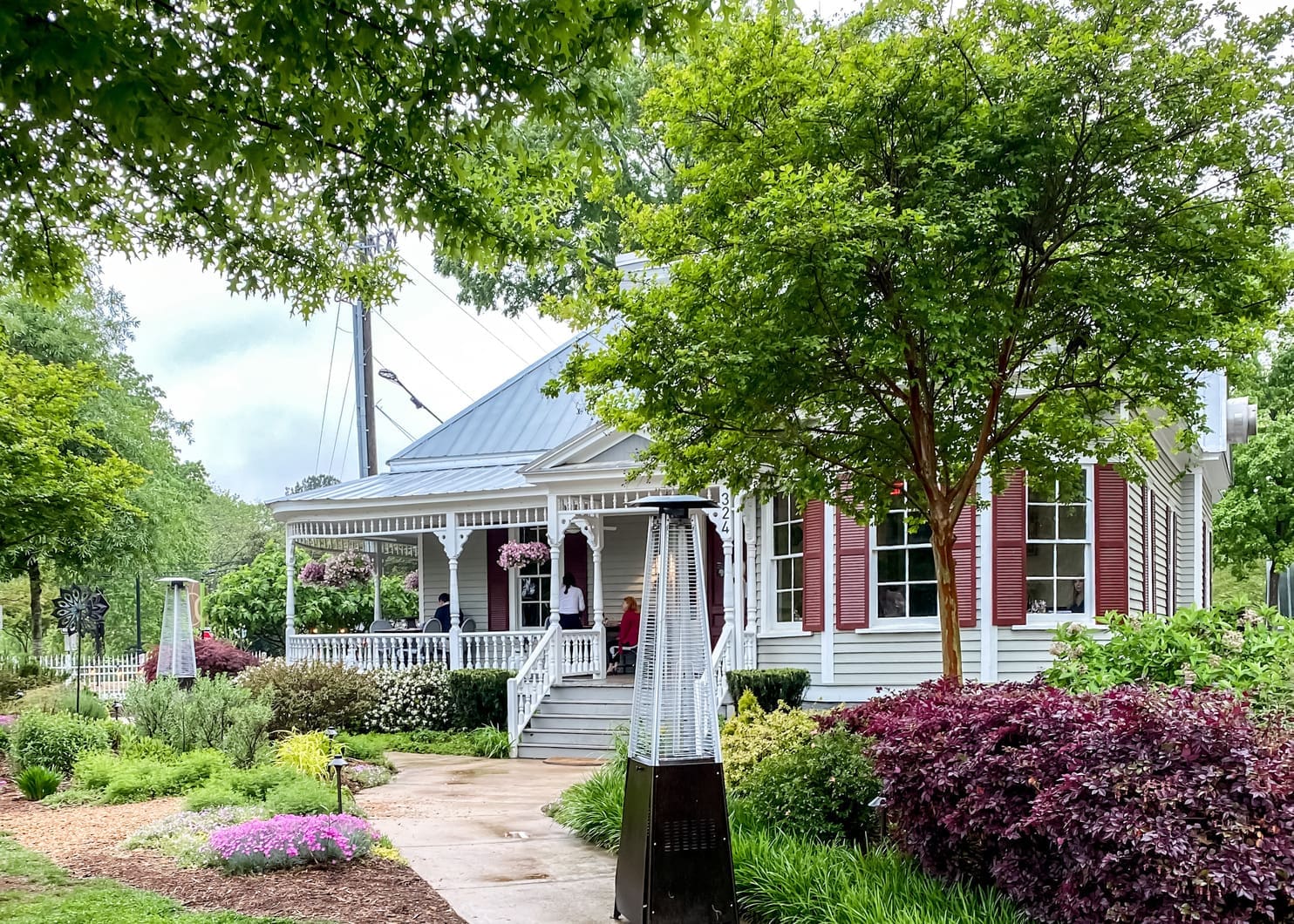 The modern Asian plates are outstanding, and the attention to detail is impressive.
Colletta Italian Food & Wine
Colletta is probably my favorite Italian restaurant I've eaten at, and as the daughter of an Italian woman, that's saying a lot! The mood is cozy yet modern, and the dishes are simply outstanding. The famous lasagna is the best I've ever had.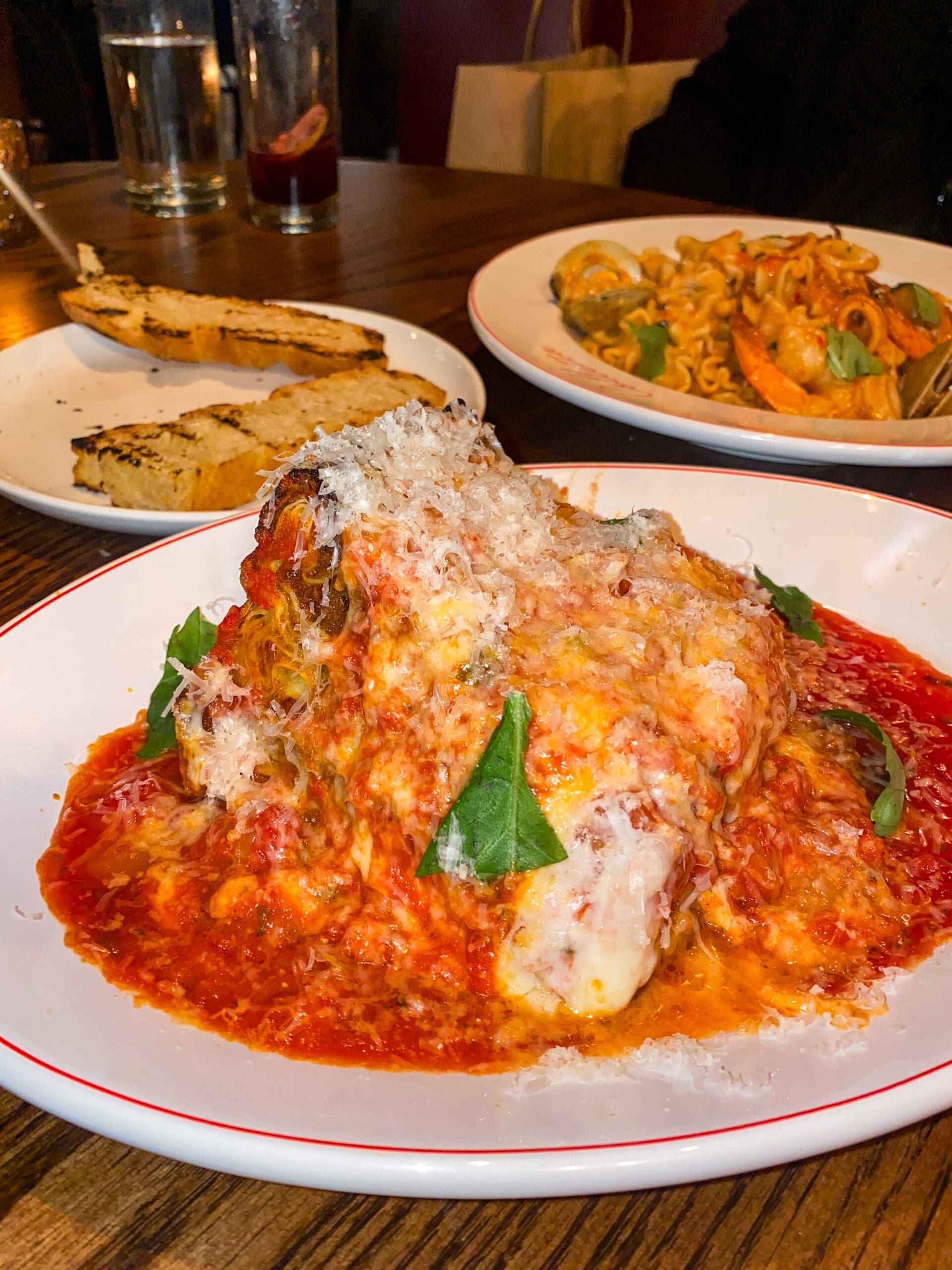 Date Night Restaurants in Durham
Juju
Juju is one of the most incredible restaurants I've ever dined at and remains in my top 3 at all times.
Serving refined Asian-style tapas, Juju has a menu that is simply brilliant. The short rib & goat cheese wontons and bing bread are absolute MUST tries!
M Sushi
While there are plenty of great sushi spots in the Triangle, genuinely upscale, quality sushi is a little harder to come by.
M Sushi is one of the best sushi restaurants and is famous for its sushi rolls, small plates, and elegant atmosphere. I've only tried carryout from here, and it was phenomenal, so I'm confident the dine-in experience is even better!
Other Great Date Night Restaurants around the Triangle
Amalia's Authentic Italian Restaurant
Amalia's turned an adorable historic home in Wake Forest into a cozy Italian restaurant, a true GEM. The chef graduated top of his class at a world-renowned culinary school in Italy and brought his talents here. We are so lucky! We love this restaurant.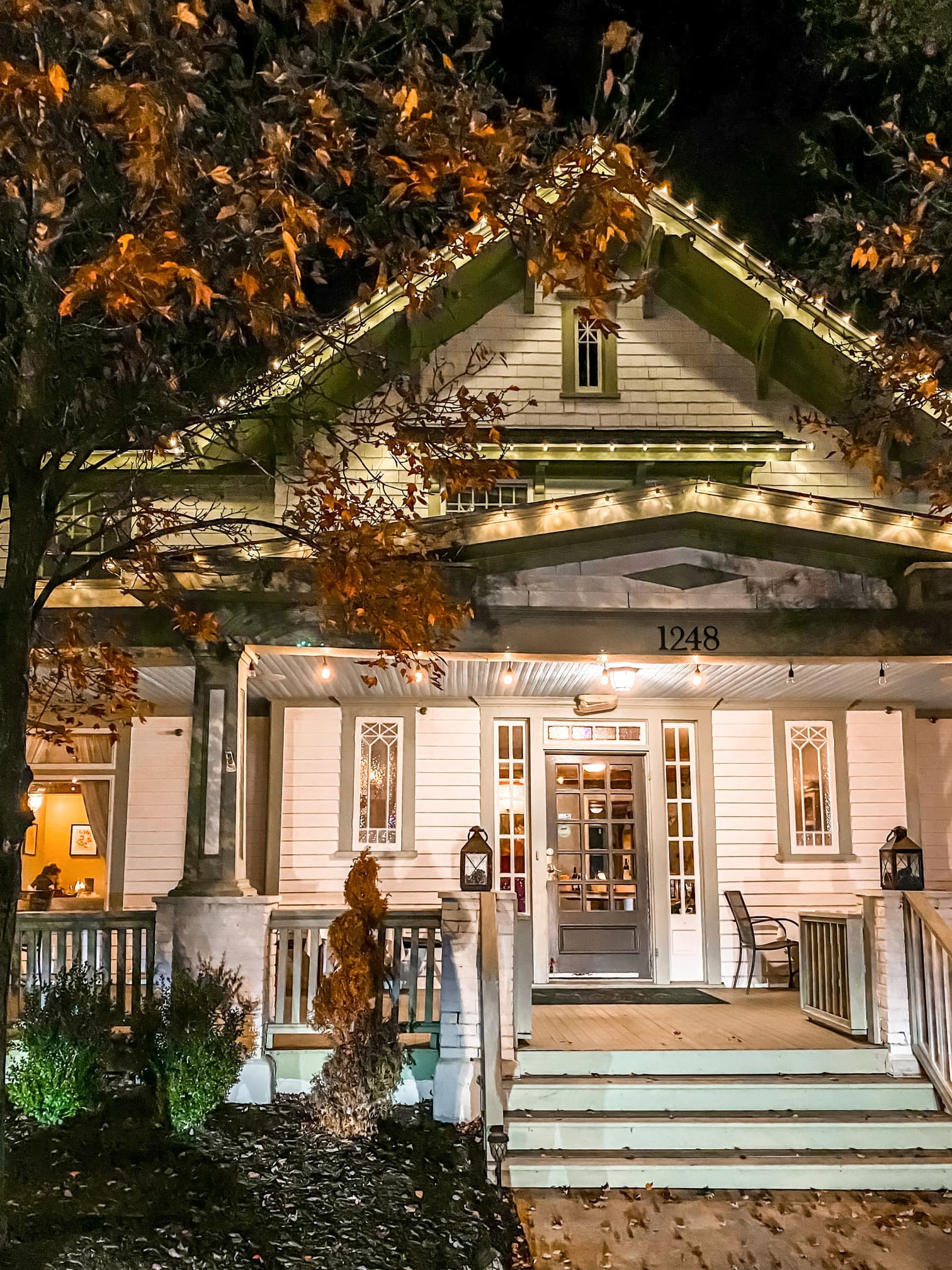 Rustic Roots
Rustic Roots is a lovely farm-to-table restaurant on the outskirts of the Triangle in Bunn, only about a 20-minute drive from us in Wake Forest.
While it's famous for being a steakhouse, you'll find other great menu items using local ingredients, like burgers and salads.
Pro tip: Their brown butter cake is one of the best desserts we've ever had!
Don't see your favorite on the list?
If your favorite date night restaurants in the Triangle aren't on this list, let us know in the comments! We are excited to expand this guide and try your recommendations!