Bistro Roca has a reputation for being one of the best restaurants in North Carolina, a bold claim that I now agree with.
While Bistro Roca was established in 2005, their bar, Antlers Bar, is the oldest continuously serving Bar in North Carolina. Antlers Bar has been serving drinks to the community since 1932 ("more or less legally" in their words).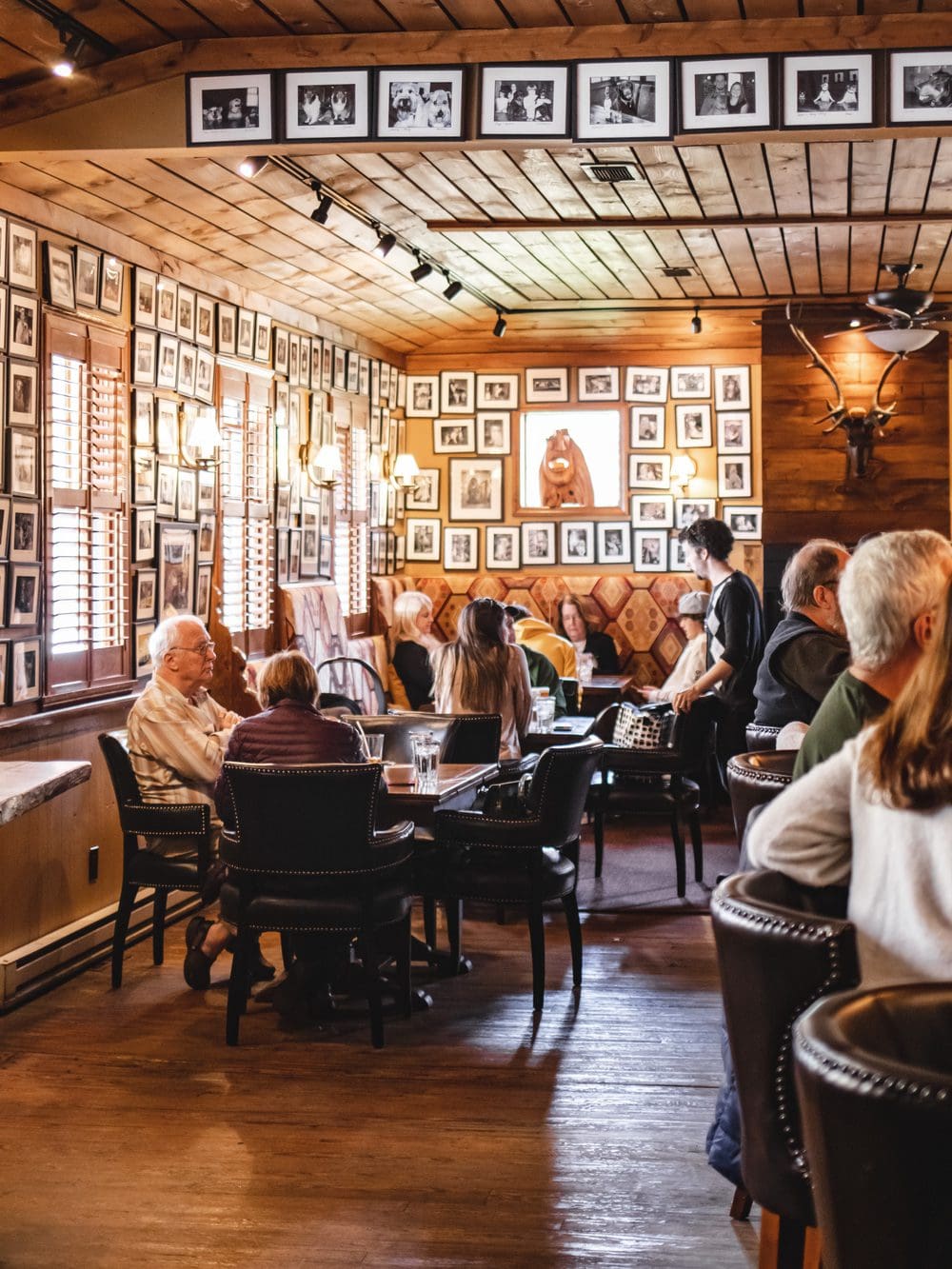 With no prohibitions to worry about, Antlers Bar is still thriving and is not only known for their adult beverages, but their walls covered in photographs of local pet dogs.
Our Experience at Bistro Roca
As Bistro Roca is one of the most beloved restaurants in western NC, you will need a reservation. We stopped by on a whim for lunch and were turned away, but fortunately there was an opening for an hour later. We learned our lesson: always book in advance!
The restaurant is stunning, with a moody black exterior and inviting, rustic interior. The most appealing feature, though, is the enclosed porch with windows spanning its entirety. Nestled right against the trees, these windows provide a beautiful, cozy view all year. During our visit in the fall, the yellow and orange leaves surrounding patrons was particularly breathtaking.
Our order
As I mentioned, we stopped by for lunch so we were able to try their smaller, more casual menu. Speaking of casual, I can confirm that Bistro Roca is family-friendly and they do have kids menus and booster seats/high chairs. A major win for parents!
Their dinner and brunch menus look absolutely delicious and we can't wait to give them a try on future trips out west.
We started with the Roca Spreads appetizer, a plate of toasted bread with your choice of spreads. We chose the whipped feta and smoked pimento cheese, both were excellent!
Next, we ventured outside our comfort zone and went with the smoked duck wood-fired pizza. It was topped with pepper jam, goat cheese, roasted beets, asparagus, and parmesan. It was a wonderful blend of sweet and savory! We loved it.
Our other main course was the brisket sandwich with a side of macaroni and cheese. It was all very tasty, and the macaroni and cheese was some of the best I've had in a long time!
Everything about this dining experience was impressive from the atmosphere to the flavor! Blowing Rock is lucky to have this iconic establishment!