Have you heard about V Pizza coming to Raleigh?
NC Eat & Play is thrilled to help announce that V Pizza NC is expanding and building its second brick-and-mortar location. Anthony Rapillo, owner of V Pizza North Carolina has been eagerly awaiting to share his plans to come to Raleigh. Along with a second V Pizza in the area, he's super excited to also establish a new signature cocktail bar for the Brier Creek community.
We caught up with him and here's what he had to say about V Pizza's expansion:
Here's what you need to know
Anthony is building the new 3,500 sq ft V Pizza Brier Creek from the ground up, but with some exciting new differences.
V Pizza Brier Creek will be accompanied by a cocktail bar called Flask at V Pizza BC.
Patrons will have two experiences to enjoy. Classic V Pizza featuring delicious Neapolitan pizza along with V's original menu, and a sophisticated cocktail bar experience with nibbles or platefuls from the pizza kitchen.
Both the restaurant and the cocktail bar will share a beautiful 1,800 sq ft patio for outdoor dining.
View this post on Instagram
Get ready Raleigh, Flask at V Pizza BC will feature craft cocktails
Anthony shares, "At the Brier Creek location, you will still be able to enjoy the same great food and atmosphere you're used to in Cary, but with a brand new aesthetic, vibe, and bar concept featuring mixed cocktails."
Currently, at V Pizza Cary, their bar program called, Tap Garden features 48 beers on tap. Anthony told NC Eat & Play, that customers will still be able to enjoy a good beer selection, but the main focus of this location is its cocktail program. He adds, "We believe it's going to be well received because it's adding to the need for local cocktail bars in the immediate area."
Here's a sneak peek of the patio rendering NC Eat & Play received exclusively.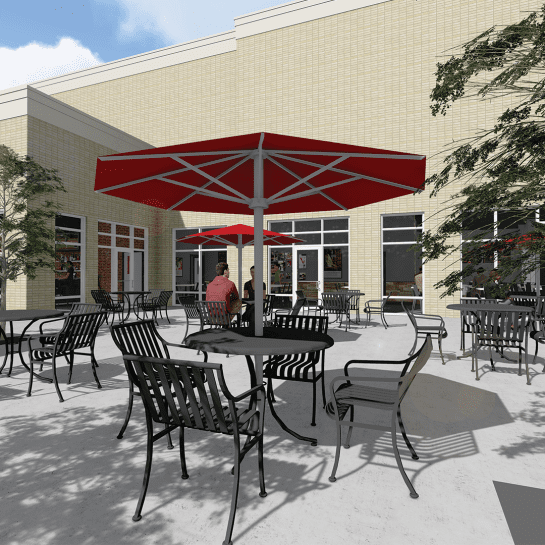 He's not alone in this expansion
He's bringing in big talent. Anthony is happy to have V Pizza Cary team member, Ryan Parker and his lifelong friend, Ariel Gomerez head up the team at Brier Creek. Ryan has been with Anthony every step of the way in Cary. They compliment one another's strengths.
Those that attended our Raleigh Newcomers' Summer Social with The Real-Tour Experience got a chance to see firsthand how well they work together.
Ariel is the newest to the team, but certainly not new to the great food and culture at V Pizza. Anthony's proud to have his best friend relocated here and joining him on this journey.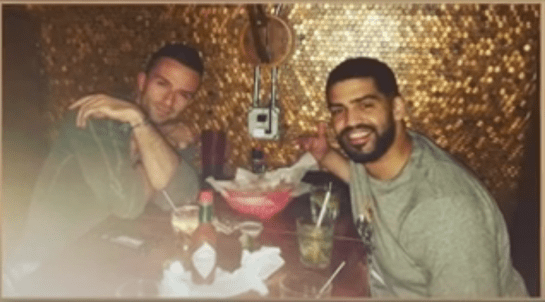 Before moving to the Raleigh area, Ariel trained with the Florida operating team to learn every aspect of V Pizza's commitment to quality ingredients, authentic cooking style, team building, and community outreach.
V Pizza Brier Creek and Flask at V Pizza BC plan to open in fall 2021.
NC Eat & Play will be covering all of the action with behind-the-scenes peeks into construction, menu design, decor selection, hiring, and more. More importantly, we can't wait to celebrate each moment as we get closer to the grand opening. And you know we'll be all over that opening! Stay tuned for details to celebrate with us.
One more thing. They're hiring!
If you're a talented mixologist that loves engaging the public, Anthony, Ryan, and Ariel want to hear from you. Just DM them on Instagram.