It's been an absolute pleasure to work closely alongside Anthony and Ryan, the owners of V Pizza Cary and the newly opened V Pizza Brier Creek and Flask Cocktail Bar.
They are as different as can be and their strengths complement each other in a way that drives success into everything they touch. Anthony with his loud (in a good way) New York accent, infectious enthusiasm, and unstoppable drive. Ryan with his gentle demeanor, quick wit, and attentiveness. They, along with their staff, make an excellent team that I'm honored to be a part of.
We threw an exclusive cocktail party to celebrate the opening of V Pizza Brier Creek and Flask Cocktail Bar.
NC Eat & Play had the privilege to throw a grand opening cocktail party for Anthony and Ryan's newest ventures. Our team worked hard planning and executing a night that would make guests feel like VIPs in an approachable setting. With an emphasis on the 1000 degree wood-fired ovens at V Pizza and the soulful craft cocktails at Flask, the cocktail party Fire & Soul was born.
Tickets were capped and went quickly after the big announcement. When I say quickly, I mean they were gone in less than two hours!
View this post on Instagram

Fire & Soul brought out hundreds of V Pizza supporters that were thrilled to have an excuse to put on a fancy outfit and eat unlimited Neapolitan pizza and taste some of the specialty cocktails from Flask's menu.
V Pizza staff served fresh wood-fired pizzas all night long while the open bar mixed craft cocktails for everyone to wash the slices down with. Fire pits scattered around the patio provided warmth and a local performing group known as Sidewalk Opera supplied beautiful music.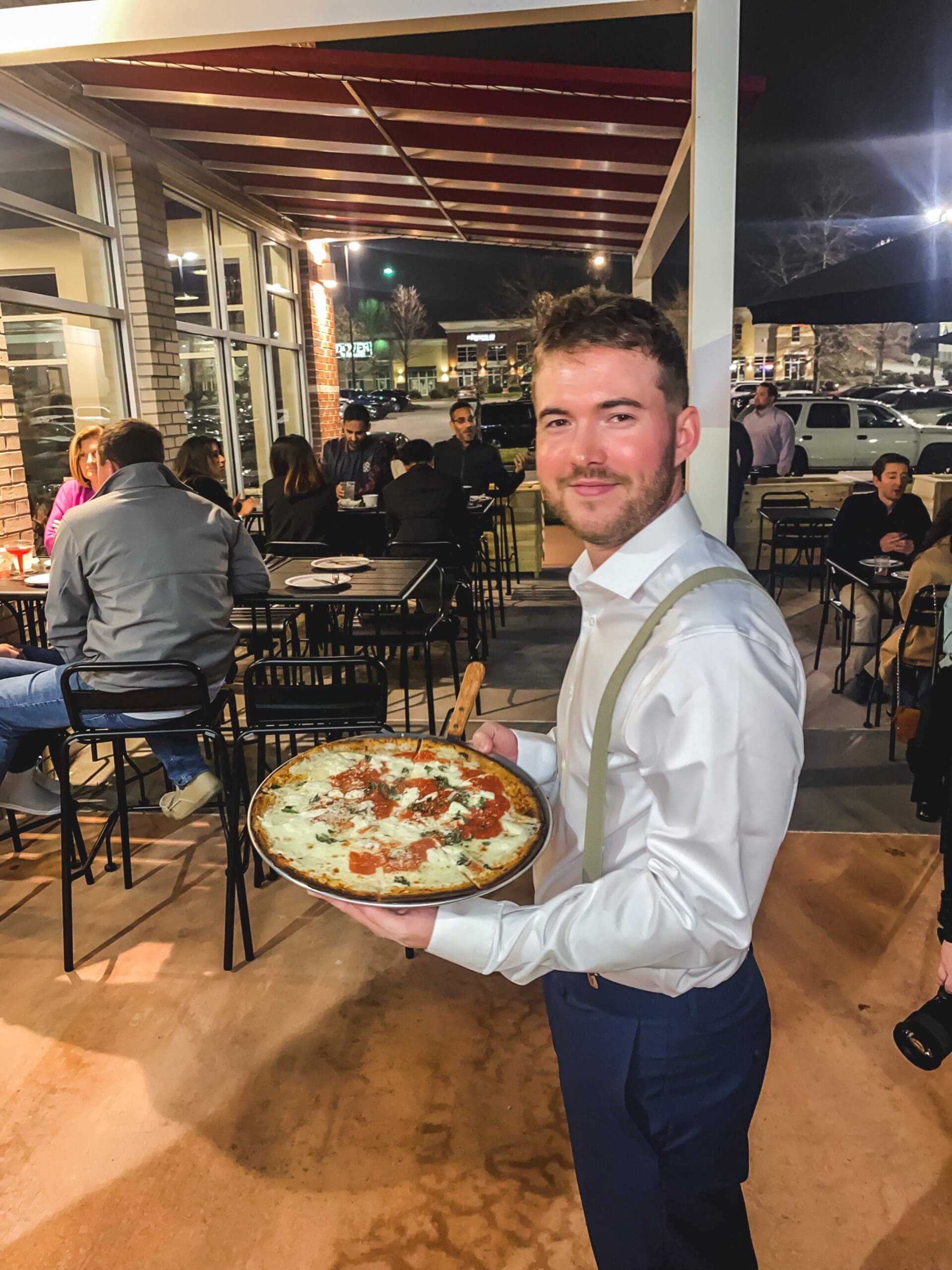 We shared peeks of the event on social media for your enjoyment.
I recorded live with both Anthony and Ryan during the night and it was a blast. It was great to hear their excitement about finally being open and the crowd was clearly equally as enthusiastic.
Watch me go live with Anthony!
Ryan wanted in on the fun too!
We captured and shared stories on Instagram throughout the night as did many of our excited guests. You can look through them on NC Eat & Play's Instagram highlights!
A bittersweet celebration of new beginnings.
Amongst the laughter and celebration, there was a hint of reverence in the air. The V Pizza family lost an integral member of their team, Trey, unexpectedly less than a week prior. Trey's passing was devastating to everyone who knew him, including customers that had grown to love his boisterous personality behind the bar.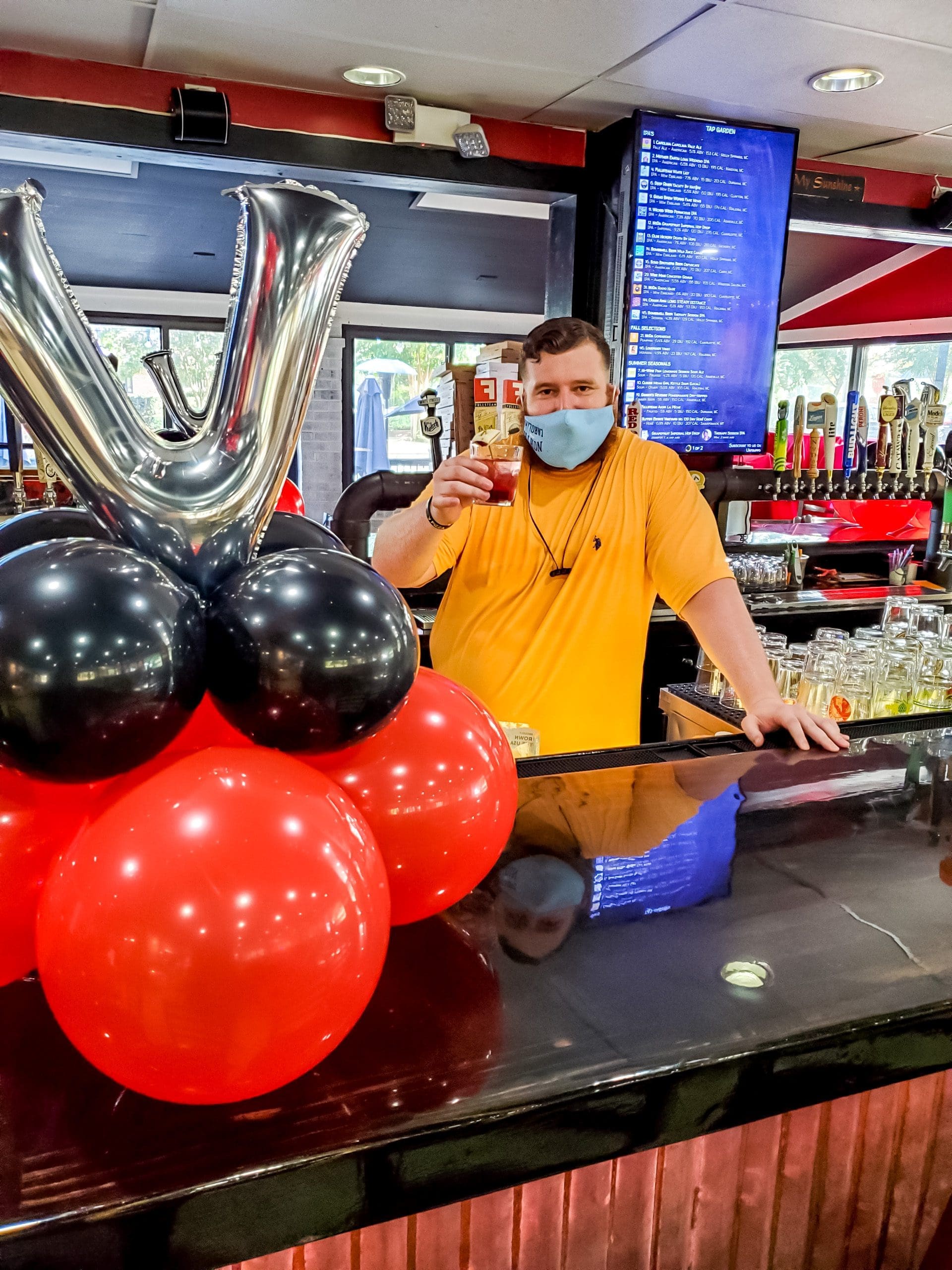 As a friend and partner of V Pizza, I saw firsthand the turmoil and confusion Anthony felt when determining how to move forward. He ultimately decided Trey would have wanted him to proceed with the grand opening and to do it with a bang. Trey was full of life and thrived off of sharing that energy with others.
He would have been proud to see what the team created that night. He was honored with a beautiful toast by Anthony and the crowd all raised their glasses to Trey. I hope that as we enjoy the new beginnings at V Pizza Brier Creek and Flask, we can remember Trey's influence on these great establishments.
He's physically no longer with us, but his fire & soul burn on.